Dwayne Johnson loves keeping fans updated on his latest movies, and Red One is proving to be no exception as he shared another new image.
Dwayne Johnson has been once again sharing images of J.K. Simmons as Santa Claus in their new movie Red One. Having shares an image of Simmons pumping iron as a superhero-like version of Father Christmas, Johnson has now brought another sneak preview of this new take on the festive figure that sees Simmons in full Santa costume and it is something more modern than we are used to seeing when it comes to movie interpretations of St Nick. Check out the shot below:
Alongside the image, Johnson was continuing to praise Simmons and is certainly going all out promoting the movie at every opportunity. He wrote:
"Santa the rockstar. It's an honor having his six. Another solid work week in the books on our Christmas movie, RED ONE. Academy Award winner and coolest dude in the North Pole, J.K. Simmons bringing Santa's big ol' beautiful heart to life. More to come. Back to work."
Red One sees Johnson teaming up with not only Simmons but also Chris Evans in a Christmas movie that will, according to The Rock, has the combined feel of a number of well-known movies. He teased:
"Think JUMANJI meets MIRACLE ON 34TH ST meets HOBBS & SHAW with a dash of HARRY POTTER and sprinkled on top with my all time favorite Christmas movie, ITS A WONDERFUL LIFE… let all that sink in."
Of course, we have seen Johnson give his glowing praise of his own movies on many occasions, and he will be hoping that Red One will have more in common with his Jumani movies rather than his recent ill-fated stint as Black Adam. Although the movie become his biggest hit to date, the controversy surrounding the movie and Johnson's place in the DCU tarnished the movie a little and at least Red One doesn't come with this kind of baggage.
Related: The Rock & Chris Evans Stand Together in Latest Look at Red One
Dwayne Johnson Will Be Guaranteed Another Big Streaming Hit With Red One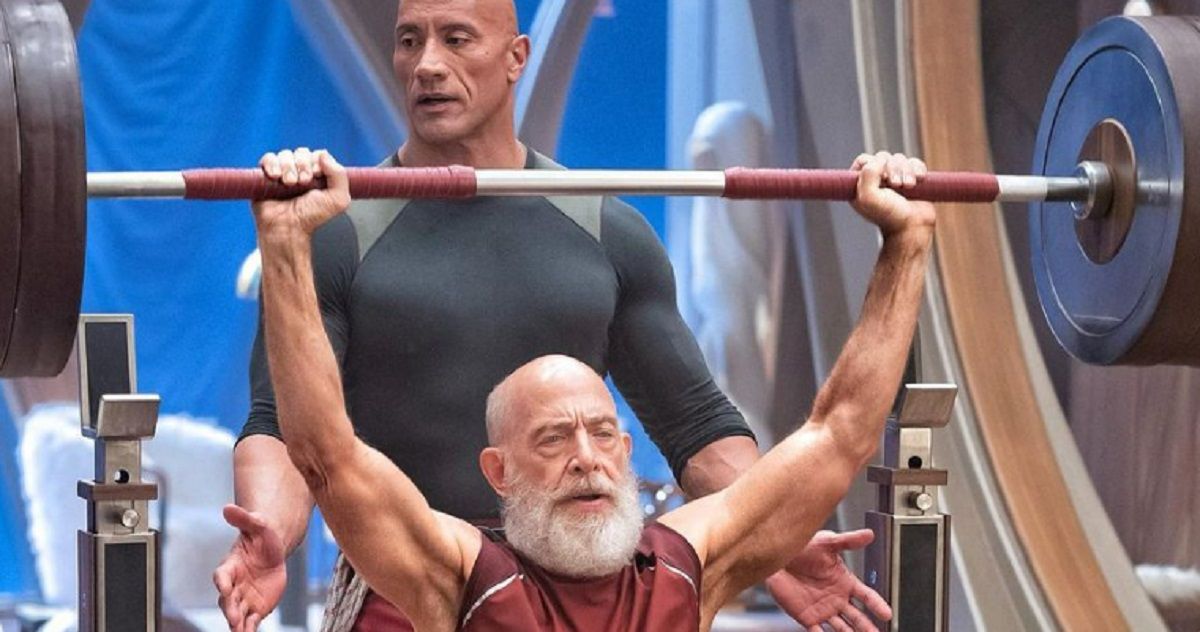 Just like his Netflix movie Red Notice, Dwayne Johnson's name being attached to a Christmas action movie that also features talent like Simmons and Evans is always going to pull in audiences around the festive period.
Directed by Jake Kasdan, with a script written by Chris Morgan, and from an original story by Hiram Garcia, Red One sees Johnson, Simmons and Evans being joined by Kiernan Shipka (Chilling Adventures of Sabrina), Lucy Liu (Kill Bill), Mary Elizabeth Ellis (It's Always Sunny in Philadelphia), Nick Kroll (Don't Worry Darling), Kristofer Hivju (Game of Thrones), and Wesley Kimmel (The Book of Boba Fett), with Bonnie Hunt (Jumanji, Toy Story 4) starring as Mrs. Claus.
Naturally, there is a long way to go before the release of the movie sometime towards the end of 2023, and that means we can expect a lot of more behind the scenes images, stories and build up from Johnson via his social media channels. Red One will be released exclusively on Prime Video sometime in November/December, just in time for the Christmas holidays.