Karate enthusiasts all over the world had to use their wax-on-wax-off abilities this year to wipe away their tears. The news that the upcoming sixth season of Cobra Kai will be the show's last hit fans like a crane kick to the nose. After all, Cobra Kai is by far one of the best action series currently on air, and there has certainly been a lot of teasing about future seasons and new expansions to the so-called Miyagiverse. The story of the rivalry-turned-contentious-friendship between Daniel LaRusso (Ralph Macchio), Johnny Lawrence (William Zabka), and their pupils seems full of endless possibilities. A lot has happened so far in the fight between the Miyagi-Do and the Cobra Kai dojos, and a lot could still happen if the show was renewed for just a few more seasons. Or, well, maybe not.
Look, let's get one thing out of the way: Cobra Kai isn't by any means a boring show. The Karate Kid sequel series is funny, emotional, and full of amazing fights and captivating characters. But, at the same time, Cobra Kai is strangely uneventful. Its flashy, eye-catching action scenes often feel like a distraction from the fact that nothing actually happens in the story. This doesn't make Cobra Kai a bad show. Heck, we would watch Daniel and Johnny fight over a slice of pizza if that was all the series had to offer! But perhaps it's time to face the fact that, plot-wise, we're much closer to that slice of pizza than we would like to believe.
'Cobra Kai' Has Been Rehashing the Same Plot for Five Seasons
Oh, do you doubt me? Then join me in a little memory exercise. What was the basic plot of Seasons 1 and 2 of Cobra Kai? Johnny Lawrence brings back the Cobra Kai dojo, consequently resurrecting his beef with his teenage opponent Daniel LaRusso. Now with the roles reversed — Cobra Kai is the place for the bullied and the underdogs — Lawrence and LaRusso's dojos face off against one another, and little by little Johnny realizes that the things he learned back when he was on Cobra Kai weren't exactly right. In Season 2, he briefly teams up with Daniel to fend off Kreese (Martin Kove), who has slowly taken over his dojo.
Okay, now let's move to Season 3 of Cobra Kai. What happens? Cobra Kai and Miyagi-Do continue their fight for which dojo shall rule the Valley. Under Kreese's influence, Cobra Kai becomes the evil dojo once more, and Johnny and Daniel team up. In Season 4, they split once again, and Johnny founds the Eagle Fang dojo. Under Terry's (Thomas Ian Griffith) influence, Cobra Kai becomes basically a fascist militia, and Kreese is kicked out of the dojo and framed for assault. In Season 5, Cobra Kai and Miyagi-Do are yet again fighting for control over the Valley, and, in the last episode, Johnny and Daniel join forces once more to combat a greater evil.
It all seems pretty repetitive when we put it like this, doesn't it? And that's just the tip of the iceberg. Cobra Kai's plot is just as circular in its details as it is on the surface. So far, Daniel has dropped Miyagi-Do twice: in Season 2, it was at the request of his wife, Amanda (Courtney Henggeler); in Season 5, it was due to a deal with Terry and Cobra Kai. It's the same number of times that Sam (Mary Mouser) has given up on karate due to some Tory-related (Peyton List) trauma. Robby (Tanner Buchanan) has fallen off and made peace with Johnny more times than we can count, and, boy, don't even get me started on the show's romantic subplots! Anyone keeping track of the Sam, Robby, Tory, and Miguel (Xolo Maridueña) love quadrangle by now deserves the All Valley trophy.
RELATED: 'Cobra Kai' Showrunners Tease a Competitive Season 6
Yeah, Cobra Kai's storylines can get more repetitive than a kata lesson, and that's far from being the only way in which nothing happens in the series. Most of the show's major plot twists don't actually have any long-lasting impact. For instance, let's take a look at the series' most shocking moment so far. At the end of Season 2, a fight breaks out at West Valley High between Cobra Kai and Miyagi-Do students. The fight ends when Robby kicks Miguel over the third floor railing, causing him to injure his back and lose his ability to walk. This serves as a tipping point for Johnny's students to side with Kreese, since they blame their former sensei for teaching Miguel honor and mercy towards his enemies, which gave Robby the room he needed to attack. However, for Miguel himself, losing his ability to walk doesn't even matter for that long. By the end Season 3, the karate star on the rise is back on his own two feet. By Season 4, he's already kicking ass at the All Valley Tournament.
Miguel's search for his father is equally unimportant. At the end of Season 4, Miguel ditches the tournament to go looking for his long-lost father in Mexico. However, when he finds him, early on in Season 5, he doesn't even tell him who he is before returning home with Johnny. Sure, the whole thing serves to make Miguel accept Johnny as his father figure, but the show was already moving in that direction without the trip to Mexico. In the end, there wasn't much of a point to Miguel's trip, no matter how big of a deal it initially seemed.
If 'Cobra Kai' Is So Repetitive, Why Do We Keep Coming Back to It?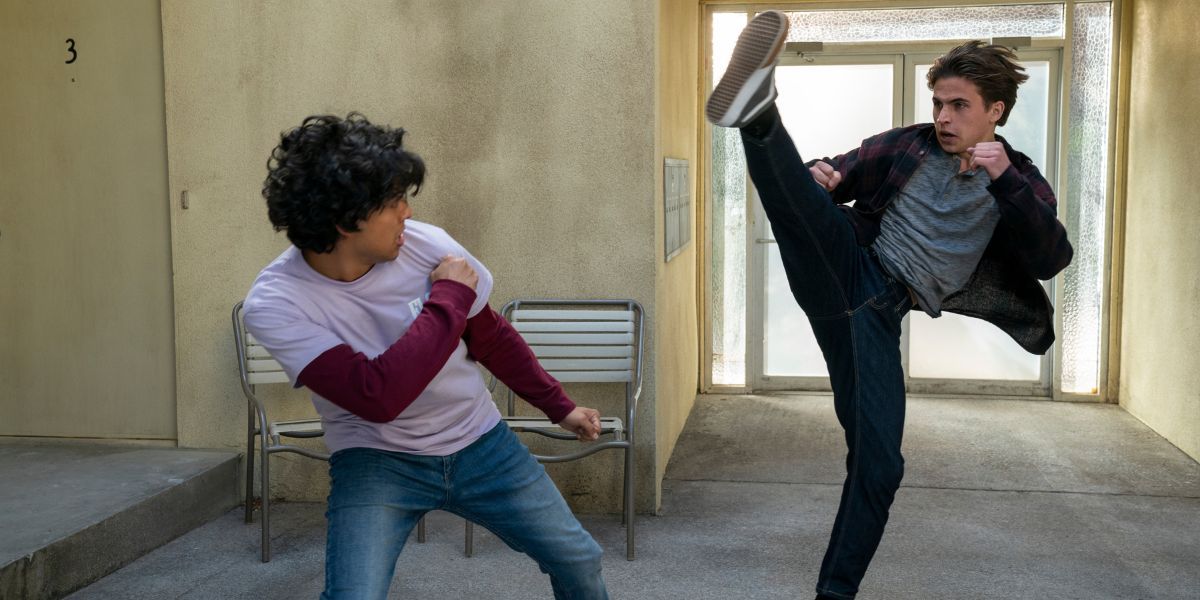 But an intricate, carefully crafted plot isn't the only thing that can make a TV show great. Cobra Kai earns its spot among the coolest series of its time due to other qualities. For starters, the fights are incredibly choreographed and expertly shot. Watching a Cobra Kai face-off is always a hoot. The show's stunts have been nominated four times for the Emmys, either in the Stunt Coordination or in the Stunt Performance category, and it's honestly a shame that they never won.
Then there are the characters. Almost everyone in Cobra Kai is extremely charismatic, and the casting is top-notch. From Daniel and Johnny to the least relevant supporting characters, everyone is absolutely charming and captivating. How many shows can brag about having a supporting cast of characters as enthralling as Hawk (Jacob Bertrand), Demetri (Gianni DeCenzo), Moon (Hannah Kepple), and Stingray (Paul Walter Hauser)? And the choice to bring back and flesh out Chozen (Yuji Okumoto) in Season 5? That was perfect! The only thing wrong with Cobra Kai's cast of characters is that Aisha (Nichole Brown) left after just two seasons.
Finally, and perhaps most importantly, we keep coming back to Cobra Kai because of the sense of familiarity the show provides us with. We know how things will play out, we know who the good and the bad guys are, and we know that everything will be fine in the end, and that gives us comfort. It's sort of like watching a soap opera, a Saturday morning cartoon, or even a Karate Kid movie. The original Miyagiverse films were incredibly repetitive, and they made four of them.
However, eventually, people got tired of Karate Kid. Starring a young Hilary Swank instead of Ralph Macchio, the last installment of the franchise, The Next Karate Kid, was critically panned and made less than $16 million at the box office worldwide compared to The Karate Kid, which boasted over $90 million. Chances are that fans will eventually grow out of Cobra Kai as well. Perhaps it's best for the show to go out with a bang instead of slowly sinking into insignificance. But that doesn't mean it won't be missed.