During the first few minutes of its premiere at the Cannes Film Festival in May 2022, the sci-fi horror film Crimes of the Future elicited such strong reactions that many audience members walked out. Yet, soon after the screening, the film was applauded by several critics as a return to form for Canadian writer-director David Cronenberg.
For the better part of three decades, the filmmaker had severed himself from his fleshy horror movie roots in favor of psychological dramas. But Cronenberg was once dubbed "The Master of Body Horror," earning the moniker in the 1980s after an incredible run of flesh curling classics like Shivers (1975), Rabid (1977), The Brood (1979), Scanners (1981), Videodrome, The Dead Zone (1983), The Fly (1986), and Dead Ringers (1988). And it appears that Brandon Cronenberg is carrying on his father's legacy with modern takes on body horror like Possessor (2020) and Infinity Pool (2023).
After carving out a niche of his own with low-budget '70s horror movies filmed in medical facilities outside of Montreal and Toronto, David Cronenberg rose to great acclaim in the 1980s among film critics and horror magazine readers alike. The Fly alone made him the hottest horror director of his day. By 1991, the genre at large was his oyster. What did Cronenberg choose to make next? Naked Lunch (1991), a loose adaptation of controversial Beat writer William S. Burroughs' 1959 novel, which was widely banned and subjected to an obscenity trial in the 1960s.
Why would Cronenberg, at the absolute peak of his game, decide to tackle a surrealist and transgressive literary work which he himself described as "impossible" to adapt?
William S. Burroughs Is a Controversial Figure in Literature
By the time Burroughs' then-titled The Naked Lunch (1959) was published in France's Olympia Press (since American publishers refused to touch it for a few years), Burroughs had already been lionized as "Old Bull Lee," a semi-fictional alter ego from fellow Beat writer and friend Jack Kerouac's classic novel On the Road (1957). But Burroughs had been a divisive figure in American literature since his first novel, Junky, was published in 1953. Some of this comes down to Burroughs' disjointed writing style. While Kerouac and other contemporaries like Allen Ginsberg were never known for coherency or story plotting, Burroughs wore his incoherent babbling like a badge of honor.
Burroughs pioneered an experimental literary "cut-up" technique which entailed scissoring out lines of prose and reassembling them at random. It is no wonder that Burroughs' narratives are nonlinear and virtually impenetrable, to say nothing of his lifelong drug addiction. In his 2014 profile feature on Burroughs for The New Yorker, Peter Schjeldahl said:
The drugs help account for the hollowness of his voices, which jabber, joke, and rant like ghosts in a cave. He had no voice of his own, but a fantastic ear and verbal recall… few readers have made it all the way through [Burroughs'] novels, but anyone dipping into them may come away humming phrases.
While his drug of choice would change over the years, one thing remained the same: Burroughs never wrote a page while clean and sober. Evidence of a drug-addled mind is apparent from even a quick skim through one of his novels.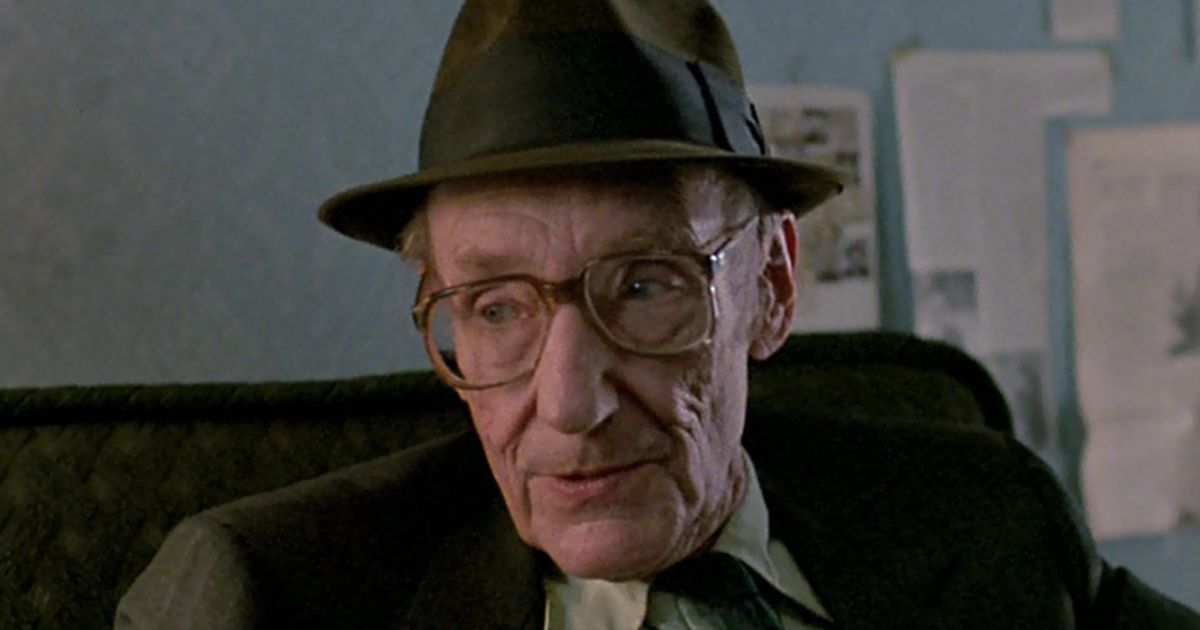 Like Kerouac and Ginsberg, Burroughs' work is almost painfully semi-autobiographical. This fact is more than a little troublesome in light of the real-life behaviors which often haunted Burroughs' writing. There is his own rampant drug use, obscene descriptions of homosexual pedophilia, and the accidental fatal shooting of his common-law wife, fellow junkie Joan Vollmer, during a drunken game of "William Tell."
So what exactly did the man who directed The Fly see in this nonlinear mess of a narrative from a pedophilic junkie who accidentally killed his wife? As it happens, Cronenberg wasn't the only filmmaker interested in adapting Naked Lunch. He wasn't the first either.
Mick Jagger Was Once Attached to a Musical Adaptation of Naked Lunch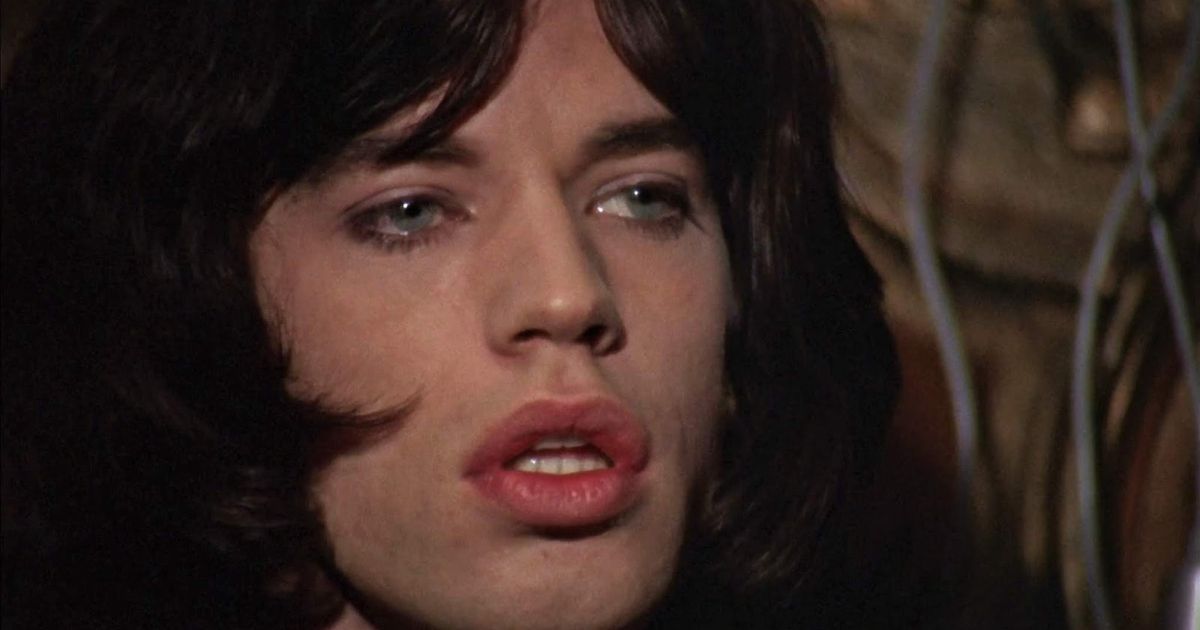 In 1971, Mick Jagger was attached to star in a musical film adaptation of Naked Lunch to be helmed by frequent Burroughs collaborator and guerilla English filmmaker Anthony Balch. An early screenplay adaptation penned by Burroughs was supposedly finished, complete with musical numbers, before the project was abandoned in the wake of a bizarre falling out between Balch and The Rolling Stones frontman.
After Jagger's departure, Balch considered Dennis Hopper for Jagger's role. Hopper was still reeling at the time from the disastrous release of his sophomoric directorial effort The Last Movie (1971). Hopper's career had taken a nosedive after Easy Rider (1969) propelled him to a rock star status similar to Jagger only two years prior.
In lieu of this unmade musical adaptation, the closest Naked Lunch had ever come to the big screen before Cronenberg dusted off the novel in the early 1990s, was Balch's experimental short film The Cut-Ups (1966) which he co-wrote with Burroughs. As its title suggests, Balch applied Burroughs' literary "cut-up" technique to film by splicing reels together at random. Among its cacophony of proto-MTV music video quick cuts (which enraged English filmgoers at its short-lived London premiere) were shots of Burroughs reenacting scenes from his own novel.
David Cronenberg and William S. Burroughs Were Influenced By Franz Kafka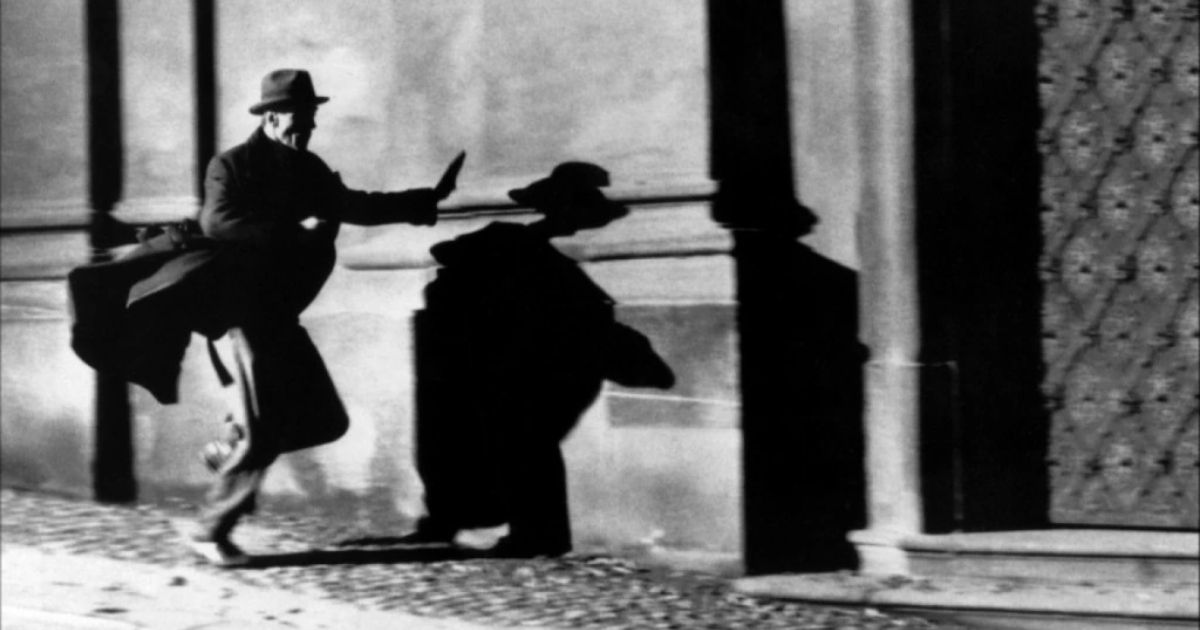 In Hitchcock/Truffaut (1966), the acclaimed French New Wave director François Truffaut asked filmmaker Alfred Hitchcock why he had never attempted to adapt Leo Tolstoy's 1869 literary epic War and Peace. In response, The Master of Suspense laid out his philosophy: film adaptations stand a better chance at success with lesser known fiction rather than tackling literary masterpieces. While Naked Lunch is certainly no War and Peace and Burroughs is no Tolstoy (even among his Beat Movement colleagues), adapting Naked Lunch for the big screen was a tall order. So why would Cronenberg even attempt it?
Related: 5 Great Films Made from "Unadaptable" Source Material
Cronenberg studied writing before he developed an interest in filmmaking. In the early 1960s, he switched majors at the University of Toronto from Honours Science (he was initially interested in anatomy) to Honours English Language and Literature. Cronenberg's favorite writers included William S. Burroughs and Franz Kafka, who was played by Jeremy Irons in the author's biopic which Steven Soderbergh directed the same year as Cronenberg's Naked Lunch (a few years after Irons gave a double performance in Cronenberg's Dead Ringers).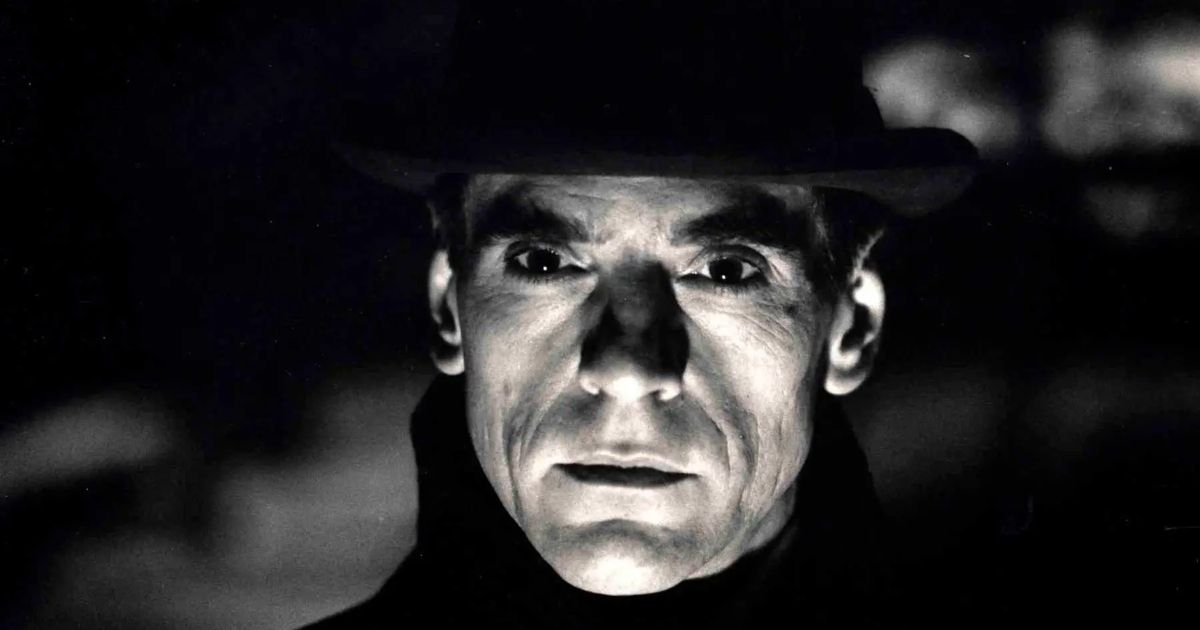 Burroughs, too, was heavily influenced by Kafka. All three writers share an uncommon attraction to the snares of anatomy, a subject which many readers and filmgoers find off-putting but which has gained a cult following among horror movie fans. In his 2014 article in The Paris Review, Cronenberg compares his body horror films to Kafka's The Metamorphosis (1915), adding:
I woke up one morning recently to discover that I was a seventy-year-old man. Is this different from what happens to Gregor Samsa in The Metamorphosis? He wakes up to find that he's become a near-human-sized beetle… Stories of magical transformations have always been part of humanity's narrative canon. They articulate that universal sense of empathy for all life forms that we feel; they express that desire for transcendence that every religion also expresses.
Cronenberg's lifelong fascination with anatomy was an itch that Burroughs and Kafka could scratch, leading him to attempt the impossible task of adapting Naked Lunch in the midst of a commercially successful career as a horror director.
Cronenberg Received Burroughs' Blessing for Naked Lunch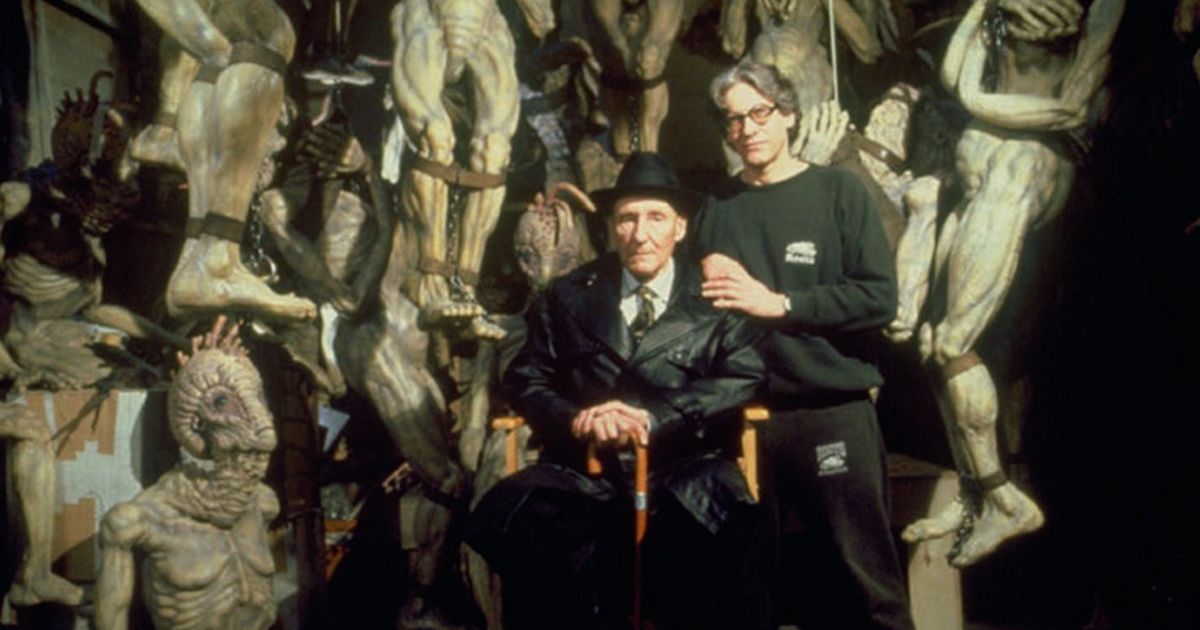 Cronenberg was quoted as saying a literal adaptation of Naked Lunch would have "cost $400 million to make and would be banned in every country in the world." So he made the shrewd decision to discard the narrative from the book (in so much as it has one) and use its dreamlike setting as a stage for the drama of Burroughs' real life to play out instead. Speaking to the Baltimore Sun in 1992, Cronenberg said:
I talked to Burroughs at length while I was [adapting Naked Lunch]. I really, really wanted his blessing. So I did speak to him, for example, about using the [accidental] shooting of his wife Joan as a fictional incident in the film, which triggers off many things. [Burroughs] approved and basically said that he couldn't separate his life from his art. He felt that all of his writings were one big work — which I could certainly relate to.
Cronenberg left certain elements from Burroughs' Naked Lunch intact, especially as they relate to settings like the exotic North African Interzone. But he wisely dropped Burroughs' explicit acts of homosexual pedophilia, opting instead for the exploits of characters like the one Julian Sands plays to be kept vague. Still, Sands' supporting role as a slimy playboy stands out in a film which is populated by characters that are slimy in a much more literal sense.
The Plot of Naked Lunch Follows an Evil Conspiracy of Giant Bugs
Cronenberg cast Peter Weller in the lead role of writer and exterminator William Lee, an alter ego the Beat writer had frequently used in his work. After a psychiatric discharge from the Army in the 1940s and an equally brief stint as a private detective, Burroughs worked as a pest exterminator for nine months, his longest continuous period of employment. Detailing his experiences in his signature head-scratching prose from his 1973 memoir, Exterminator!, Burroughs said:
From a great distance I see a cool remote naborhood blue windy day in April sun cold on your exterminator there climbing the grey wooden outside stairs.
Cronenberg's Naked Lunch concerns William Lee becoming addicted to his own bug poison, accidentally killing his wife, and falling down a government conspiracy rabbit hole. But make no mistake — this is not your garden variety, post-Watergate conspiracy thriller, although it does give Soylent Green (1973) a run for its money. This crackpot plot involves the mass production of "black meat," a narcotic made from bug guts which is being smuggled through the Moroccan port city of Tangier by (who else?) giant bugs.
Naked Lunch Feels Like a David Lynch Film
Cronenberg's Naked Lunch is a grotesque amalgamation that is half Burroughs biopic, half Lynchian noir. Upon its release critics drew comparisons to Joel & Ethan Coen's Barton Fink (1991), another surrealist tale of a tortured writer which was released earlier in the same year. But Naked Lunch has far more in common with David Lynch than the Coen Brothers. For all we know Cronenberg's giant bug people could be in cahoots with the dwarf who moves and speaks in reverse in Lynch's cult classic television series Twin Peaks (1990-1991).
Cronenberg's set pieces for the film are sparsely decorated and filled with colors so vivid that they would pop right off the interiors like a soap opera or sitcom if not for The Empire Strikes Back cinematographer Peter Suschitzky's clever use of venetian blinds, a staple of classic film noirs. Film critic Pauline Kael could just as easily have been talking about Naked Lunch when she described Lynch's Blue Velevet (1986) as "hallucinatory clinical realism."
Related: David Cronenberg's Best Movies, Ranked
Jazz musician Ornette Coleman and The Lord of the Rings composer Howard Shore's original score for Naked Lunch alternates between jazzy and brooding cues much like Angelo Badalamenti's scores for Blue Velvet and Twin Peaks. Cronenberg uses this soundscape to pay homage to the influence of jazz improvisation on Beat writers like Burroughs and Kerouac. As Coleman squeals on his saxophone like a dying bird throughout the runtime of Naked Lunch viewers hip to On the Road can almost feel Kerouac's Dean Moriarty character foaming at the mouth watching bebop pioneer Charlie Parker blow his horn. "Blow, baby, blow!"
Naked Lunch Failed at the Box Office but Was Favored By Critics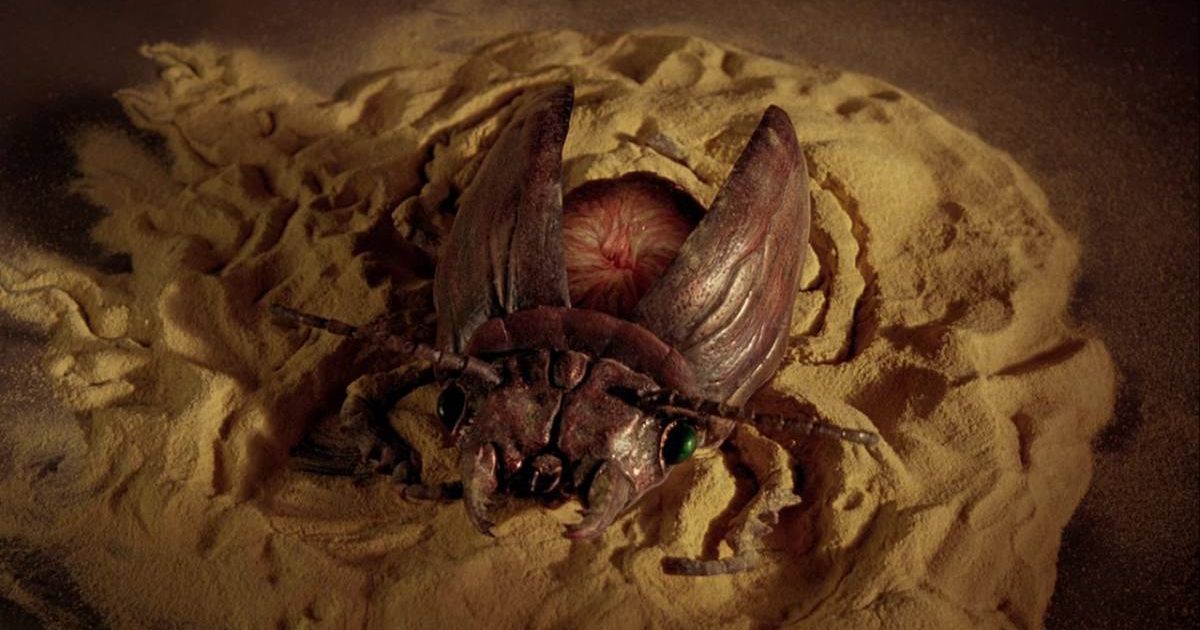 Naked Lunch failed at the box office, taking in only $2.6 million off a budget of $18 million. But it was embraced by most critics and received several awards, including "Best Screenplay" from the Boston Society of Film Critics. This honor, coming from the very city which banned Burroughs' Naked Lunch novel and held its infamous obscenity trial in the 1960s, is an irony too delicious to have slipped past Cronenberg.
Roger Ebert gave Cronenberg's film two and half stars out of four in the Chicago Sun-Times, saying he "admired [Naked Lunch] in an abstract way" but was "repelled by the material on a visceral level." Ebert's reaction is all the more appropriate considering that a key character which protagonist William Lee meets during his descent into conspiratorial madness is a bug who speaks with a mouth that is a dead ringer for an anus.
As such, there's a lot of morbid, sick ugliness here, in the film and in Burroughs' life. In that sense, the title is fitting. As Burroughs described it in his introduction to the novel, it's "the frozen moment when everyone sees what is on the end of every fork." It's nourishing, but it's not pretty.