Editor's Note: The following contains spoilers for Episode 6 of The Last of Us and major spoilers for The Last of Us Part II.This week's episode of The Last of Us, "Kin" was an emotional banger through and through, but it may have also introduced an important character for the future of the show: Staring Girl, played by Paolina Van Kleef. Doesn't ring a bell? What if we told you she, who we see very briefly staring at Ellie (Bella Ramsey) as she and Joel (Pedro Pascal) eat upon arriving in Jackson, could be none other than Ellie's girlfriend in The Last of Us Part II, Dina? Of course, by now showrunners Craig Mazin and Neil Druckmann have already started dodging the issue, but we can dream, right?
As Season 1 of the HBO adaptation is now beginning its final act, people are starting to wonder what Season 2 of The Last of Us may actually look like, beyond the main guidelines and storyline of the sequel game. With Joel and Ellie finally arriving in Jackson to find Tommy (Gabriel Luna) living in a well-established and self-sufficient commune, the future starts to look a little brighter for our dynamic duo, with the possibility of a peaceful life for them after their journey ends. For Ellie, Dina has a key role in how that life will play out, and we may have just gotten out first glimpse at it.
Who Is Dina In The Sequel Game?
Right at the beginning of The Last of Us Part II, a party sequence sees Ellie dancing with a girl and making all the boys terrified and jealous. That girl was Dina, played by Cascina Caradonna and voiced by Shannon Woodward. She becomes Ellie's girlfriend when the two of them go on a regular patrol mission the next day and get stranded in an abandoned library during a blizzard. In the original game, we play mostly through Joel's perspective, while Ellie follows him closely to provide backup and aid. In the sequel, though, Ellie is now the main playable character, with Dina being the one to provide backup.
Not much is known about Dina's story before she moved to Jackson, only that she's an orphan and had an older sister named Talia, who was killed a few years earlier. Shortly before the events of the sequel game, she was in a relationship with Jesse (Stephen Chang), and the two had a child together, baby JJ. When antagonist Abby Anderson (Laura Bailey) and the Washington Liberation Front kill Joel as revenge for the death of her father, Dina follows Ellie to Seattle in her own quest for revenge.
Dina is the main moral compass for Ellie in the game narrative, although a flawed one at first. Just like in the original game, we see both Ellie and Joel grow as characters, the same happens in Part II with Dina. She admits having vengeful feelings for the people who killed her sister, so she joins Ellie in her own path of destruction. As the game goes on, though, Dina gets a new understanding of what's really important in life, especially with the knowledge that she's pregnant with Jesse's baby.
RELATED: 'The Last of Us' Episode 6's Menstrual Cup Scene Answers an Age-Old Question
Does It Make Sense To Introduce Dina Now?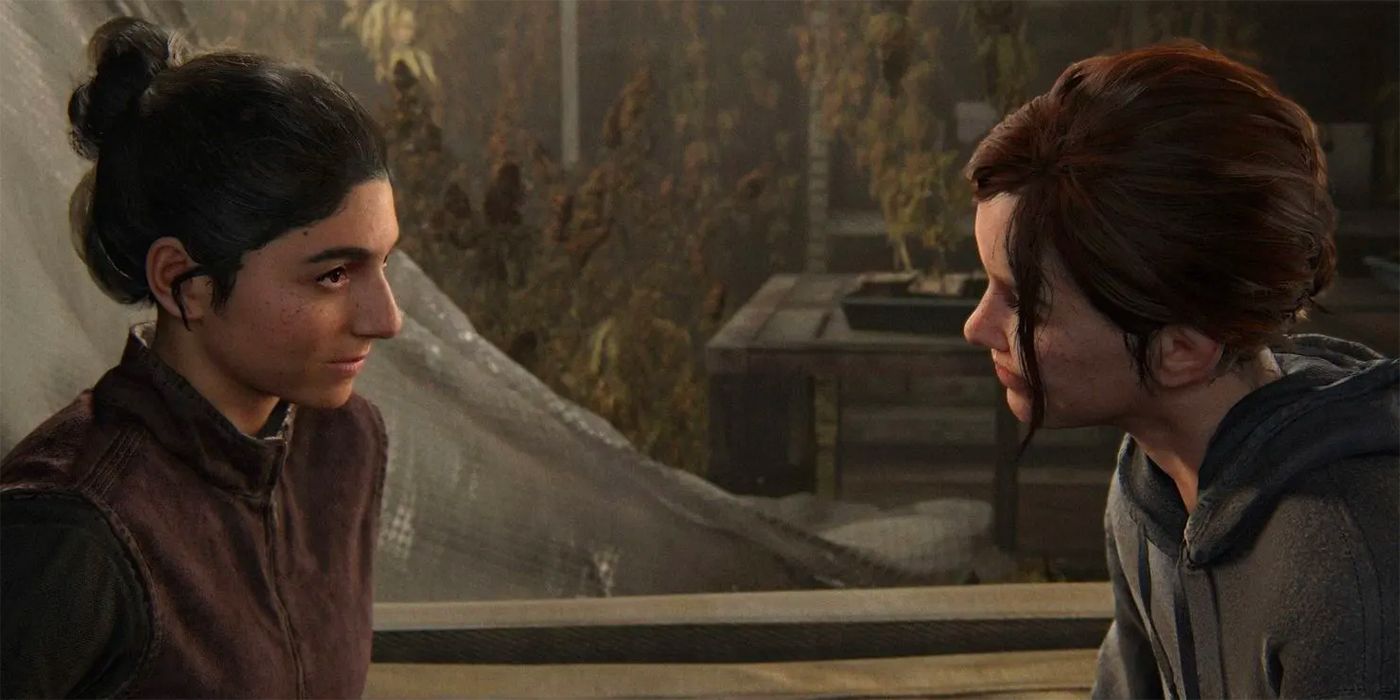 Imagine you just endured trekking through half the country with raiders and Clickers trying to catch you from all directions. You must have your guard up at all times, and a pretty solid one. One day, you finally reach a safe spot, this small community with plenty of food and supplies for you to feel, for the first time, safe. It's difficult to let your guard down after so much time in the wilderness, though, so when you see someone looking at you from behind a pillar as you're having your first proper meal in a long, long time, you snap and lash out at them.
That's how Ellie and Dina's relationship may have started in the series, but it's not all that different in the games. In The Last of Us Part II, there's a scene in which Dina and Ellie recall their first moments in Jackson, and Ellie reveals she "was overwhelmed by all the food". "I remember my first week just gorging myself. Stuffing food in all my pockets for later like it was gonna run out," she tells Dina, who answers "I saw that!" So there is a pretty strong basis for fans to theorize that Staring Girl is, in fact, Dina, as Neil Druckmann himself admits to the possibility on The Last of Us Podcast, since the moment both characters recall in the game is very similar to the one in the show.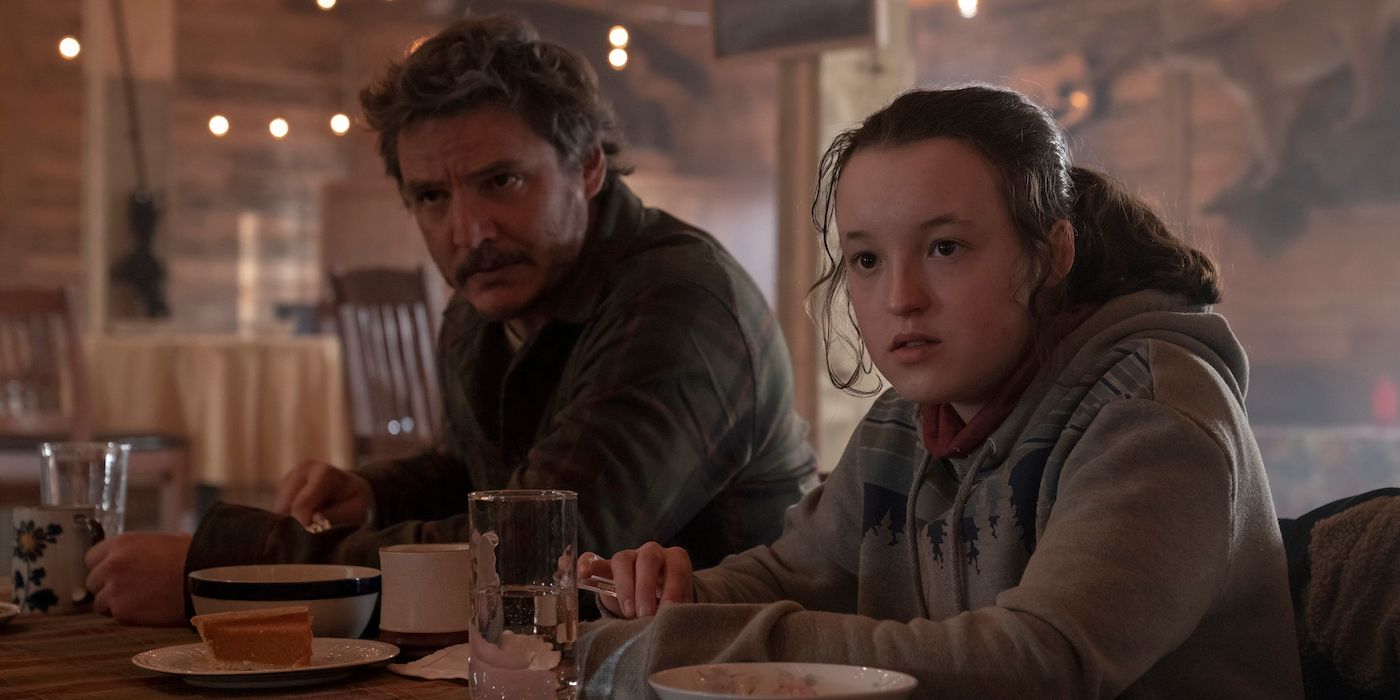 One of the main points the HBO series has been making all season so far is that it's more than just an adaptation, but its own story, too. There are now countless differences from the source material, from Bill (Nick Offerman) and Frank's (Murray Bartlett) story to the addition of Kathleen (Melanie Lynskey) and the Raiders in Kansas City. So deviating isn't a problem, and the series has been doing that most effectively. This is precisely the kind of liberty we expect writers and creators to take on their stories, and here we know it will be done naturally and efficiently, should it come to be true. Ellie snapping at the girl, for example, is a natural response anyone could have at that moment, while also being a fun way to build on a lead Part II has left for us.
By now, if Staring Girl is really proven to be Dina, that's nothing but an Easter egg, as the show is now gearing toward its last three-episode arc. Bringing in a character from future importance would be an interesting way of setting up future days for Ellie and even Joel as they settle in Jackson once their whole journey is finished, though. It would also be a way of appealing to the fan base and keeping it hooked for the months (or years?) we'll go through without new The Last of Us content on television. Giving us a possible glimpse at Dina is a powerful way Mazin and Druckmann have found to promise that this new story will pay off even further than what Season 1 has to offer (which is already a lot).
Read More About 'The Last of Us':