Ke Huy Quan just won a SAG Award, the latest of many he's earned for Everything Everywhere All at Once.
More acting awards are coming in for Ke Huy Quan. The former child star, who rose to fame with his roles in classic films like Indiana Jones and the Temple of Doom and The Goonies, has more recently had a resurgence as an adult thanks to his acclaimed performance in Everything Everywhere All at Once. Released in theaters last year to great success, the film features Quan as Waymond Wang, husband to Michelle Yeoh's Evelyn Wang.
Because of his performance, Quan has been winning acting awards, one after another, ever since the movie was released. Some of the big wins he's already gotten for the film include the BAFTAs, the Critics' Choice Awards, an the Golden Globes. At the Screen Actors Guild Awards on Sunday evening, Quan was able to add another big win to this list by earning the award for Outstanding Performance by a Male Actor in a Supporting Role. This was a history-making win, as the actor noted in his acceptance speech.
"This is a really emotional moment for me," Quan said through tears. "Recently, I was told that if I were to win tonight, I would become the very first Asian actor to win in this category. When I heard this, I quickly realized that this moment no longer belongs to just me. It also belongs to everyone who has asked for change."
Offering some parting words to everyone who has been "rooting" for him, Quan continued, "To all those at home who are watching or struggling and waiting to be seen, please keep on going because the spotlight will one day find you."
Related: Ke Huy Quan Shares Post Everything Everywhere All at Once Worries: 'Nobody Wanted Me'
Everything Everywhere All at Once Continues to Earn Accolades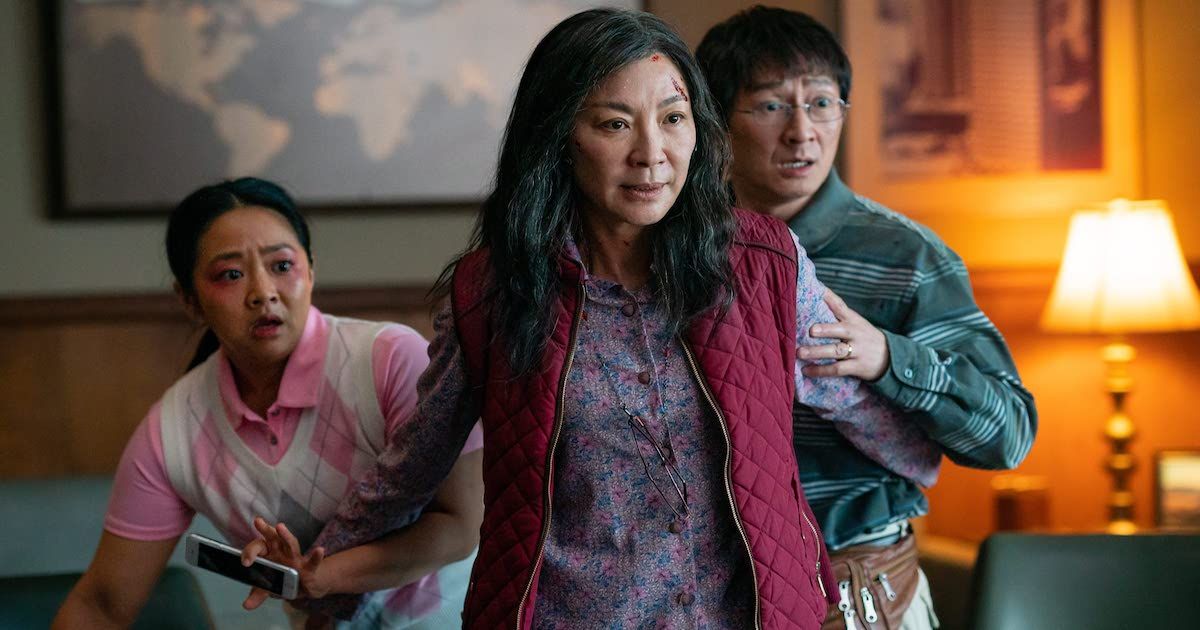 Also at the SAG Awards, Michelle Yeoh won for Outstanding Performance by a Female Actor in a Leading Role because of her role in the film. Both Stephanie Hsu and Jamie Lee Curtis were also nominated for the Outstanding Performance by a Female Actor in a Supporting Role category, with Curtis garnering the win. The whole cast also won for Outstanding Perfomance by a Cast in a Movie, which includes Quan, Yeoh, Hsu, Curtis, James Hong, Harry Shum Jr., and Jenny Slate.
It's also possible that Quan could next become an Oscar winner if this momentum continues. He's nominated for Best Supporting Actor at the Academy Awards, with Everything Everywhere All at Once also up for a slew of other awards. We'll find out for sure when the ceremony happens on March 12, 2023.