The original run of Police Academy movies, a series of comedies following a bunch of wacky police officers getting into wacky antics, ran from 1984 to 1994. At one point releasing new movies on a near-annual basis, this saga was frequently profitable, but by the time Police Academy: Mission to Moscow rolled around, audiences had had enough. It was time to hang up the badge and the baton, Police Academy was done for now. Since Moscow, various attempts have been floated on how to revive this franchise, with the most high-profile being a version spearheaded by Keegan-Michael Key and Jordan Peele. Though it never saw the light of day, it's still worth pondering this unrealized production given how it reflects the career trajectories of its respective leading men.
RELATED: 10 Great Horror Movies Recommended by Jordan Peele
The Start of a Key & Peele 'Police Academy' Movie
The sketch comedy series Key & Peele, headlined by Keegan-Michael Key and Jordan Peele, took off so much on television and especially on YouTube (where individual sketches became viral sensations) that this duo was bound to end up in movies eventually. Small-screen comedians had always managed to get at least one chance to headline a motion picture, with the results ranging in everything from Cabin Boy to The 40-Year-Old-Virgin to Knocked Up to The Rocker. The men behind countless unforgettable Key & Peele sketches were bound to get their opportunity to headline a theatrical feature.
The duo was announced to be producing a new take on Police Academy in April 2014, though, at this point, there was no word on whether or not they'd also headline the project. Given their fame, though, there's no doubt Warner Bros. brass was praying every day that the pair would also be anchoring the project. Scoring this pair of buzzy comedians for a Police Academy reboot was a stroke of genius on the part of studio executives, especially in terms of making sure this prospective remake/reboot could appeal to younger audiences. The original Police Academy franchise had gone on for a while, but it was no Star Wars in terms of its lasting pop culture legacy. Having Key and Peele aboard as producers and potential leading men could make the motion picture interesting to younger moviegoers who'd never heard of the original installments.
Later that year, Peele pulled back the curtain on the script by revealing that no decision had been made regarding whether or not he and Key would appear in the movie. He noted that their presence in the feature would come down to whether or not them showing up in Police Academy would benefit the script or only distract moviegoers rather than the egos of these two artists. He also expressed excitement for how the script was moving along and the people he and Key were collaborating with in making this reimagining of a Police Academy movie. With Key & Peele winding down its Comedy Central run, this duo was about to have a lot more time on their hands…time they could be spending making a brand new vision of the Police Academy franchise.
The Influences of the Proposed 'Police Academy' Remake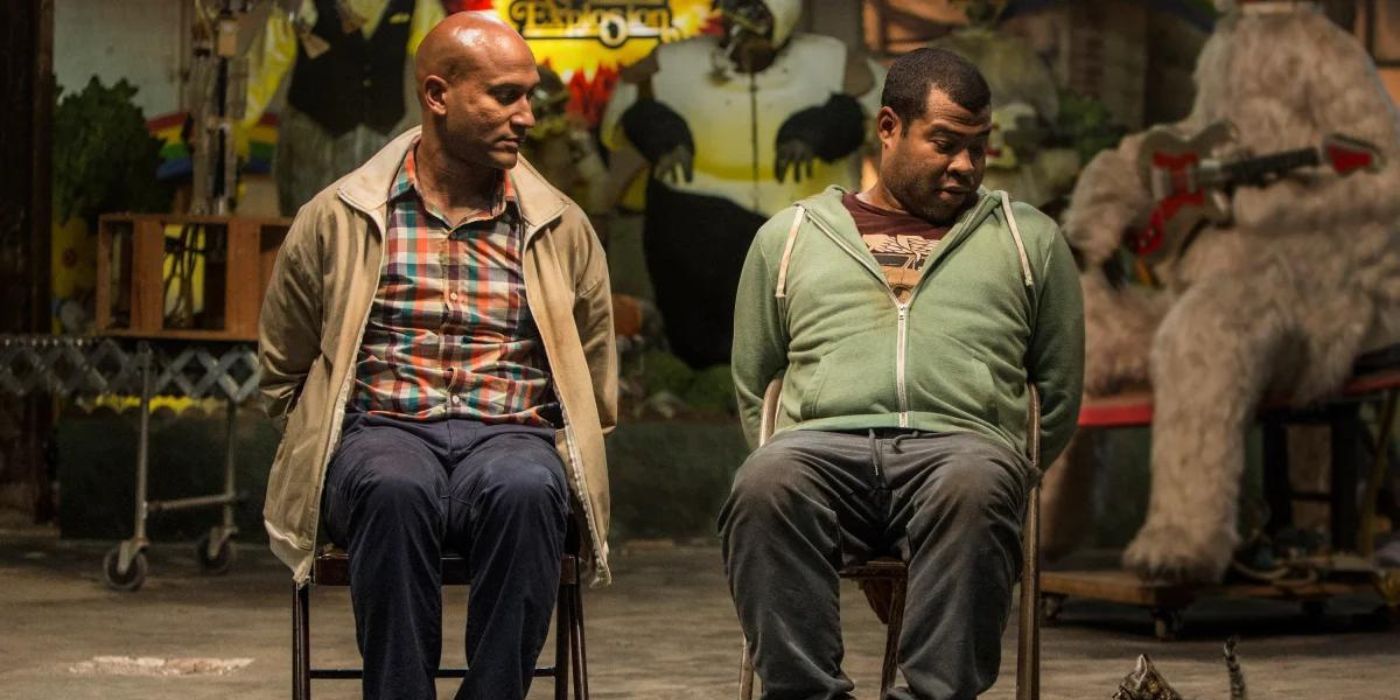 Before any potential Police Academy update could go forward, though, Key and Peele had to deliver another feature-length comedy for Warner Bros. The duo was making their first stabs as big-screen leading men with Keanu, a yukfest about two guys who have to delve deep into a criminal underworld to retrieve a cute kitty. These would be a test of their viability beyond the confines of sketch comedy, but promoting this movie would also be an opportunity for journalists to ask what the status of their Police Academy movie was.
Interestingly, Jordan Peele noted in 2016 that this proposed feature would be funny, but that it was also going to be taking cues from very real cop dramas, namely End of Watch. He and Key were also looking at MASH as a guidepost for the tone of their movie, which would combine gags with discernibly real elements. Key further observed that this Police Academy take would feature some of the wacky jokes people had seen on Key & Peele, but they also hoped to tackle some real issues with this proposed revamp of the franchise. That was the last public comment on this version of Police Academy, which quietly faded away in the years to follow.
Why Didn't Keegan-Michael Key and Jordan Peele's 'Police Academy' Reboot Happen?
The reasons why this Police Academy reboot didn't happen aren't exactly state secrets. For one thing, Keanu only made $20.7 million on a $15 million budget, a disappointing sum. Much like The Lonely Island, Key and Peele couldn't get audiences to see comedy movies in theaters (at least as movie stars in front of the camera) quite as easily as they could get people to click on funny viral videos.
More pressingly, though, was how major American movie studios withdrew from comedies in the late 2010s. Even branded reboots became less popular with outfits like Warner Bros., making a new Police Academy not something that the studio was dying to see. This version of Police Academy would also have been an action/comedy update of an old brand, judging from Key and Peele's comments. This a subgenre that floundered in the box office in the late 2010s between Shaft, Baywatch, and CHiPS, rendering the prospect of a new Police Academy from these two comedians even less enticing to the studio.
But most devastating of all for Police Academy was something that proved to be a godsend for cinema as an art form. Less than a year after Keanu, Peele's directorial debut Get Out premiered, ushering in a new essential filmmaking voice that was dedicated to the world of horror movies. Peele had gotten his start in Hollywood with wacky sketch comedy, but his cinematic exploits would now be focused on frightening and thoughtful features like Us and Nope. Peele's focus on these efforts, not to mention producing other horror titles like Candyman, meant he didn't have time to work on Police Academy. This career shift, not to mention Keegan-Michael Key working so regularly as an actor and musical performer, would ensure that this reimagining of Police Academy would fall to the wayside. Fans of this franchise should look on the bright side though…it's not like there's a shortage of classic entries in the franchise to watch!