Two movies about men recounting their lives, but can 'Big Fish' escape the shadow of 'Forrest Gump'?
In 1994, one of the most iconic American movies was released directed by Robert Zemeckis: Forrest Gump. It was based on the novel of the same name which was published in 1986 written by Winston Groom. Just a year short of a decade later, Big Fish directed by Tim Burton was released to theaters, based on the 1998 novel by Daniel Wallace. The movies are strikingly similar based on premise alone — both focus on two men telling the stories of their lives, which present themselves as near epic adventures that life has taken them on. With so many similarities to compare between the two films, is Big Fish just a pseudo remake of Forrest Gump?
RELATED: The 'Forrest Gump' Remake You Haven't Seen Yet
'Big Fish' and 'Forrest Gump' Have the Same Structure
Not only are Big Fish and Forrest Gump made up of oral stories told to other characters, but many events that take place within the stories seem too far-fetched to be true, even if they are true. Forrest Gump may be the most famous tale of life in American cinema. It has something for everyone. From intense war sequences to a romance across decades, Forrest Gump has managed to place itself as one of the most iconic films of all time, and that is no small feat. It is an incredibly well-made film, one that is almost unanimously said to be better than the book it is based on. Even in its questionable presentation of some topics, it still manages to have a lot of heart that makes the movie so memorable. Forrest (Tom Hanks) is a man who is telling his life story to a circulation of strangers at a bus stop. It is there we get flashbacks throughout his life. The movie frequently flashes back to the present to show new people on the bench jumping into the story (some hilariously more interested in what he is saying than others).
Big Fish does not fall far from the same structure, but the setup is very different. The movie truly begins when an estranged son returns home to help his mother take care of his terminal father. With his health ailing, Ed Bloom (Albert Finney), retells his life story to his son Will (Billy Crudup), who is determined to figure out what is real and fiction within them. Throughout the film, we see Will slowly move from frustration to admiration over these stories. Ed doesn't just talk to his son either, there's his wife Sandra (Jessica Lange) and Will's wife Josephine (Marion Cotillard) whom he tells these stories as well, and it is interesting to see how each of them listens and interacts with Ed differently. There is no question as to why these two films are frequently talked about together, all of these examples makes it seem as if they are the same film.
Ultimately, 'Big Fish' Stands Apart from 'Forrest Gump'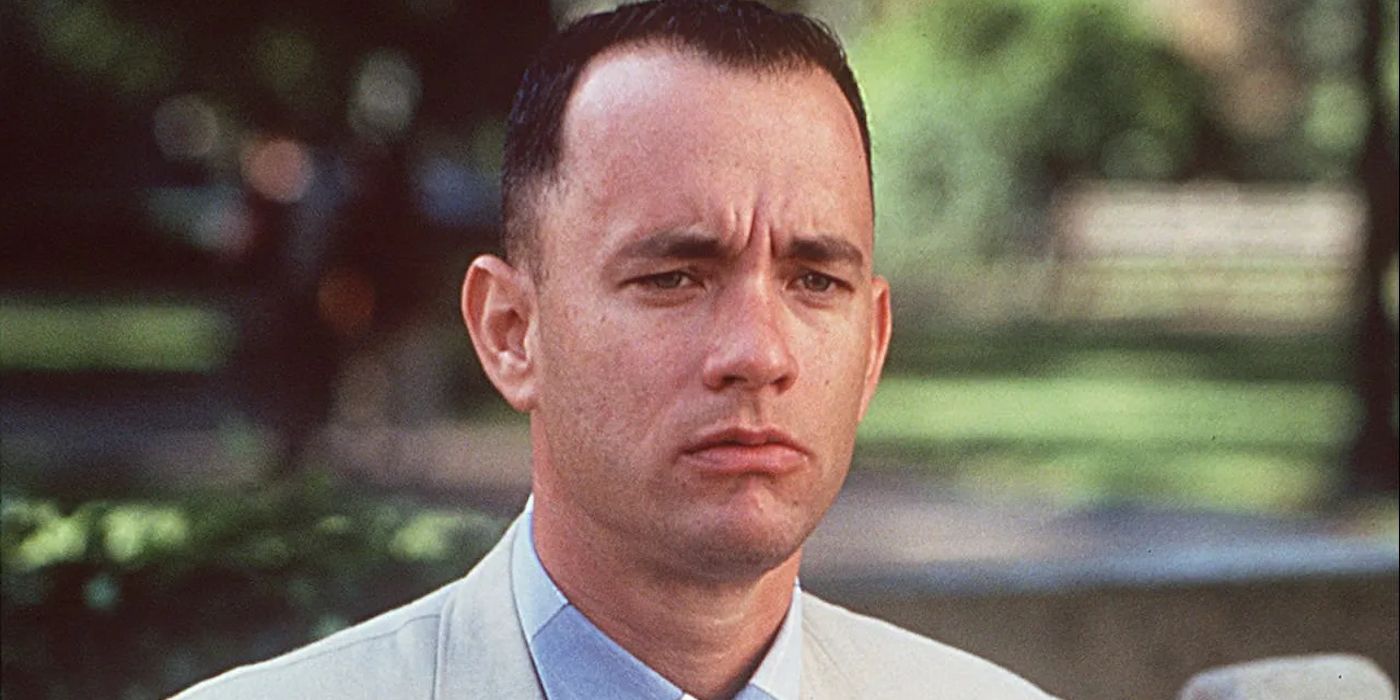 Forrest Gump is a story about an ordinary man pushed around by life like a feather in the wind. From his childhood to adulthood, he faces a lot of horrible things in the world. Despite being at war, losing his best friend in it, and loving a woman who largely wants nothing to do with him for most of her life, he still manages to find happiness in his life with other people, his mother, and himself. Forrest experiences so many extraordinary things in his life — from major historical events to being extraordinary himself. Forrest Gump shows how no matter how small or insignificant you think you are, you will still have a huge impact. "Life is like a box of chocolates" is perhaps one of the most famous quotes ever, and that's the message of the film put simply. You never do know what you are going to get in life. Some bad, some good, but all of it is worth it, isn't it?
Big Fish is less of a story about life pushing you around like a feather in the wind than a story about a father and son reconciling in the final days they have together. It also allows for a lot more fantastical elements to be shown through the embellishments of Ed's tales. Will puts it best as the movie is ending, "It doesn't always make sense and most of it never happened." This is what makes Big Fish so endearing. It doesn't stop to make something realistic, it doesn't wait for the audience to ask questions — it just keeps going. From werewolves and spooky trees that reach for you, to time literally stopping the first time Ed (Ewan McGregor) sees the love of his life Sandra (Alison Lohman). The exaggeration of life, romanticization at times even, is why Big Fish can stand on its own. At its heart, it is about legacy in the form of storytelling and family. A man becomes bigger than life just by simply making his life story more entertaining for the listener. It finds the extraordinary in the ordinary and shows that is why life can be so beautiful.
Both of these films share a very similar premise, and even a very similar message and structure. There will probably always be connections made between them — they are two of the most life-affirming films ever made, especially because they don't stray from showing the absolute lowest points of life that you feel you will never escape. But they are very different viewing experiences. Forrest Gump is mostly straightforward, and while far-fetched events do happen, they are never so out of place that they don't feel they couldn't happen. Big Fish is clear from the start that this will be a tall tale, and it's up to the audience to figure out the threads of truth within them. But it doesn't really matter in the long run. This film locks the audience in the present whereas Forrest Gump doesn't. While the stories of Ed's life take up a lot of the runtime, the emotional hook is in the present as Ed's health is declining, and Will is trying to understand his father. That is what sets Big Fish apart from Forrest Gump and allows Big Fish to stand apart from its shadow, even with their similarities.