The 1945 film Leave Her to Heaven commands a Criterion Collection level of respect within the film noir canon. Martin Scorsese adores it; it was the highest-grossing film of the 1940s for Twentieth Century Fox; the United States National Film Registry preserved it for its "cultural, historical, and aesthetic significance." Yet to more casual noir devotees, this majestically sinister psychological drama feels like an overlooked treasure. Maybe it's due to the fact its look doesn't ring as proper noir: Leave Her to Heaven was filmed in full Technicolor glory rather than the traditional black and white. There's a distinct lack of expressionistic shadows, low-key chiaroscuro lighting, and grumpy detectives with as many witty one-liners as bullets.
Leave Her to Heaven's cleverest chess move is proving that film noir's misanthropic core stems from atmosphere, mood, and intent. As a slow-burn thriller, the film seduces the viewer as much as its leading lady does her husband, and in so doing crafts one of the most chilling femme fatales ever to grace the silver screen. Gene Tierney's Ellen Berent is no overtly sexual minx tempting the morally gray protagonist to evil. She's the devil in a carefully constructed human disguise, a simmering pot always on the edge of boiling. Yet Ellen's characterization also deconstructs the basic notion of the femme fatale archetype: in her mind, everything she does is in the pursuit of love. And no act is off limits.
RELATED: The 10 Greatest Classic Film Noirs, According to Reddit
'Leave Her to Heaven' Begins Like a Seductive Mystery
Leave Her to Heaven unfolds like a proper mystery: Richard Harlan (Cornel Wilde) has just returned to his home after several years in prison. A somber tension shadows his reunion with his friends. Someone mentions an unnamed "she," but the relevance of this looming figure in Richard's life isn't explained. Cue a flashback (such a proper film noir move!) to years prior, when Richard meets the luminous Ellen Berent during a train ride. Richard's a published author, and Ellen is reading one of his books. The pair's eyes meet, and Ellen unabashedly stares at Richard without a blink or visible breathing. Her face is as dangerous as broken stained-glass, her still gaze revealing nothing except a calculating entrancement. Then Ellen apologizes, explaining that Richard bears a "remarkable resemblance" to her recently deceased father; the two were close. Richard, flattered and intrigued, flits with the reciprocating Ellen. The two fall into an impulsive romance that swiftly leads to marriage. Between their sultry chemistry and stunning scenes in the New Mexico desert backed by swelling orchestral music, everything indicates there's nothing more here than an era-appropriate romance.
Except — there's the matter of Ellen's singular intensity. The screen adores Tierney, who portrayed complex women throughout her career but went against type for Leave Her to Heaven to impressive effect. The revelation that Ellen is a manipulative mastermind is revealed as slowly as a poker game. Her single-minded purpose is to isolate Richard and own him completely. To that end, Tierney initially plays Ellen as calmly as an undisturbed river. She's outgoing without being aggressive, and enticingly hypnotic without employing open seduction. Any hints of her toxic nature are lightly sprinkled and require audience attentiveness: she recites minute details about Richard's life from his author dust jacket; she hunts turkeys; her fixation on her father reads like an Elektra complex. Her cousin Ruth (Jeanne Crain) and her mother (Mary Philips) speak of Ellen with an awkward reservation bordering on contemptuous. Rather than rely upon a brilliant and troubled detective and a complicated murder case, this mystery is of the mind and brews tension with the same disciplined sharpness as Alfred Hitchcock's later work. A bomb is going to explode, but when, and who's caught in the shrapnel, remains unknown.
Simultaneously, Tierney makes Ellen too disarming and radiant to doubt her as anything more than a unique woman. In the same manner that traditional noirs confront the characters' pathologies through cynical monologues about a hopeless world, Heaven uses Richard and Ellen's seemingly innocent conversations as ominous warnings.
Ellen Is Actually a Monster in Disguise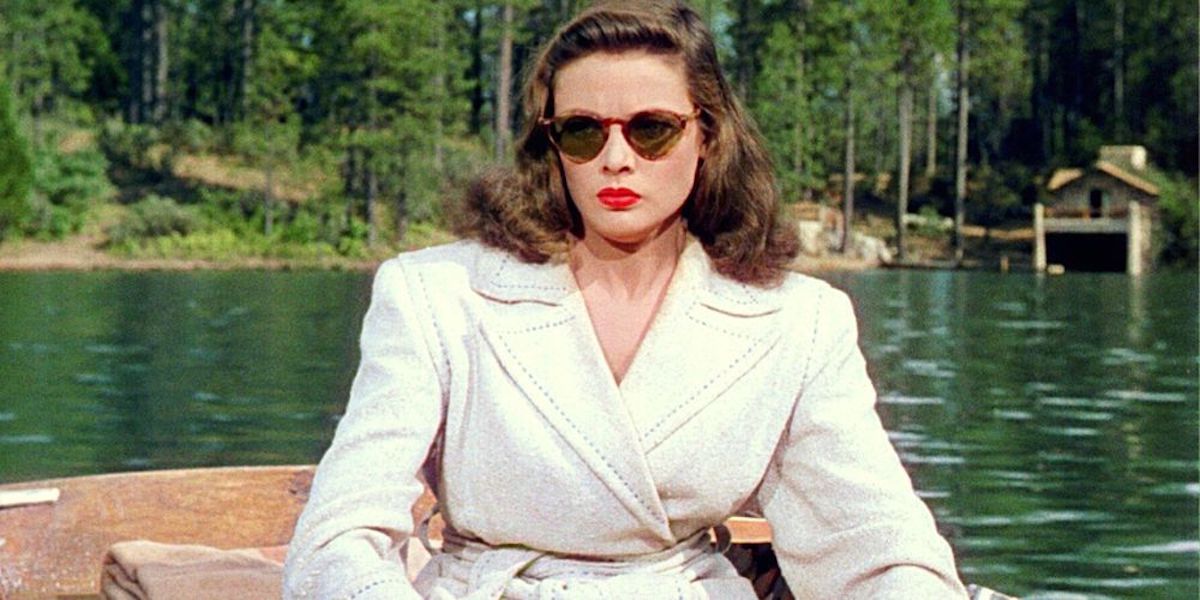 The truth of Ellen's nature starts leaking through her facade when her fiancé Russell Quinton (a youthful Vincent Price, of all people) confronts Ellen about their broken engagement. Russell gazes upon her with distressed yearning; Ellen stares back with the resolute intensity of Antarctic ice. Her possessive proclamation of love for Richard is sinister when her eyes are as empty as a black hole and her lipstick's as red as war paint. Despite a significant height difference, Ellen's the one metaphorically staring down at a defeated Russell like a triumphant, twisted goddess. This is the third time Price and Tierney were paired off romantically in a film, and unlike Laura and Dragonwyck, Tierney's the fiend destroying her lover piece by piece.
Richard and his new bride move to a cozy cottagecore house in Maine (abandoning the unspoken rule that noir requires a gloomy urban setting). Everything seems like a beatific honeymoon period, and then it goes to hell in a hand basket when Richard's younger brother Danny (Darryl Hickman) moves in with the newlyweds. Ellen wants Richard all to herself and won't be satisfied by anything less. Danny disrupts their privacy, and Ellen's visceral revulsion at his intrusion hums like a living thing. When the boy rejects Ellen's suggestions to move somewhere else, she lets him drown in a lake.
This is the one: the film's most crucial and singular moment. The bomb explodes, and it's a shocking scene dripping with moral depravity and noir menace. Once Danny disappears under the water, Ellen slides on her sunglasses and sits immovable as a stone, listening to his screams for help without flinching. Now we know the secret Ellen kept concealed. Her mother claims that "she loves too much, she can't help it," while also asserting that Ellen's so-called love has destroyed everyone she's known. Danny's presence threatens her world enough to commit senseless murder, but the problems keep compiling: she's jealous of the time Richard spends writing, jealous of his interactions with Ruth. This isn't a traditionally "crazy" woman, but someone so bereft of love that her actions lean sociopathic. But she's still a spider who caught her man in her web and wants to consume him alive.
Gene Tierney's Ellen Is the Definitive Femme Fatale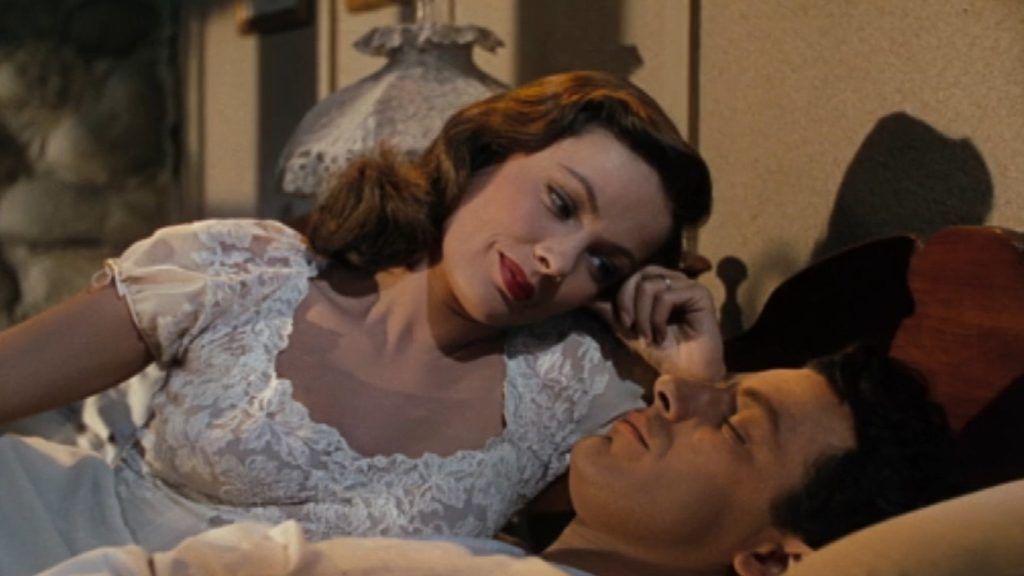 Film noir is studded with phenomenal actresses as iconic femme fatales — Barbara Stanwyck's turn in Double Indemnity, Jane Greer in Out of the Past, and Joan Bennett in Scarlet Street. But during this lake scene, they've got nothing on Tierney. The woman is terrifying, and concealing her infamously emotionless eyes behind black sunglasses is a visual allegory almost too good to handle. Ellen's ferocious cruelty, the gloating satisfaction she derives from it, and her growing desperation to keep her claws in Richard, drag the film into the territory of a modern gothic horror. And that horror is from a perceived housewife, not some all-powerful mafia boss. Film noir always centers on characters of dubious morality, and dubious morality is the definition of the femme fatale. Those women never become the protagonist's wife, however. Heaven embraces the femme fatale tropes with chillingly brutal effectiveness in a far more realistic setting. Suitably, Tierney received her one and only Oscar nomination for her performance.
But Ellen isn't entirely devoid of sympathy. Her pregnancy makes her feel trapped and weakened, which is a radical expression of how complicated pregnancies can be for some individuals, even if it's from the mouth of the film's corrupt woman. Ellen knows she's losing Richard's love, but she can't endure having a child inside her, nor its birth usurping her and Richard's solitude. The roles of housewife and mother are stifling, and her silent fury leads her to terminate the pregnancy by tossing herself down the house stairs. Changing into a glamorous blue nightdress with heels to match and re-applying her lipstick recalls a warrior preparing for battle. It's remarkable that Heaven got this moment past the Hays Code censors.
'Leave Her to Heaven' Changes the Style but Keeps the Substance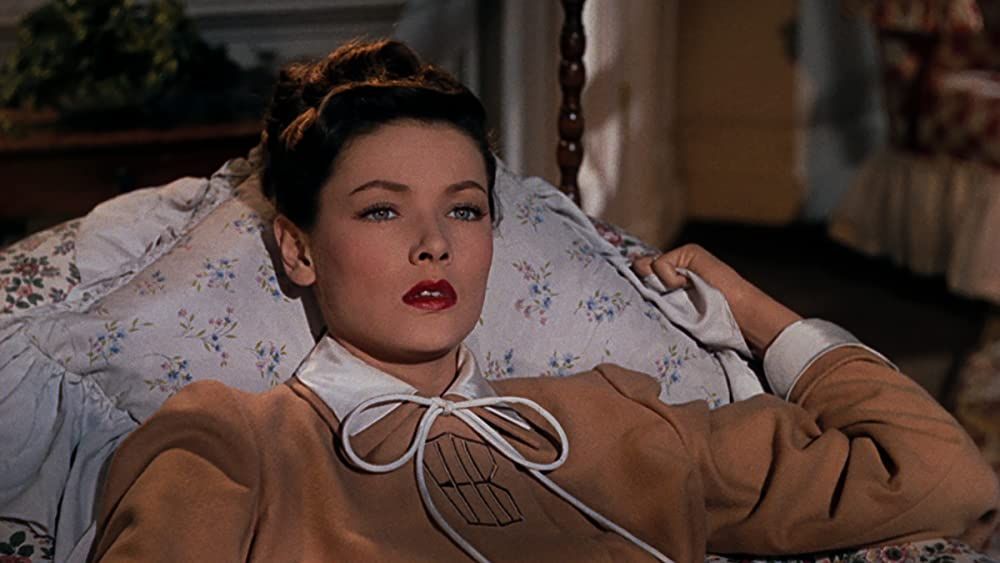 Speaking of the Hays Code: an immoral woman must always be punished, so when Ellen confesses her crimes in a failed attempt to make Richard understand her motivations, she poisons herself with arsenic and frames Ruth for her death. Richard isn't having it; as he tells the courtroom, Ellen "is now reaching from the grave to destroy [Ruth]. Yes, she was that kind of monster." Unlike some femme fatales who long for redemption, there are no extenuating circumstances to forgive Ellen's transgressions. And still, there's a twitch of remaining sympathy for how trapped Ellen felt and how futile her (vengeful) search for love was. Leave Her to Heaven is one of film noir's most staggering achievements because it digs past the genre's stylistic expectations and unearths its core themes only to drop them within a tranquil, bright color palette. Its classically fatalistic mentality stems from our femme fatale's shameless inhumanity rather than despair over the world at large, which results in an unforgettably macabre masterpiece.