Any way you spin it, Casablanca Records was a powerhouse. One of the most successful independent record company of all time, it fueled some of the most iconic music artists in history — Donna Summer, Parliament, Gladys Knight, The Isley Brothers, The Village People, Bill Withers, and yes… even KISS. The brainchild of its idealistic yet brilliant founder/music producer, Neil Bogart, Casablanca became one of the most influential studios by the time things got rolling for the indie label in the 1970s.
That's what makes Spinning Gold all the more intriguing. The film is a tribute to the late Neil Bogart — his son, Timothy Scott Bogart, writes, directs, and produces the film — as much as it is a parade of talent, as some of today's hottest music stars taking on the icons who inspired them in a film about the music industry.
The Stars of Spinning Gold
nHowling Wolf"">
Singer Tayla Parx is one of those performers. She had the immense task of becoming music legend Donna Summer in Spinning Gold. Summer's hit songs (Bad Girls, Love to Love You Baby, Hot Stuff, I Feel Love, Last Dance) defined a generation and influenced music far beyond the 1970s. "It was absolutely daunting to step into the shoes of somebody the world has loved, and some people have grown up," Parx admitted with a chuckle.
Meanwhile, Jeremy Jordan (Supergirl, Disney's Newsies: The Broadway Musical!) takes on the crucial role of Neil Bogart in the film, while Jay Pharoah (Saturday Night Live, Bad Hair) costars as Casablanca co-founder Cecil Holmes. Portraying any historic figure on screen is not easy, but unlike Parx, Pharoah wasn't all that concerned about playing Holmes.
"I didn't find it daunting at all," said Pharoah. "We have certain characteristics. He was a Christian man and I follow that those beliefs. This [cross] is not just something I put around my neck. And Cecil didn't indulge in coke and all of that stuff. He might have hit the J [marijuana] sometimes, but that's all he did. I'm like that in my regular life. I hit the J, but I don't do anything else. And I started in theater and drama, so going into a dramatic role like this wasn't that hard for me because I'm used to jumping back and forth between comedy and drama. Some of the best comedians can do both."
Spinning Gold opens in theaters March 31. Parx and Pharoah share more about the film with MovieWeb.
Tayla Parx on Playing Donna Summer
"For me, this film is really about the journey to becoming Donna Summer," Parx beamed, "In the film, we meet the singer before she's 'Donna,' which to me was very interesting. You can see how her vocals were delivered and eventually transformed."
Copy that. It's fun to watch Parx take on Summers here, especially in a crucial scene that involves Ms. Summers recording her career-defining hit, "Love to Love You Baby." There are other highlights throughout the film, of course, and audiences may appreciate seeing some of today's favorite musical artists — from Wiz Khalifa to Pink Sweat$ — take on legendary singers.
Related: These Are Some of the Best Concert Films, Ranked
Parx said she immersed herself in studying the differences between Donna the wannabe star and Donna the icon. "Before this movie, there was very little that showed how Donna became Donna — that journey. This film left some room to think about her as a singer/ songwriter. Like… how do you discover who you are as an artist? And if you knew that what you're discovering would become iconic one day, how do you approach that?"
Touches of that curiosity are sprinkled throughout the film, which lands as an amalgam of an ambitious musical and bona fide tribute film.
"My biggest hope is that I've given the character justice," Parx went on. "Donna has a daughter who's still alive. So, I hope people 'get it' and see that this is as close of a portrayal as I could get. And I also hope people walk away from the experience realizing how many people it takes to make these superstars. In the film, we see so many people who have been forgotten about; those people don't maybe get talked about the most. But it's really important we notice them."
Jay Pharoah on Becoming Cecil Holmes
nHowling Wolf"">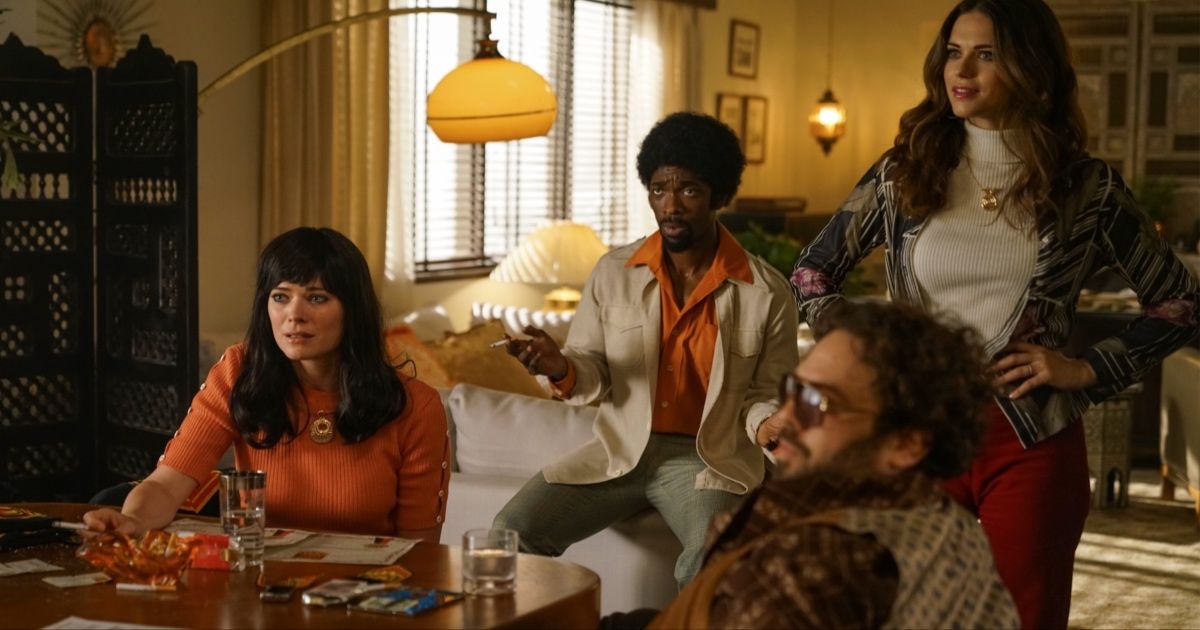 Starring alongside Jordan, Pharoah, and Parx is an all-star cast who give it their all in Spinning Gold. There's Michelle Monaghan (Mission: Impossible, Gone Baby Gone), Tony Award winner Dan Fogler (The Walking Dead, The Goldbergs), and Jason Isaacs (Harry Potter, The Patriot) in one corner. Then there's Lyndsy Fonseca (Kick-Ass, Hot Tub Time Machine), Chris Redd (Saturday Night Live), Casey Likes (Almost Famous on Broadway), and comedian/actor Sebastian Maniscalco (The Irishman) in another.
Pharoah is candid about what he first thought when he read the script. "I thought it was insane — all the differences happening back in the day. I was captivated by the story of all the artists on Casablanca. I had no clue about all that affiliation [with the label]. I only knew the music. I knew the music of Bill Withers and, of course, Donna Summer, and the others, but the affiliation of KISS or The Village People, and others, with Casablanca? I was totally flabbergasted about that."
Related: Best Musical Biopics, Ranked
The SNL alum went on to say that as a young kid he liked KISS, but didn't realize at the time that, initially, the public didn't warm up to KISS. To its credit, Spinning Gold fills in some of that backstory and the power of persistence. "It really fed into the narrative of this film," Pharoah added. "It's like… you bet on yourself and believe in yourself. Essentially, you fake it until you make it."
It should be noted that Bogart's bright-eyed optimism and never-wavering spirit — the indie label was millions of dollars in debt for some time before things perked up — watered the spirits of the artists who would become superstars.
"You have to believe in yourself and stay persistent, because if you give up at 11:59, your breakthrough could have been at 12 o'clock, so be persistent — no matter what happens," Pharoah shared. "Neil Bogart saw that. He was the founder of Casablanca and Cecil Holmes, my character, was the co-founder and backbone, Neil's right-hand man. When Timothy Bogart told me about his father — because there was no visual, no audio to go by; it's not like me doing the Denzel Washington impersonation — I had to pull this character from the experiences of having people in my life who I would really die for. And there's only a few of those people in my life, I don't have a big circle."
"So, to be able to tap into that wasn't 'hard,'" added Pharoah, "but it was still a challenge to stay in character and bring all that to the big screen so everybody could feel it. I think we did that here."
Spinning Gold hits theaters on March 31.