Hollywood is filled with fascinating movies that were never made, as it's part of the filmmaking business to drop some ideas when they prove too hard to execute, or too ambitious to ensure profit. However, once in a while, the stars align to make a previously abandoned project relevant again. That would be the case of Mike Flanagan's Clayface movie, which would fit like a glove in the new DCU DC Studios' co-heads James Gunn and Peter Safran have been building for the past few months.
In an episode of the podcast Script Apart released earlier this month, Flanagan was invited to break down his beloved adaptation of Stephen King's Doctor Sleep. During the episode, Flanagan revealed he had actually reached out to Warner Bros. to discuss the possibility of directing a DC movie. On the top of his priority list was a Clayface film pitch, where he could use his horror expertise to make the Batman villain justice. Flanagan said, "I went into Warner Bros. to have the meeting about DC. It was a general meeting with [producer] Jon Berg talking about whether there was anything in the DC Universe that I could be a fit for… I really wanted to do Clayface. I went in and said, 'You know, if you want to do some horror-leaning DC stuff, boy do I have a great take on Clayface. I'd love to do that movie.'"
It's easy to understand why Warner Bros. didn't give Flanagan a shot since the DCU has been struggling for a while. First, Zack Snyder proposed an ambitious crossover plan that was dismissed when the studio realized Batman v Superman failed to reach box office expectations. After that, Walter Hamada was hired to keep the cinematic universe alive, which he struggled to do with executives constantly changing their minds about what they wanted. Finally, the DCU imploded after the Warner Bros. Discovery merger and Dwayne Johnson's failed attempt to turn his Black Adam into the center of the DCU. It's hard to imagine anyone at Warner Bros. would bet their money on a strict horror movie about a Batman villain who's not usually part of Gotham City A-listers – but who deserves to be. Fortunately, times have changed, and Mike Flanagan's pitch should definitely be reconsidered by James Gunn. The opportunity just arose as Flanagan and his Intrepid Pictures partner Trevor Macy took the project for another look at DC Studios.
RELATED: Every Mike Flanagan Movie and TV Show, Ranked
Who Is Clayface?
While there are multiple supervillains who used the moniker Clayface in DC Comics history, the most well-known version of the character was created by writer Bill Finger and artist Bob Kane for 1940's Detective Comics #40. In his first incarnation, Clayface was Basil Karlo, a B-list actor who goes mad after being kicked out of the remake of his biggest cinematic success, to the point where he dons a disfigured mask and starts to hunt down the cast and crew of the movie. It would take a couple of decades before Basil Karlo got the shapeshifting powers that justify his monicker, but nowadays, we can only imagine the villain as a mass of clay who can take any shape while hiding away from Batman or turning his limbs into powerful weapons. So, while the Clayface history is convoluted and filled with twists and turns, the Basil Karlo version of the villain, complete with superpowers, is the most well-known.
While Matt Hagen is the Clayface featured in Batman: The Animated Series, the show used Basil Karlo's backstory to make the villain more interesting. As a result, the animated version of the character began to be represented with Basil's actor origins and Matt's mud-like powers. Basil Karlo was also part of the Batman: Arkham game trilogy, arguably the best adaptation of DC Comics in the gaming world. More recently, a comedic version of Basil appears in Harley Quinn, voiced by Alan Tudyk. So, it's safe to say Clayface is well-known enough to bring fans into theaters. And with Flanagan behind the project, the character would have everything he needs to become a horror sensation.
Mike Flanagan's 'Clayface' Would be Great for James Gunn's DCU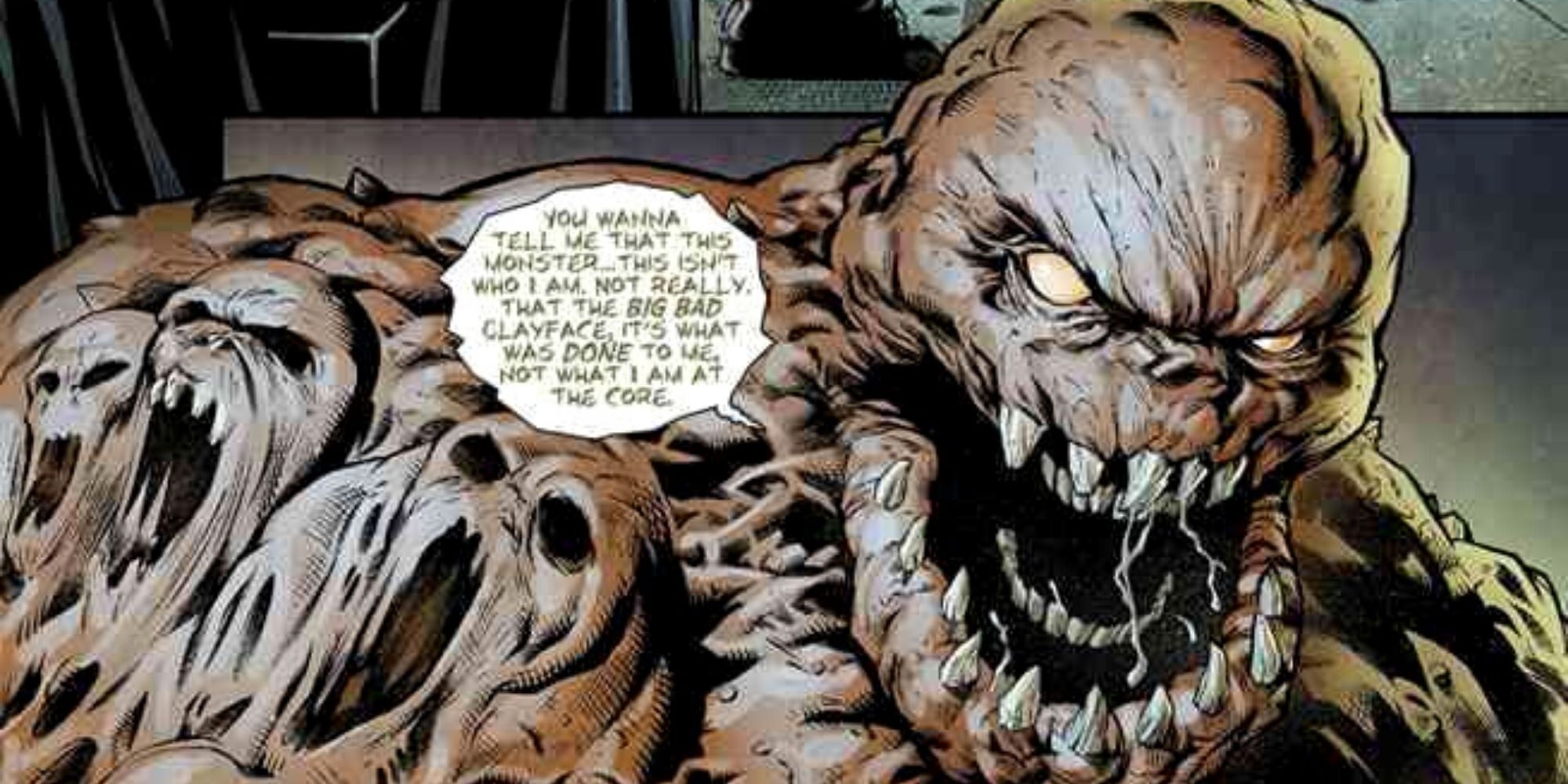 While James Gunn and Peter Safran still haven't revealed their full plan for the new DCU, we know their unified storyline will be split into two chapters. The first chapter, "Gods and Monster," will introduce new versions of beloved heroes such as Superman and Batman but will also take a look at horror-based characters of the DC universe. For instance, Gunn has written all the episodes for a Creature Commandos animated series which will feature DC's version of the monster of Frankenstein. There's also a Swamp Thing movie in development that'll be inspired by Alan Moore's run of the character. And since Moore brought existential horror to Swamp Thing, we can expect the same treatment for the movie. So, there's no questioning Gunn is willing to use horror as a storytelling tool in his new DCU.
Considering the DCU plans we know so far, there seems to be space to create parallel stories involving less-known characters. As such, a Clayface movie could explore the body horror of the character. Even in Harley Quinn, which uses the villain for comedic effects, Clayface is still a man at odds with his own body, incapable of connecting with other people due to his unique morphology. Now imagine the same idea fully explored through horror lenses. Sounds good, right? And if a Clayface movie ever gets developed, Flanagan already proved he's the right person for the job.
While Flanagan has been making horror for a while, he became wildly popular after the release of Netflix's The Haunting of Hill House. The series uses Shirley Jackson's novel of the same name to create a completely original story that respects the original work while still finding new ways to scare the public or bring us to tears. The Haunting of Hill House is not the only adaptation of Flanagan's filmography, as he also loosely adapted Henry James' The Turn of the Screw into The Haunting of Bly Manor, used Christopher Pike's work for The Midnight Club, turned Doctor Sleep and Gerald's Game into fantastic movies, and is getting ready to release The Fall of the House of Usher, based on the short story of the same name by the Gothic King Edgar Allan Poe. Considering Flanagan is also adapting King's The Dark Tower into a series, it's easy to say the filmmaker has a knack for turning literary works into successful live-action productions. In short, Flanagan has the experience and tools to adapt Clayface's horrific story to the silver screen.
We still don't know the full scope of the "Gods and Monsters" chapter, as Gunn revealed part of the DCU slate for films and TV shows. However, as talented as Gunn might be, dealing with the entire DCU alone is too much work for a single creative mind. Sooner or later, Gunn and Safran must approach other directors and screenwriters to help them build their ambitious plans. And if newcomers don't get in the way of the main story Gunn is trying to tell, there's no reason why DC Studios couldn't accept interesting pitches. Flanagan's Clayface film sounds like an intriguing concept and one that fits perfectly with the theme of "Gods and Monsters." As such, Gunn and Safran would do well in greenlighting Flanagan's Clayface movie and giving him the chance to become part of the DCU.