Comedy acting greats Jennifer Aniston and Adam Sandler have established a highly enjoyable dynamic in the comedy movie Just Go With It directed by Dennis Dugan, and the comedy-thriller Murder Mystery directed by Kyle Newacheck. The latter even has a sequel slated for release this Friday — Murder Mystery 2, is premiering on Netflix on March 31, 2023. These charming actors are joys to watch on screen separately, each with a long list of comedic performances to their names. But pairing their yin and yang energy together is what provides audiences with a lesson in chemistry, and delivers some sweet and unexpected results.
With Adam Sandler and Jennifer Aniston, Opposites Attract
In both Just Go With It and Murder Mystery, Adam Sandler and Jennifer Aniston's characters juxtapose one another. Aniston's more responsible and pragmatic portrayals complement Sandler's goofy jokes and frequently irresponsible choices. As we see in Murder Mystery, Audrey Spitz (Aniston) is the more dedicated of the two in their marriage, caring that they have not spent enough quality time together. In the meantime, Nick Spitz (Sandler) cuts corners on her anniversary gift and allergy medication, reflecting his utter lack of seriousness. He is challenged on this, and on the spur-of-the-moment lies that he has booked a cruise for their anniversary. Similarly, in Just Go With It, Danny (Sandler) creates a far-fetched situation based on lies, which Katherine (Aniston) is told to "Just go with," in order to impress his girlfriend Palmer (Brooklyn Decker). He irresponsibly brings her children into the situation, taking them all on vacation to Hawaii as part of the deception.
In these movies, Adam Sandler's characters' poorly-planned actions are the catalyst for adventure, whilst Aniston's characters use sense to bring him back to reality, creating a balance between the two. Through the madcap situations, they stick together: as Aniston says in Murder Mystery, "That's what we do. We do things together." This balance is then lightened by his jokes and impressions – Nick makes silly quips in front of the suave Charles Cavendish (Luke Evans) whom Audrey has befriended on the plane. She tolerates these jokes, arms folded, before placing a quieting hand on his shoulder. Similarly, in Just Go With It, Danny makes exaggerated impressions of a soul-patched-bassist, who has asked Aniston's character on a date, and later mimics a quote she always uses about Cary Grant "only tak[ing] the stairs." This is met with her laughter – or telling him off lightheartedly. Her realism and pragmatism gently ground his teasing humor, making them a relatable and watchable on-screen couple, which would rival his and Drew Barrymore's famous appeal!
RELATED:Movies Like 'We're The Millers', From 'The Hangover' to 'Little Miss Sunshine'
Adam Sandler & Jennifer Aniston Create a Genuine Connection On Screen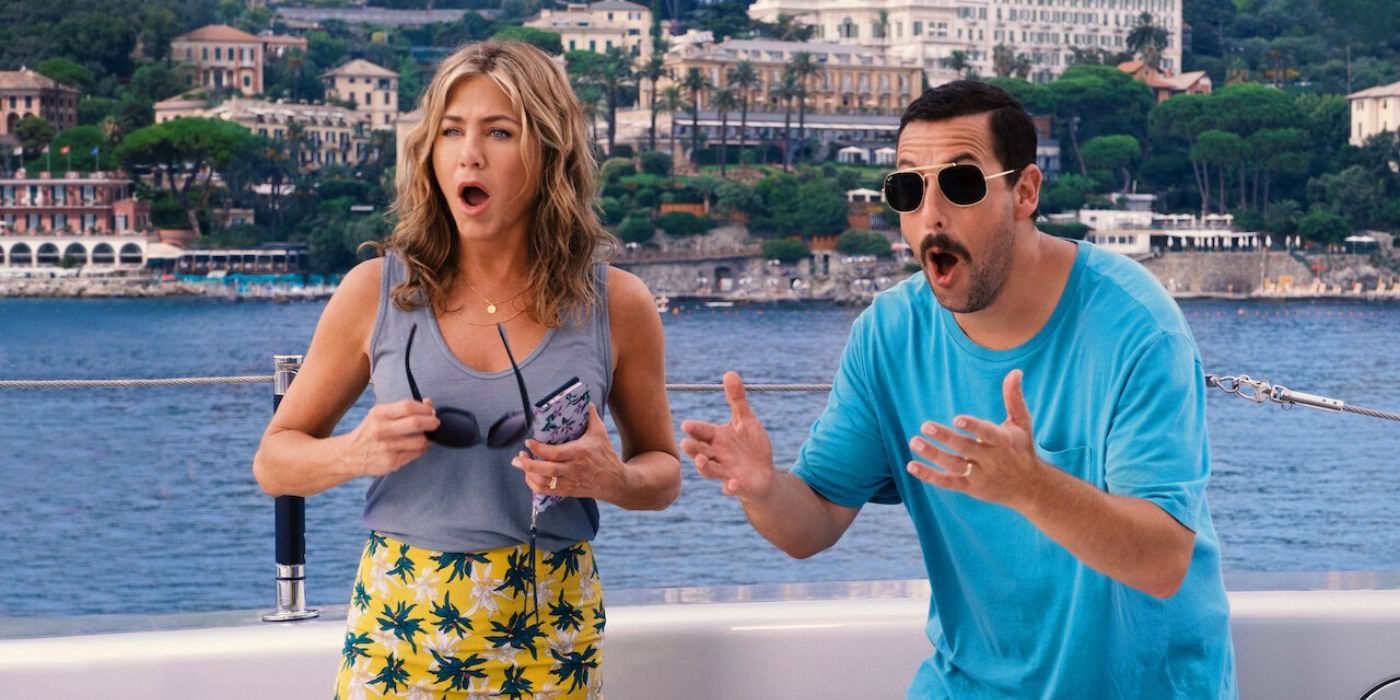 Whilst opposites can attract, the differences between Sandler and Aniston's characters often create friction, which in turn brings a naturalness to their on-screen relationships. In Murder Mystery, Audrey asks Nick to not push his chair back on the plane, reflecting her comfort with him by setting a boundary in a firm but loving way. He instantly ignores this request and proceeds to put his chair back unceremoniously – increasing the humor at this moment, but more importantly, signifying the trust between the two, as he can be himself. Later in the movie, after an argument, the two part ways briefly, but ultimately unite when each separately decides to solve the murder mystery, reflecting their bond, and that their conflicting ways always bring them back together.
During Just Go With It, we see this same easy trust between the contrasting pair. Katherine trusts Danny with her children, and agrees to his mad schemes, eventually roping him into her own fabrications to impress an old classmate. "You're the only person I've never lied to in my life," Danny tells Katherine, whilst they pretend to be a couple. She compliments his sense of humor, and they both have a genuine warmth in their eyes as they realize their feelings for one another, which it took pressuring and jostling each other into each other's plots to arrive to.
In both movies, the two actors bicker in a comfortable way. When Danny and Katherine ultimately unite romantically, it seems like a natural progression of their friendship, in which they had been allowed to disagree and remain true to themselves.
Through Juxtaposition, Sandler & Aniston's Characters Teach One Another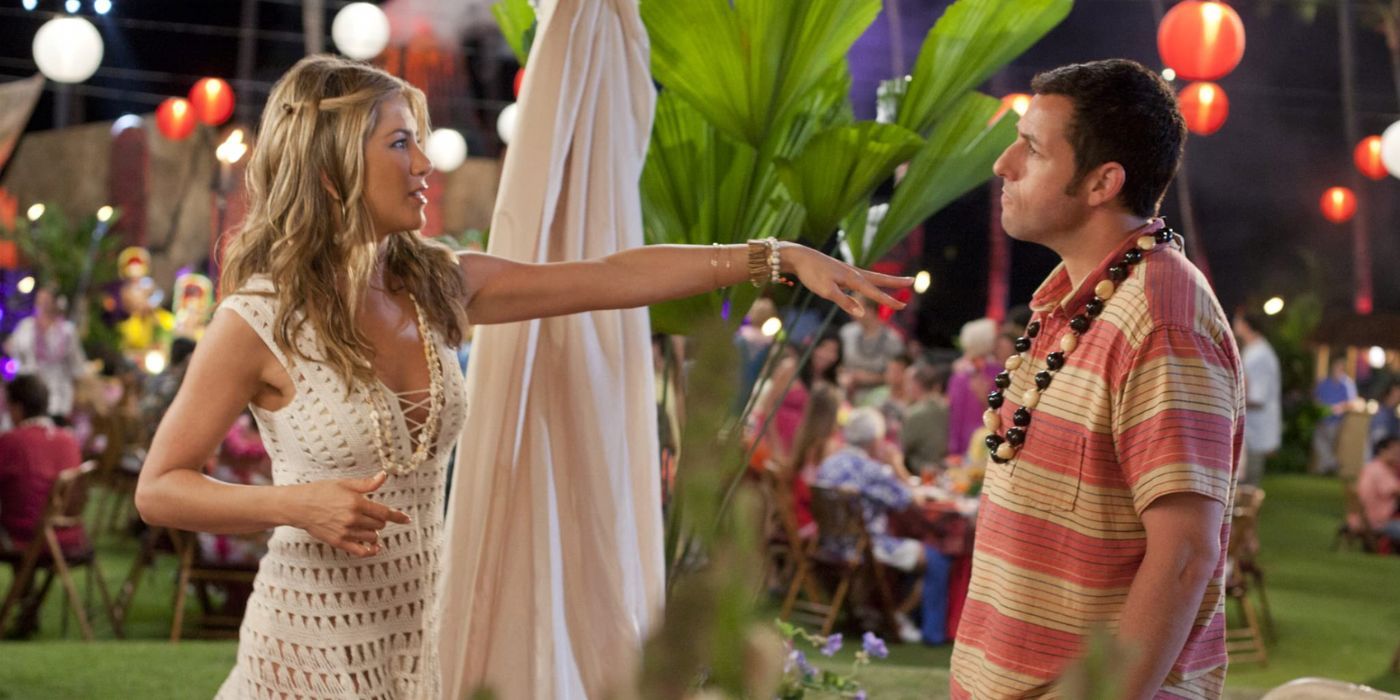 In Murder Mystery we see Audrey taking the helm and pushing Nick to join Cavendish on his luxury yacht. Here she is being spontaneous, and despite not yet knowing that his cruise gift was an impulsive decision, the fact that they are going to Europe for the first time together seems to make her more daring and adventure-seeking. This has echoes of Just Go With It, in which Aniston as Katherine chooses to immerse herself in the role of Danny's ex-wife, behaving in a highly-strung manner, and demanding that he buy her designer clothes, subsequently roping him into fake-husband duties to deal with ex-classmate Devlin's (Nicole Kidman) judgment later in the movie.
Conversely, in Just Go With It, we see Danny authentically connect to his emotional side, romantically reflecting on how Katherine's smile motivates him through the workday. His admission is heartfelt and very caring, which is an improvement upon earlier in the movie when he recklessly involves her children in his plans. This is mirrored in Murder Mystery, when Nick is vulnerable with Audrey, and becomes defeatist and pessimistic, prompting her to reassure him in an endearingly honest moment between the spouses.
This meeting-in-the-middle of personalities and actions is how a close pair would react in real life, influencing and inspiring one another to step outside their comfort zones. In both movies, Sandler's characters encourage Aniston's characters to engage in riskier and more exciting antics, whilst Aniston's characters cause Sandler to reflect on the important aspects of life.
How Will Their On-Screen Dynamic Continue in 'Murder Mystery 2'?
Murder Mystery 2 will hopefully serve us more of the addictive chemistry between Adam Sandler and Jennifer Aniston. It will be interesting to see how it follows on from Murder Mystery, which left the couple in a strong place, after having worked together as a team to clear their names as suspects, whilst solving the movie's ultimate mystery. We hope to see more honesty as they move through life and its thrills together, and if there ever were a sequel to Just Go With It, we would hope for the same, with both magical ingredients: Sandler's playful goofiness, and Aniston's amused patience.