To this day, it's one of the most frequently quoted films in modern cinema history. Anyone who's ever heard the line, "Say hello to my little friend," or, "For a green card, I gonna carve him up real nice," knows they come from the 1983 masterpiece Scarface, director Brian De Palma's paeon to the gangster genre. The movie chronicles the rise and fall of Tony Montana, a refugee from the 1980 Cuban Mariel exodus who ascends the blood-stained rungs of the drug underworld to become Miami's "Cocaine King." Al Pacino, whose unhinged and frenzied performance as the maniacal Montana earned him a 1984 Golden Globe nomination, was so convincing that some moviegoers believed the story of the horrifyingly lethal narcotic kingpin was about a real person. And it actually was.
What's surprising, though, is the discovery that Scarface's Tony Montana isn't based on the life of any modern-day nose candy overlord at all. No, Tony Montana is patterned after notorious 1920s and 30s racketeer, pimp, and bootlegging crime czar Al Capone. To understand how the much feared cigar-chomping, fedora-wearing Capone morphed into the coke-snorting, M16-brandishing Montana requires a trip into the movie world of yesteryear.
RELATED: The True Story Behind Why Remaking 'Scarface' Has Been Impossible
'Scarface' Is Actually a Remake
De Palma's Scarface was actually a remake of the 1932 Howard Hawks and Richard Rosson-directed film of the same name starring Paul Muni as Tony Camonte, the young man of humble beginnings who rises through the illicit ranks to become Chicago's biggest bootlegging despot. The film's screenplay, penned by Ben Hecht, was derived from the 1930 novel Scarface by pulp fiction author Armitage Trail, which was a thinly veiled story of Al Capone's rise to infamy. Capone's nickname was "Scarface," a fact that Trail (a pseudonym for Maurice Coons) no doubt picked up while he was living in Chicago in the 1920s and mingling with underworld figures associated with Capone while researching his book.
In the 1932 film, Tony Camonte becomes the head of a bootlegging syndicate, which happened to be the real-life Capone's primary illegal business, though prostitution, gambling, drug trafficking, extortion, and murder were just a small sample of his other "side hustles." A particularly memorable sequence in the movie is a montage of Camonte and his henchmen going on a citywide slaughter of Camonte's enemies, a clear allusion to 1929's St. Valentine's Day Massacre, a violent event orchestrated by Capone that took out seven of his rivals. Although considered shocking for its time, the 1932 version of Scarface, hampered by Hollywood's Hays Code, was limited in its ability to depict the true violence synonymous with the name Capone.
Al Pacino Saw an Opportunity for a Remake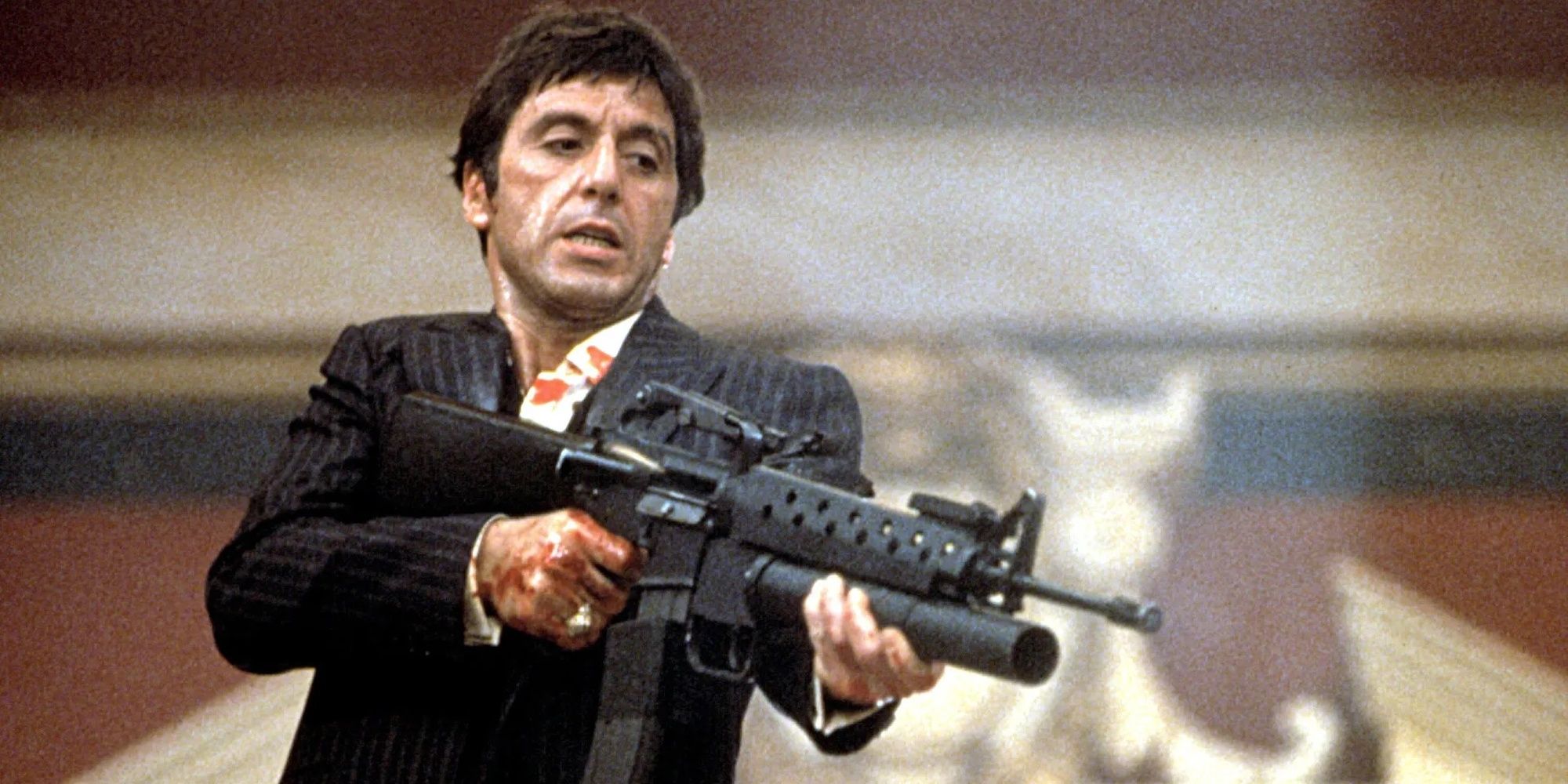 Fast-forward 51 years later, where Al Pacino is attending a screening of the 1932 movie. "I went and saw that film and called (producer) Marty Bregman after," Pacino recalled during a 2011 question and answer session about the making of the 1983 film. "I said, 'I think we could do this thing. There's a remake here.'" But a new version of Scarface would need a story with a contemporary angle, and that's where screenwriter Oliver Stone enters the picture. In the original film, Tony Camonte is a low life from the wrong side of the tracks who overcomes his meager circumstances to emerge as one of the world's most prominent mob bosses.
Stone had the idea to set the updated version of Scarface amid the backdrop of the real life events of the 1980 Cuban flotilla from the Mariel Islands to the United States. A significant portion of the immigrants arriving during this time were rumored to be petty thieves and other lawless individuals, and Stone thought it would make sense to have Tony Montana, the new version of the lead character, be among those sent over by Communist dictator Fidel Castro, giving the movie a sense of real time relevance and accessibility. And that's how Al Capone, aka Tony Camonte, aka Tony Montana, became a Cuban immigrant.
'Scarface's Characters Are Based on Al Capone's Real Life Cohorts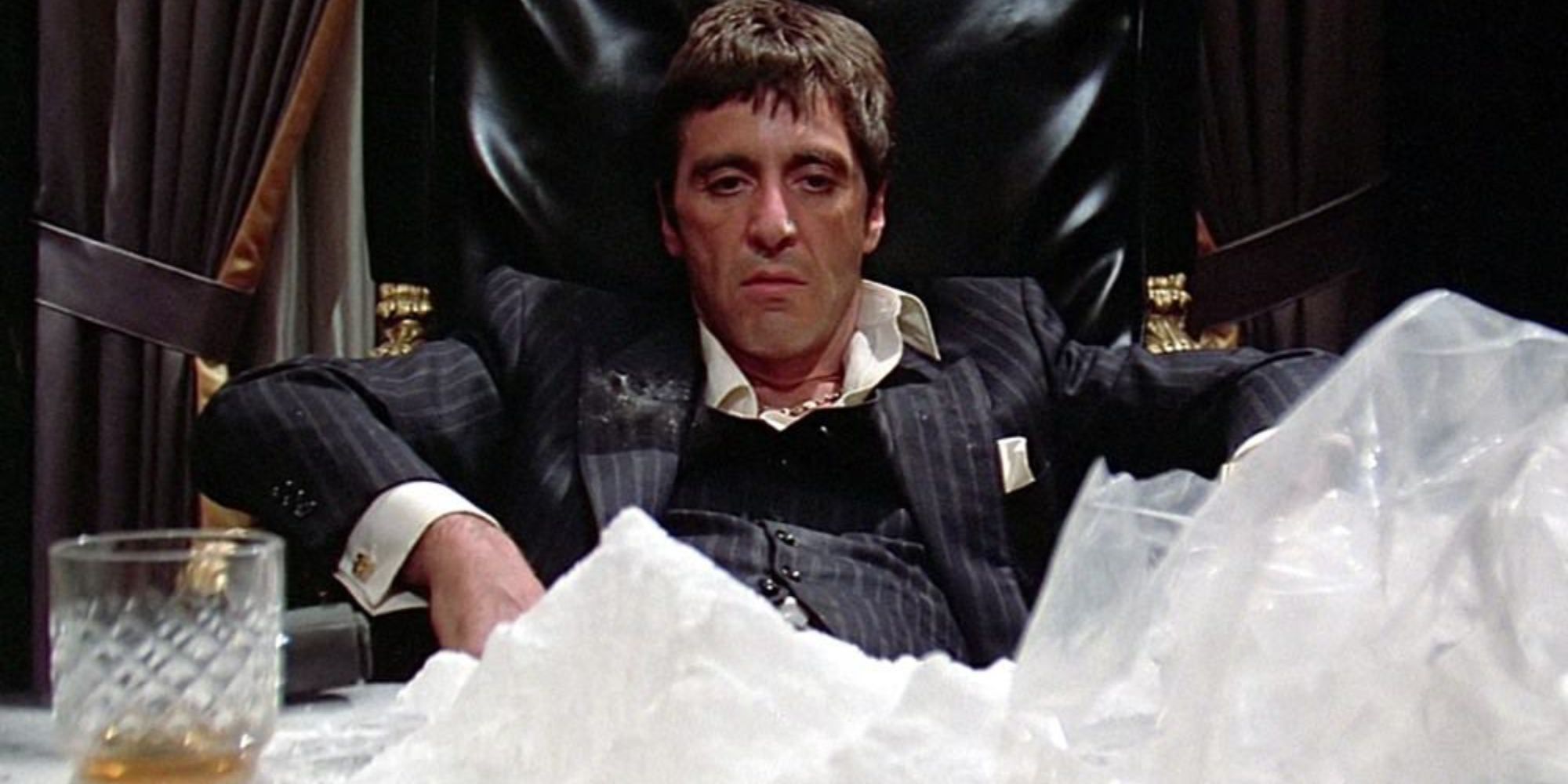 Although De Palma's version of Scarface revolves around the drug trade, the story of Tony Montana echoes that of Capone, particularly in its telling of how Montana becomes embroiled in his peccant universe. Capone, who ran with a street gang as a youth in the early 1900s, was taken under the wing of Frankie Yale, an Italian immigrant who presided over a World War I era crime cartel that dabbled in a variety of rackets, including prostitution and extortion. It was Yale who mentored Capone and helped him move up in the gangland subculture.
In Scarface, Frankie Vale is Frank Lopez (Robert Loggia), the car dealer/cocaine trafficker for whom Montana commits murder in exchange for legal non-resident alien status. Lopez rewards Montana with a host of other jobs that involve shootings and dismemberments, thus assuring Montana's place in Lopez's aberrant business enterprise. Montana's buddy throughout his exploits, Manny Ribera (Steven Bauer), is likely based on Capone's right-hand man Frank Nitti, Capone's first cousin who faithfully served the mob boss and who stepped in to keep the criminal businesses running after Capone was imprisoned in 1932.
In addition to his cousin Frank, Capone assembled a cadre of lackeys to both assist and protect him as his power and influence grew. Some of the most well-known in Capone's circle were formidable hooligans like William White, Murray Humphreys, Marcus Looney, Charles Fischetti, and William O'Donnell, all of whom helped orchestrate some of Capone's bloodiest exercises of influence and revenge. In Scarface, these goons are amalgamated into two primary bruiser characters, Ernie (Arnaldo Santana), Lopez's former thick-headed bodyguard, and Nick the Pig (Michael P. Moran), Montana's long-time friend who becomes one of his top tough guys. Unfortunately, both Lopez and Nick meet their makers late in the film in a drug-fueled rendering of Capone's St. Valentine's Day massacre.
The Film's Female Characters Are Largely Fictional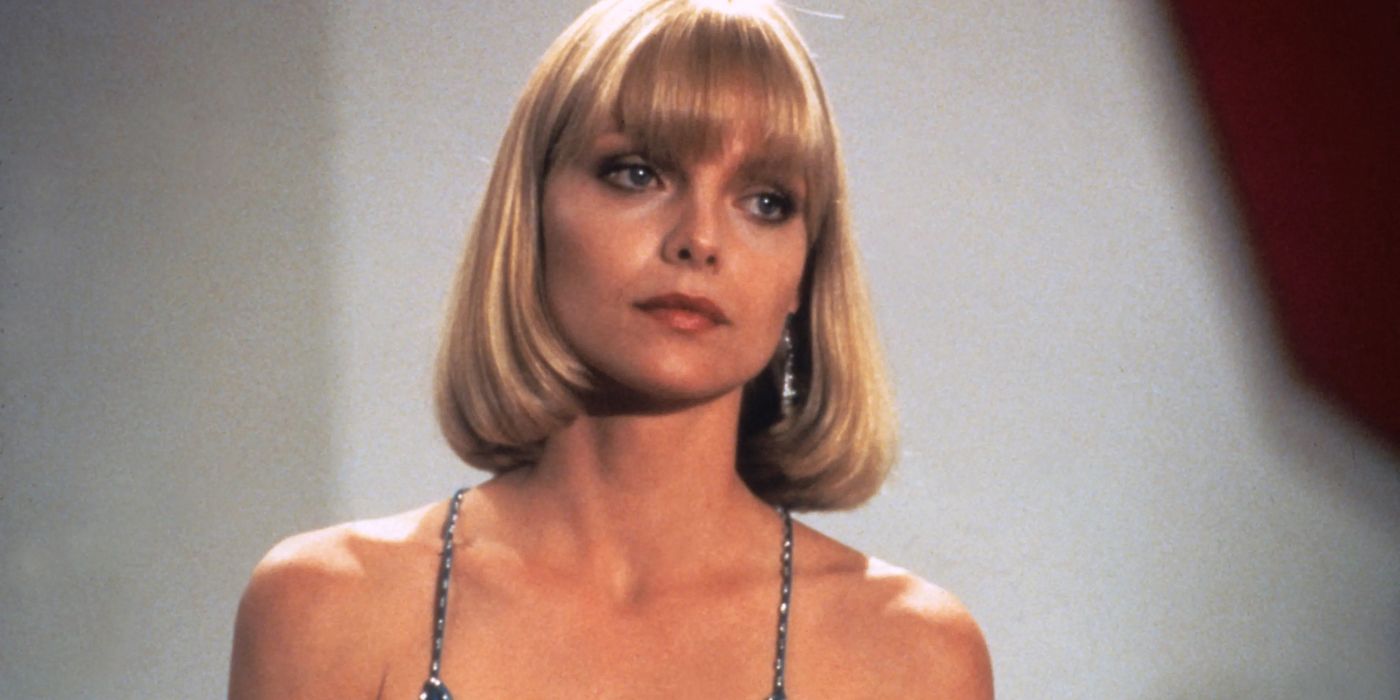 Although the events and characters in De Palma's Scarface closely align with the world of Al Capone, the stories of the women in Tony Montana's life are largely fictionalized and barely coincide with the female figures in Capone's life. In Scarface, Montana has one sister, Gina (Mary Elizabeth Mastrantonio), over whom he's fiercely protective and who begins a romance with Montana's confidant Manny. Capone came from a large family of six brothers and two sisters, one of whom died before her first birthday. Capone's one surviving sister, Mafalda, was not a large part of her brother's life, avoiding his criminal entanglements altogether. In Scarface, Gina is gunned down by a hit man intent on targeting Montana, something that obviously never happened in Capone's life. Then there's Montana's girlfriend – and later, his wife – Elvira (Michelle Pfeiffer), the mistress of Montana's former mentor Lopez.
In Scarface, Montana comes to America as a single man who steals Elvira away from her slimy benefactor, but in real life, Al Capone had a wife, Mae, who he married when he was 19 years old, with whom he had a son, and with whom he remained until his death in 1947. It's largely accepted that Capone had a series of extramarital affairs throughout his marriage, but whether he had a single long-term mistress remains in dispute. Some historians have written that Capone kept a 15-year-old girlfriend hidden away in a Chicago apartment, while another outlandish story involves a mysterious French girlfriend named Vera (hence the similarity to the name "Elvira" in Scarface), whose ghost today haunts a home in Halifax, Florida. Whatever escapades Capone may have engaged in with women other than his wife, they seem to have been discreet and without the drama depicted in Scarface.
Tony Montana's Downfall Was Nothing Like Al Capone's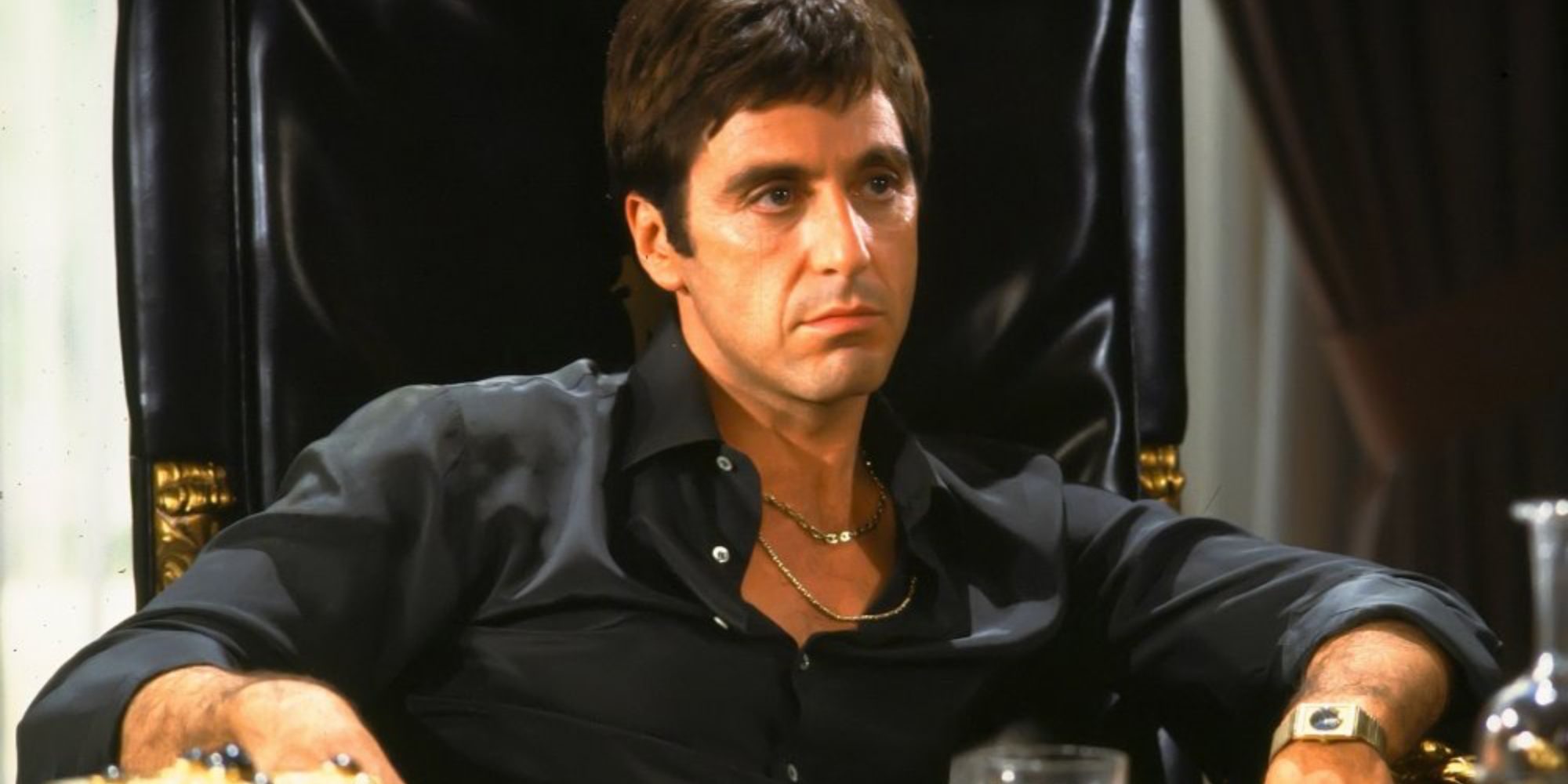 Another liberty Scarface takes is in its depiction of the title character's ultimate downfall. The film ends in a nearly six-minute-long frenzy of white cocaine mountains, bare breasts, Sandinista-style swarming, and thousands of bullets fired amid a sea of red velvet carpeting and spiral staircases, culminating with Montana's final plunge into an indoor swimming pool before a gaudy gold-plated sculpture that reads, "The World is Yours." Quite a contrast to the actual ending of Capone's life. In 1931, Capone was convicted of the rather unsexy crime of tax evasion. After being imprisoned at Alcatraz, he was released in 1939 due to health complications from syphilis (which lends credence to the belief that Capone had many girlfriends throughout his life).
The only real parallel between Capone's death and Montana's is that they both died at their homes in Florida – Montana in a blaze of gunfire, and Capone from a heart attack in 1947. Ironically, Capone's death most resembled that of another fictional movie mobster, Marlon Brando's Don Vito Corleone, who, in The Godfather, succumbs to cardiac arrest in his garden. But a quiet death wouldn't have sufficed in Scarface, a movie remembered most for its intense and protracted violence.
Al Capone's Lasting Presence in Pop Culture
Perhaps what's most interesting about Scarface, both the 1932 original and the 1983 version, is the incredible influence and staying power of the infamous Al Capone, a man so abominably immersed in lawlessness and corruption that he inspired a novel and two films and remains in the public consciousness to this day. One can't help but wonder what Capone would have thought of his depiction by Paul Muni in the original film, as well as his reincarnation by Pacino as a Cuban drug lord in the remake. Knowing Capone's cruel and nefarious ways, though, it's likely he would have been flattered and entertained by it all.