If you aren't an art historian or an art buff, you might be missing quite a few Easter eggs in your favorite films. Why? The cinematic world has the propensity to model its greatest scenes after great works of art. From Charlie Chaplin's slapstick comedies to more modern films in the Marvel Universe, there are tons of creatives who drew inspiration from a piece sitting in the MOMA.
After all, art doesn't happen in a vacuum; everything that is created comes from a long and rich tradition of the art that came before it. Perhaps after reading this article, you'll see paintings and sketches in a new light and find yourself looking up an art museum.
10
Mad Max Fury Road—Los Elefantes, Salvador Dalí (1948)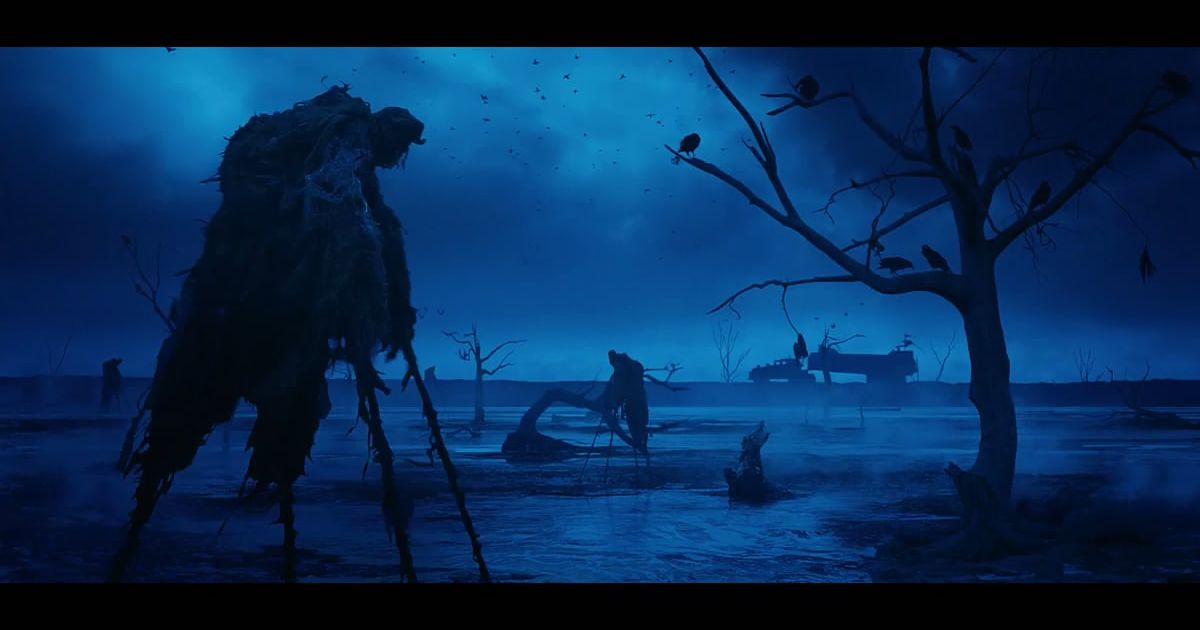 With its first film released in 1979, the plot of each of the seven films in Mad Max franchise is virtually identical, following Max as he attempts to seek some form of retribution on the plighted and plundered earth. While this may sound strange (why keep remaking the same storyline over and over again?), using a post-apocalyptic and psychedelic aesthetic, as George Miller puts it, "films of great artists [are] narratively simple, but featured engaging visuals."
With monstrous characters, unearthly landscapes, and environments steeped in contrasting colors and textures, the film doesn't need an intense plot to get your heart pumping. To capture the vast nothingness in engaging ways–– miles and miles of sand with the occasional dinosaur bones of an oil rig or boon town housing—Mad Max: Fury Road consistently turned to works of art for inspiration.
When Max and Furiosa finally arrive to the promised land, an area that was rumored to be able to grow lush fauna, they instead come to an endless expanse of salt flats. To capture this wretched environment, the film references Salvador Dalí's 1948 work Los Elefantes. Watching elephant people—ghoulish cloaked men walking on stilts to make it through the muddy planes—mirrors the uncanny elephants in Dali's works.Both artwork and film work use these strange figures to highlight the immense amount of negative space, a world made surreal by its barrenness.
9
The Truman Show—Architecture au clair de lune, René Magritte (1956)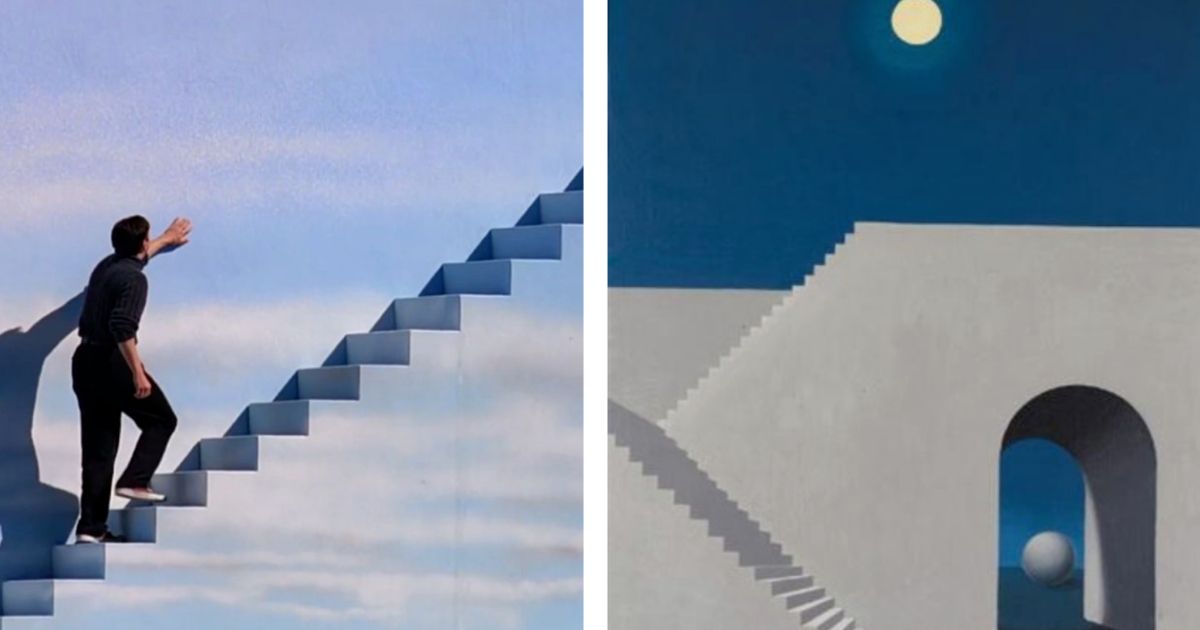 A cult classic for a reason, The Truman Show is known at home and abroad for its unique premise: Truman Burbank is the star of The Truman Show, a reality TV that follows his daily life from birth to death. The catch? Truman has no idea he's being watched or that his reality is completely fabricated. The movie demonstrates how technology and architecture impact reality.
Truman exists in a controlled environment; a neighborhood built within a bubble that is constantly under surveillance to keep him inside. For this reason, everything in Truman's world is normal—an unsuspecting suburban neighborhood, a typical two-bedroom home, and a plain office building. When Truman finally breaks out of the bubble at the film's climax, there is an abrupt visual shift. Finally breaking out of his world built on lies, Truman enters a space that evokes otherworldliness and mimics René Margritte's 1956 Architecture au clair de lune.
Surrounded by blues, and white, the shot captures the same color composition as the Magritte's work. Truman climbs the set of stairs, slowly rises up out of the lie that was his life. He reaches for that other world that lays behind that exit sign, an embodiment of the sun in the Magritte's painting.
Related: 15 Movies Where Life Imitates Art, Explained
8
The Northman—The Course of an Empire – Destruction, Thomas Cole (1839)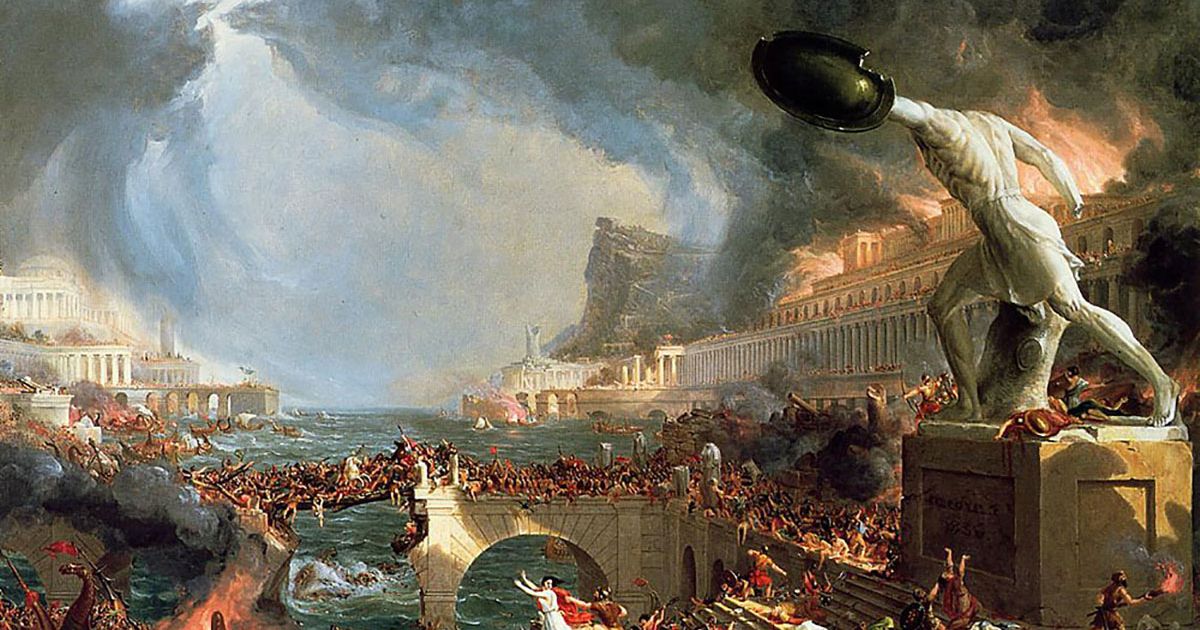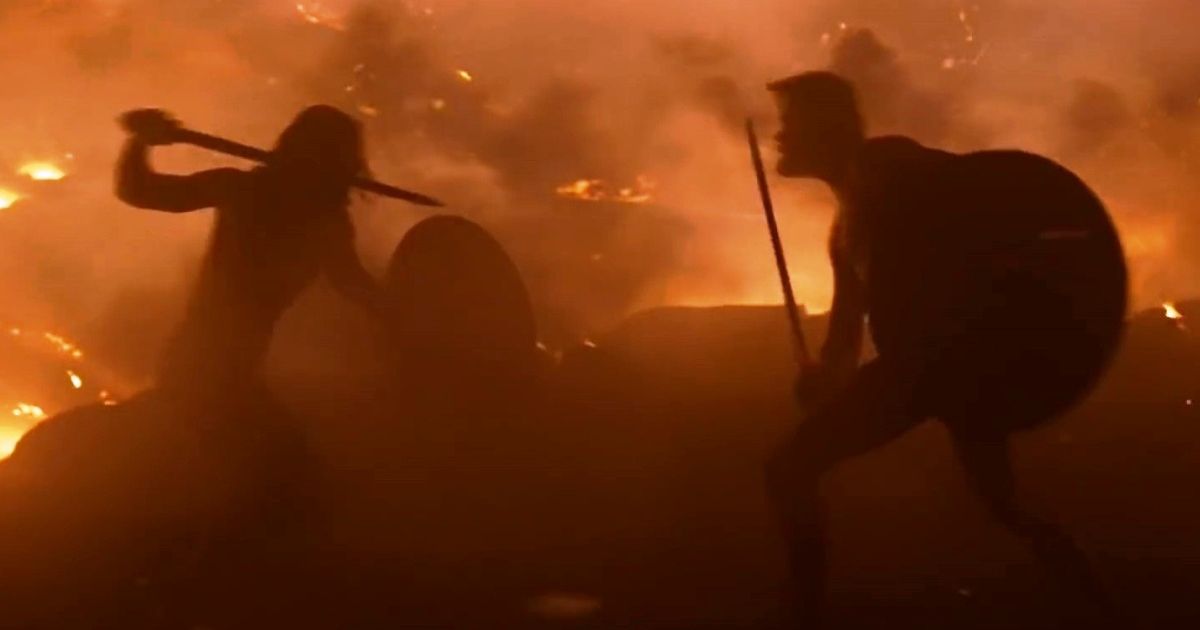 When you think of films referencing art, you think of Robert Eggers's portfolio. Known for his German expressionist films such as The Lighthouse (listed later), The Witch, and Nosferatu, Eggers has built a career making beautiful movies replicating art.
In the final battle scene of the 2022 film The Northman, Eggers drew inspiration from Thomas Cole's 1839 The Course of an Empire – Destruction. The final installation in a four-part series of paintings depicting the growth and fall of an imagined city, it makes sense why Eggers would use this painting to capture the ultimate duel.
Surrounded by fire, Thomas's painting draws the viewer's eye to the statue of a man breaching into battle with his shield. Perhaps a bit more red and desolate, Eggers' shot between the two fighting Vikings reveals that same iconic shield stance, reflecting how the battle leads to the end of one man's kingdom.
7
Inherent Vice—The Last Supper, Leonardo da Vinci (1498)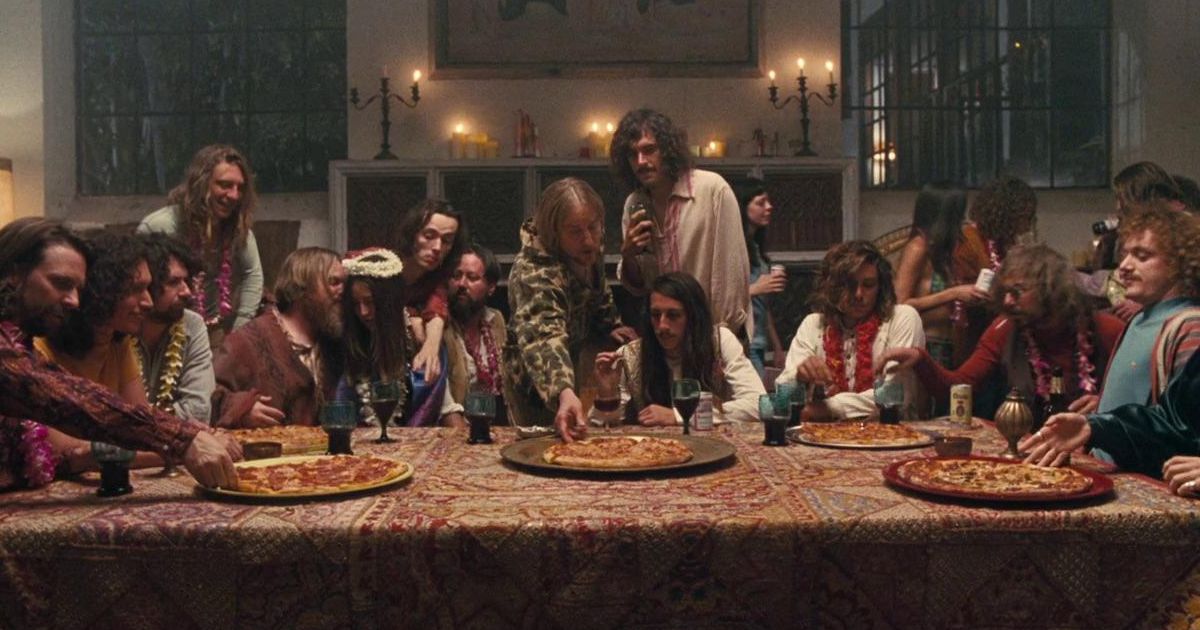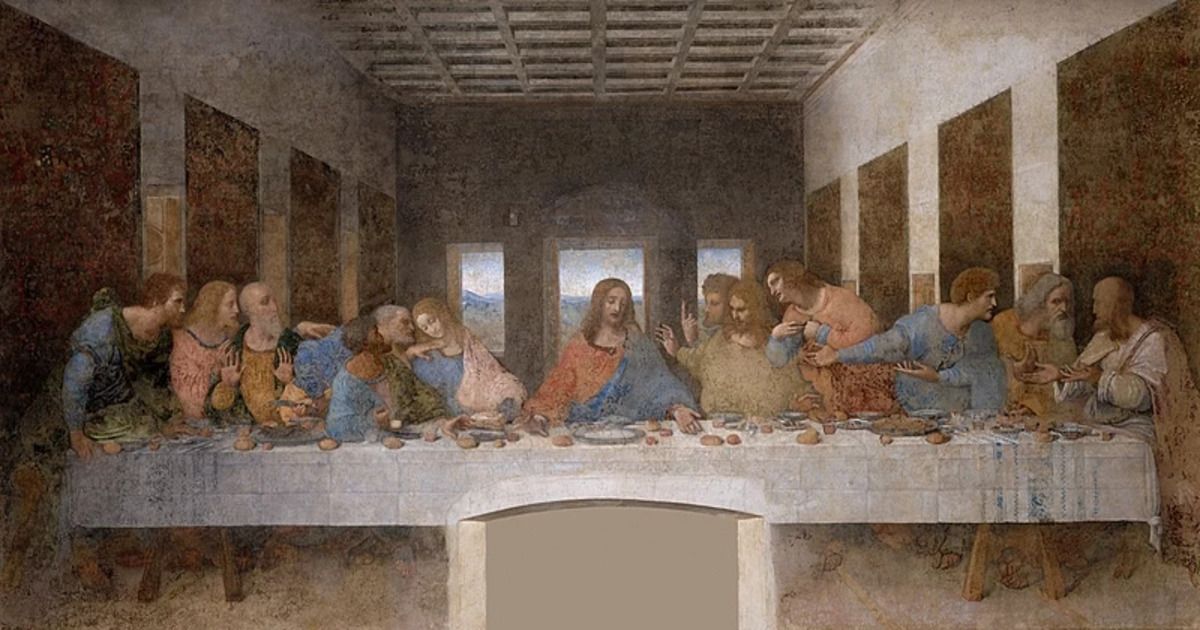 Following the tale of Larry (or Doc), played by Joaquin Phoenix, a stoner private detective as he finds himself embodied in the Los Angeles criminal underworld of 1970s, Inherent Vice is a slapstick comedy with a silky-smooth cinematography costume design.
A story and set of characters that are as atheist as they come, viewers were a little more than surprised when, during a dinner party scene, the shot not-so-subtly references perhaps one of the world's most recognizable religious paintings. With a crowd of friends enjoying themselves, arms slung over each other, enjoying a feast set for the modern world—pizza—the shot captures the joy of Leonardo da Vinci's 1498 The Last Supper.
But just like Jesus's disciples who are ignorant about what comes next, the shot in Inherent Vice acts as an important clue to where the film is heading…
6
The Lighthouse—Hynosia, Sascha Schneider (1904)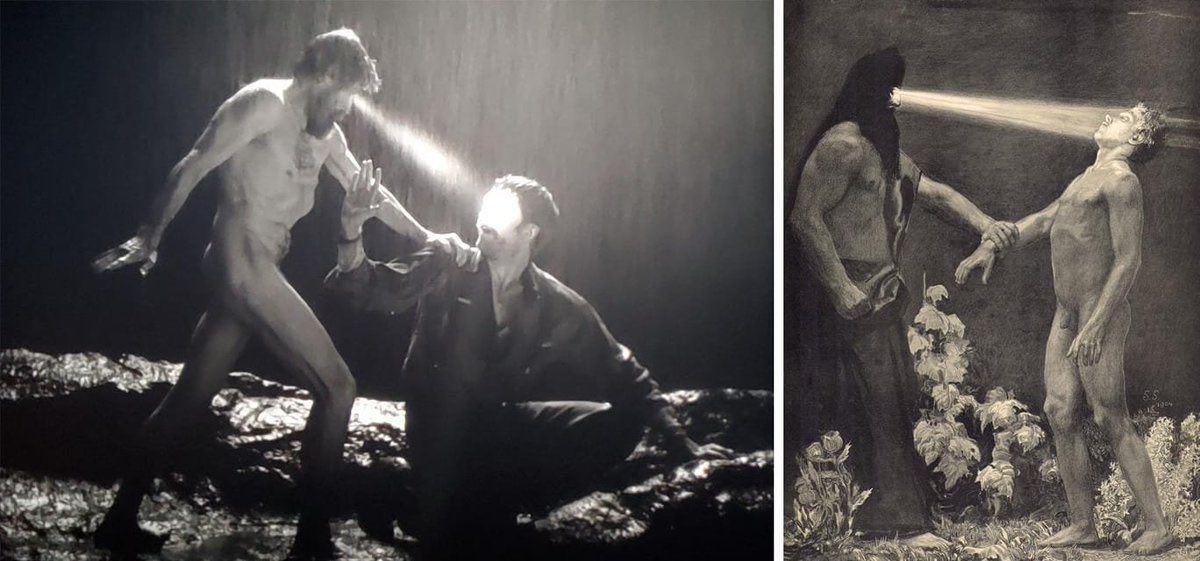 We meant it when we said Eggers is one of the top auteurs when it comes to referencing artworks in his films, and there's no way we couldn't talk about 2019's The Lighthouse. Stranded on an island, surrounded by sea and grew skies, the story follows Ephraim, played by Robert Patterson, and Thomas, played by Willem Defoe, as they edge into insanity.
A ghoulish film with haunting aesthetic and terrifying characters, Eggers captures the hysteria of its two leading characters by referencing an old sketch. Shot outside in the pitch black and pouring rain, a naked Willem latches on Ephraim, light from his eyes beaming onto Ephraim's face like the lighthouse of the island. A powerful image that stays in the viewers mind long after the film ends, the shot references Sasha Shneider's 1904 Hypnosia. While the meaning behind Schneider's sketch has been lost through the ages, the piece speaks for itself; a man, naked and exposed, suffering under the gaze of his counterpart. This reflects how Ephraim feels in such close quarters with Thomas.
5
Dreams—Wheat Field and Crows, Vincent Van Gogh (1890)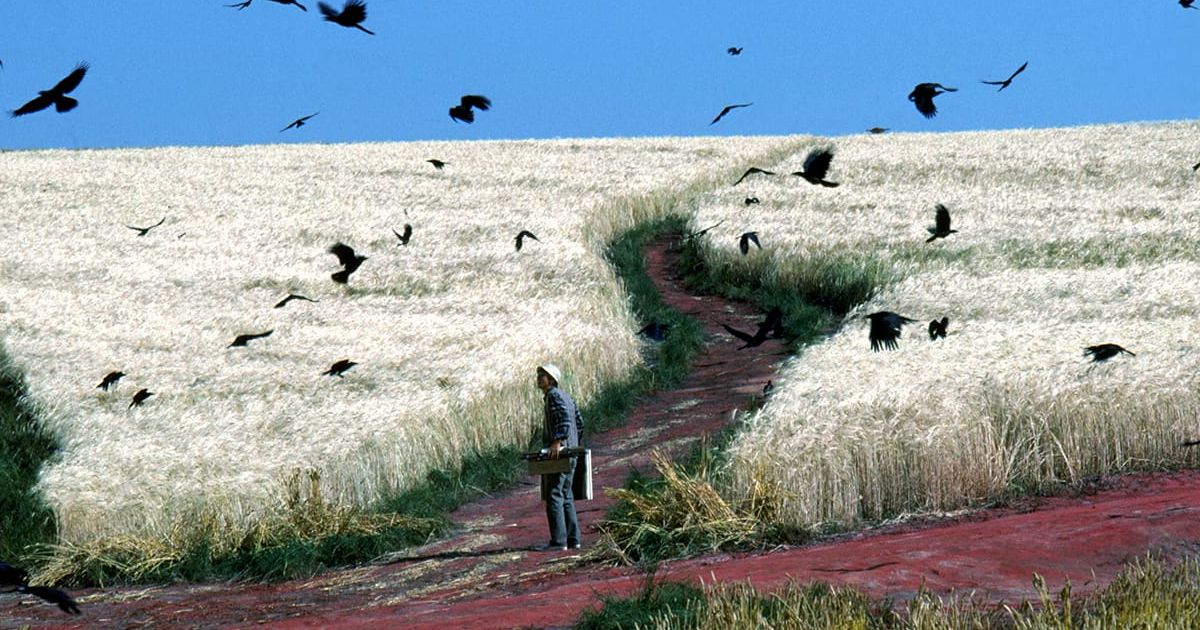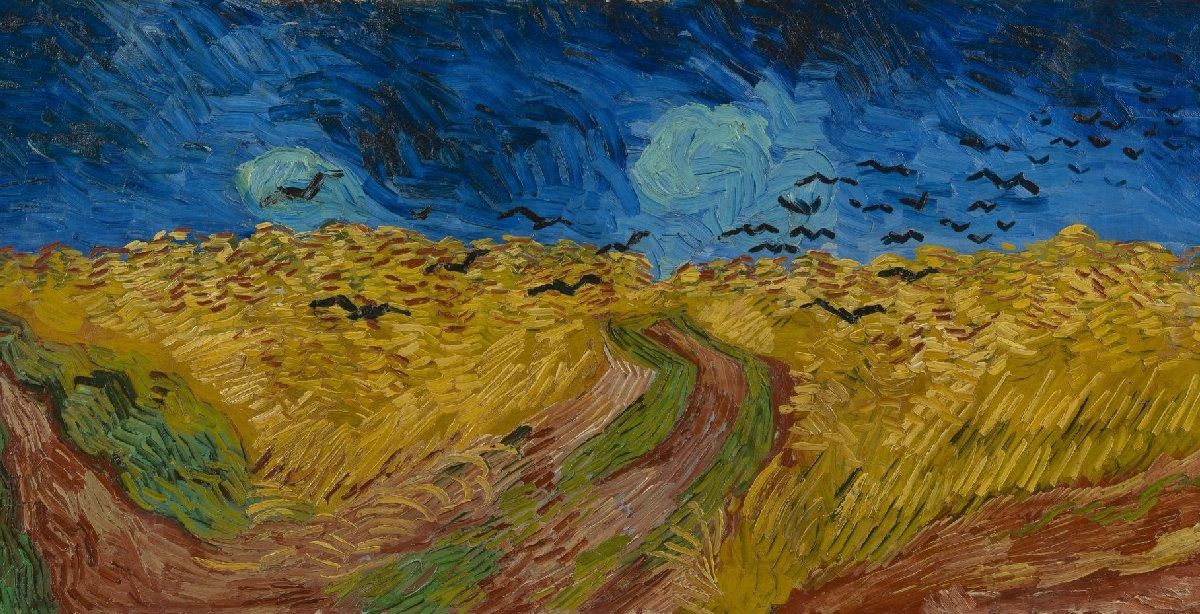 Whether you're an avid watcher of foreign films or have yet to dive into movies made outside the United States, everyone should watch an Akira Kurosawa film at least once. A man whose incredible talent for set composition would make even Wes Anderson jealous, Dream takes the cake for its shot aesthetic.
An anthology film that includes eight magical realist vignettes, Kurosawa's Dreams is actually based on dreams he had. Each story follows unique themes; childhood, spirituality, art, death, and mistakes made by humans against nature. Can you guess what themed vignette this shot is a part of? When an art student finds himself inside of Van Gogh's artwork, he has an in-depth conversation with the artist who explains the reasons why he cut his own ear off. The student eventually loses Van Gogh, and finds himself in a field full of crows, mirroring the work Wheat Field with Crows Van Gogh made in 1890.
A quieter story, audiences get to experience the same whimsy and beauty that Van Gogh often evokes with his paintings.
4
Jamón Jamón—Duel with Cudgels, Francisco de Goya (1820)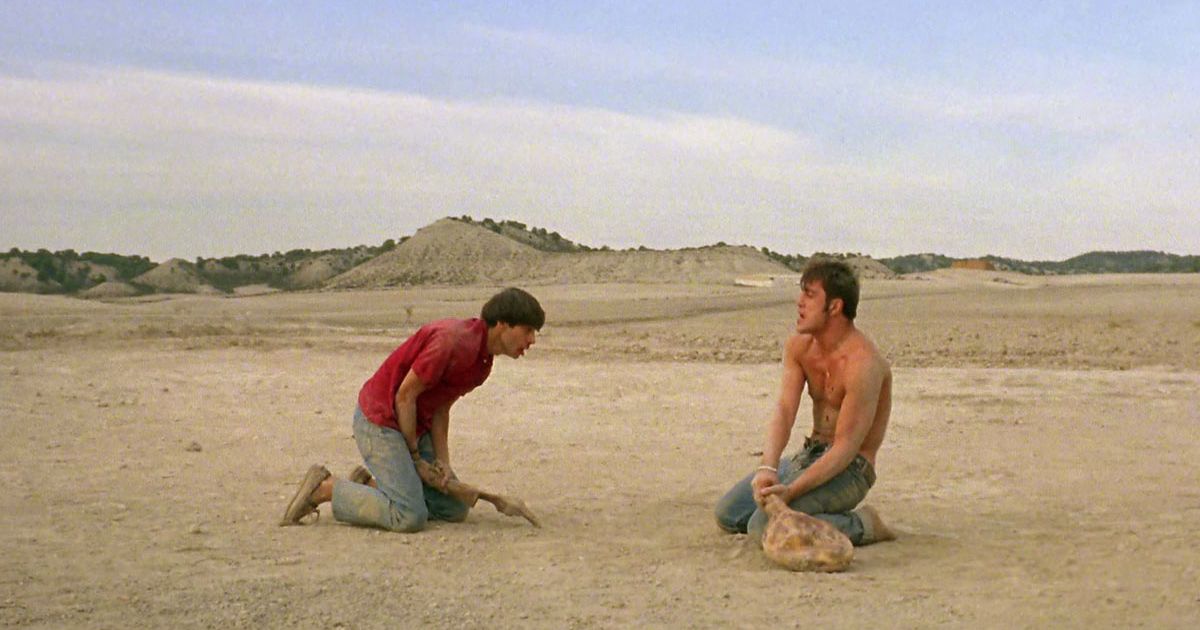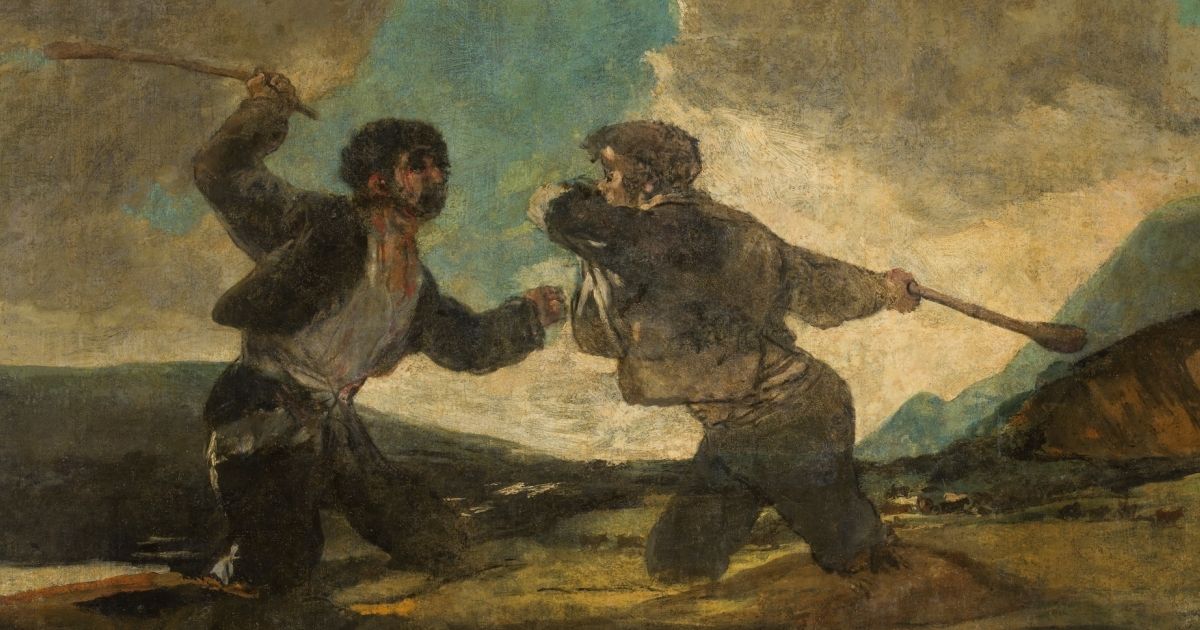 Made in 1992, Jamón Jamón is a unique tale that polarized audience reactions. When a cushy corporate man named Jose Luis falls for a woman named Silvia, played by Penélope Cruz, his mother enlists the help of a butcher obsessed with ham named Raul, played by Javier Bardem, to trick the woman into falling in love with him. Jamón Jamón knows its own strangeness. It constantly points at itself with satire and irony to keep audiences unsure, asking audiences Is this serious? Is this a joke? The story tracts how these two men fight for the love of Penelope which ultimately climaxes at the slaughterhouse where Raul works.
In this physical brawl, the sequence references the work of Francisco de Goya, Duel with Cudgels. The painting depicts two men of equal strength, relentlessly attacking each other a painting of two men with club-like objects, but unable to name a victor. This is exactly what we see in Jamón Jamón; Jose Luis and Raul are relentlessly attacking each other, but growing weaker and more exasperated as neither can get the upper hand. On their knees, the shot is almost identical to Duel with Cudgels, except for one crucial and satirical point; they are fighting with legs of ham.
3
A Portrait of a Lady on Fire—Wanderer Above a Sea of Fog, Casper David Friedrich (1818)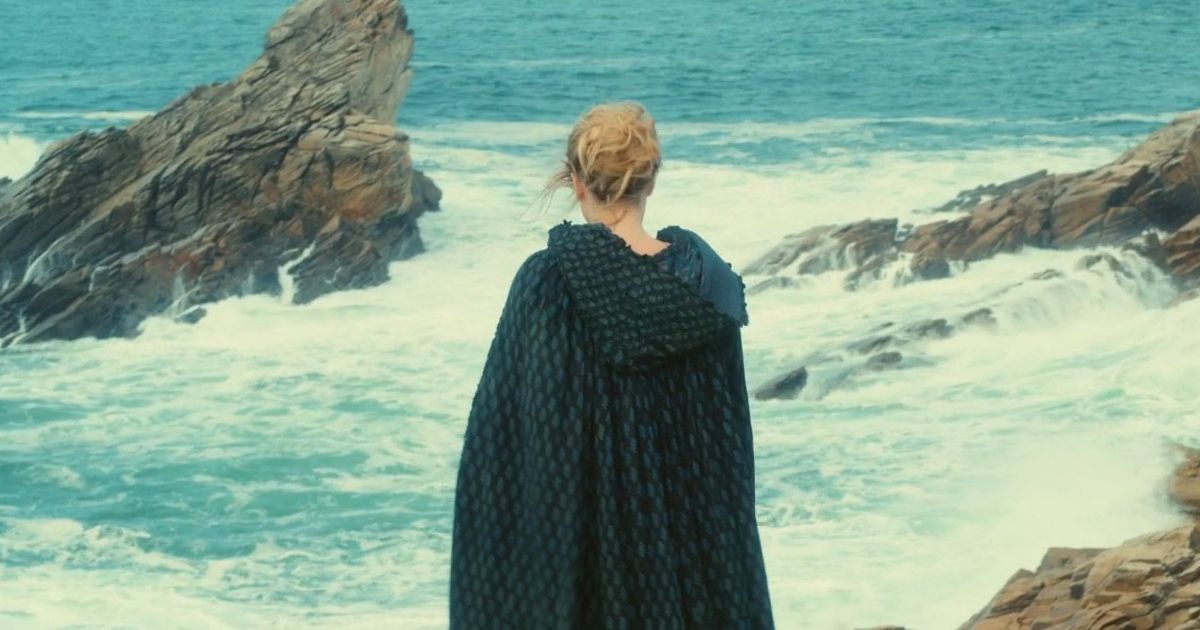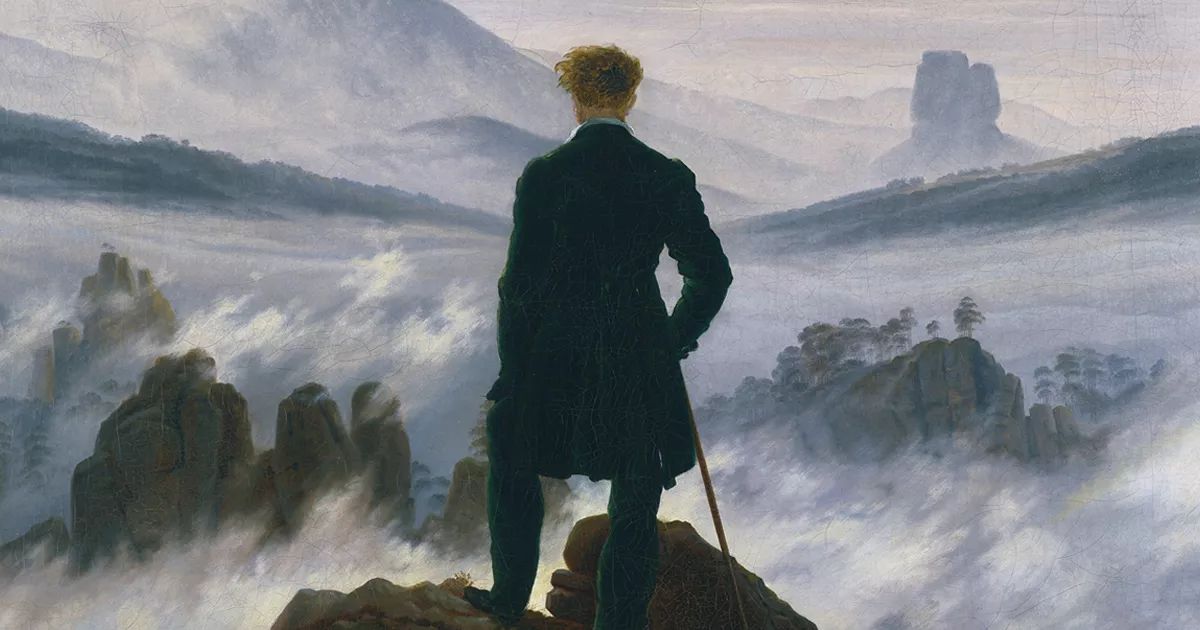 Telling the beautiful love story of two women in 1770's France, and the forms of power and oppression that keep them separated, Celine Sciamma's Portrait of a Lady on Fire became a must-watch for people inside and outside the queer community. The film follows characters delving into the unknowns of love.
Perhaps this is why, when Héloïse spends her day at the beach, Sciamma shoots the scene to mirror Casper David Friedrich's 1818 Wanderer Above a Sea of Fog. In this painting, a man looks out at a horizon occluded to him by fog. With one foot in front of him and a hand on his sword, the man is not frightened of that which he can't see. Instead, there is an air of excitement at the prospect of facing the unknown.
Audiences may feel a similar energy when watching Héloïse in this scene in Portrait of a Lady on Fire. Facing the white waves and jacked rocks, the water looks dangerous and fraught. And yet, Héloïse is calm, looking on with a quiet curiosity that evokes a gentler version of strength than captured in Friedrich's but is still wholly there.
2
Us—Not to Be Reproduced, Rene Magritte (1937)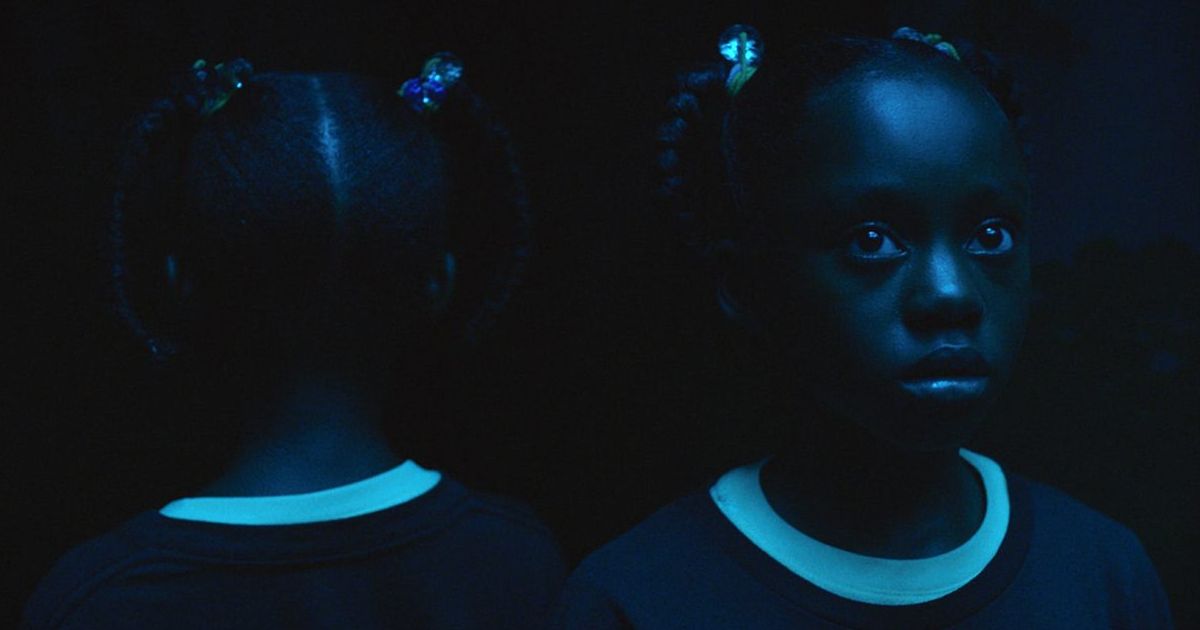 Museum Boijmans Van Beuningen"">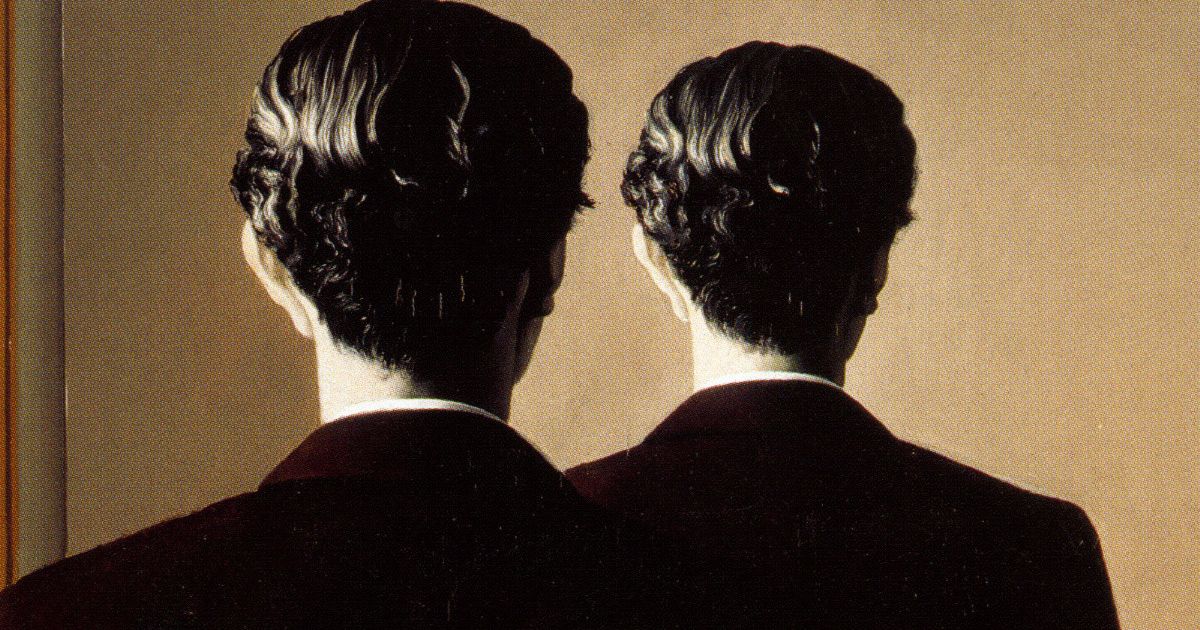 Since his release of the highly anticipated 2017 film Get Out, Jordan Peele has made a name for himself as one of the brightest directors of horror cinema. His second film was a smash hit as well. Us centers around the story of a family's vacations gone wrong when a Doppelgänger version of them appears and terrorizes them. The film explores the idea of a hidden shadow self coming from the underground to take us over. In doing so, Peele turns terror from something external—fear of outsiders—to an uncanniness born from the fear of ourselves.
We particularly see this when Adelaide Wilson, the daughter in the family, finds herself in a fun house of a circus. In a room full of mirrors, she eventually finds one that shows the back of her head, replicating the 1937 painting by Rene Magritte Not to Be Reproduced. Both portrait and film shots are harrowing, creating a separation from the self in a way that leaves you feeling alien and in a dream world.
1
Forrest Gump—Christina's World, Andrew Wyeth (1948)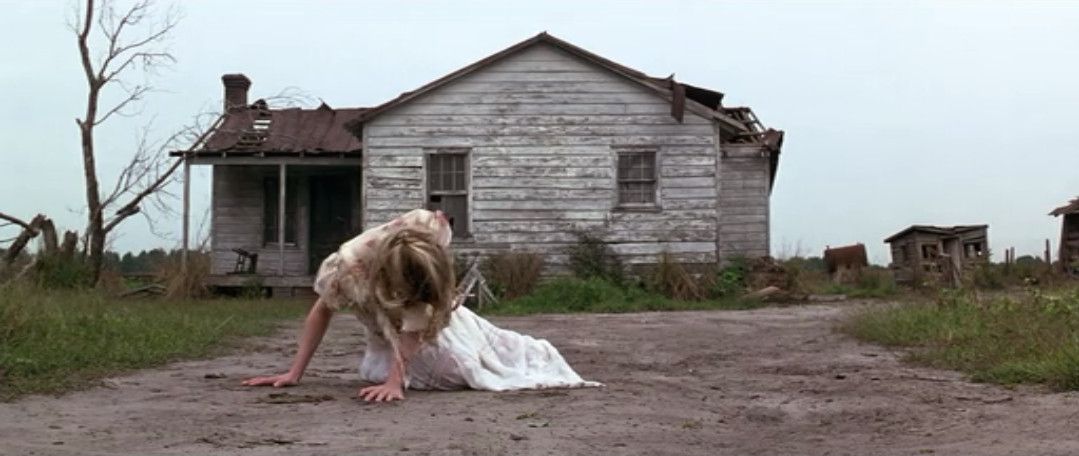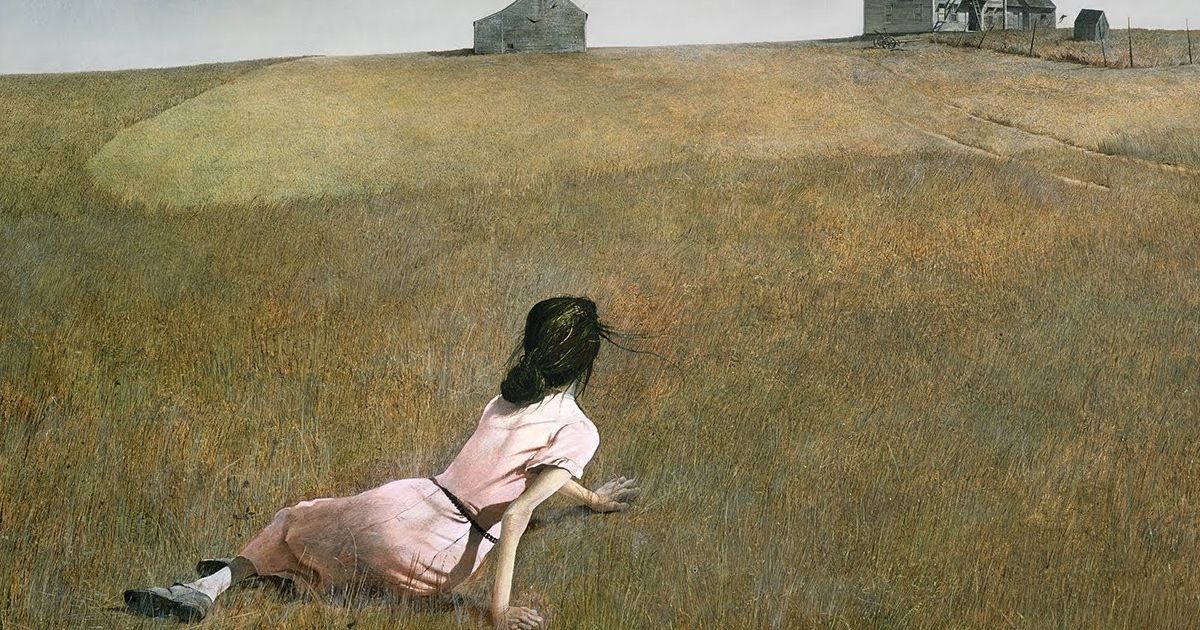 Last on our list is a pretty unique case of art referencing in film. Robert Zemeckis's 1994 film Forrest Gump is a classic story. Following Forrest, a man with cognitive disabilities and the crazy adventures he embarks on, one important woman in that story is Gump's love interest, Jenny Curran. A woman who was physically and sexually abused, Jenny is flighty; constantly on jumping from one situation to the other in a desperate attempt to escape her past.
On one of those occasions when Jenny returns to Forrest, the two take a walk and come to find the house where Jenny was raised and where many of the horrors of her life took place. She finds herself compelled to wield rocks at the house, a failing attempt to destroy the place (and perhaps psychologically the people) who hurt her. When the last stone is thrown, she throws herself to the ground.
At this moment, the scene parallels' Andrew Wyeth's 1948 Christina's World. Wyeth's painting is actually a portrait of his neighbor Christina, a woman with a muscle degenerative disorder who would crawl around the grounds outside of her house, spending hours adventuring through the land. In doing this portrait, Andrew attempted to "do justice to her extraordinary conquest of a life which most people would consider hopeless." Capturing her as she looks towards her home, Christina is meant to embody a sense of fearlessness and strength. And yet, with so few people knowing the truth behind the painting, many viewers of the artwork instead feel a sense of sadness and hopelessness. Perhaps this is why Zemeckis used it as a reference for his shot.
Where Christina is on the ground, reaching out for a house in the distance, Jenny throws herself down in exhaustion because she has run from this house. She has spent her life trying to escape the horrors of her house, only to be trapped by psychologically and now in real life. Did Zemeckis see a hauntedness in Christina that reminded him of Jenny? Or, like Christina, are we meant to see Jenny, her constant need to feel alive, as something empowering? Regardless, both Christina and Jenny are linked in that their realities orbit around their home.