The Star Trek franchise is thriving more than ever. Thanks to Paramount+, there's a variety of shows to choose from. Those looking for a modern Trek tale can try Star Trek: Discovery. Fans nostalgic for a certain era will gravitate towards Star Trek: Picard or Star Trek: Strange New Worlds. And younger fans have the perfect entry point with Star Trek: Prodigy. But one question remains: will Trek have a future on the silver screen? The last theatrical release was way back in 2016 with Star Trek Beyond and even though Paramount has been itching to get a new Trek film into theaters multiple factors may stand in the way.
Filmmakers Board and Depart Star Trek Projects at Rapid Speed
New Star Trek films have been announced with the same speed as Star Trek spinoff shows. First J.D. Payne Patrick McKay developed a story for a fourth film in the rebooted Trek film series that would have seen Jim Kirk (Chris Pine) come face to face with his deceased father George (Chris Hemsworth). Then in 2018, S.J. Clarkson of Jessica Jones was hired to direct. But then that version of the film was shelved, and Paramount aimed to develop a new film series.
Said film series went through its own incarnations. Noah Hawley was tapped as a writer/director. Then Kalinda Vasquez – who had written Discovery's Season 3 finale – was asked to write a script. Said script went through multiple rewrites, until Matt Shakman was announced as a director – and then departed due to scheduling conflicts.
And of course there's the Quentin Tarantino of it all. After a conversation with J.J. Abrams, who helmed the first two films in the reboot series, Tarantino started developing his own take on the Trek franchise. Rumors swirled that it could be R-rated, and Tarantino even confirmed that he wanted the story to act as a prequel to Star Trek: The Original Series. But eventually he decided to step back.
Ironically, nearly all of these creatives would later go on to other genre projects. Hawley is the showrunner on a new Alien television series. Payne and McKay are shepherding Lord of the Rings: The Rings of Power. Tarantino is working on his tenth and final film, The Movie Critic. As for Shakman, he's tackling another big science fiction franchise as he's been tapped to helm Marvel Studios' Fantastic Four reboot.
Star Trek Thrives on TV
Even with the turnover from the film side of things, Star Trek is thriving on television. In fact, that's where it has always seemed to fit the most. Many of the previous Trek films, while hewing close to the series' themes of discovery and unity, weren't exactly the type of science-fiction films that tended to draw massive audiences. Star Trek: The Motion Picture is considered to be the slowest of burns and the less said about Star Trek V: The Final Frontier the better. While other films including Star Trek II: The Wrath of Khan and Star Trek: First Contact have been major draws for Trekkies and non-Trekkies alike, there's the fact that the franchise seems better suited for a more serial medium like television.
There's also the matter of the current crop of Star Trek shows providing enough variety for a fleet of movies. Discovery is perhaps the best example of this; in its third season, the crew of the U.S.S. Discovery was flung into the far future and essentially lived out a post-apocalyptic experience. Strange New Worlds is more or less tailor made for fans who grew up on The Original Series. Picard reunited the crew of Star Trek: The Next Generation in its current & final season. Trek's even ventured into the realm of animation with Star Trek: Lower Decks and Prodigy. Each series has tackled a wealth of stories, so for a film version to stand out it'd have to bring something to the table that hasn't been done before.
RELATED: 'Star Trek: Picard' Season 3 Finale to Get Special IMAX Screenings
The Kelvin Timeline Films Haven't Really Taken Off With Audiences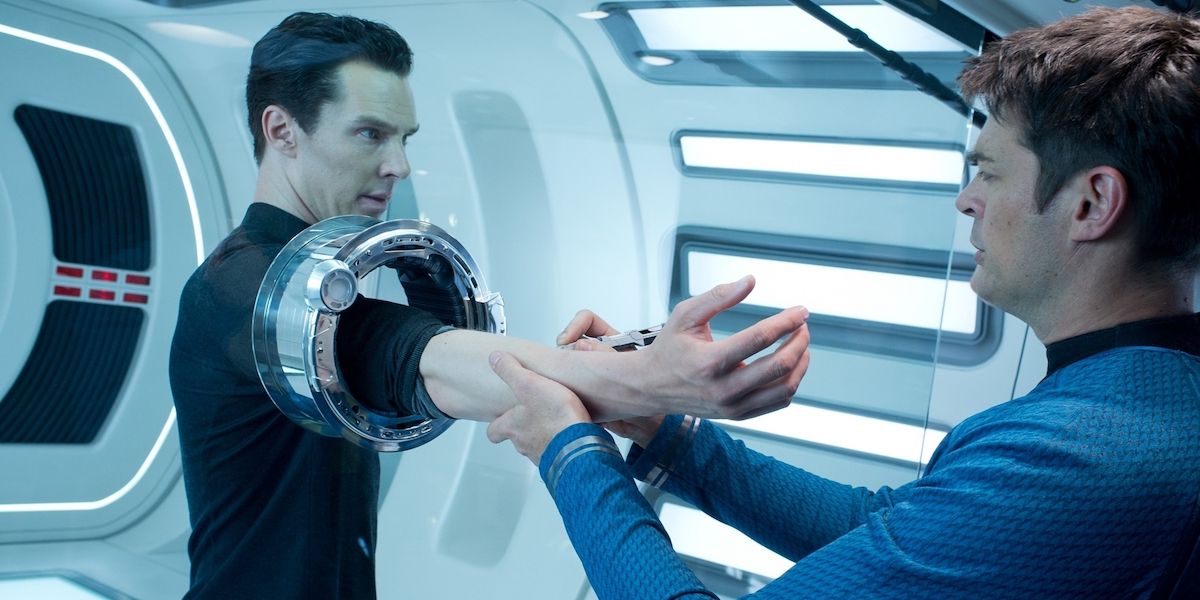 Then there's the matter of the reboot films, or the "Kelvin Timeline" as it's officially called. When it first made its debut in 2009, Abrams' first Trek film was a shot in the arm to the franchise. Pine and the rest of the cast recieved high praise for providing fresh new takes on the iconic crew of the Enterprise. That wasn't even mentioning the action – yes this may be one of the most action packed Star Trek movies on record. But its sequel Star Trek Into Darkness recieved a far less welcome reception, with many citing it as a pale imitation of Wrath of Khan. Beyond fared slightly better, but its box office was impacted by other summer releases and fell short of expected goals – a knife that was only twisted by the fact that it fell on Star Trek's 50th anniversary.
Fans also remained divided on the Star Trek reboot films. While many appreciated the film's updates and the lengths Abrams went through to set the series in a parallel universe, many feel its action packed nature goes against the spirit of the franchise. Some have even pointed out that Abrams' Star Trek features more elements that would be at home in Star Wars; ironically he'd help relaunch that franchise with Star Wars: The Force Awakens.
Perhaps no one is more frustrated with the current state of things than Pine. During an interview, he expressed his feelings at supposedly being locked out of the loop and that he felt the franchise was "cursed." "I would say it's frustrating," Pine confessed "It doesn't really foster the greatest sense of partnership, but it's how it's always been. I love the character. I love the people. I love the franchise. But to try to change the system in which things are created — I just can't do it. I don't have the energy." Even though the Star Trek franchise is enjoing a second lease on life, its future on the silver screen remains up in the air.
Star Trek: Discovery, Star Trek: Picard, Star Trek: Lower Decks, Star Trek: Prodigy and Star Trek: Strange New Worlds are available to stream on Paramount+.