War films are a tricky genre to tackle, because they are inherently political, and always have a perspective. At the fundamental level, there are only two types of war films (outside the documentary sphere) — anti-war movies and propaganda. Granted, just because something is propaganda doesn't mean it can't be awash in artistic brilliance or deep pathos (whether it's liberal like The Battle of Algiers or Che, or conservative like They Were Expendable or Flags of Our Fathers). Propagandistic war films are essentially pro-war. So that leaves anti-war films.
However, as French director and film critic François Truffaut famously said, "there's no such thing as an anti-war film." What he meant is that cinema, by its very nature, can't help but glorify what it depicts. That's why drug users enjoy films such as Trainspotting or Fear and Loathing in Las Vegas, despite those movies depicting the horror of drug use. Try as they might, but anti-war films like Saving Private Ryan or Dunkirk are simply exciting; they use the violence and tragedy of war to create exhilarating, money-making spectacles far from the front.
As such, the cinematic landscape of war stories is an ideological minefield, pun intended. So what makes a great war film? Ethics are certainly a part of it, but aesthetic genius still exists outside an ethical orbit (look at Triumph of the Will or Birth of a Nation, for instance). A three-hour runtime or more, epic scope, and meticulously choreographed set pieces certainly help, as does historical accuracy.
Ultimately, though, the parameters of a great war film are the same as every other narrative film, except with war as its subject — filmic artistry, memorable visuals, rich characters, bombastic emotion, intellectual stimulation, and an almost spiritual understanding of human nature.
A final note. While some past masterpieces could be classified as war films, if they're predominantly a romance or an action movie, they will be excluded (apologies to the perfect Casablanca, the epic Gone with the Wind, and the dramatic adventures and beauty of the biographical Lawrence of Arabia). That being said, these are the best war films of all time.
20
The Steel Helmet
Samuel Fuller was always a Hollywood renegade, and so it was almost unsurprising that he'd rush to write and direct a film about the Korean War almost immediately after it began. In 1950 (the year the war began), Fuller wrote the script for The Steel Helmet in a week, and then filmed the whole thing in 10 days in a park with UCLA students as extras. The result is anything but amateurish, and remains perhaps the most sophisticated anti-war films of its time, and one of the best American war movies of the 1950s.
The Steel Helmet follows the sole survivor of an executed unit or Army troops in North Korea as he wanders enemy territory and seeks help. He comes across another survivor, and then a whole platoon, but it's here that deep racial tensions emerge between the American military men. Brimming with Buddhist imagery, sociopolitical messages, and dark drama, The Steel Helmet is an underrated war film classic.
19
Kanal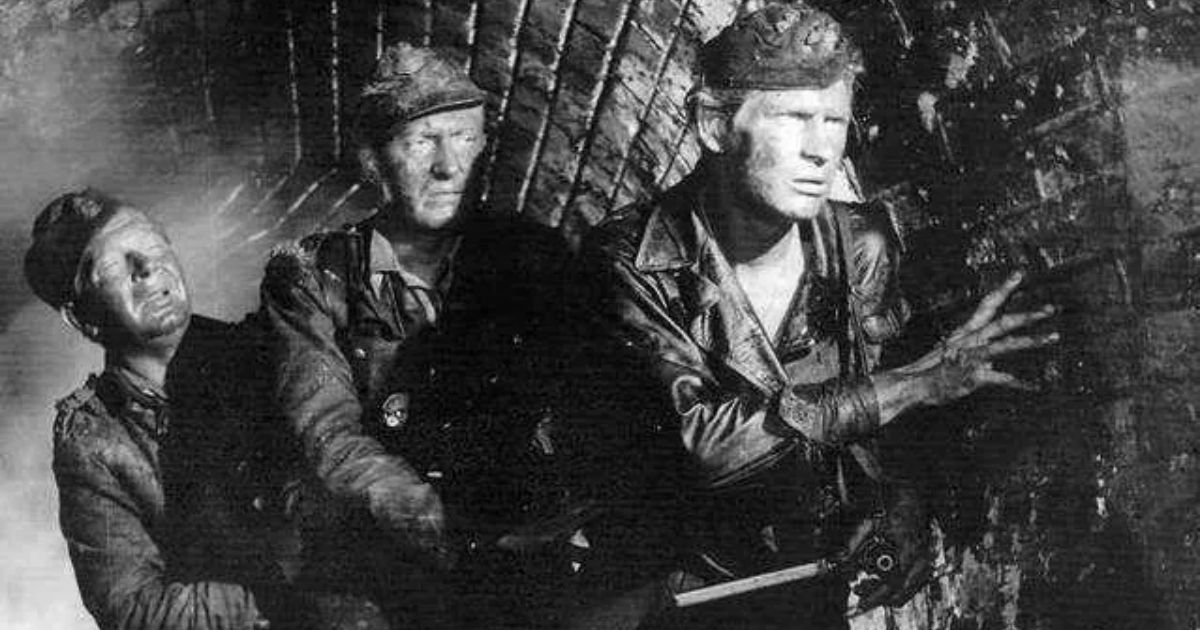 Director Andrzej Wajda, himself a resistance fighter against the Nazis, made three masterful war films in the 1950s, including A Generation and the incredible Ashes and Diamonds, but Kanal is arguably the most war-centric and the best. Like the other films, Kanal follows the Polish resistance to Nazism and both the liberating and oppressive qualities of communism.
The film follows the intense efforts by the Home Army of freedom fighters to take back Poland from the Nazis in what was known as the Warsaw Uprising. Wajda takes his camera into the sewers of Poland and creates a claustrophobic masterpiece.
18
Patton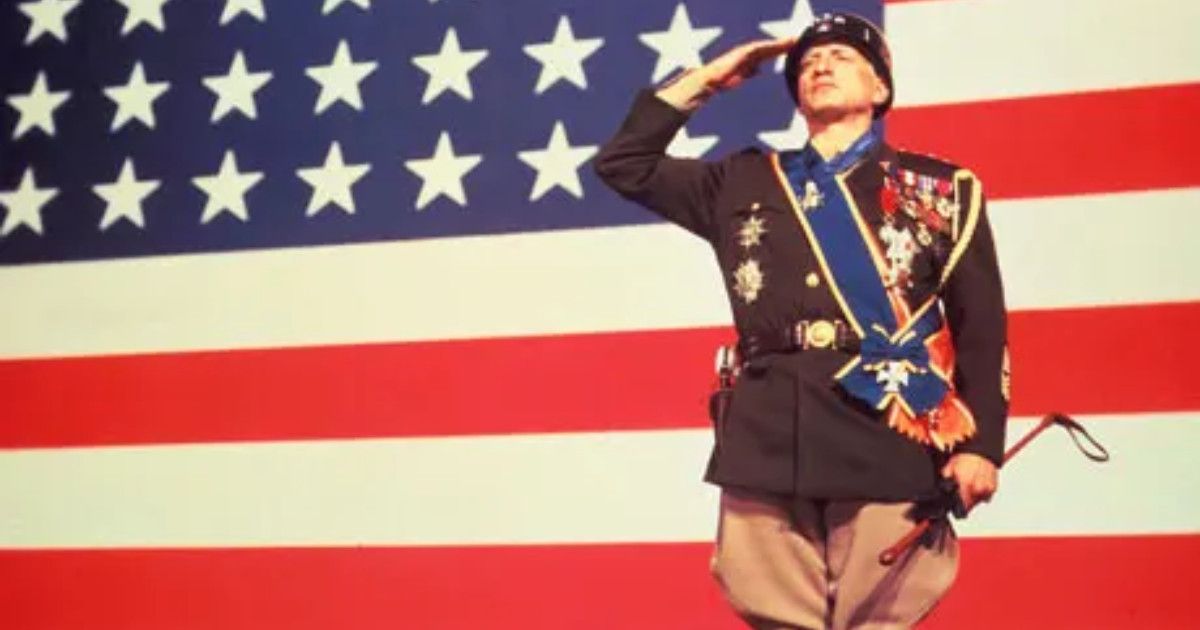 The Oscar-winning epic Patton was a controversial epic about a controversial man, General George S. Patton. Containing one of the most famous opening scenes of all time (Patton giving a speech to the audience in front of a gigantic flag) and a powerful ending, Patton chronicles the General's career as he grows in stature and acclaim. George C. Scott is absolutely perfect in the role.
17
The Best Years of Our Lives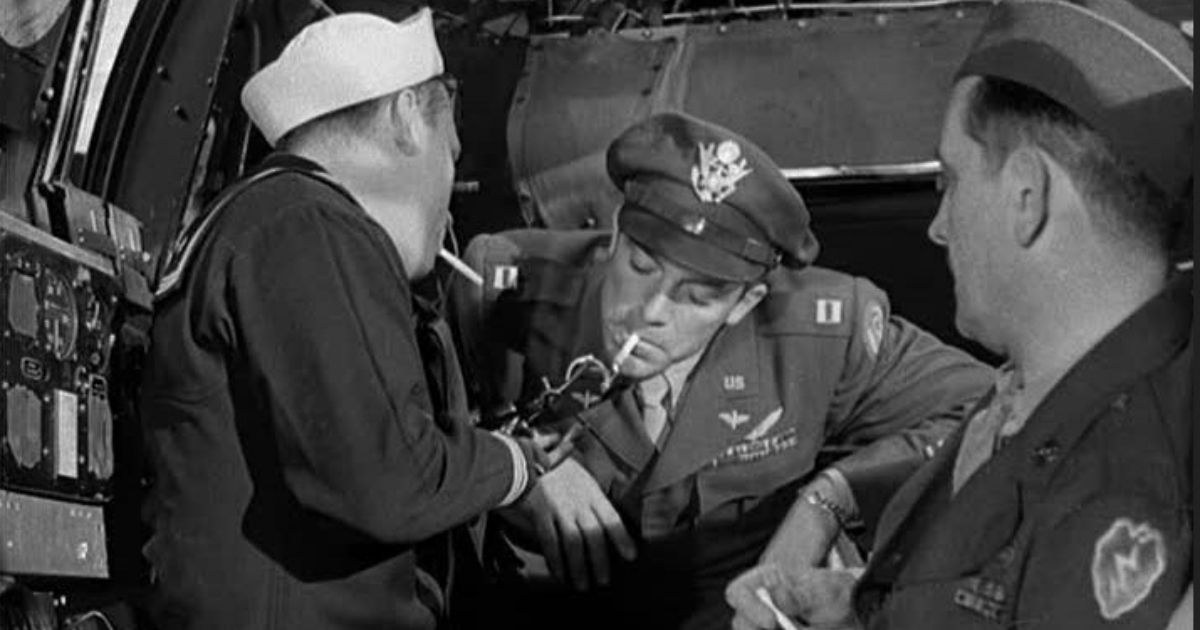 The Best Years of Our Lives was one of the boldest American films to explore the actual traumas of war, made especially bolder by the fact of its 1946 release date. The movie follows three men returning from home after World War II, and proceeds to chronicle the PTSD, alcoholism, insecurity, and general instability that would go on to define a generation of men who witnessed things no one ever should.
Related: Best World War II Movies Ever Made, Ranked
It's fitting that one of the most emotionally poignant anti-war films had to be about what happens next, after the war, in order to truly show the horrors of combat.
16
Waltz with Bashir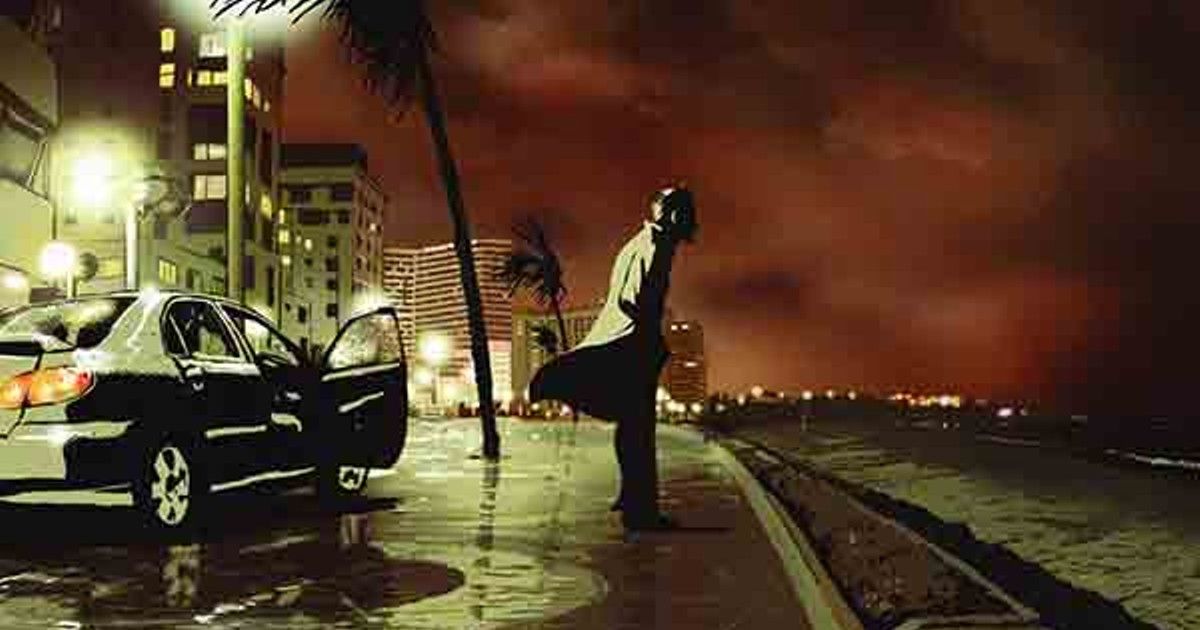 A hybrid fiction and documentary film, Ari Folman's Waltz with Bashir is a breathtaking masterpiece of cinema that uses interviews, poetic animation, and grueling documentary images to depict the Lebanon War of 1982. Focusing on a specific character while elucidating universal truths,
Folman's masterpiece follows his conversations with Boaz, who was a soldier in the war, and whose memories instigate Folman's own search for further understanding about the war and the Sabra and Shatila massacre. Waltz with Bashir is frequently beautiful and aesthetically perfect, and the final scenes are some of the most haunting in cinematic history.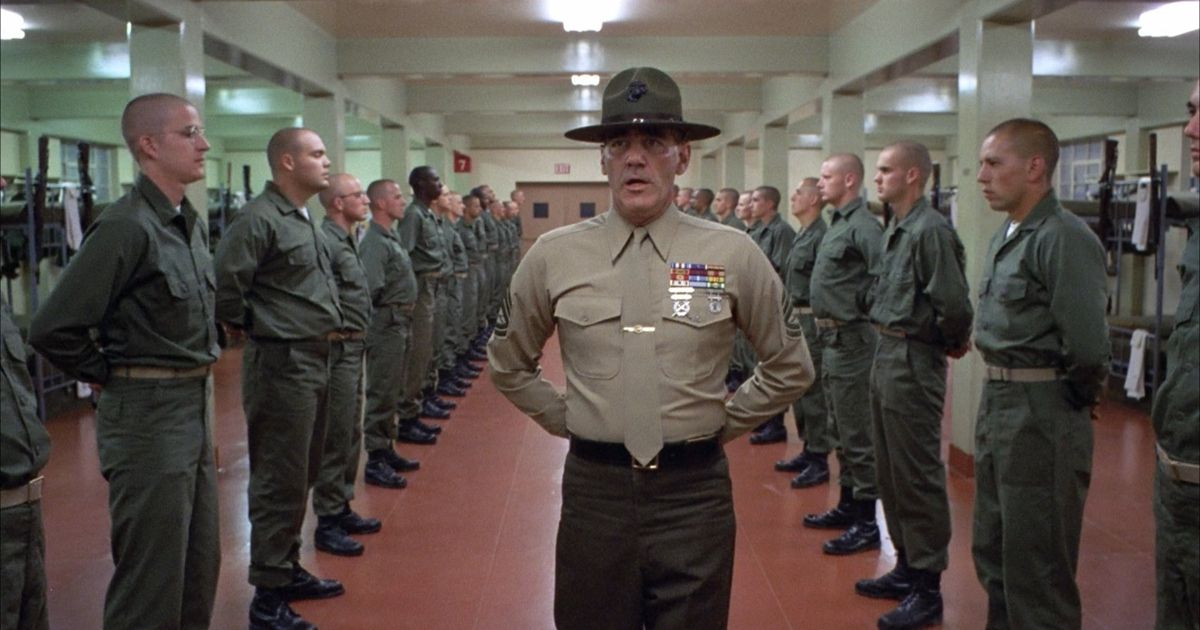 Stanley Kubrick's bifurcated film Full Metal Jacket follows the lead-up to war and the war itself, focusing on boot camp and then the Vietnam War. It's a clever bit of mirroring which details how people can be trained to kill other people, and the utter brutality and inhumanity that is often required to do so.
The first half features one of the most disturbing performances of all time courtesy of a young Vincent D'Onofrio, not to mention the darkly hilarious and profane performance from R. Lee Ermey (a former Marine Corps staff sergeant himself).
14
The Longest Day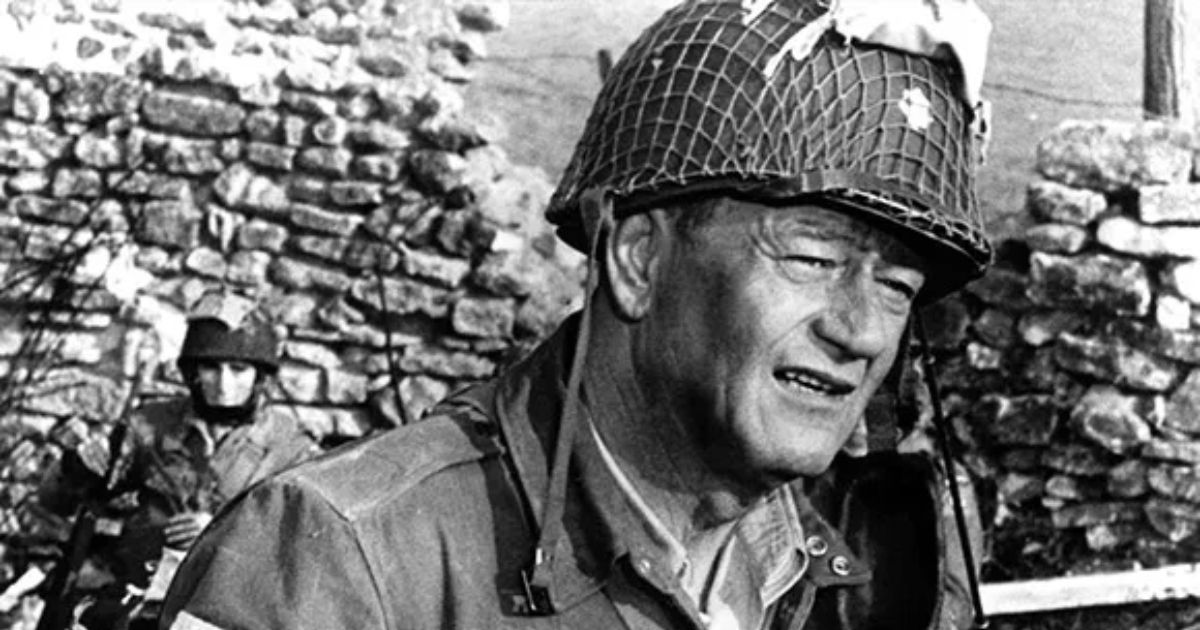 The Longest Day was a successful book from 1959, and the movie rights were sold for one of the highest figures for any adaptation — $1.75 million in today's money, adjusted for inflation. The production itself was even more expensive, resulting in the single most expensive black and white movie of all time until 1993's Schindler's List took the spot.
Lavish and massive, The Longest Day was a huge, international production which explored D-Day from different perspectives, recruiting three different directors and five screenwriters to tell an elaborate and meticulously detailed story in a documentary style. The cast was packed (John Wayne, Robert Mitchum, Rod Steiger, Henry Fonda, Sean Connery, Richard Burton, Robert Ryan, and dozens more), and the film featured 750 real soldiers from World War II as extras. Multiple military men from the war were consulted and had their stories recreated on film, and the result is one of the most authentic and elaborate war films ever made.
13
M*A*S*H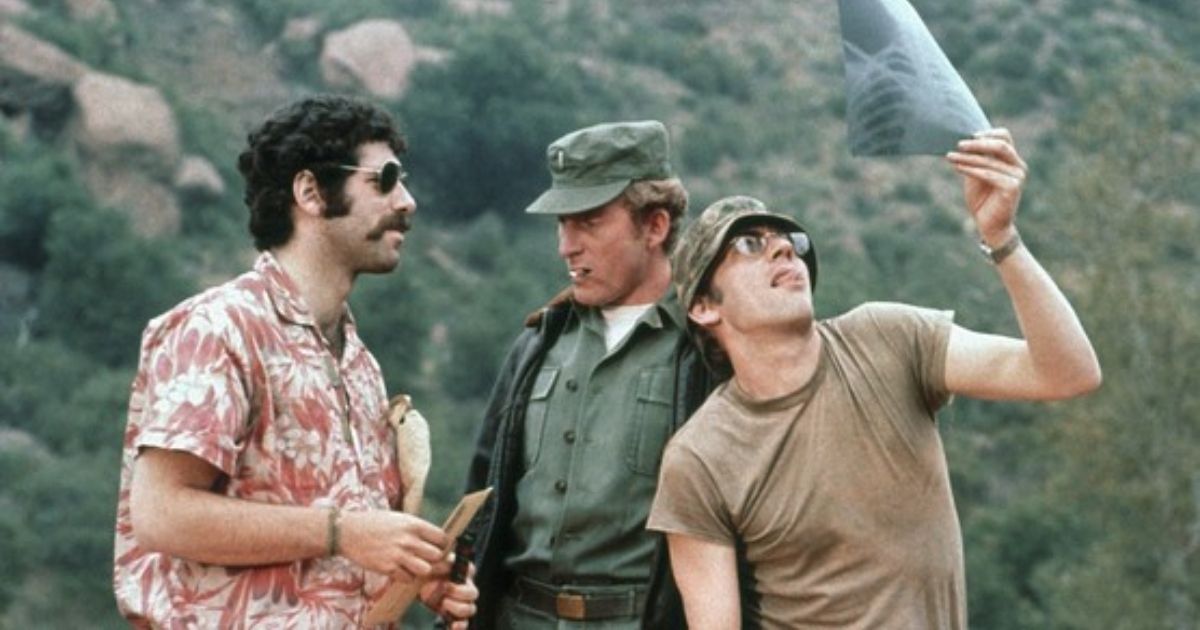 While most people think of the hit television series when they hear the title, M*A*S*H was actually an incredible Robert Altman film before heading to the small screen with a different cast. The story of wisecracking medical officers stationed in Korea struck a real chord with American audiences as the war in Vietnam resulted in a wave of cynicism and anti-war sentiments.
While the series had a great cast, the film has arguably better actors, with pitch-perfect sarcasm and confidence from Donald Sutherland, Elliott Gould, Tom Skerritt, Robert Duvall, and Sally Kellerman.
12
The Bridge on the River Kwai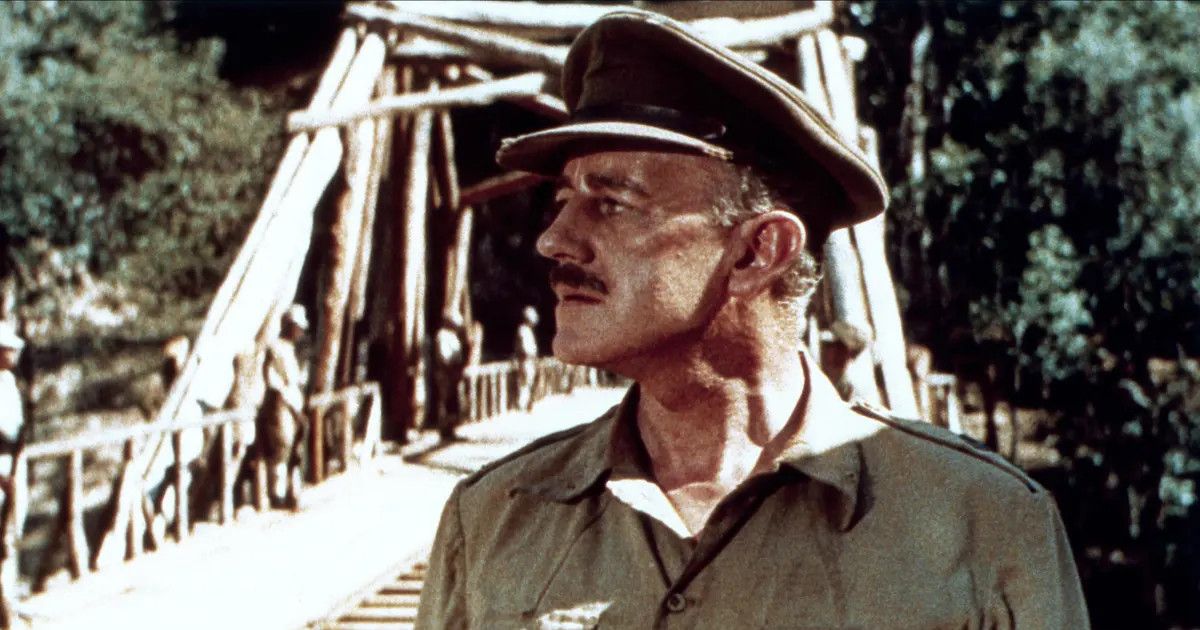 The film with the most popular whistling of all time, The Bridge on the River Kwai followed a group of gung-ho prisoners of war taken by Japanese soldiers to Thailand in order to help construct a strategic railway bridge. The wily gang plans the destruction of the bridge while trying to stay alive as the war nears its end. With masterful performances from Alec Guinness, William Holden, and Sessue Hayakawa, the film is a rousing, exciting classic from the great David Lean.
11
The Ascent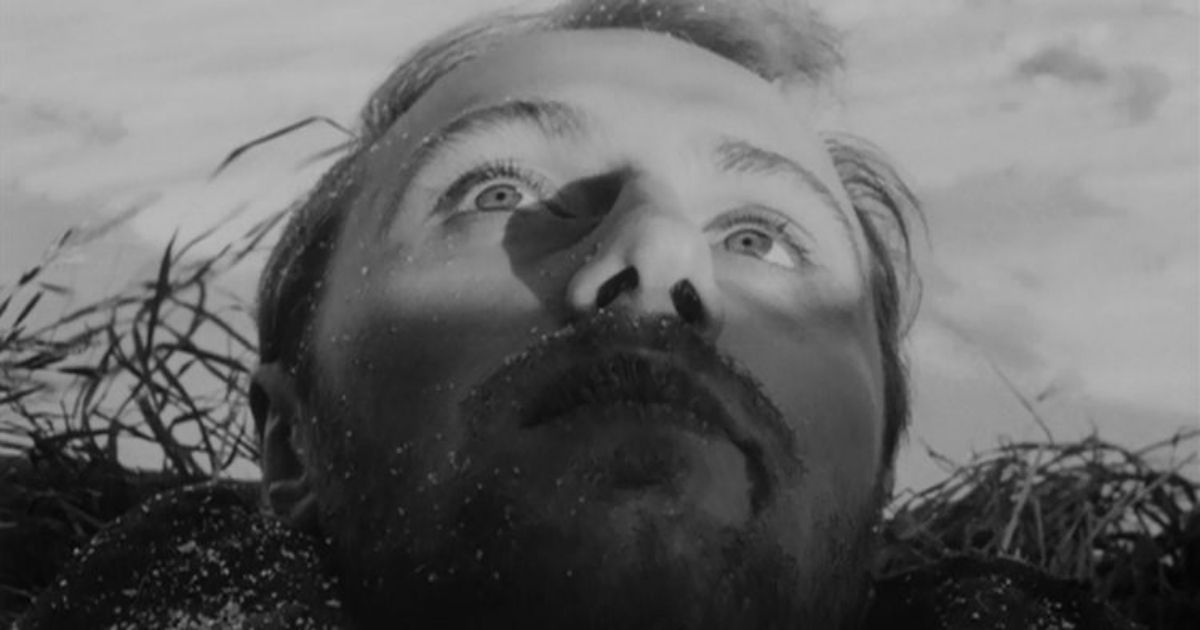 A rarely seen but deeply powerful Soviet war film, The Ascent follows Soviet soldiers fighting against Nazi forces as they wander the snowy Belorussian landscape looking for food. With stark black and white cinematography and a minimalist narrative, Larisa Shepitko's 1977 masterpiece has no heroes and instead looks at the moral, emotional, and physical peril wrought by war on all sides and everyone involved. The atmospheric and unsentimental film becomes more abstract as it nears a truly unforgettable ending.
10
Paths of Glory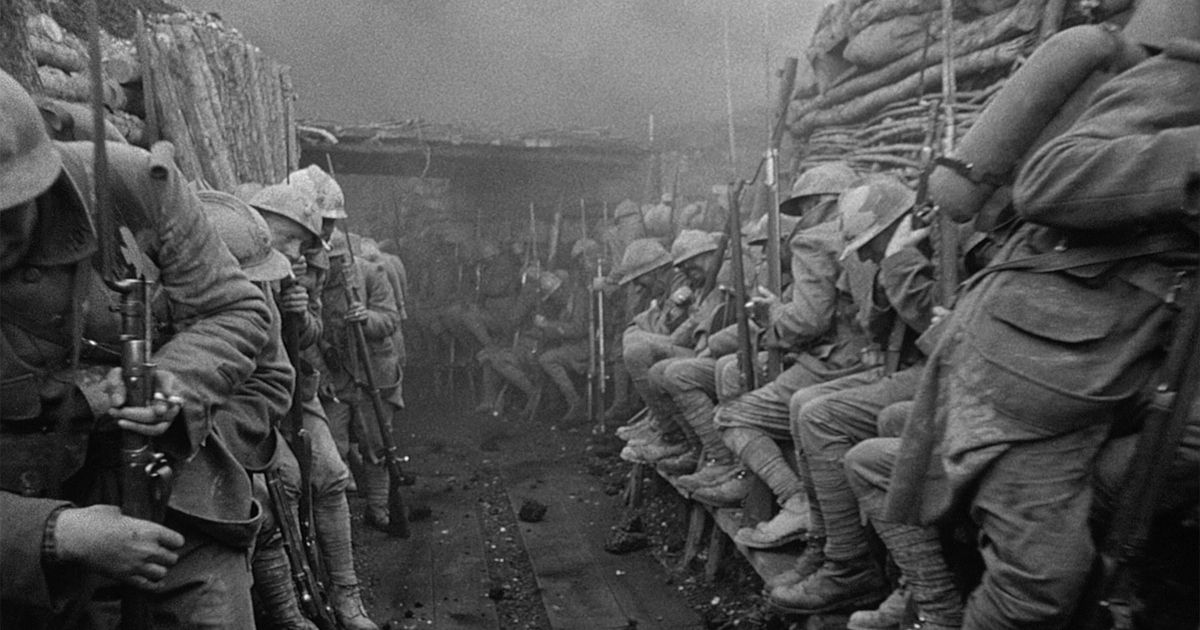 Early remnants of Stanley Kubrick's formalist, unemotional, and rigid filmmaking genius are on full display in his 1957 classic, Paths of Glory. Setting itself far apart from other American war films, Paths of Glory is a patient and solemn look at military structures, hierarchy, and morality in wartime.
The film follows a commanding officer (Kirk Douglas at his very best) whose unit is charged for cowardice for refusing a veritable suicide mission during World War I. His attempts to prevent the soldiers from being punished reveal the complicated politics and depressing bureaucratic indifference of war, just as much as the film depicts the fragility of the human condition.
9
Platoon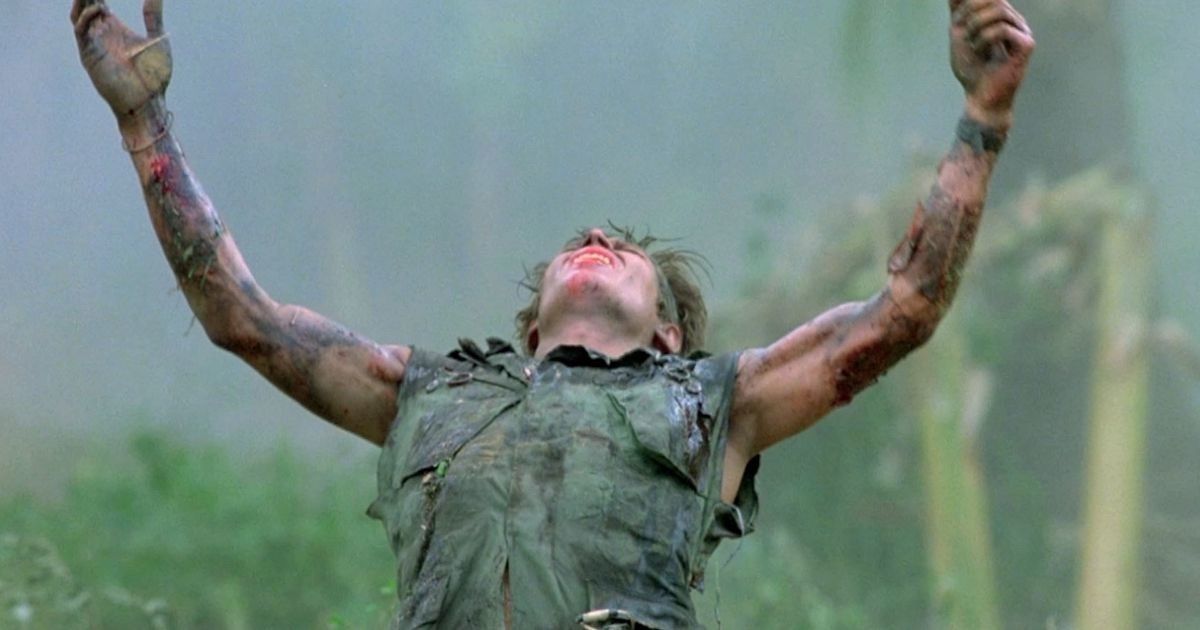 Oliver Stone's filmmaking career has frequently studied the intersection of war and politics, but ironically one of his least political and ideological films is also one of the purest war films of all time, Platoon.
An all-star cast (including Charlie Sheen, Tom Berenger, Willem Dafoe, Keith David, Forest Whitaker, Kevin Dillon, and Johnny Depp) elevates this tense tale of American soldiers stationed in Vietnam who get involved with war crimes committed against the Vietnamese. The film features some of the most striking imagery in all war cinema, not to mention some of the most interesting characters.
8
Saving Private Ryan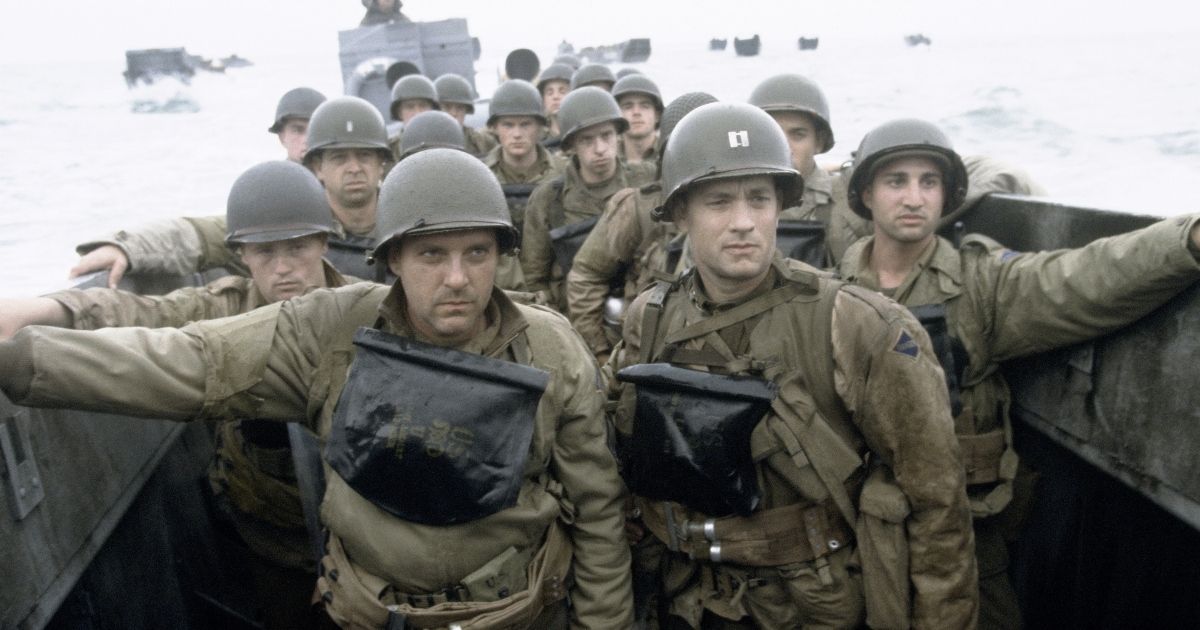 Steven Spielberg went from the dramatic character studies and patient melodrama of Schindler's List to a film that was $50 million more expensive and filled with exhilarating and masterful action sequences, Saving Private Ryan. With a gigantic scope and huge cast of familiar faces (Tom Hanks, Tom Sizemore, Jeremy Davies, Vin Diesel, Adam Goldberg, Barry Pepper, Bryan Cranston, Ted Danson, Nathan Fillion, Matt Damon, Giovanni Ribisi, Paul Giamatti, and many more), the film is sometimes considered the greatest American war movie for many reasons.
Beyond the stacked cast, this tale of a 2nd Ranger Battalion Captain and various soldiers trying to find the only surviving member of four brothers who died during the Normandy invasion is cinematically relentless. This is arguably Spielberg at his most intense, going so far as to have mud, dirt, and blood splatter the camera in order to film every single thing he can. With some of the best battle scenes ever put to film and one of the most emotional endings in war movie history, the film has cemented itself as a Hollywood classic.
7
Das Boot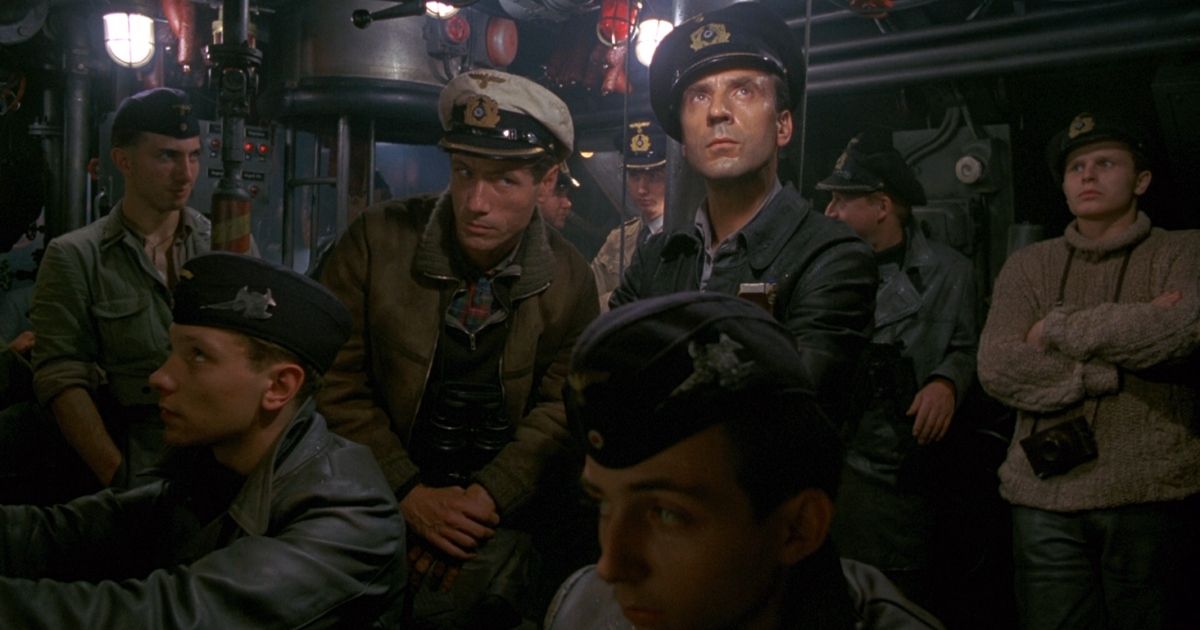 One element of war that's often forgotten is boredom, and it makes sense that 'being bored' isn't exactly cinematic. It's not very exciting to capture mundanity and banality, and war movies often strive to be exciting (for arguably erroneous reasons).
Das Boot, however, rises to the challenge with its lengthy, claustrophobic study of German soldiers on a submarine during World War II who often have nothing to do and must contend with each other in extremely tight quarters. It's a slow, depressing film, but a perfect encapsulation of the reality of war, and perhaps the best war film from the Axis perspective.
6
The Battle of Algiers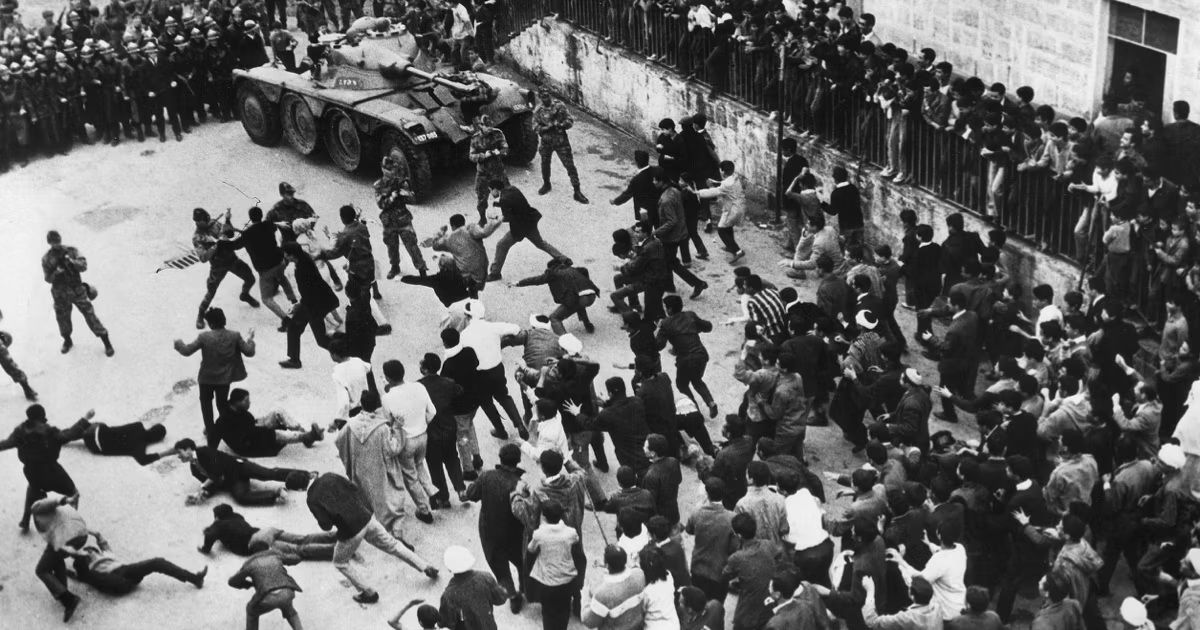 Few films have made politics and resistance so exciting as the documentary-style narrative masterpiece, The Battle of Algiers. Often considered the greatest Marxist film since Sergei Eisenstein, The Battle of Algiers depicts the guerilla resistance fighters of North Africa as they push back against French occupation. Combining a newsreel style with a pummeling score and brisk editing, the violent tactics of rebellion and uprising are fleshed out and reconstructed in a masterpiece of resistance.
5
Army of Shadows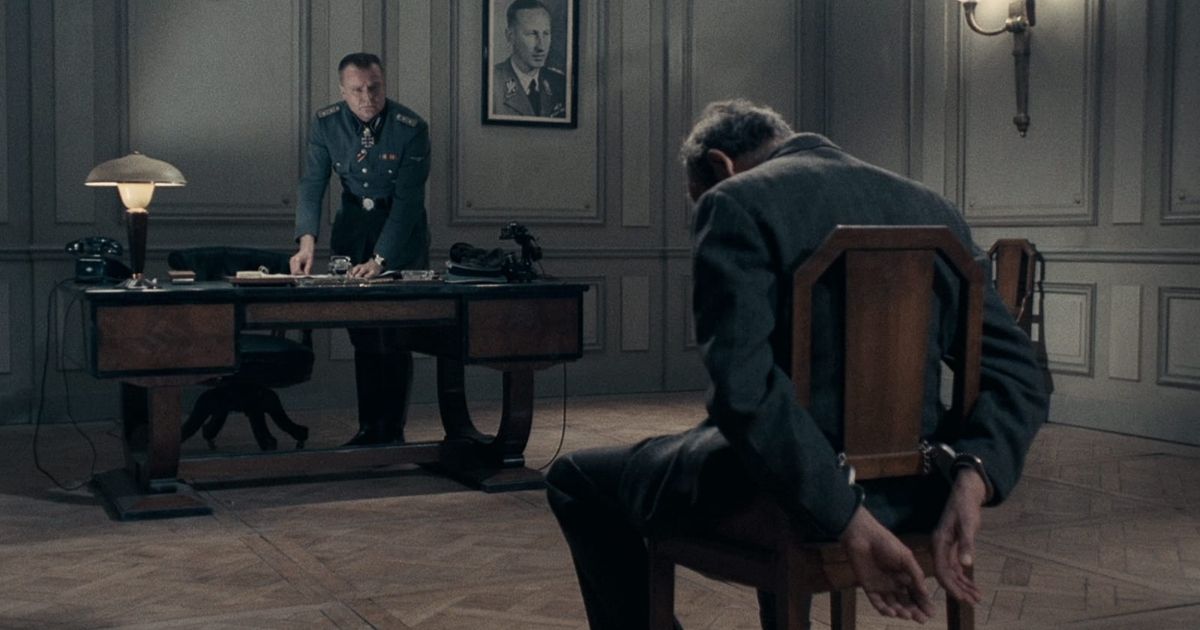 It's extremely rare that a film will top critics' top 10 lists 37 years after its release, but that's exactly what happened with Army of Shadows, which was finally distributed in America in 2006. The film topped the 'Best of 2006' lists from David Ansen of Newsweek, Ella Taylor of LA Weekly, Glenn Kenny of Premiere 1st, Manohla Dargis of The New York Times, and Stephanie Zacharek of Salon, to name a few. It's a true testament to the aesthetic perfection of the film.
Army of Shadows is the ultimate French Resistance film (outside the documentary landscape), and follows the work of brave French resisters as they try to survive the German occupation of France, hide from the Vichy government, and discover the informant in their midst. Director Jean-Pierre Melville is known for his ingenious crime films, and he uses the same tension and coolness to paint a portrait of resistance.
4
Come and See
nMosfilm"">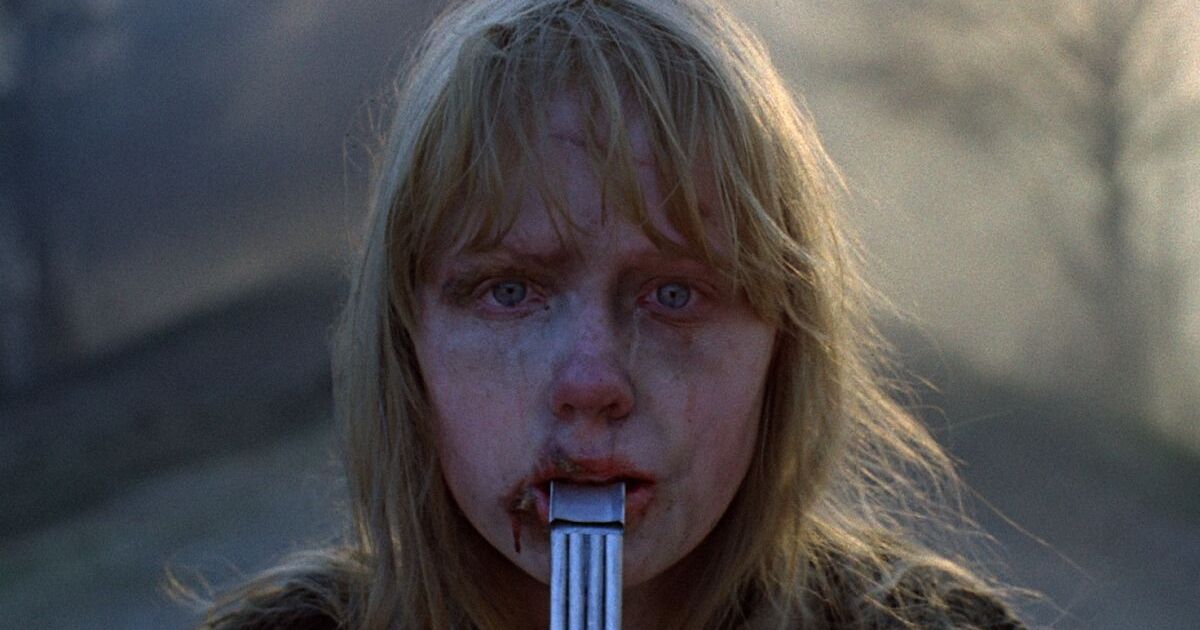 While Truffaut may have thought there was no such thing as an anti-war film, he died one year before Come and See premiered in 1985, and would've arguably changed his mind then. Hardly any other war film is as harrowing, disturbing, uncomfortable, and soul-crushing as Come and See, to the extent that many people call it an outright horror film.
Elem Klimov's masterpiece follows a teenage Soviet soldier as he joins the Belorussian resistance movement against the Nazis and witnesses the very worst of humanity. It's a grueling, grimy, and grim film that's not for the faint of heart, but that genuinely puts the "anti" in "anti-war."
3
The Grand Illusion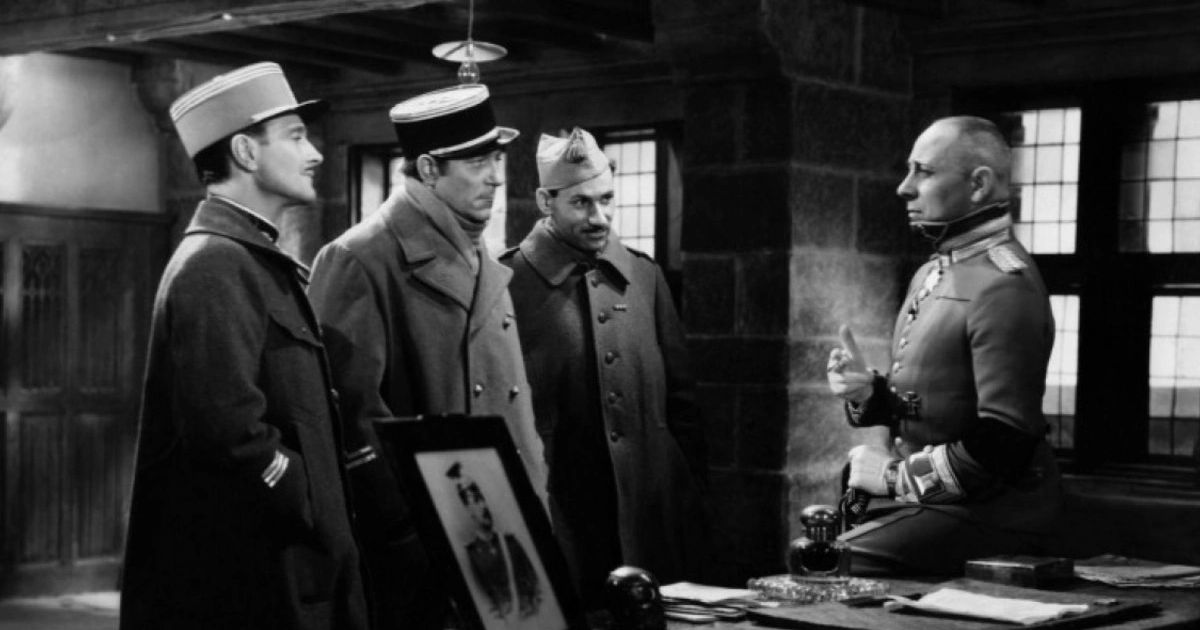 Perhaps the most sophisticated war film ever made, Jean Renoir's early masterpiece The Grand Illusion is delightful and thoughtful in equal measure. Set during World War I, the 1937 classic follows a group of French prisoners of war and their interactions with the German officers holding them captive.
A fascinating class dynamic develops between the elitist, almost aristocratic commanders on each side of the war, and the lower-class soldiers on each side. A profound study of honor and the death of the old world in the face of trench warfare, biological weapons, and mass genocide, The Grand Illusion is a poetic and polite plea for civility, and a lament for the loss of our collective humanity after worldwide war.
2
The Thin Red Line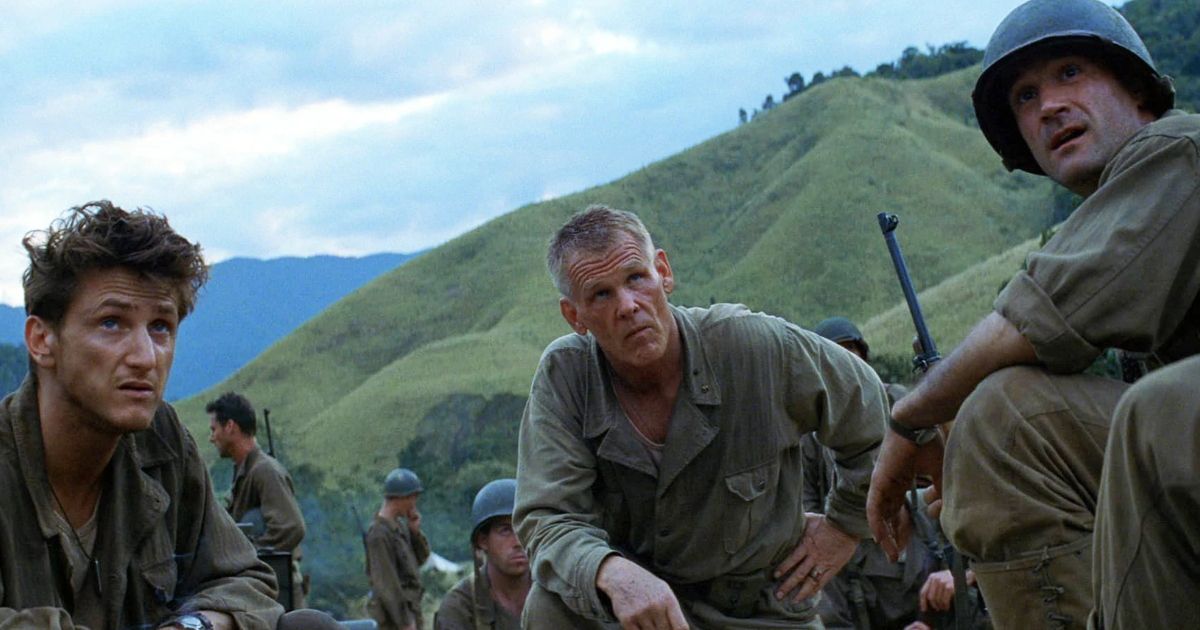 Filmmaker Terrence Malick returned to Hollywood after a 20-year absence to make the massive, mysterious war epic, The Thin Red Line, and essentially everyone in Hollywood joined him for the effort. The film features arguably more stars than any other in history (George Clooney, John Cusack, Adrien Brody, Sean Penn, Nick Nolte, Jim Caviezel, Thomas Jane, Woody Harrelson, Ben Chaplin, Jared Leto, Tim Blake Nelson, John C. Reilly, John Travolta, and more).
Related: How The Thin Red Line Turns the War Movie Genre Into Poetry
However, miraculously, the movie isn't about star power; it glances at these huge actors and then soars past them. The Thin Red Line is about more than character; it's about the human soul, the war within it between evil and good, and the interconnection of everything. Arguably the most spiritual war film ever made, Malick's meandering masterpiece follows the battle of Guadelancal as C Company, 1st Battalion, 27th Infantry Regiment, 25th Infantry Division attempts to take a strategic hill from the Japanese. It's a Sisyphean task, and an excuse for Malick to question the function of war and the existence of evil from a God's-eye view.
1
Apocalypse Now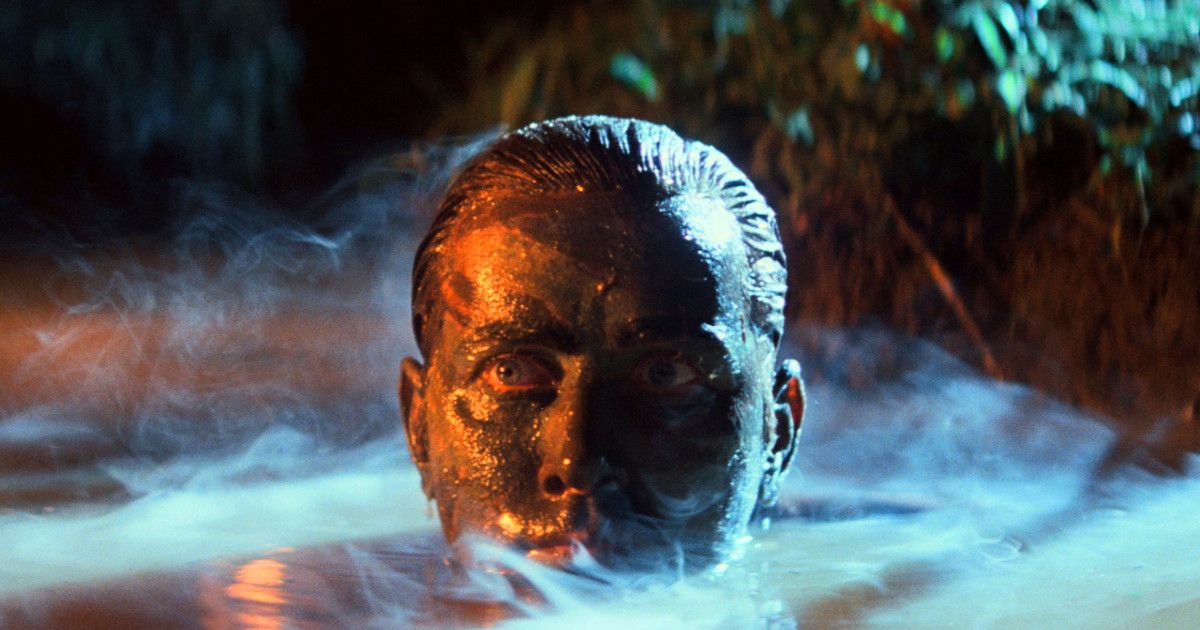 Apocalypse Now is the ultimate war film, capturing the malaise of the '70s and the confusion and paranoia of a generation who never wanted to fight in Vietnam to begin with. Francis Ford Coppola's troubled masterpiece follows a young soldier who is recruited to travel by boat and seek out a Special Forces Colonel who has supposedly gone rogue and is waging his own war within the war.
Apocalypse Now is utterly perfect. Scene after scene features a psychedelic, philosophical, and infinitely memorable masterclass of filmmaking, ranging from the surreal to the realistically gritty. Marlon Brando's renegade performance as the rebel Colonel, alongside Dennis Hopper's chaotic sycophant, makes for a perfect counterpart to the straight-laced but deeply troubled Martin Sheen character.
The film's production was like a war itself, and years later, a re-cut version of the production (titled Apocalypse Now: Redux) premiered, featuring much more footage and many more political allegories. Either version of the film would arguably fit the top spot in the best war movies of all time, but we'd recommend that you start with the original version or the recently released variation, Apocalypse Now Final Cut.