The ongoing event known as CinemaCon continues to deliver the cinematic goods, offering a new look at the upcoming musical prequel, Wonka. Starring Academy Award nominee Timothée Chalamet as a young version of the eccentric chocolatier, Wonka is all set to land in theaters just in time for the festive season later this year in mid-December.
Directed by Paddington and Paddington 2 filmmaker Paul King from a screenplay written by King and Simon Farnaby (Paddington 2), Wonka will introduce a much younger version of the Roald Dahl character than fans are used to. The movie will explore the early years of the titular chocolate fanatic and tell the story of a young Willy Wonka and his adventures before opening the world's most famous chocolate factory. The extended trailer released at CinemaCon finds Wonka dealing with a dangerouc 'chocolate cartel' and dealing with an Oompa Loompa played by none other than Hugh Grant.
Wonka will feature an all-star cast alongside Timothée Chalamet, including the likes of Keegan-Michael Key (Keanu, The Super Mario Bros. Movie), Rowan Atkinson (Mr. Bean, Johnny English), Sally Hawkins (The Shape of Water), Jim Carter (Downton Abbey), Olivia Colman (The Crown), Mathew Baynton (Ghosts), Tom Davis (Murder in Successville), Simon Farnaby (The Phantom of the Open), Rich Fulcher (The Mighty Boosh), Kobna Holdbrook-Smith (Mary Poppins Returns), Paterson Joseph (Noughts + Crosses), and Matt Lucas (Alice in Wonderland).
Thanks to the likes of both 1971's Willy Wonka & the Chocolate Factory and the 2005 remake Charlie and the Chocolate Factory starring Johnny Depp, the world of Willy Wonka is now deeply associated with musicals. And Wonka will be no different, with the prequel set to feature original songs courtesy of Neil Hannon, the lead singer of the band The Divine Comedy.
RELATED: How 2023's Wonka Will Prove That Roald Dahl's Work Transcends Time
Wonka Will Feature All Manner of Musical Numbers
Thanks to standout performances in the likes of Call Me by Your Name, Little Women, and Dune, Timothée Chalamet is now one of the most sought-after A-listers in Hollywood. And his Wonka co-star Keegan-Michael Key cannot say enough nice things about the young actor and his obvious talents, as well as his lead performance in the upcoming musical.
"There's this wonderful effortlessness about how he plays Wonka, not to mention the fact that there's this hopeful quality that he gives the character, a kind of indomitable quality that he'll never quit, he's always up for the next thing," Key said of the actor. "He's like, 'OK, that didn't work out? We'll do this, and we'll try something else.' And Timothée Chalamet, what can I say? Sacrébleu! This kid, you know, he drips charisma and a wonderful confidence. He's just a really delicious artist."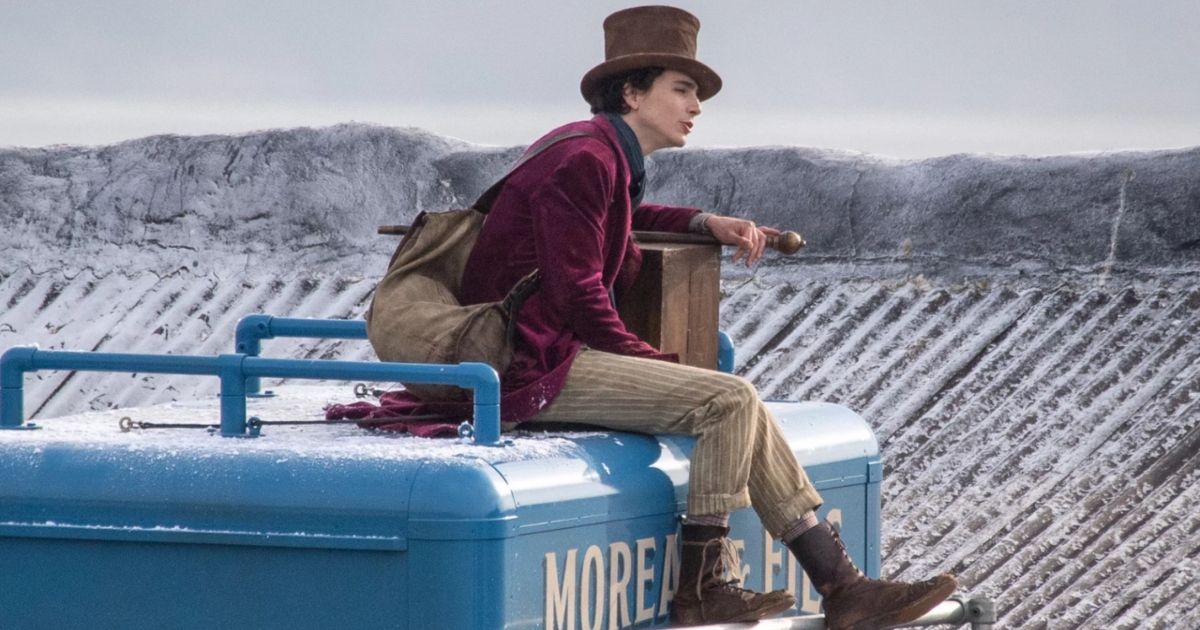 Wonka will feature all manner of musical numbers for Timothée Chalamet, and even a few for Keegan-Michael Key as well. "He has seven musical numbers and I have two, one of them is a group number and another is a smaller group number," Key revealed before teasing the scope of Wonka. "I would agree with all the adjectives Timothée used, and I would also like to add the words wondrous and a little bit epic. It's a nice, big, full, beautiful piece of art and Paul King, who directed it, is a delightful human being who has this wonderful, childlike heart. He was the perfect person to direct the project."
Wonka is scheduled to be released on December 15, 2023, by Warner Bros. Pictures.