Nominated for an Academy Award, Get a Horse! directed by Lauren MacMullan is marked out as an especially imaginative and witty Disney short, which cleverly brought Mickey out of the past and into the 21st Century. Making its debut at the Annecy International Animation Film Festival in 2013 to a positive audience reaction and deservedly glowing reviews, its unique premise was a clear turning point for Mickey Mouse and the Disney studio. It can be watched now, amongst other beloved Disney content, on Disney+. Stay tuned to discover why this short makes a memorable addition to the Disney collection…
RELATED: The Best Animated Movies on Disney+ Right Now
What Happens in 'Get A Horse!'?
In Get a Horse!, an early 2D black-and-white version of Mickey Mouse leaves his house to find Horace Horsecollar pulling a hay wagon full of other familiar characters. He joins the happy band, and they proceed with their journey, picking up Clarabelle Cow and Minnie Mouse along the way. Disaster looms when Mickey's arch-nemesis Peg-Leg Pete appears, tailing them in his own car complete with a talking car horn, proceeding to grab Minnie and cause havoc. This culminates in Pete swinging Mickey and Horace Horsecollar with so much excess force that they burst through what turns out to be a cinema screen, into a 3D theater bursting with color. For the remainder of the short, a now-3D Mickey outside the black-and-white screen pursues the 2D Pete within the screen, trying to rescue Minnie from his grip. Eventually, all the characters get drawn into the 3D world of color, and they work together to save Minnie and give Pete his comeuppance.
The studio used technology to magically bring history back to life, using archival recordings of Walt Disney's voice for Mickey, and thus bringing old Disney artifacts into modernity. Clearly, this was not the only way that they successfully melded the old and the new, and their gem of a short ingeniously depicted just how far Mickey has come.
'Get a Horse!' Depicts the Evolution of Animation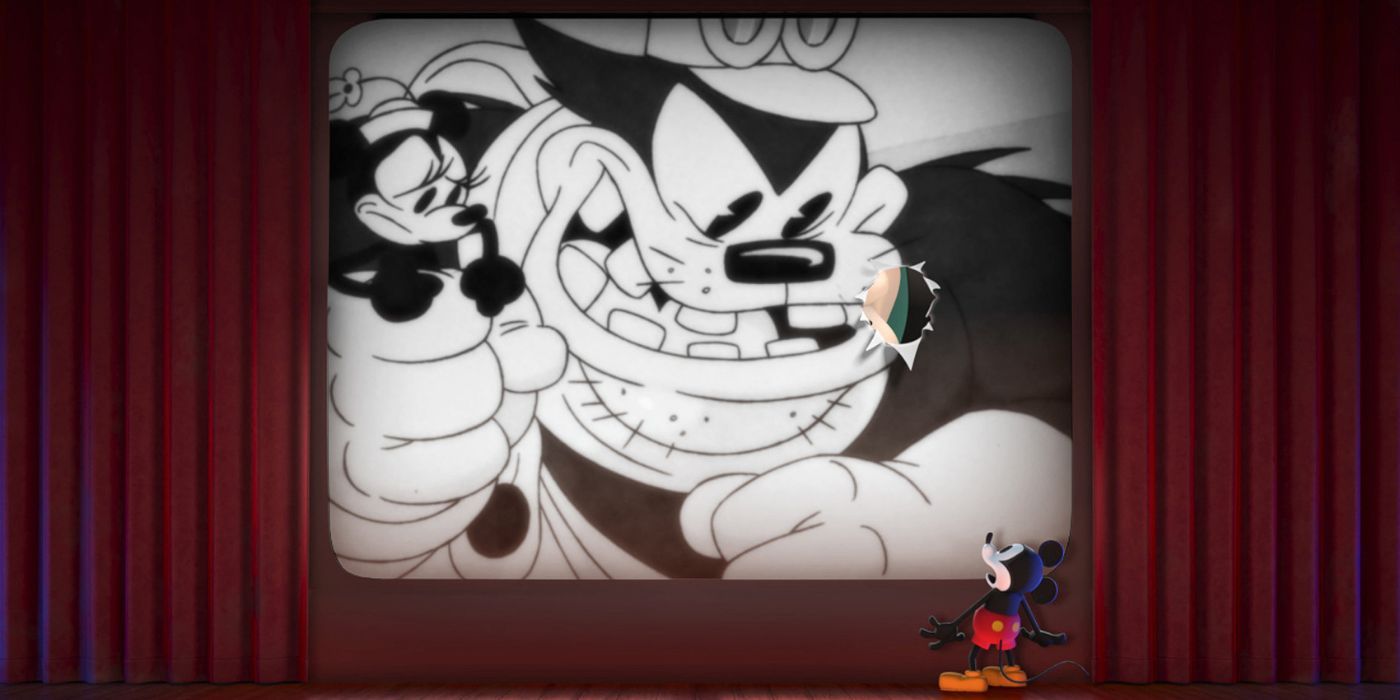 Directly referencing the enduringly charming style of Mickey Mouse's original shorts like that of Steamboat Willie (1928), Get a Horse! starts by using hand-drawn 2D animation in black-and-white. Implementing the bouncy "rubber hose" style of bendy animation which was made popular at the time by animation greats like Ub Iwerks (and is making a comeback today), the studio also used effects to make this segment appear authentic to the animation era it pays homage to. With its characters partaking in whimsical pranks and science-defying antics, the first part of Get a Horse! leans into many popular aspects of the older style of cartoon.
Then, abruptly, we are brought into the modern 3D style of animation, complete with full color. Whilst the characters maintain their original iconic designs, they now are realized as 3D models. "Make way for the future," Pete's car horn yells when he comes onto the scene in the hand-drawn part of the Disney short, and the updated style certainly does confirm this, placing Mickey firmly in the present, whilst maintaining reverence for the past. There is even an entertaining scene whereby Mickey, wanting to have fun at Pete's expense, swings the cinema screen with Pete trapped inside. The spinning screen animates Pete, and by emulating visible page turns which would usually be indiscernible between animation frames, it calls to mind the very early stages of pre-film animation like the zoetrope or the flip book by embodying the physicality of these devices. Of course, this part of the short also acts as a simplified symbol of how 2D animation works, whereby hand-drawn illustrations are sequenced together. Referencing these older art forms, Get a Horse! reflects how far animation has come, making its own modern elements all the more exciting.
The studio also references modern technology and other items to bring the short fully into the present day, with Horace Horsecollar sauntering onto the stage with a mobile phone in hand, whilst carrying an armful of brightly familiar cinema snacks. The animators who worked on Get a Horse! also pushed the 3D characters' rigs to the limit so that they could imitate classic 2D poses, and animated them in a way akin to the physics-defying nature of old-style cartoons, with Mickey stretching out Horace Horsecollar into an airplane which he proceeds to fly around the theater. This serves as a nod to 2D animation whilst demonstrating the exciting possibilities of 3D, forming a particularly modern concept of animation's capabilities.
Further emphasizing the possibilities of modern animation in bringing a beloved Disney character into the 21st century, in one scene, the characters embark on a circular chase through a hole into the screen and back through another hole onto the stage, transforming from their 3D color models into their 2D black-and-white designs and back again. This experiment is thrilling in its use of new and old to devise something wholly unique, and we can witness the characters' poetically cyclical evolutions as a metaphor for the art form's lifespan to date.
'Get a Horse!' Is the First Disney Short to be Solo Directed By a Woman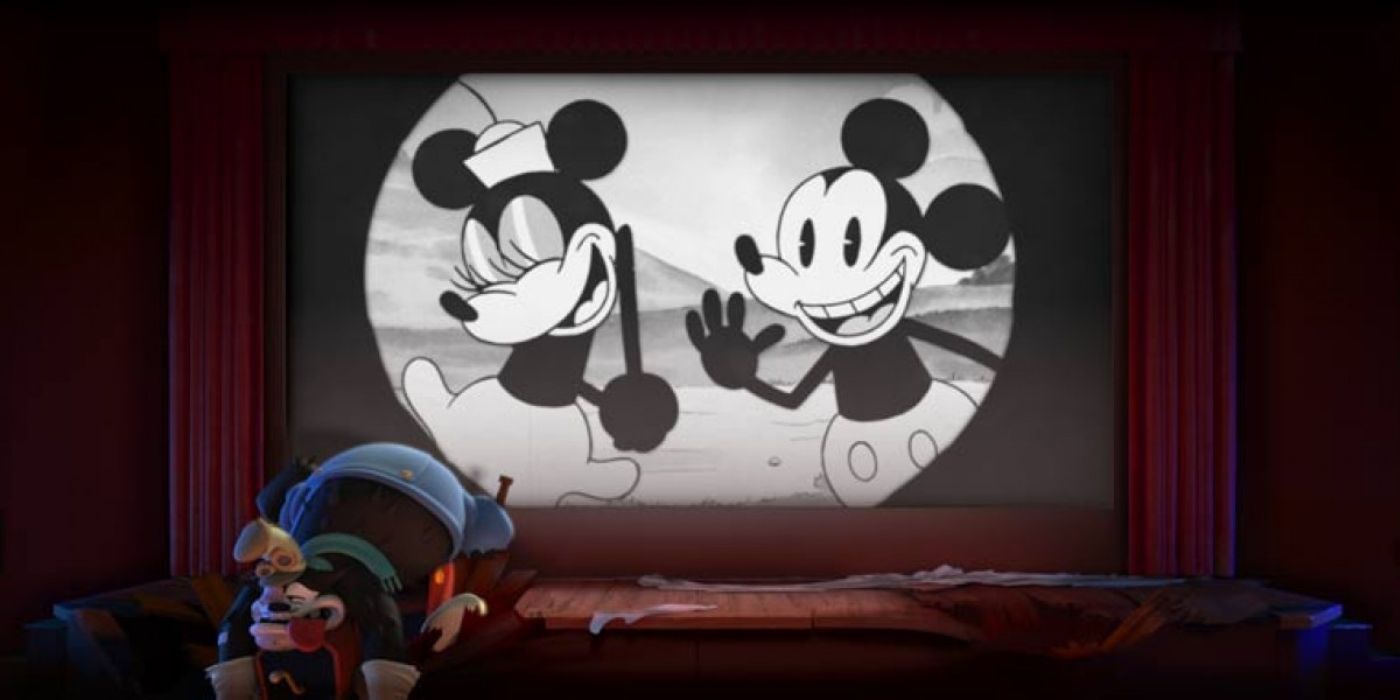 As well as being inventive and creative, Get a Horse! also marked a significant first for Disney shorts, and hopefully one that spelled the future to come; in being directed by Lauren MacMullan, it stood apart as the first short to be solo directed by a woman in Disney's history – and also happened to be produced by a woman, Dorothy McKim. Recent female directors for feature films include Domee Shi for Turning Red, which marked her feature directorial debut, and Charise Castro Smith who co-directed Encanto. However, upcoming feature films by Disney including the highly anticipated Elemental seem to be disproportionately directed by men, and recent shorts have still predominantly had male directors too. Get A Horse! was clearly ahead of its time, and Disney needs to take heed of its own lesson and implement a more diverse cast of directors.
'Get a Horse!' Is an Ode to the Old Mickey & Makes Way for the New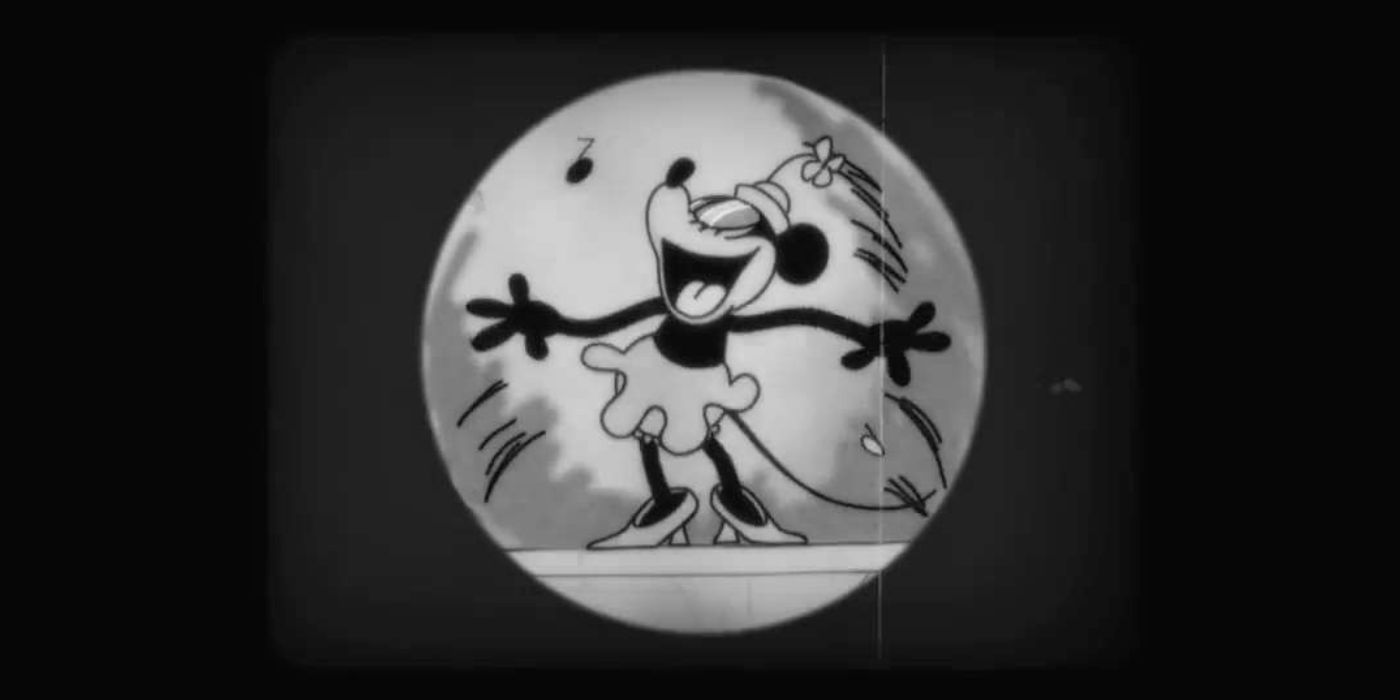 In Get a Horse!, there is a clear admiration and fondness for the original Mickey Mouse animations, and Disney's early history of animating in general. Maintaining the signature wit and style of these early cartoons, the short has the characters embark on a madcap adventure, filled with physical comedy and slapstick humor. Although created almost ten years ago, this short is in keeping with the current nostalgic trend of retro pop culture making a comeback that has been steadily gaining in popularity, with many people opting to look back to old media for inspiration and comfort.
Simultaneously celebrating both the old and the new, the overlooked Disney gem Get a Horse! acts as an ode to the original style of animation and brings it into modernity by showcasing the exciting possibilities of animation. We love to see such inspired uses of the classic to make them sparkling new again, and this short innovatively catapults Mickey into the present day.