Met Gala Monday is a huge night for anybody who's even remotely interested in the best of celebrity fashion, and it's always fun to see the creative ways the A-listers interpret each year's assignment. The theme for the 2023 event was "Karl Lagerfeld: A Line of Beauty," in memory of the creative director of Chanel and Fendi who died in 2019. Many climbed the iconic Met museum steps in black-and-white moments to honor the designer, and plenty jumped on the sheer trend. Others went in another direction, drawing inspiration from someone who was very close to Lagerfeld — his cat Choupette.
Jared Leto, Doja Cat and Lil Nas X had the Met Gala crowd absolutely purring over their choice to honor Karl Lagerfeld through his beloved white Birmin. Doja Cat kept her look top secret until her big moment, and it was worth the wait:
Doja Cat wore a long sparkling Oscar de la Renta gown with a feathery train and attached hood, with cat ears sticking up on top. Her makeup, however, was just as much a part of the ensemble, as she used facial prosthetics to give her features the full feline effect. She even showed her claws and gave a "Meow!" on the carpet. Fans seemed to give their nod of approval to the look, with one tweeting (all tweets edited for capitalization): 
Others had more trouble keeping their composure over the "Say So" singer's ensemble, saying on Twitter: 
It's hard to say who took the assignment more literally between her and Jared Leto, whose identity was a mystery when he climbed the staircase in head-to-toe Choupette cosplay: 
Jared Leto's wardrobe captured the infamous feline's icy blue eyes perfectly, as he climbed most of the way up before revealing who was underneath the mask. He then removed the full cat costume and transitioned to another dapper piece. Many fans appreciated his commitment, with one tweeting: 
It was announced last year that the 30 Seconds to Mars frontman will portray Karl Lagerfeld in a biopic, so the night undoubtedly meant a lot to Jared Leto. The only question is who paid tribute to famous kitty better? Twitter users had fun with the cat fight, with one posting:  
Jared Leto seeing Doja Cat at the #MetGala 😂🐈 pic.twitter.com/QFKjtuY2JoMay 2, 2023
See more
It's hard to deny that these two Met Gala outfits were made for the memes: 
Doja Cat and Jared Leto #MetGala pic.twitter.com/5EvoaLzW9SMay 1, 2023
See more
Lil Nas X also went in a feline direction, and while his wasn't as literal an interpretation as Doja Cat or Jared Leto's, it was certainly one of the fiercest looks at the 2023 Met Gala. The "Old Town Road" rapper wore just a thong and silver body paint, as his body was covered in pearls and crystals. The embellishments extended up to his face, forming a feline-esque mask.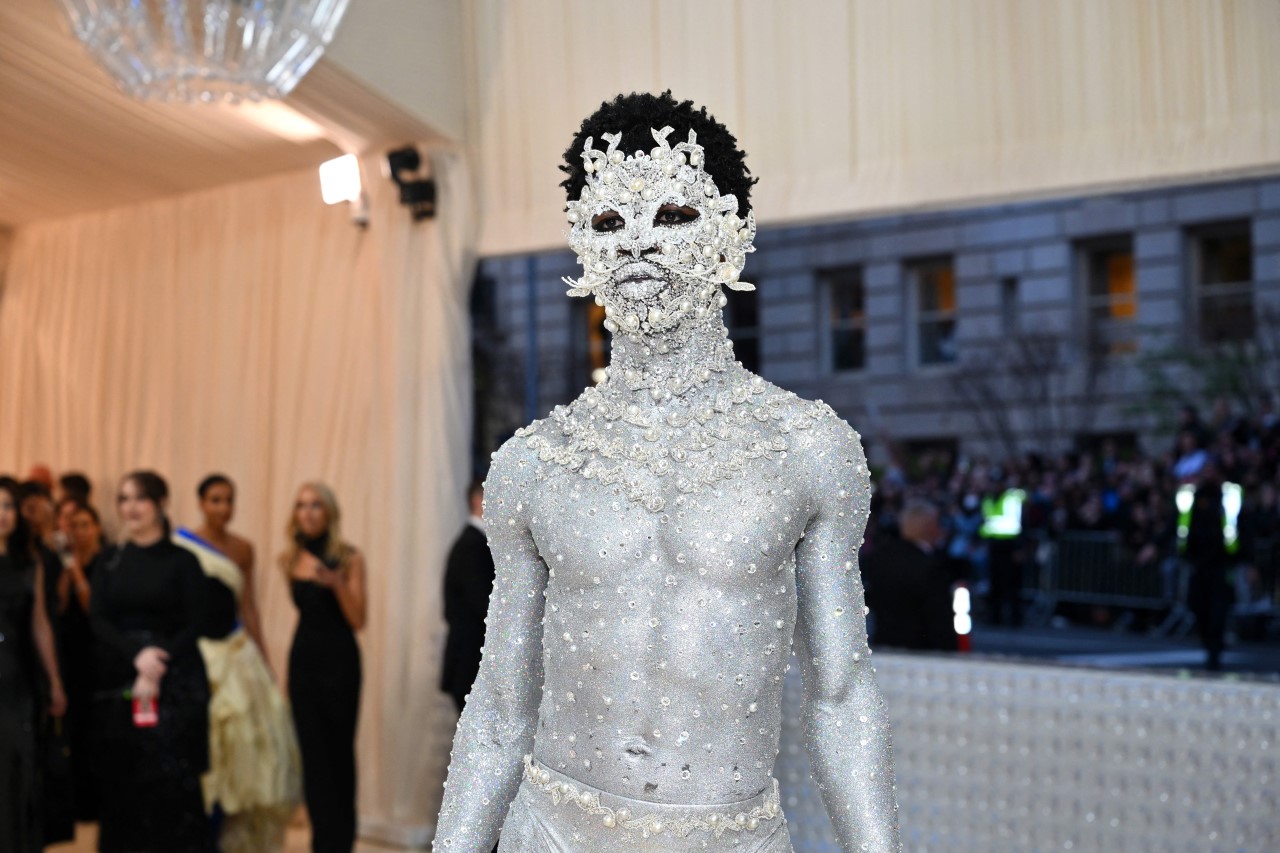 There were lots of epic fashion moments at the 2023 Met Gala, with several celebrities embracing the chance to honor Karl Lagerfeld — including Kim Kardashian, after it was rumored that she and her famous sisters had not been invited to this year's event — and the love shown to the late creative director's cat will undoubtedly be one of this year's lasting memories.