About halfway into the live-action Looney Tunes: Back In Action, the camera pans across a restaurant in Hollywood as stars discuss their careers. Shaggy and Scooby shake down Matthew Lillard for his performance in the Scooby Doo Movie, Bugs talks to the WB Vice President, and at another table Mexican firecracker Speedy Gonzales and the stuttering Porky Pig discuss… political correctness.
But lucky for the pig and rodent respectively, neither of them has been "canceled" like a certain black and white peer of theirs, Pepé Le Pew.
Cancel Culture in Animation
Canceling people and characters has become a worryingly hot trend in our current media-obsessed world. Rather than give certain stars or media second chances, for better or worse people are now straight-up dejected online and are likely to never work again. For example, take the release of the trailer for Wes Anderson's latest film. With its packed starry cast, a forever entity in Anderson's filmography, Bill Murray, was nowhere to be seen following claims of inappropriateness on another film set.
Voice actor Justin Roiland was very publicly binned by the cartoon shows he was working for following abuse claims. Elsewhere, recent rewrites of various Dr. Seuss books now depict what is deemed more current and up-to-date language, and frankly, it raises a question of censorship and a feeling of keyboard hammering lynch mobs just outside the door.
Related: Will Rick and Morty's Justin Roiland Be Replaced by Sean Dorrough?
And (ridiculously) this cancelation of all that is wrong doesn't stop at flesh and blood humans either. First, they came for a fellow Pepe, Pepe the Frog. The wide-eyed, large-lipped amphibian had somehow been altered to look like Adolph Hitler and a hooded KKK member. Retweeted first-hand by Trump's personal Twitter at the time (for some reason) in support of himself, Clinton's rival press team would release a legitimate statement that read, "that cartoon frog is more sinister than you might realize."
EXT. PARIS, FRANCE – DAY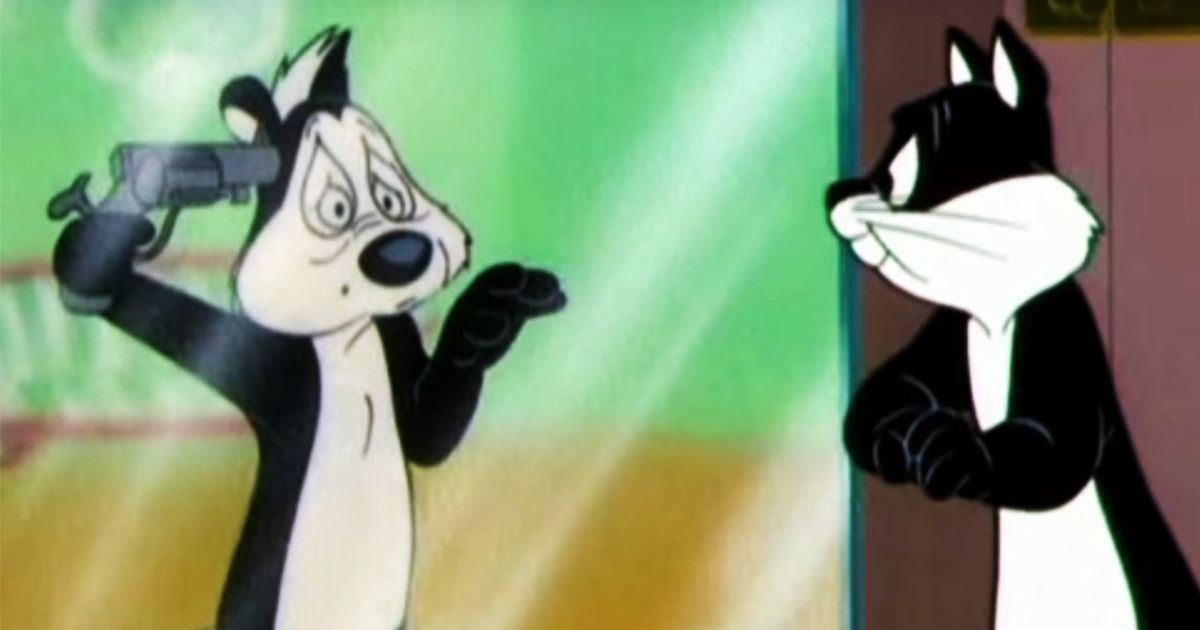 Pepé Le Pew's shtick was always the same. Set in Paris, a black cat would stumble by wet paint (or something similar) that would cause a streak to appear down her back making her resemble a skunk. There, legitimate skunk (and heavy French stereotype), Pepé Le Pew, would smoke cigarettes and spend the rest of the episode longing after the girl as she denied his advances and escaped his odor in the most cartoonish of ways (hammers to the head, clubs, etc.).
The outcry for the character officially began on March 3, 2021, following an opinion piece from Charles M Blow in his The New York Times article titled "Six Seuss Books Bore a Bias." In it, he mentions growing up on cartoons, including Pepé Le Pew, and how it "normalized rape culture" and alongside Speedy Gonzales' friends "helped popularize the corrosive stereotype of the drunk and lethargic Mexicans".
And honestly? He wasn't wrong, albeit for the times when the roles were reversed and Penelope Pussycat ended actually pining for Pepé. But then again, one could argue that that was just Stockholm syndrome at that point. Pepé was over sixty years old at this point and his stench continued to linger. With a new Space Jam movie on the way — where the Looney Tunes would naturally feature heavily — something had to be done.
Space Jam & Foul Play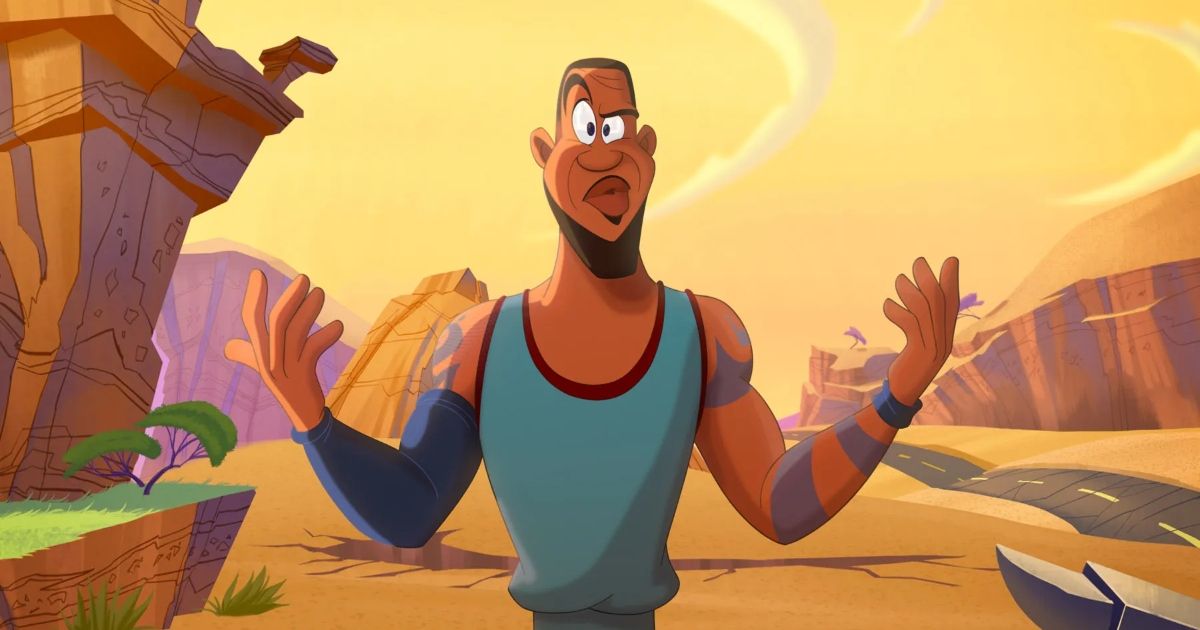 Gestating literally since the first film was released in 1996, a Space Jam sequel starring LeBron James had been mooted online since with fans of the first film going off of that somehow still live original site, and not a lot else. The original movie (also coincidentally starring Bill Murray) would see the Looney Tunes characters enlist basketball superstar Michael Jordan to help them play a game against would-be alien slavers. With the introduction of one Lola Bunny, all the Tunes got a fair share on the screen, including Pepé Le Pew.
Sent on far too late in the game, Space Jam: A New Legacy arrived after the first film a whole 25 years later. By now, Michael Jordan has retired altogether and the Looney Tunes are all but forgotten from current pop culture.
Related: Best Movies That Mix Animation with Live Action, Ranked
On March 7, before the release of A New Legacy, Deadline reported that a scene featuring Pepé Le Pew had been created — and subsequently cut from the finished film. Unrelated to Blow's words, it was reported to have come with the transition of former director Terence Nance, and his replacement Malcolm D. Lee. Deadline wrote the following.
Pepe was set to appear in a black-and-white Casablanca-like Rick's Cafe sequence. Pepe, playing a bartender, starts hitting on a woman at the bar played by [actress Greici] Santo. He begins kissing her arm, which she pulls back, then slamming Pepe into the chair next to hers.

She then pours her drink on Pepe, and slaps him hard, sending him spinning in a stool, which is then stopped by LeBron James' hand. James and Bugs Bunny are looking for Lola, and Pepe knows her whereabouts. Pepe then tells the guys that Penelope cat has filed a restraining order against him. James makes a remark in the script that Pepe can't grab other Tunes without their consent.
As reported by Deadline, the actress' representation made comments on the situation.
This was such a big deal for Greice to be in this movie. Even though Pepe is a cartoon character, if anyone was going to slap a sexual harasser like him, Greice wished it would be her. Now the scene is cut, and she doesn't have that power to influence the world through younger generations who'll be watching Space Jam 2, to let younger girls and younger boys know that Pepe's behavior is unacceptable.
Other pieces from female writers in Julie DiCaro and Tatiana Tenreyro echo the same message about the scene's exclusion being a missed chance for learning about proper consent going forward. DiCaro, in her excellent piece for Deadspin, wrote the following.
This would have been a great lesson for Pepe, as well as the tons of children who will flock to this movie in droves. What a brilliant way to educate the public about consent. And good for Penelope, she SHOULD have gone to law enforcement for help with Pepe's stalking long ago.
Literally and figuratively, the character has always kind of just stunk. And if he is to be sacrificed and never seen again, then Pepé Le Pew is no loss. Following the trend of fictional characters named Pepe being canceled though, that hand puppet prawn's time must only be ticking away…