At the beginning of the 21st century, it would have been odd to suggest that The Fast and the Furious saga would still be kicking around after 20 years. Somehow, the franchise that started off as nothing but a lazy remake of Point Break ended up creating one of the biggest and most ridiculous fictional universes in existence. With increasingly bonkers stunts, Vin Diesel's unquenchable ego, disputes between actors behind-the-scenes, chaotic productions with revolving directors, and two $1 billion installments, The Fast and the Furious has literally been to space and back. When looking for the turning point in the series, Fast Five is clearly the moment where everything changed; for the first time, the franchise seemed to recognize what elements were working and added an element of comic absurdity that set the template for future success.
Directed by Justin Lin, who had helmed two prior installments in the series, Fast Five decided to ditch the street racing element that had been essential to the first four films. While audiences seemed to be interested in the epic car stunts and the cast of characters, the street racing element was simply not enough to keep raising the stakes after four installments. Instead, Fast Five turns Dominic Toretto (Diesel), Brian O'Connor (Paul Walker), and their crew into a heist team when they're tracked down by the DSS agent Luke Hobbs (Dwayne Johnson). What follows is a ridiculous, heartfelt summer action movie that the series would be trying to top ever since.
RELATED:Every 'Fast and Furious' Movie, Ranked
'Fast Five' Finally Found What Worked
Fast Five wasn't the first film in the saga to take a creative departure, but the previous attempts had failed to generate any prior interest. The original film created a fun dynamic between Dom and Brian, but the series tried to get slightly more prestige with 2 Fast 2 Furious when it hired the Academy Award-nominated filmmaker John Singleton. Singleton is a legend and one of the most important black directors of all time, but his style simply didn't mesh well with the aesthetics of a studio action film. Similarly, Lin's attempt at making a movie that literally cruised on vibes alone didn't work in favor of The Fast and the Furious: Tokyo Drift, and Fast & Furious didn't go far enough in delving into the criminal underbelly element.
The series showed that it could deliver great racing scenes, but there was simply no reason to stay invested when the stakes were never anything greater than a medal; it was the interpersonal drama between the characters that seemed to give the series so much goodwill. The only way to test Dom, Brian, and the crew that started to become a "family" was to put them at greater risk of danger with the potential to be actual heroes. Fast Five threatened to steal Dom's profession away from him when the DEA seizes their cars; sure these characters can win races, but can they pull off a heist with Hobbs in close pursuit?
It cannot be overstated how important Dwayne Johnson was to the evolution of the series. This was a saga that had worked because of its star power, and it was the first time that Diesel had to contend with another actor who was as big of a draw as he was. Johnson was at the point in his career where was establishing himself as a major action star, and he was clearly a more physically imposing, better actor than Diesel. While perhaps the real-life tension between the two is what deserves credit, it undeniably added to the intensity on screen. Dom is forced to rely on his crew, and his victory comes because he's developed a team that is loyal to a fault. Sure, Hobbs is bigger, tougher, and more charismatic, but what was he lacking that gave Dom the edge? "Family."
How Did 'Fast Five' Change the Franchise's Direction?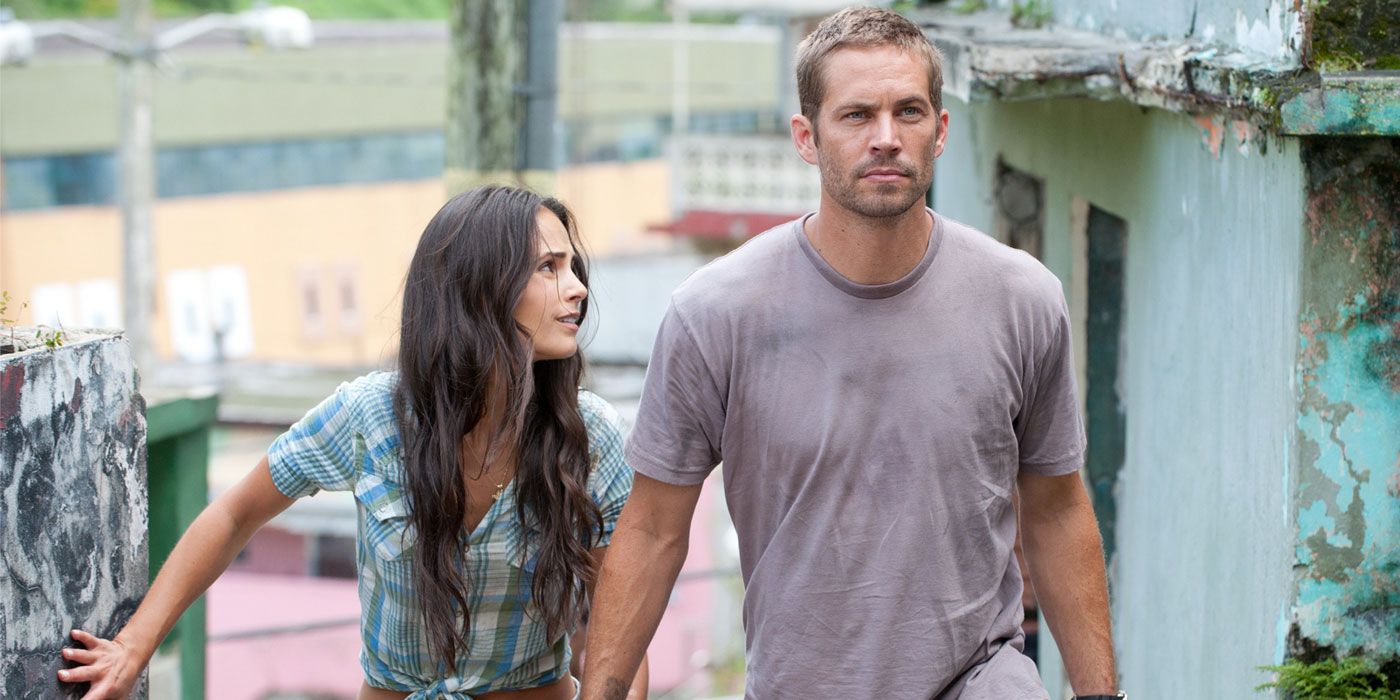 While Fast & Furious suffered from the heavy amounts of computer-generated imagery, Fast Five featured an actual stunt team that could piece together more inventive action sequences. The film starts with a boost of energy that basically introduces Dom as a superhero; Brian and his sister Mia (Jordana Brewster) break him out of a bus in order to prevent him from being sent to prison. This immediately adds a level of danger, as they're now fugitives on the run from local authorities. This makes the concept that they would take on a heist job more believable, and it reinforces the idea that they're a "family," and that there's nothing they won't do to protect each other.
Dom and Brian's capture by the drug lord Herman Reyes (Joaquim de Almeida) compromises their position, ensuring that the crew will have to take this heist as a last resort. Reyes isn't a particularly memorable villain on his own, but adding an antagonist plucked right out of a 1980s action film was unique within The Fast and the Furious saga. It also gives Hobbs a compelling case against them that allows Johnson to be a pursuer, but not an outright villain. He's a serviceman looking for justice, which allows him to see by the end that Dom's quest is still noble.
'Fast Five' Became the Franchise's New Model
What follows is some of the most ridiculous, bonkers action of the entire franchise; while the series has gone to more ridiculous places in the aftermath, the audacity of the final vault heist stands as one of the moments that truly took the audiences' breath away. Tonally, Fast Five had reached a level of absurdism where the audience had to laugh in disbelief at what they were seeing. It also added a level of anticipation for the next few entries that the series had never had before. "How will they break the laws of physics next?" Thus far, we've had Diesel flying out of a car to save his girlfriend, a vehicle jumping between skyscrapers, a nuclear submarine, and a literal outer space trip that came after years of demands from fans that the series should go straight down a science fiction route.
Fast Five isn't just the best film in the saga, but it established a precedent and allowed the franchise to become one of the most consistently popular in recent memory. While there have been both good and bad installments since Fast Five turned a generic racing movie into a titanic blockbuster saga and developed a fanbase fully invested in its mythology.