Thanks to a growing appreciation for arthouse and international films from American audiences, some of the best overseas talents have begun working on international co-productions. One of the biggest major crossover stars of the early 21st century was Gael García Bernal, who followed up his extraordinary work on Amores Perros, Y tu mama tambien, and The Motorcycle Diaries with roles in everything from The Kindergarten Teacher to Letter from Juliet. 2023 will be a particularly impactful year for Bernal, as not only was he signaled out for his brilliance in the Sundance Film Cassandro, but he's also in the midst of a new Netflix hit with The Mother. However, Bernal's best performance to date was one that he surprisingly got from Jon Stewart. Stewart cast Bernal in his directorial debut Rosewater, which allowed Bernal to examine the plight that a real hero of journalism went through due to his diligence in telling the truth.
In 2009, Iranian-Canadian journalist Maziar Bahari (played by Gael García Bernal) was researching the ongoing resistance movement and protests in Iran for an in-depth story; unfortunately, Bahari was captured and detained for over 100 days after being accused of being a traitorous agent sent to outwit the government. Among the evidence used against Bahari that was used to deduce that he was an American spy was a satirical video, which he had filmed with The Daily Show during Stewart's run as host. Clearly, it was a story that Stewart himself had an affinity for and a great interest in, and it was evident that he wanted to thank Bahari for his sacrifices by casting an actor who could understand his unique worldview. Bernal delivered a heartfelt, impassioned, and realistic performance as an honest freedom fighter who seeks out the ugliest truths even when he's placed in danger. He's always had a cheeky sense of charisma that he still brings out in a few moments throughout Rosewater, but was able to seamlessly capture the mannerisms of a man whose face and life had been plastered over headlines in the wake of his escape.
RELATED:Gael García Bernal on Whether We'll See More 'Werewolf by Night' in the MCU
'Rosewater' Mixes Tones Well
Anyone that grew up watching The Daily Show knows that Stewart's magic is his whip-smart comedic one-liners, intense analysis of fundamental issues facing the future of world events, and a deep and honest admiration for those in the journalistic field that literally put their lives on the line to expose stories relevant to the public interest. Ironically, this is also something that describes Bahari as well, and it's tragic that their stories were brought together because of a misinterpreted The Daily Show interview that landed him in an Iranian prison.
In this effort to expose the Iranian police violence against protesters of the country's presidential election, it's Bahari, Stewart, and Bernal who each had a role to play based on their skills; Bahari broke through with an essential story of democracy in danger, Stewart used his platform to make sure audiences were aware of events that seemed plucked out of fiction, and Bernal gave a richly detailed role the diligence that it deserved; not only is his version of Bahari representative of all journalists in crisis, but personally endearing due to his rouge attempts to avoid the constraints placed on him by his employers. It's a reminder that the charming, adventurous version of Bernal from The Motorcycle Diaries isn't completely gone.
Gael García Bernal Was a Perfect Fit for 'Rosewater'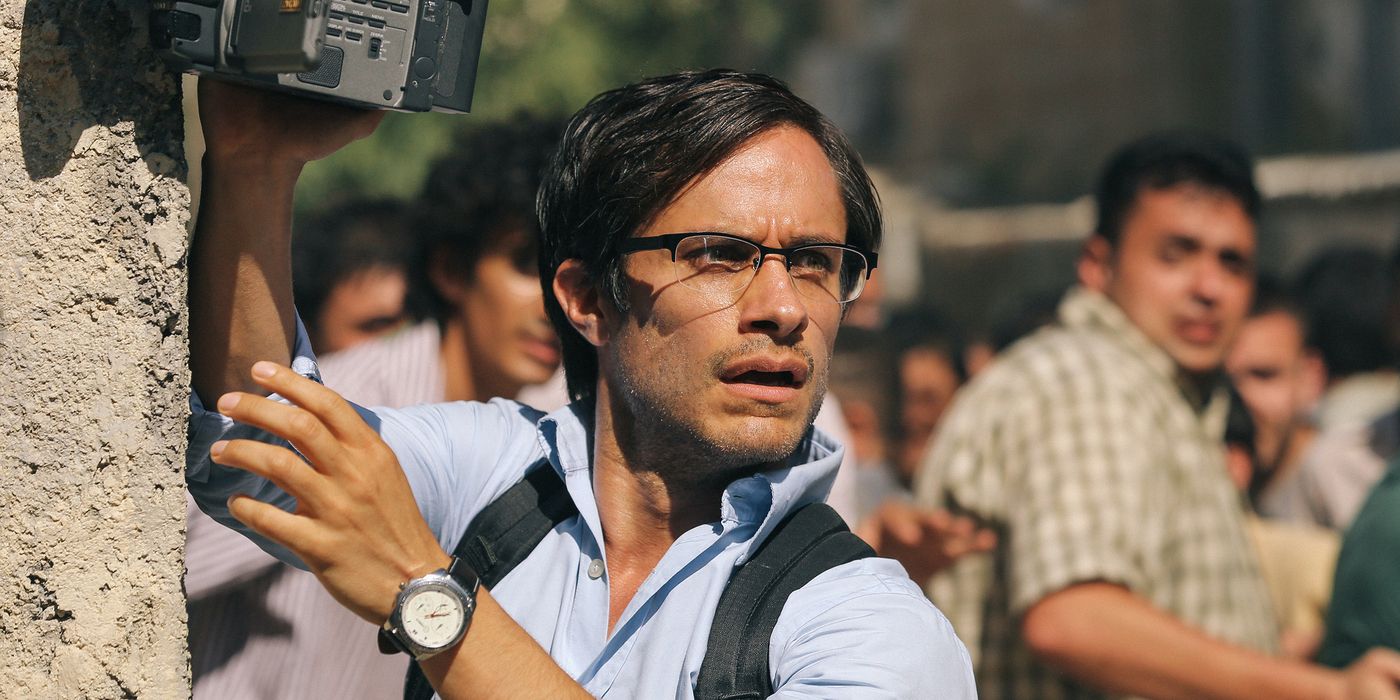 The highly personal role required an actor who could make this dedication seem authentic; Bernal shows that going out on missions is the only way he'll be able to see what's going on, and that he may have gotten in too deep to get out consequence-free. Bernal finds passion within Bahari, as he's also a social critic similar to Stewart. Bernal's inherent charisma from his earliest roles is filtered into a more mature premise. The situation in Iran continues to be a complex one, yet the evidence that the government-employed police forces were striking student protests gave the story a national spotlight.
The sort of expository scenes needed to flesh out Bahari's situation play an important role in identifying his values, and Bernal took this task very seriously. However, there's still a sense of playfulness to his conversations with his wife, Paola Gourley (Claire Foy), as Bahari hilariously mourns about the American commodities he will miss overseas. Adding in these realistic relationship moments was quintessential; instead of trying to prove to the audience that Bahari was a hero because of his moral outlook wouldn't be as effective as a relatable moment of tension between a couple. It's Bernal's chance to be a compelling lead, which in this case is essential to showing why Bahari's perseverance was so significant. Audiences would be much more likely to take an interest in the topics he's covering if they like the guy; ironically, the press junkets done in promotion of Rosewater reveal that Bahari seemed to be just as well-spoken and cheeky as Bernal had captured.
Gael García Bernal's 'Rosewater' Performance Is a Triumph of Spirit
Once Bahari is captured by his Iranian interrogator, whom he nicknamed "Rosewater" (Kim Bodnia), Bernal had to almost literally carry the film on his shoulders. The majority of the running time focuses on Bahari being insulted and barraged with questions. Bernal subtly shows how dehumanizing these insults are. He knows that his interrogator is just trying to crush his spirit as a tactic, but as someone whose profession revolves around the goodness that words provide, it's disheartening. The separation from his family is the toughest pill to swallow, but Bernal shows a surprising sense of openness and hope as he realizes the flawed system has failed to make him admit to anything. He's nearly joyful in having the simple knowledge that men like "Rosewater" will never win; Bernal shows his respect for democracy, journalistic integrity, and even entertainment by celebrating everything that's being denied of him.
Rosewater sadly wasn't an awards season player and Jon Stewart's directorial career took a downward spiral after the failure of Irresistible. It's not a perfect film, nor is it a journalism classic such as All the President's Men, Salvador, or Network. However, Gael García Bernal's performance is enough to earn the film a recommendation, as he was able to turn a story of torture and isolation into a celebration of the triumphant nature of the human spirit.