Ready for Murder Mystery 3? Judging by how well Murder Mystery 2 did after its recent release on Netflix, here's hoping there's round of antics. The Adam Sandler and Jennifer Aniston-led comedy scored big when it was released six weeks ago, garnering more than 64 million hours viewed, marking it the second biggest opening weekend for a comedy. The film was hit overseas, too. Death becomes this IP, so stay tuned on that.
Meanwhile, the film's costars have been capturing attention, Zurin Villanueva among them. The young actress, who has appeared in The Marvelous Mrs. Maisel and Insatiable, is also one of the two actors taking on the lead role of Tina Turner in U.S. tour of the Broadway hit, Tina: The Tina Turner Musical. In Murder Mystery 2, Villanueva plays Imani, the assistant to Countess Sekou (Jodie Turner-Smith). Giggly and jeering, the scene-stealer loved working alongside Sandler and Aniston.
"Adam and Jen were very accommodating, trying to make everyone comfortable and just allowing every actor do what they do," shared Villanueva. "If you came up with something, and they liked it, they were like, 'Let's shoot it. Let's have it. Because we may keep it'. That's really great artistic freedom." The actor shared more about the film and her upcoming projects in this exclusive MovieWeb interview.
For the Love of Murder Mystery
Murder Mystery 2 surpasses the first outing on several fronts. For starters, the plot adds some new twists. This time around, Nick and Audrey Spitz (Sandler and Aniston) are private detectives launching their own agency. When a friend is abducted, they head to a swanky island wedding to investigate. Suddenly, they're part of an international investigation.
Murder Mystery 2 is directed by Jeremy Garelick (Best. Worst. Weekend. Ever.), while Aniston and Sandler join writer James Vanderbilt (Independence Day: Resurgence) as producers. The film also stars Jillian Bell, Tony Goldwyn, Mark Strong, Mélanie Laurent, and Dany Boon.
"I've always been a mystery girl," said Villanueva of what she loved most about being in the film. "I would read mysteries religiously as a kid. I was always into the genre. I think people love Murder Mystery so much because we like to guess. It makes the audience part of the journey in the biggest way that other genres may not have allowance for."
Related: Exclusive: Adam Sandler & Jennifer Aniston Interview Reveal Whodunnit if Cast of Friends Became Suspects in a Murder Mystery
She went on to say that part of the allure of Murder Mystery is the many Easter eggs the film plants. "I've heard fans say they sit there and look for clues, and guess who did it. But we really love it, I guess, because of Jen and Adam. Their characters, Audrey and Nick, are regular people that mess up all the time. That always helps the comedy, because you have to mess up in comedy, right?"
No doubt the young star walked away from the experience with a refreshing take on being part of an ensemble in film. She credits Sandler and Aniston's generosity of spirit, in fact, noting how rare that can be. "Working with them and this crew was amazing," she noted. "And I don't think that happened by accident. I think that's because Jen and Adam are purposeful about the people that they put together, and that completely changes the vibe on any set in any company. That, in a lot of ways, could be the most important thing." She smiled. "That… and, add to that playing music in between every take helps. Adam had everything from Smash Mouth to Caribbean music. His music tastes were vast."
Best Advice from the Pros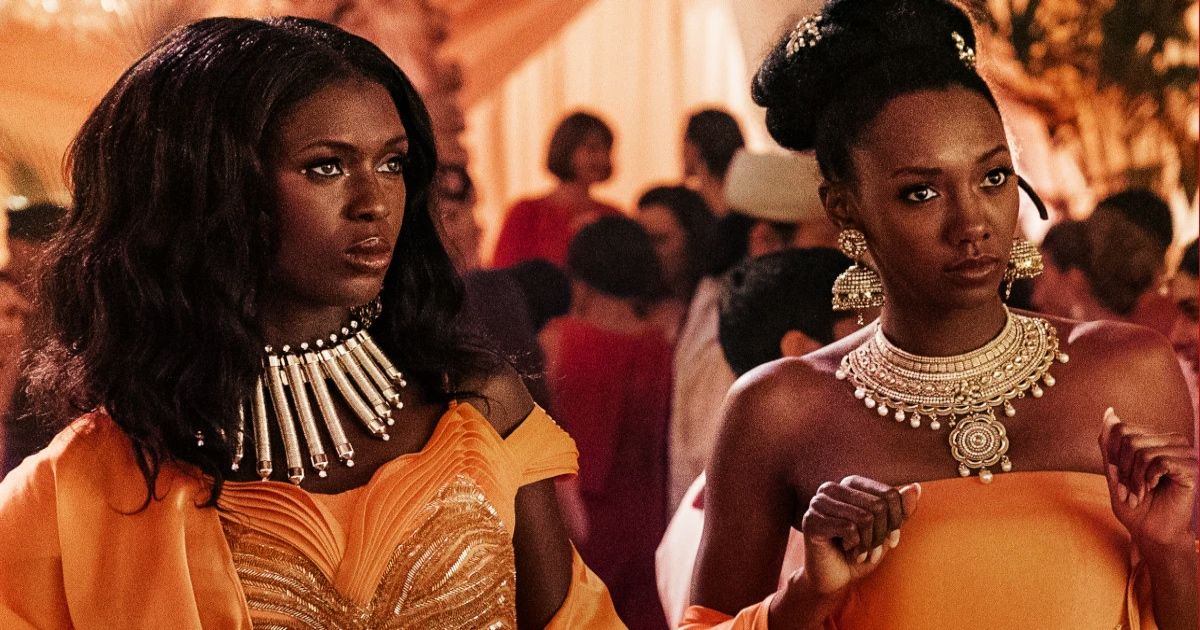 Beyond Murder Mystery 2, Villanueva has turned heads playing the legendary Tina Turner in Tina: The Tina Turner Musical, which is currently touring the country. The experience has profoundly changed her life and given her yet another legend to join forces creatively.
"One of the best things I've learned by playing Tina Turner from researching her is that you need mindfulness as an exercise, and just letting everything come out of you without stopping it," she said. "And very rarely in this life do we get those opportunities, because we do a lot of corralling and controlling. But with this character, you're literally able to let it all go. And it's all okay. It's powerful."
Related: The Best Musical Biopics, Ranked
Portraying Tina Turner here also created an interesting paradox. "You're literally borrowing her fans because they respond to you as if you're really Tina Turner. And it's bananas. They hold their hands out there as if it's really Tina. She has some very serious fans."
When asked what she may have also learned from working alongside Sandler and Aniston, Villanueva noted that Sandler would, "Say, 'Throw it up and see what happens.' Which was more of a reminder, but it was to be a person first, and everything else will fall in line. You're just people who like to play pretend. It's not a big deal."
Any words of wisdom from Aniston? "To protect your peace at all times."
Murder Mystery 2 is streaming on Netflix.