Just two years after he catapulted to stardom thanks to Zack Snyder's 300, Gerard Butler teamed up with Guy Ritchie for a somewhat forgotten return to the director's hallmark style in RocknRolla. While it may not be up there with Guy Ritchie movies like Lock, Stock, and Two Smoking Barrels or Snatch, RocknRolla is a great crime movie with an incredible cast, yet it doesn't get the love it deserves and has been long overshadowed by some of Butler's bigger hits. Despite this, RocknRolla is a fun showcase of everything that made Butler a household name.
'RocknRolla' Showcases Everything Gerard Butler Does Best
The Gerard Butler experience is an interesting one. There are a lot of things that he does extremely well as an actor and, more importantly, as a movie star. He is a credible action star, he has excellent comedic timing, he can work as a romantic lead, and he plays a grimy dirtbag as well as just about anyone – Den of Thieves is exhibit one here. Yet in recent years, he has almost exclusively played one-note action leads. There is little personality in many of these characters that leave any real impression. Despite Olympus Has Fallen receiving two sequels and a TV spin-off in the works, can anyone describe anything that makes Mike Banning a unique character? The same can be said for his work in Hunter Killer, Last Seen Alive, Plane, and his disaster movies Geostorm and Greenland.
Whatever anyone thinks of Butler's choices, he finds an audience, as evidenced by sequels getting made. The frustrating part is that there have been a couple of movies in between that show he can still do interesting work. Den of Thieves is the obvious example – easily his best movie since Law Abiding Citizen – while another underseen gem in Copshop saw him once again excel at being a dirtbag. But if you want to get a bit of everything Butler does best, 2008's RocknRolla is the place to look. He gets to be charming and funny, while also being a bit trashy and getting a few action scenes – the fight and chase with the Russians blends action and humor to great effect.
In RocknRolla, Butler's interestingly named One Two, as often happens in Ritchie movies, gets caught up in a convoluted plot riddled with coincidence and luck. There are so many coincidences that it begins to strain credulity, but with such a great cast having such a good time it's tough to care. It also doesn't necessarily matter if you understand the plot and all of its threads, but the rough outline is that One Two and Mumbles (Idris Elba) owe Lenny Cole (Tom Wilkinson) a lot of money, Lenny is brokering a real estate deal with a Russian billionaire (Karel Roden), the payment for which keeps getting stolen by One Two and Mumbles thanks to a tip-off from the billionaire's accountant, Stella (Thandiwe Newton), and Lenny's rockstar stepson (Toby Kebbell) is meant to be dead but has actually stolen a painting. Mark Strong also slaps a lot of people.
RELATED: Gerard Butler's 'Phantom of the Opera' Was Good, You Guys Are Just Mean
Why Did 'RocknRolla' Go Mostly Unnoticed?
A pairing of Gerard Butler coming off his star-making turn in the massive hit 300 and Ritchie in a return to the type of movie that made his name should have been a recipe for success. Unfortunately, Ritchie was coming off a couple of massive bombs. Kicking off his career incredibly well with Lock, Stock and Two Smoking Barrels and Snatch, both hugely successful relative to their modest budgets and critically loved, the sky was the limit for the English director. Then came Swept Away starring Ritchie's then-wife Madonna. The film would go down as not just one of the worst movies ever made, but also one of the biggest commercial failures, grossing just $611,000 worldwide on a $10 million budget. Things didn't get much better with Revolver, though it at least is watchable. Relative to these busts RocknRolla is a veritable smash hit just by out-grossing its budget, though it wasn't enough to warrant the sequel that was promised in the end credits. Don't feel too bad for Ritchie though, his next two movies were the Robert Downey Jr. Sherlock Holmes films, which made roughly $1 billion combined.
It's tough to say whether audiences were also out on Butler at the time, though he certainly hadn't come close to replicating the success of 300, that's not unusual when someone has a breakout role. Often by the time a movie is released the next few have either already been filmed or are in production. Butler probably wouldn't have chosen to follow 300 with P.S. I Love You or Nim's Island if he knew how big it would be.
'Rocknrolla's Dancing Alone Is Worth the Price of Admission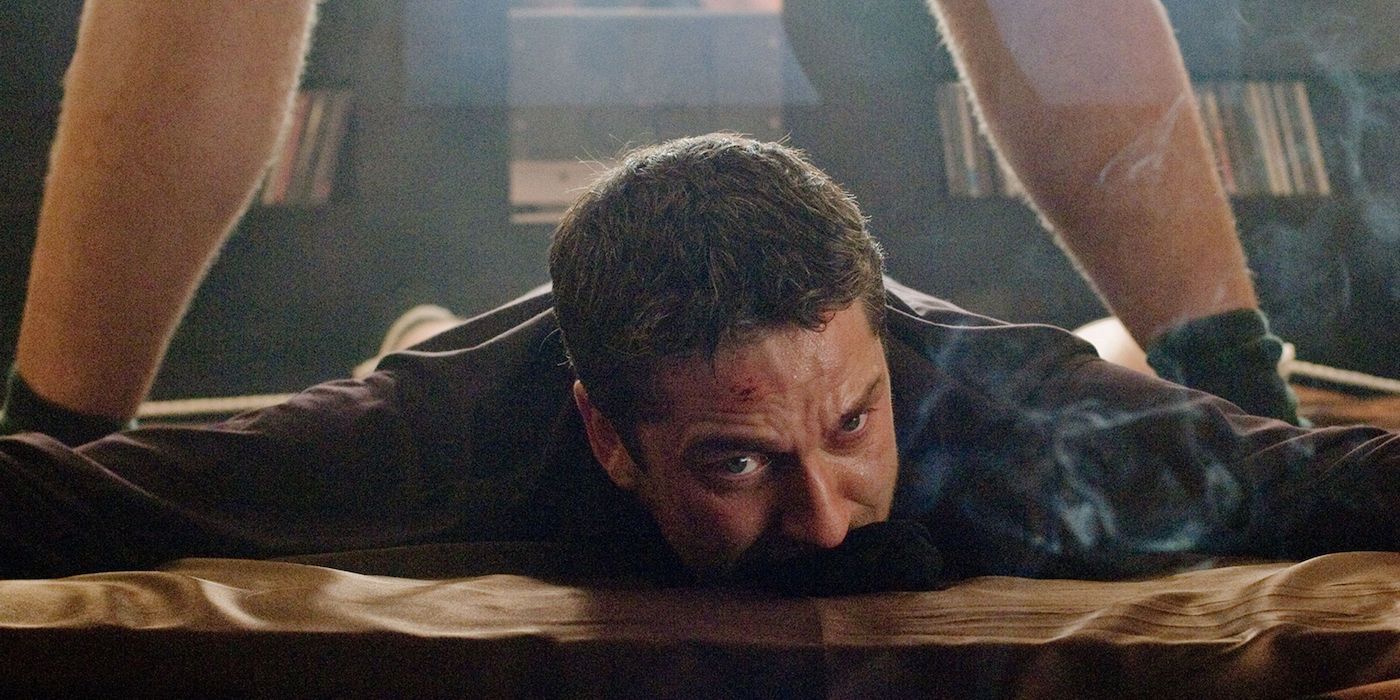 Gerard Butler isn't exactly known for dancing on screen as much as he is for killing people, outside a pretty fun watch ad, but there are two great instances in RocknRolla. The first is One Two and Stella cutting a rug at a house party, in which they are both completely awful. The best description for it is a slightly more restrained version of Elaine's dancing in Seinfeld. It's a very low-key scene but Butler and Newton make it incredibly funny. Dance scene number two is also played for laughs, with Handsome Bob (Tom Hardy) and One Two slow dancing in front of a giant, lit-up love heart. The build-up for the scene hasn't aged terribly well, namely that Handsome Bob reveals he is gay and wants to spend his last night before going to jail with One Two, and the joke being that they end up slow dancing. Outside Butler's initial reaction, which is still hilarious, the storyline is honestly handled fairly well. It's definitely worth sticking through the end credits to watch the extended version of this dance scene.
It's not strictly dancing, but the sex scene between One Two and Stella is yet another comedic element that works perfectly. As is the case with many great moments in film history, this brief but memorable scene was never meant to happen the way it did. Butler was suffering from a throat infection, which led Newton to, quite reasonably, refuse to kiss him. How did they get around it? A very Ritchie-esque montage of quick cuts of their faces in various degrees of pleasure that works seamlessly. It's another example of the type of thing we just don't get from Butler anymore, and we are all the poorer for it.