Eili Harboe is burning up social media lately. The talented actor turned heads this spring as the brooding Ebba on the final season of Succession, and she's bound to keep the intrigue going playing Julie, a beleaguered intern in the upcoming dystopian dark comedy, The Architect, which begins streaming on Viaplay June 1. More on that later.
Let's chat Ebba, who has given audiences plenty to ponder as Succession heads toward its climactic series finale. Ebba may be a game changer as the Roy kids — Kendall (Jeremy Strong), Roman (Kieran Culkin), and Shiv (Sarah Snook) — vie for control after the poor health of Daddy Logan (Brian Cox). As GoJo's head of communications, Ebba knows everything about shady Lukas Matsson, played by Alexander Skarsgård, who lays on the slick extra thick here. Ebba is also Lukas' ex-girlfriend, and she's already spilled some dirt about her ballsy employee as the shaky Waystar-GoJo acquisition keeps tottering. What's next?
Fan theories abound. Could Ebba be the key character that shakes everything up? Theories are buzzing about Ebba; in fact, Collider's Julio Bardini recently proclaimed, "I want Ebba to burn everything to the ground."
We'll see how that all plays out on Sunday's big Succession finale on Max. In the meantime, Harboe shared more with MovieWeb about the hit show and her new role in Viaplay's trippy new outing, The Architect. Read on.
Succession Was a Big Surprise
"I'm excited for the finale to air. There are a lot of theories out there, and it's been interesting to hear and read what people think the end of the show will be or how it all comes together. I was excited to know myself," shared Harboe about Succession's grand opus.
"Being part of Succession was incredible," she added. "It was my first ever international project, and I got the part two days before shooting the first scene. I just had to jump right in, but I didn't have the time to wrap my head around it, really. Also, the episodic scripts are written continuously as they shoot. So, there were even people from the main Succession cast who didn't know how this story would develop as we were shooting. I didn't know when I shot the first episode that Ebba would be part of the story moving forward."
Big surprise all around. Since then, Harboe, like many others in the series, was kept in the dark about how the plot would unfold and which Roy kid — if any — would grab the company crown.
Related: What Is Succession About and Based On?
"I was so excited to be a part of more episodes and have had the opportunity to shoot in New York. I loved working with the crew," said Harboe. "Obviously, they're super professional. I was also very excited about working on 35 millimeters on the show, which I hadn't been done that since my debut feature film 12 years ago. The technical aspects of that, just observing it, is like going to film school."
From Succession to The Architect
Harboe's new series is a refreshing surprise. Timely, insightful, daring, and edgy, The Architect offers bold observations about privilege, connection, and the global housing crisis, all set against a backdrop of Olso architecture and Scandinavian design (the series is in Norwegian with English subtitles). Expect plenty of dark humor and situations that many people can relate to, struggling with finance and moving forward in a creative career among them.
Harboe plays Julie in The Architect, a woman consistently held back because of her lack of financial verve. Recently, co-creators Nora Landsrød and Kristian Kilde were the recipients of the Viaplay Original Talent Awards when the series received a Special Mention at the Berlinale Series festival. The awards are a student initiative that provides mentorship, production resources, and streaming distribution by Viaplay, which is the Nordic region's leading streamer. It recently launched in North America.
Related: Nordic Noir: The Best Shows and Movies to Watch, Ranked
"The series takes place in a very high-paced, creative environment with ambitiously driven people," said Harboe of the show, noting her character consistently gets pushback from the privileged architects she works with. "Most of her coworkers are so lame. They're just ridiculous in their quest for prestige. I think maybe that will be something people find interesting. At least that's my hope."
Eili Harboe on Her Architect Character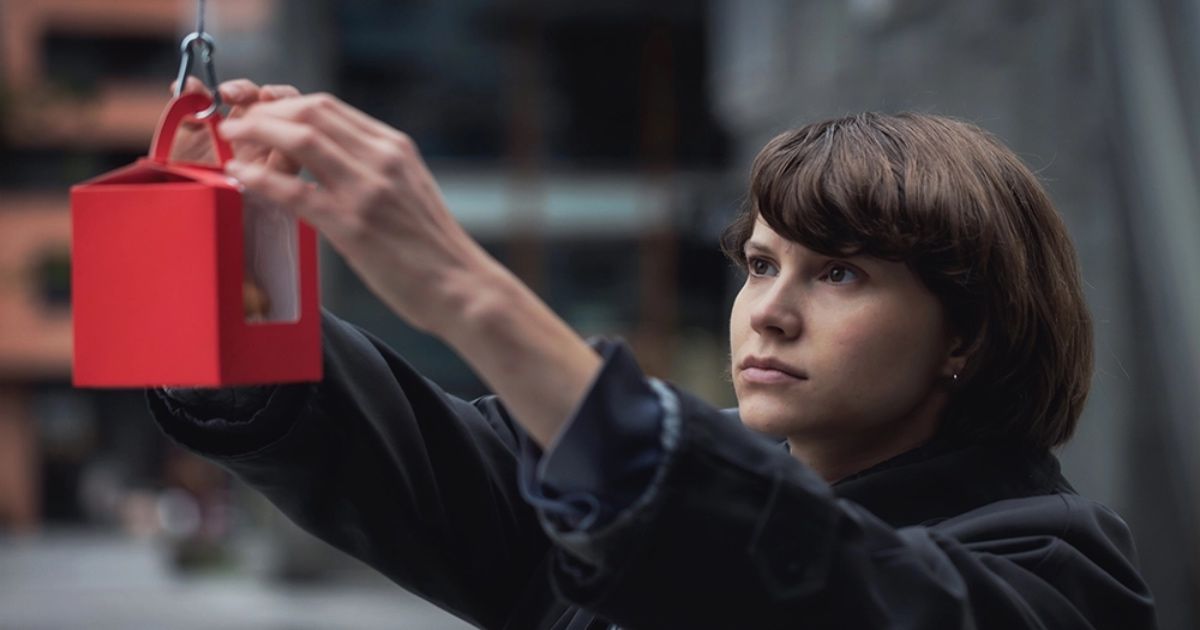 The events take place in the "near future," and there are some trippy things to see here. Harboe's Julie, in fact, winds up living in an abandoned parking garage that's sectioned off by drapes because she simply can't afford the astronomical price of rent.
"Julie stood out to me as a character. She's ambitious, but also unapologetic, which I like," Harboe shared. "I like that fact, that she sometimes doesn't necessarily take the most empathetic routes. She's kind of emotionally unavailable, and not to spoil anything, but the ending is surprising."
Just like Succession. When asked what she hopes viewers take away from the show, which also stars Fredrik Stenberg Ditlev-Simonsen and Alexandra Gjerpen (As I Fall), Harboe said: "It's definitely a cynical view of the world, but in a satirical package, and hopefully, an entertaining package. I hope people can see that. It's very timely."
The series finale of Succession airs Sunday at 9 p.m. Eastern Time on Max. The Architect premieres on Viaplay June 1.