Vintage bourbon — or "dusties" — are a huge part of the whiskey culture. Bottles from bygone eras offer a glimpse into the days of yore in American whiskey, often with incredible whiskey hiding in cobwebbed cellars. Part of the attraction to vintage bourbons is for investment, of course. As long as people are opening old bottles, the sealed ones will go up in value (in general).
Another part of it — and the part I care about most — is actually drinking the stuff when the moment is right. Opening up a bottle from the 1980s has something to teach us about that era, while also adding context to the bourbons being distilled today.
See where we're headed here? It's time for a big, blind vintage bourbon tasting. The sort that I never could have pulled off, had I not been invited to Justins' House of Bourbon in Louisville, Kentucky, for a 10-pour, double-blind sampling of whiskeys bottled mostly in the 1980s and 1990s. That's a prime era for one huge reason. Back then, the American whiskey industry was truly on the ropes. Vodka's boom in the 1970s meant that by the mid-1980s and well into the 1990s, bourbon producers were basically forced to put very old whiskey into average-ish bottles because they literally couldn't give the stuff away. That means that a lot of very standard stuff from that era was, well, pretty amazing.
At the same time, because the warehouses were brimming with long-aged bourbons, you also saw a lot of high-age statement labeled bourbons that you don't really see anymore. Sometimes seemingly random labels of bourbon would be "Aged 15 Years" and that would be the minimum age of the barrels used in the batch. Wild times, right?
Luckily, we're in an era where a fair few of these vintage bourbon bottles are still kicking around. And places like Justins' — in both Louisville and Lexington, Kentucky — are still pouring them. It's not just in KY, either. There are whiskey bars across the country that also specialize in dusty pours. Jack Rose Dining Saloon in DC or The Ballard Cut in Seattle both come to mind. And then there are online retailers like The Whisky Exchange in the U.K. that specialize in dusties from all over the world.
All told, anyone really looking to get into these bygone bourbons will find them fairly accessible in 2023. For a price.
WHY ARE DUSTIES SO INTERESTING?
So what makes a "dusty" or vintage bourbon special? Justin Thompson (one of the famed Justins and my tasting buddy on this double-blind journey) looks at it like, "getting a two-for-one bourbon experience." I agree. First, you're getting this sense of what bourbon was like 30, 40, or even 50 years ago. The oldest bottle in our tasting was a 43-year-old bottle of Old Rip Van Winkle 11-Year-Old Kentucky Bourbon — meaning we were sampling something that was distilled and barrelled in 1969 (likely with much older barrels in the blend). Some of those grains were probably grown in 1968, or throughout the 1960s. The trees that the barrels were made out of were likely alive in the 1800s. That's an education for your palate that you cannot currently replicate. The second part is the fact that you're getting to experience a good pour of whiskey in general. It's a fun combo.
It also dispels the myth that bourbon is "supposed" to taste a certain way and always has. The 10 bourbons we blindly tasted had massive variations in taste. It's good to remember that bourbon (rye, scotch, Irish whiskey, etc. too) had just as much range across flavor profiles 30, 50, or 100 years ago as they do today (some would argue there was far more variation in flavor the further you go back but that's a chat for another day).
WHAT ABOUT THE MONEY?
Okay, let's address the elephant in the vintage liquor store room before we kick off. This is not a cheap hobby. I'm not listing bottle prices in my ranking below because finding sealed bottles like these have such a malleable value that a price tag would be almost a complete shot in the dark. Just know this — they're not cheap.
I did, however, list the pour prices for these whiskeys at Justins' House of Bourbon in Louisville. They're pretty standard prices and very similar to ones I've seen for very similar bottles at vintage whiskey bars around the country/world. That price point at the very least will give you an idea of how much capital you'll need to get into this type of whiskey drinking (collecting these bottles is a whole different matter).
Okay, let's just dive in to get a sense of what's going with these bourbons (and one sneaky rye). I had no idea what was being poured and hadn't seen any bottles beforehand. Still, I knew by the first pour it was going to be fun. Read my tasting notes and then browse the ranking to see which whiskeys ruled the day.
Also Read: The Top 5 UPROXX Bourbon Posts Of The Last Six Months
VINTAGE BOURBONS, TASTED DOUBLE BLIND
Taste 1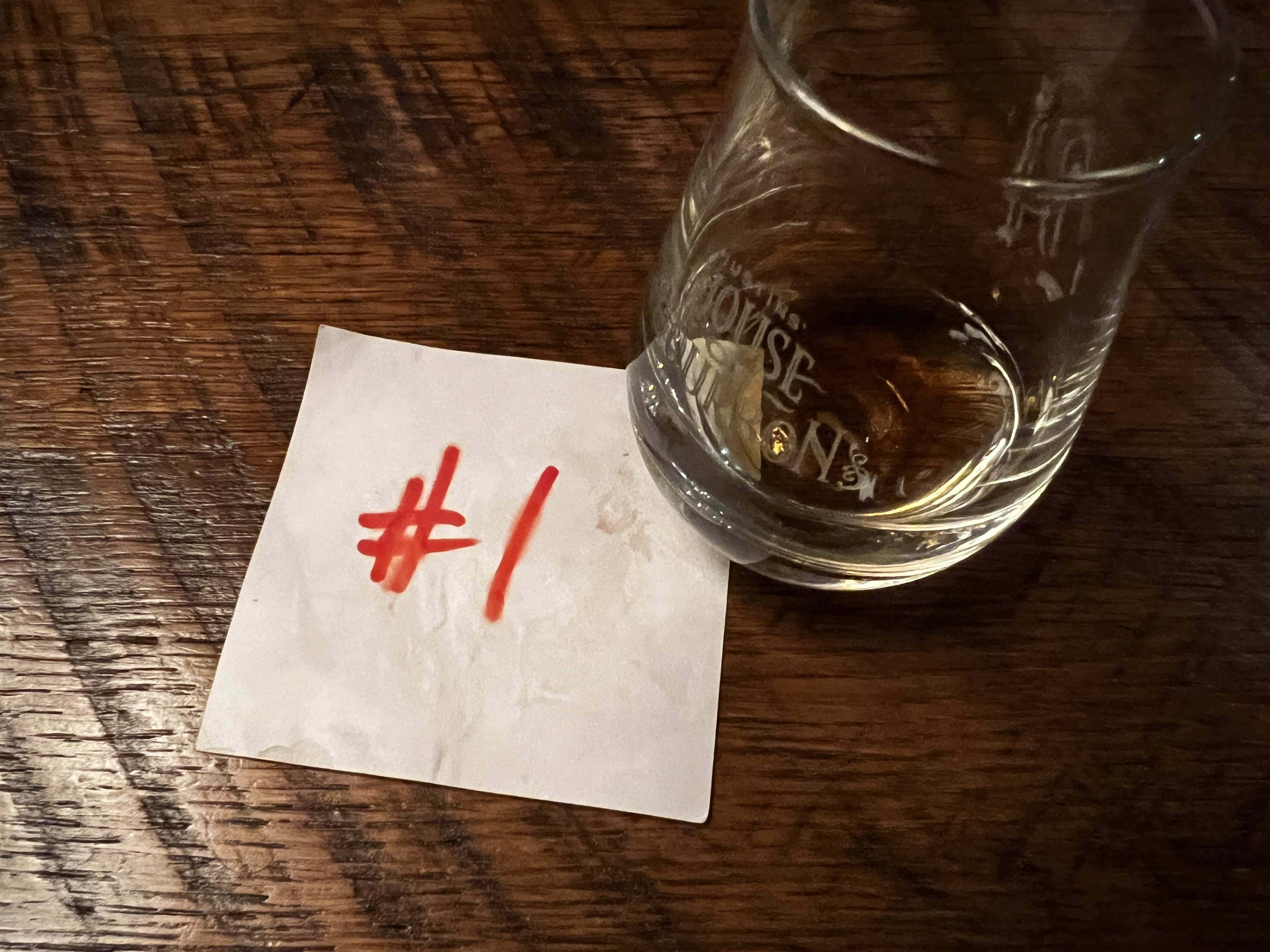 Tasting Notes:
Nose: This has a classic nose with a hint of dried red chili and a literal sense of dustiness next to soft dark pitted fruits, old leather, and a hint of caramel that gives way to a fruity dark pudding creaminess.
Palate: The body is soft and smooth with a sense of old piles of cedar kindling next to sour red berries with a hint of cellar oak, dried red spices, and soft vanilla caramel cream.
Finish: The end is on the lighter end, likely due to lower ABVs, but delivers a hint of cedar and creamy dark orchard fruit with a hint of old vanilla husks.
Initial Thoughts:
This was old and felt it at first. Then as we went back to the pours after 5 and 10 minutes, it really turned into a soft and creamy lush pour of whiskey. It was a hell of a transformation.
Taste 2
Tasting Notes:
Nose: There's a rich and bright purple berry nose that really pops before hitting on dark yet soft winter spices and a hint of salted caramel that gives way to really fresh cedar bark braided with pipe tobacco.
Palate: There's a sense of an old whiskey barrel on the palate with a twinge of tannic oak next to dark and rich caramel drizzled over a wild berry cobbler.
Finish: That berry vibe drives the finish back toward the fresh and vibrant cedar with a good hint of clove and anise-spiked tobacco vanilla cakes.
Initial Thoughts:
This had a little age to it but that dissipated as it opened up with a little air. The overall vibe was berry-forward with a good underbelly of classic bourbon sweetness just kissed with salt and wood.
Taste 3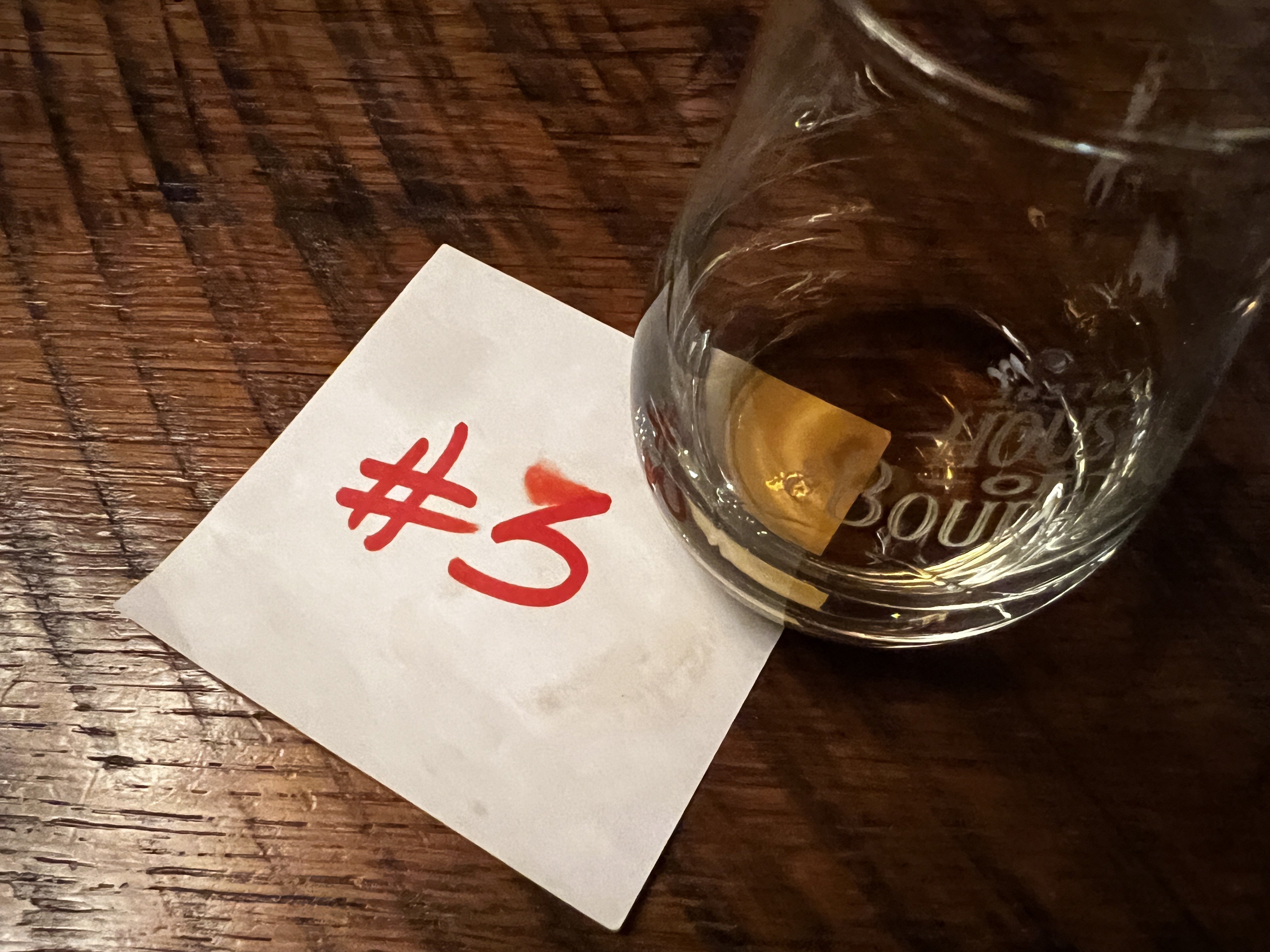 Tasting Notes:
Nose: This is a classic nose — dark cherry cola, salted caramel, vanilla pie, old oakiness, and a light sense of sharp dark winter spice.
Palate: The caramel and vanilla smooth out the opening of the palate toward a sharp and almost cutting clove, allspice, and cinnamon spice matrix that dries out toward barks and dried buds with a counterbalance of burnt orange zest and dried orchard fruits.
Finish: The end stays pretty sharp with a sense of old oak cellars and dry apple cider spiked with winter spice and dark and leathery figs, prunes, and dates.
Initial Thoughts:
This was a classic bourbon through and through. Dark fruit, sweet and creamy, and plenty of woody spice.
Taste 4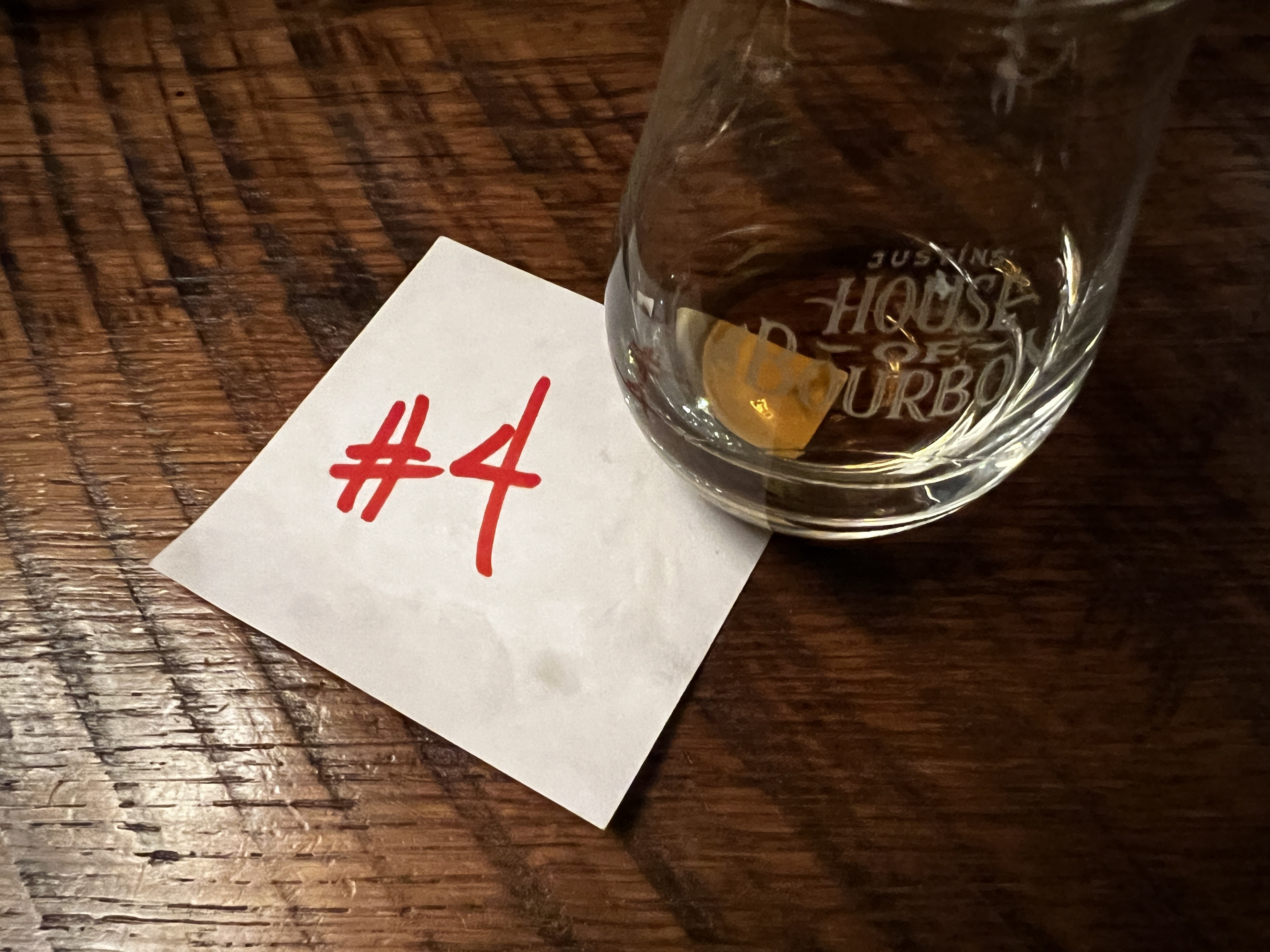 Tasting Notes:
Nose: The nose opens with a face full of old cellar floor dirt and a hint of fir bark next to soft white grits cut with buttercream vanilla sauce and brown sugar that's just kissed with cinnamon and nutmeg.
Palate: The taste is a big bowl of those grits with a sharper sense of spice and a smooth sense of toffee and vanilla cake that's almost like a modern-day craft bourbon.
Finish: A rush of dried orchard fruits — apricot, apple, pear, orange — come into play late and adhere to the earthiness of the old corn silos of soft grain and sweet brown sugar syrups.
Initial Thoughts:
This one threw me since it tasted so crafty thanks to that sweet graininess/porridge vibe. It was really tasty, don't get me wrong.
Taste 5
Tasting Notes:
Nose: The nose opens with an old sense of oak next to dried black cherry and apple chips soaked in cinnamon tea with a hint of creamy eggnog custard cut with plenty of vanilla and maybe even some salted dark chocolate.
Palate: The palate leans into spiced black cherry pipe tobacco with a hint of clove and allspice over gingerbread cookies, worn boot leather, and an old family room decked out for Christmas with fresh fir, plenty of decorations, and a hint of winter spice bundles hanging out in the corners.
Finish: The end leans into the dark cherry and spice with a light sense of spice barks and almost cherry cream cut with dark chocolate and vanilla sauces that are just touched by rose water and marzipan.
Initial Thoughts:
Well, this is great. It tastes pretty amazing. It's also super nostalgic and pulls off that magic trick where you're transported to your grandparent's place on Christmas Day.
Taste 6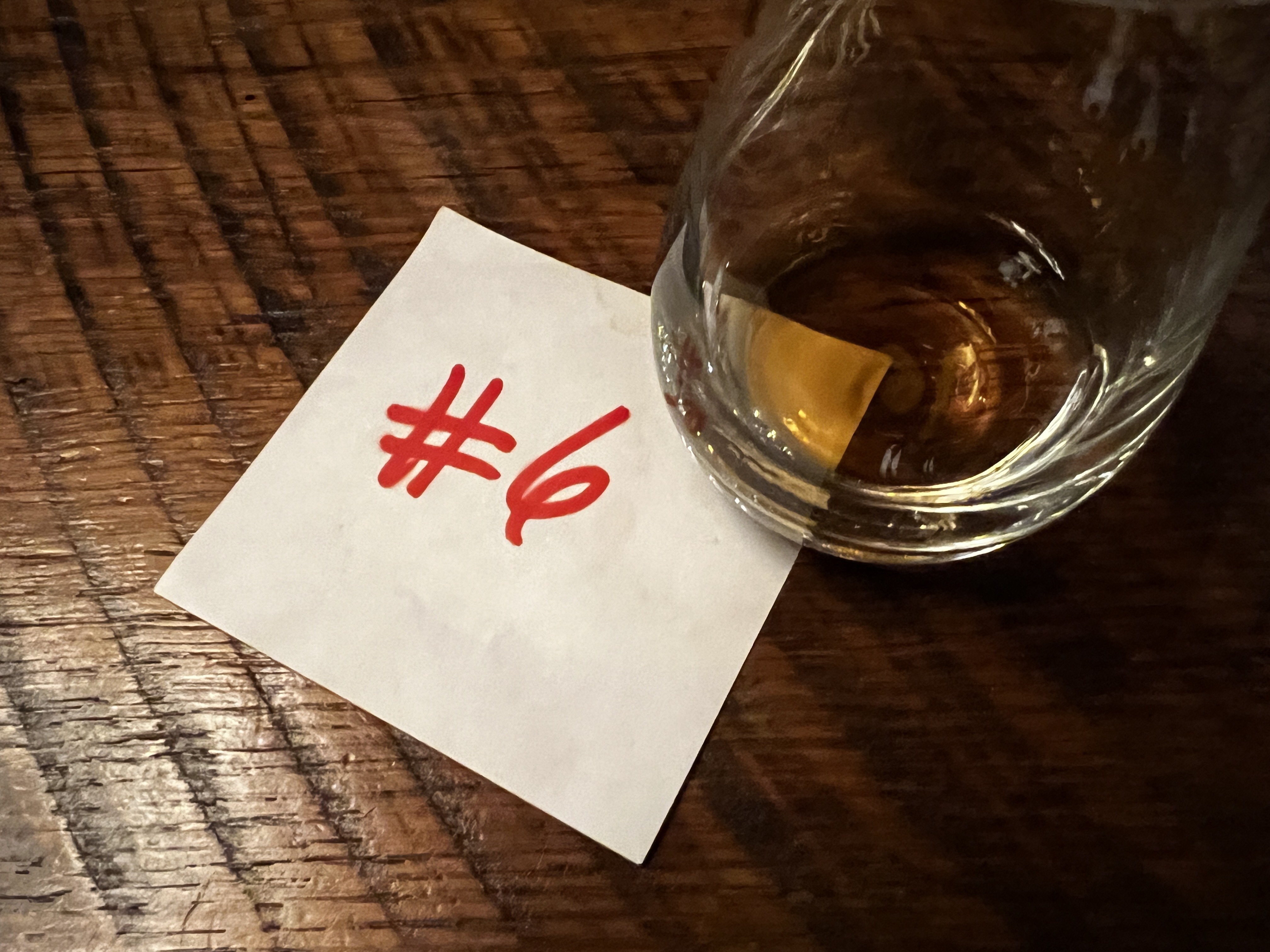 Tasting Notes:
Nose: Big bags of buttery and salted popcorn lead on the nose with a hint of Milk Duds underneath that move toward cherry-soaked oak staves.
Palate: Cherry Coke and corn husks drive the palate as soft caramel and old dried apricot with a hint of leathery Fruit Roll-Ups mingle with a sense of powdered winter spices.
Finish: The end really leans into that dry corn with a whisper of the salty popcorn speaking back in against the caramel and milk chocolate with a hint of cherry spice on the very end.
Initial Thoughts:
This was such a radical departure from the rest that I'm not really sure what to make of it. Going back after 5 and 10 minutes, the corn remains but more tart fruitiness arrives, only confounding me further.
Taste 7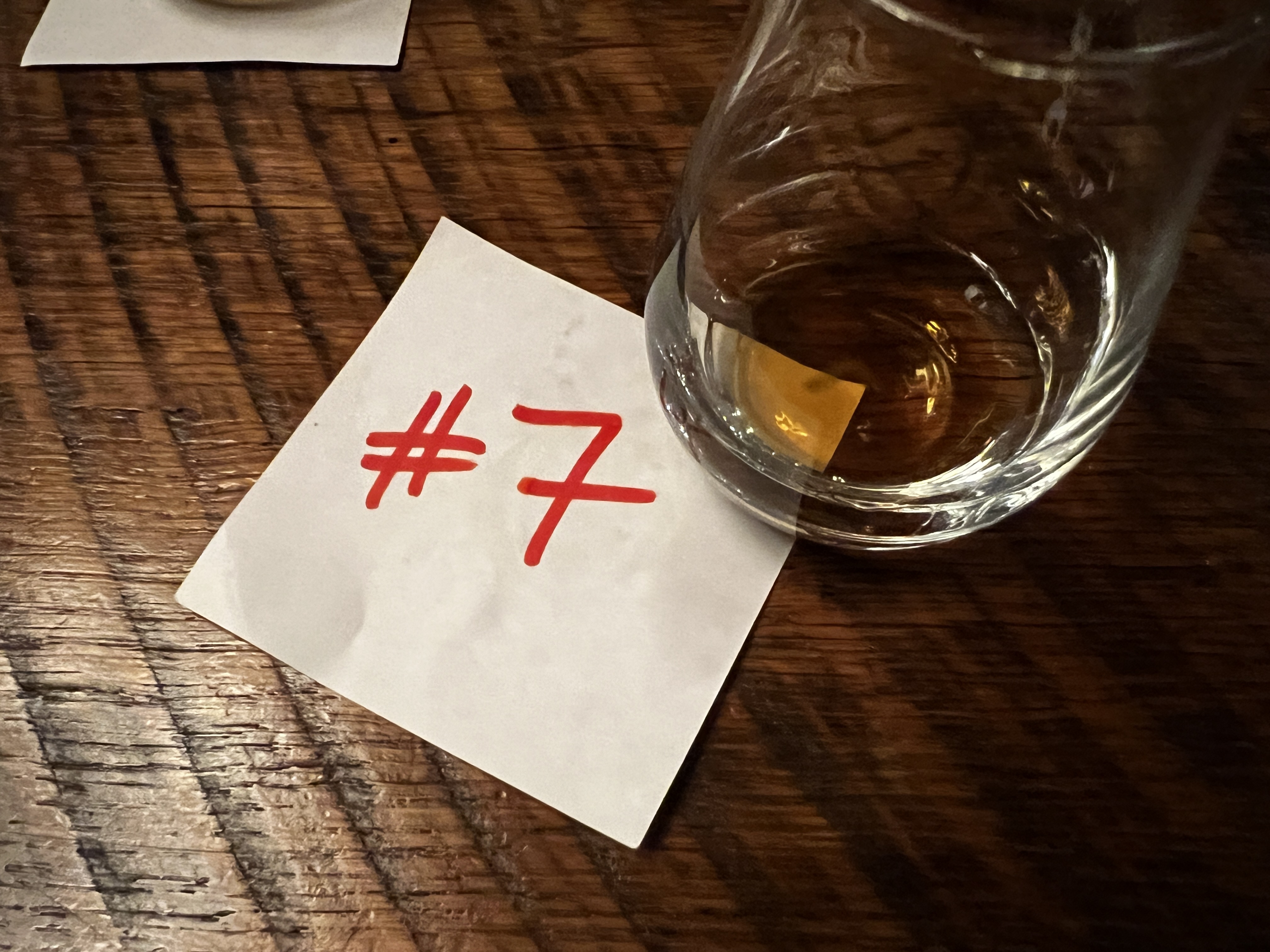 Tasting Notes:
Nose: Dark cherry and deep winter spice mingle with super lush and creamy vanilla and date with a hint of leathery saddle soap, a twist of orange, and a flutter of smudging sage.
Palate: The palate leans into a super silky version of classic spiced cherry Kentucky bourbon vibes with a deep sense of vanilla malts and cherry pipe tobacco next to sharp and woody winter spices that run deep toward almost leathery tobacco leaves.
Finish: The end holds onto the spiced cherry vibe while layering in spiced apple cider and maybe even a hint of red mulled wine with a dash of spiced walnut bread on the side.
Initial Thoughts:
This is a great pour of whiskey.
Taste 8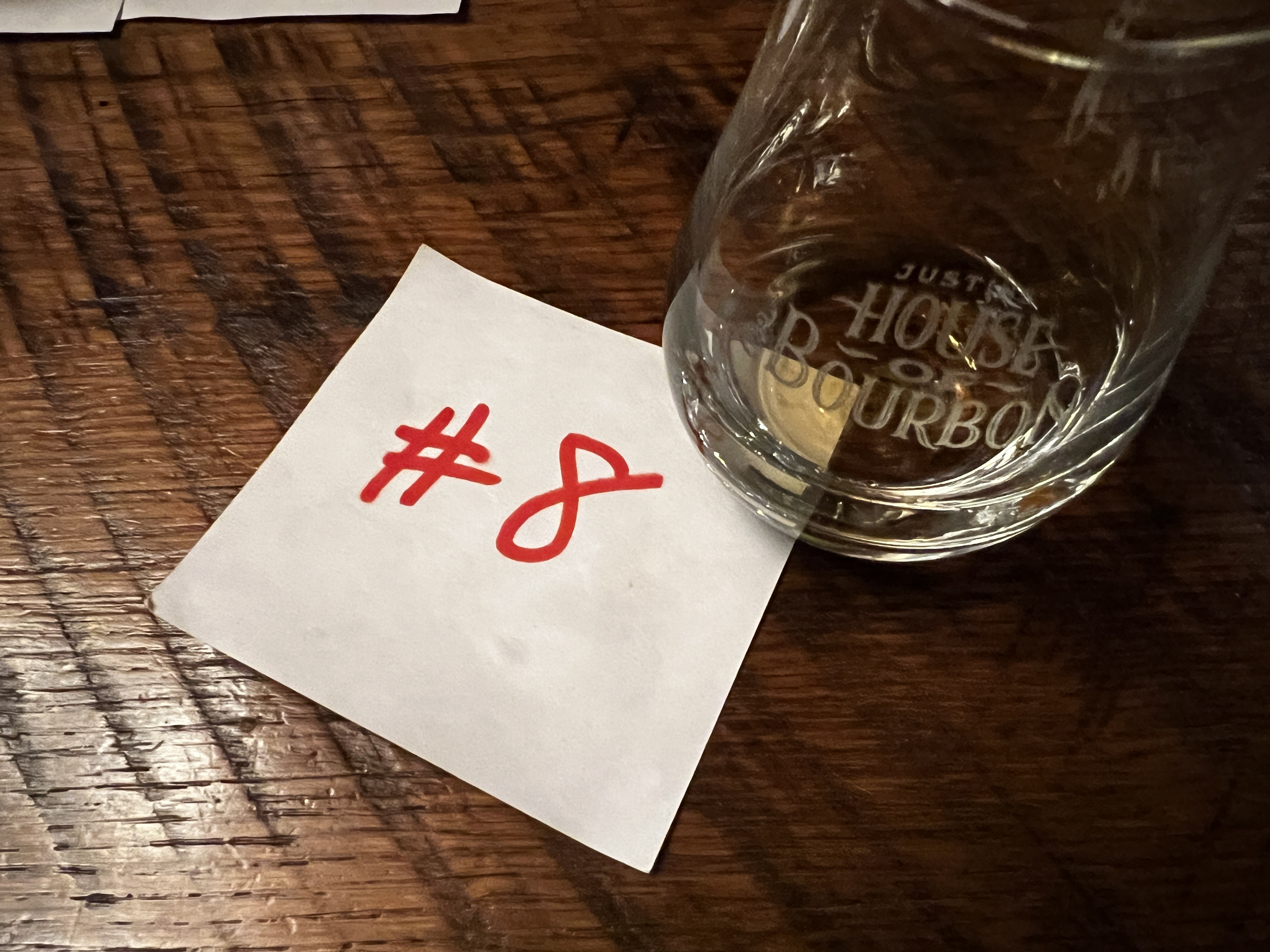 Tasting Notes:
Nose: Tart berries and dry sweetgrass and smudging sage drive the nose toward a light sense of old oak staves and herb gardens.
Palate: Those tart berries get a tad creamy with the vanilla on the front end of the palate before giving way to a light backyard in the summer vibe with a sense of old wicker.
Finish: The end holds onto the now creamy tart berries before veering into dry sage and tobacco territory with a hint of cedar and a faint whisper of dry malts that almost starts to feel like an old dry scotch.
Initial Thoughts:
This is so completely different. It's grassy and dry and really tasty.
Taste 9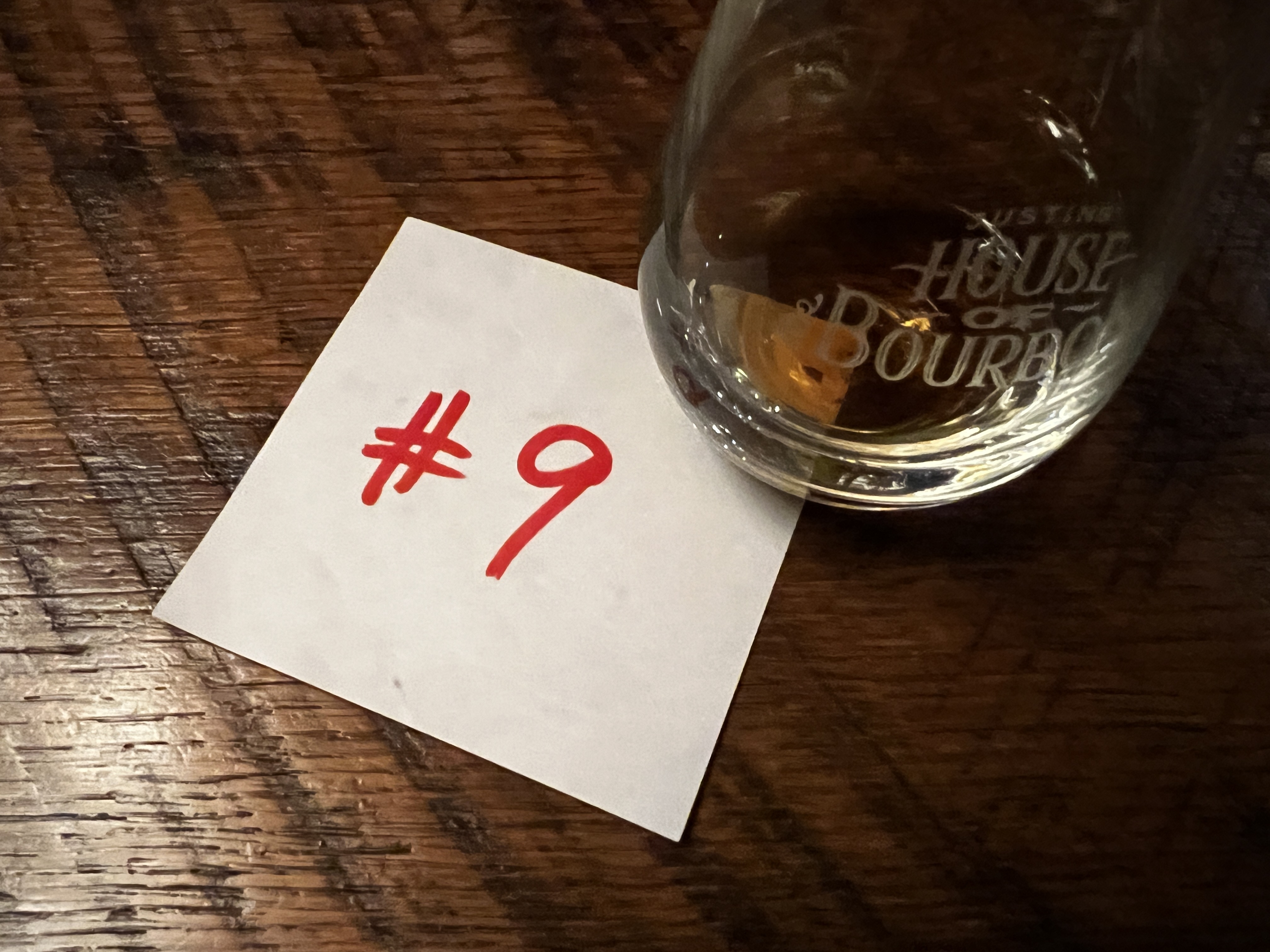 Tasting Notes:
Nose: The nose is pure buttercream vanilla that leads to a rich layering of spiced holiday cakes, rum raisin, black-tea-soaked dates, black walnuts, and dried cherries dipped in salted toffee and rolled in dark cacao powder.
Palate: The mouthfeel is silky and lush with a sense of that rich buttercream leading toward more of the dark cherry that attaches to winter-spiced tobacco packed into an old cedar humidor and then wrapped in old motorcycle jacket leather.
Finish: The finish takes that old leather-wrapped humidor and places it in a bed of sweetgrass braided with cedar bark and smudging sage before the luscious creaminess returns with a sense of old vanilla husks and cherry pits.
Initial Thoughts:
This is just delicious and so deep.
Taste 10
Tasting Notes:
Nose: The nose opens with a deep sense of vanilla and cherry before veering into a dank earthiness that's part white moss and part old fir bark with a hint of black soil and dusty old cellars.
Palate: The palate dances between dark dried red berries and stewed apples and pears toward creamy and salted toffees with a hint of almond and chocolate that then mingles with spicy woody barks and tobacco.
Finish: The balance of fruit, spice, and buttery sweetness comes into crystal clear focus at the end as all of those notes are baked into a holiday cake with a sense of deeply salted caramel swirled through the richest vanilla ice cream and topped with the spiciest stewed cherry really brings this sip home.
Initial Thoughts:
If someone asked me for a quintessential Kentucky bourbon, this is the direction I'd point them.
Part 2 — The Vintage Bourbon Ranking
10. Willett Vintage Bourbon Handmade in Kentucky Aged 17 Years (2009) — Taste 6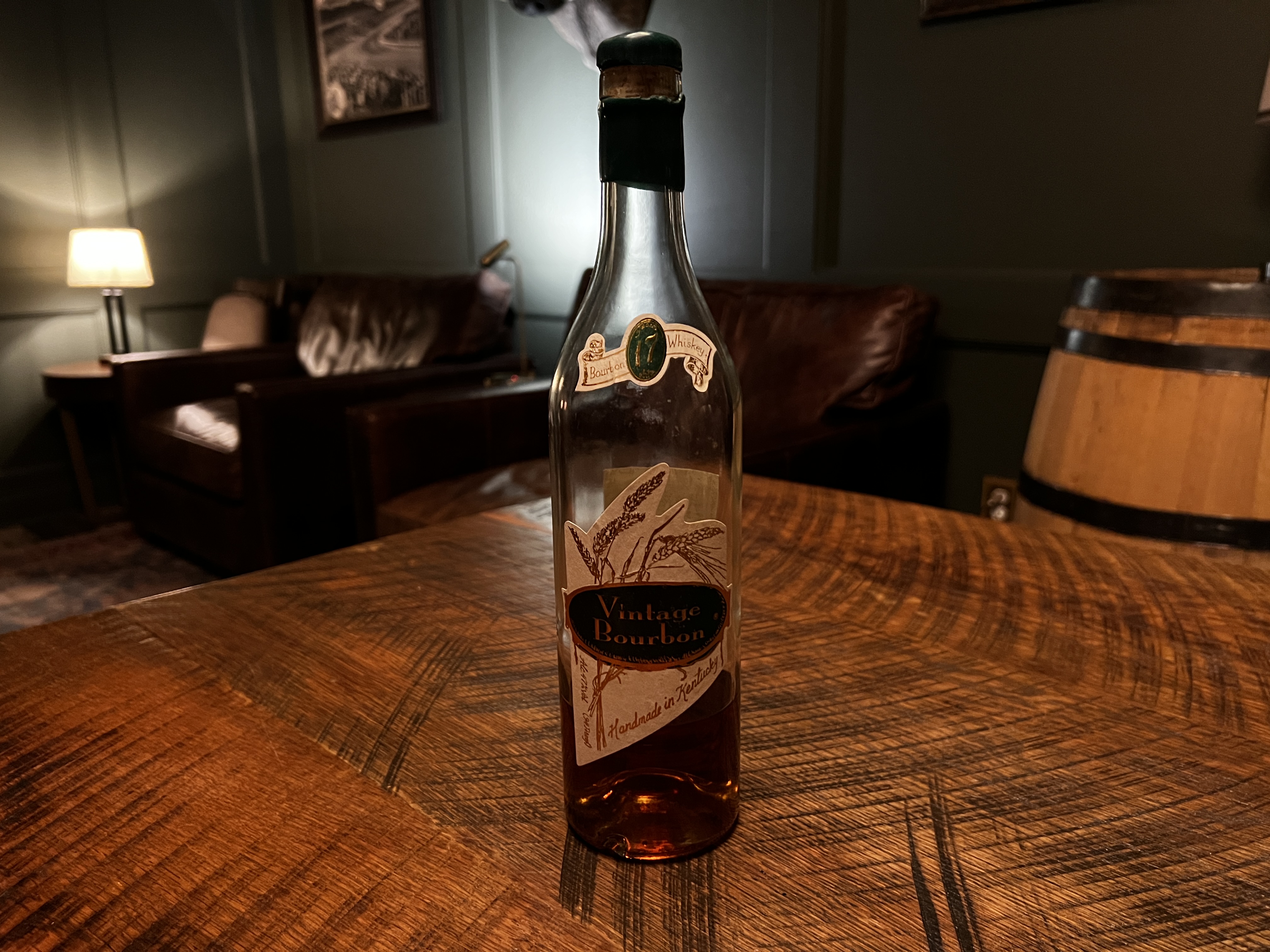 ABV: 49.5%
Average Price: $200, 1-ounce pour
The Whiskey:
This whiskey comes from the minds at Willett Distillery. That means that it's going to be some extremely rare juice from the Bardstown area that the team at Willett took custody of and acted as steward over as it aged. Beyond that, Willett doesn't say much besides buzzy marketing words like "Handmade" and such.
Bottom Line:
This is the only one I really didn't care for. It was super earthy and grainy and the sweet and spiced fruit kind of got lost.
I know people lose their shit over these bottles because they're kinda/sorta secret Willett releases. But I'd probably skip this one unless you're a Willett acolyte.
9. Old Rip Handmade Kentucky Straight Bourbon 4 Years Old (1988) — Taste 1
ABV: 43%
Average Price: $100, 1-ounce pour
The Whiskey:
This is Pappy (a wheated bourbon) when it was in a transition period between the Stitzel-Weller Distillery in Louisville (Shively), the Hoffman Distillery in Lawrenceburg which was renamed Old Commonwealth, and the eventual move to the Buffalo Trace Distillery in Frankfort. In the 1980s, Julian Van Winkle III was bottling at Hoffman from the Stitzel-Weller-made whiskey and released it as a sort of entry-point age statement to the heritage brand. In essence, that makes this the true poor man's Pappy from the 1980s.
Bottom Line:
This was good stuff. It felt like classic and grassy Kentucky bourbon with some real depth. That deepness didn't run too deep as the proofing was pretty high but still delivered a solid overall profile/experience.
8. Old Bardstown Kentucky Straight Bourbon Whiskey 12 Years Old (2002) — Taste 2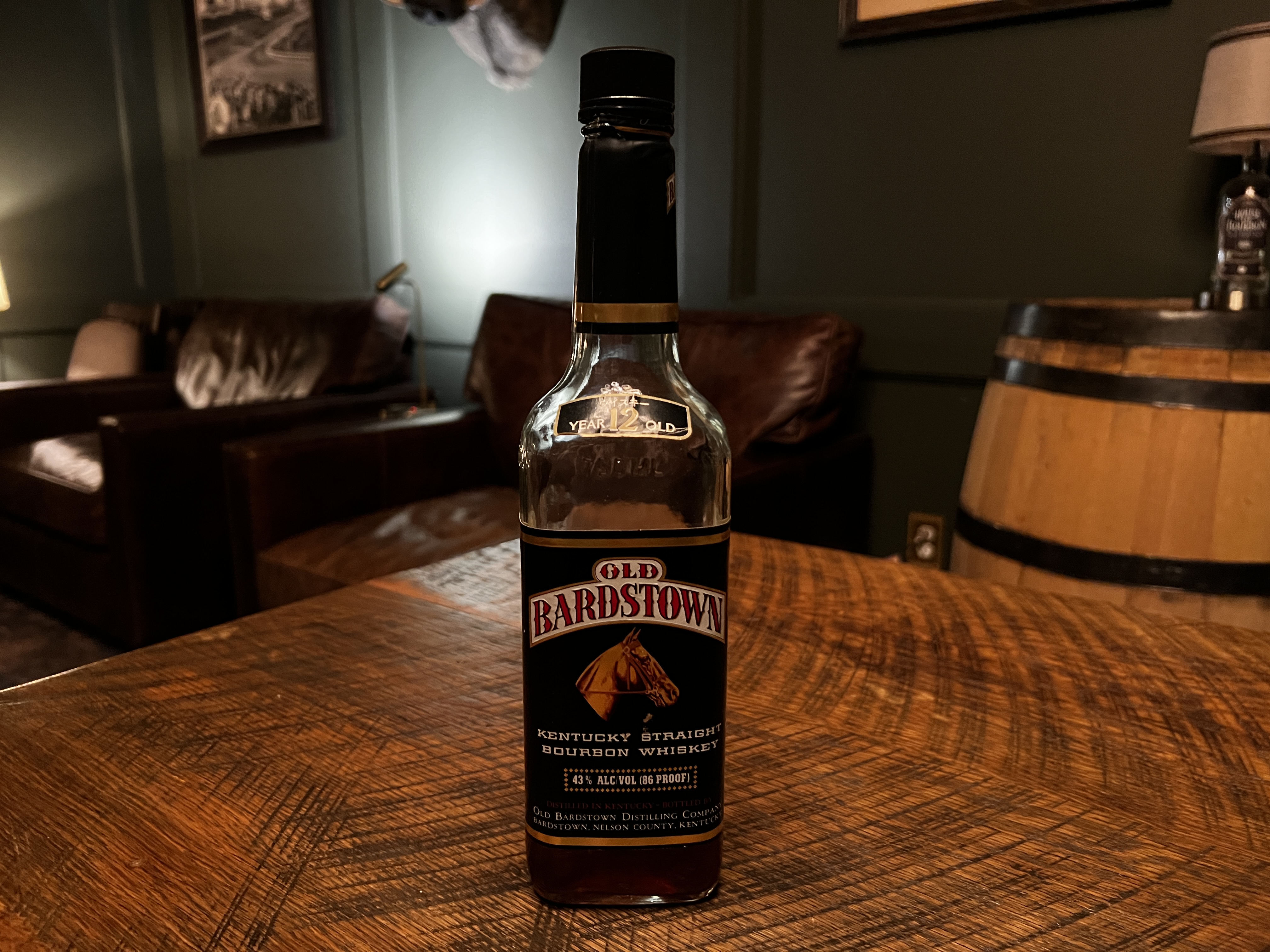 ABV: 43%
Average Price: $20, 1-ounce pour
The Whiskey:
Today, Old Bardstown 90-Proof is Willett's bottom shelf standard bearer that's actually pretty good. 20 years ago, that was also very true of this brand from the famed Bardstown distillery/bottler. Except back then, there were much older barrels going into this mix before blending, proofing, and bottling, hence they had a big age statement with a budget price point.
Bottom Line:
First, Willett needs to bring back that black label ASAP. It's much better than this beige wall nonsense they have now.
Overall, this is a damn fine whiskey with a nice balance. It's a good and easy pour (that most of us can afford) that'll give you a glimpse into really good cheap whiskey from 20 years ago. That said, this is pretty damn good whiskey for what was once a bottom-shelf pour.
7. Austin Nichols Wild Turkey Kentucky Straight Rye Whiskey (2011) — Taste 8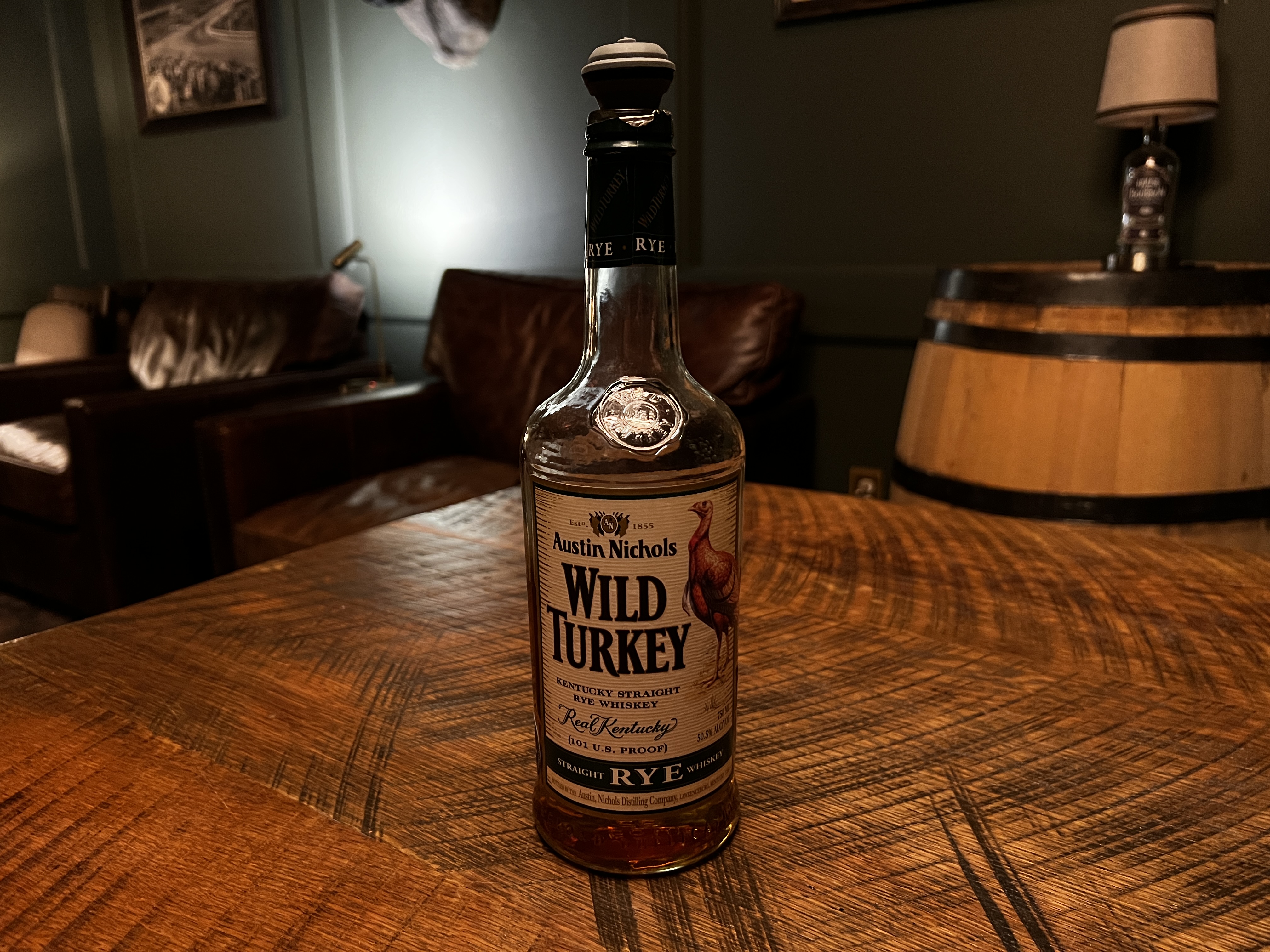 ABV: 50.5%
Average Price: $40, 1-ounce pour
The Whiskey:
This is the previous iteration of Wild Turkey branding back when "Austin Nichols" was still front and center at the brand. The whiskey in the bottle is the Russell family recipe that was made by Eddie and Jimmie Russell just over 10 years ago.
Bottom Line:
This is really good and it still is. Compared to a 2023 pour of the same bottle (essentially), it really does come across as more refined but only barely so.
6. Old Rip Van Winkle Very Special Stock Kentucky Straight Bourbon Whiskey Aged 11 Years (1980) — Taste 4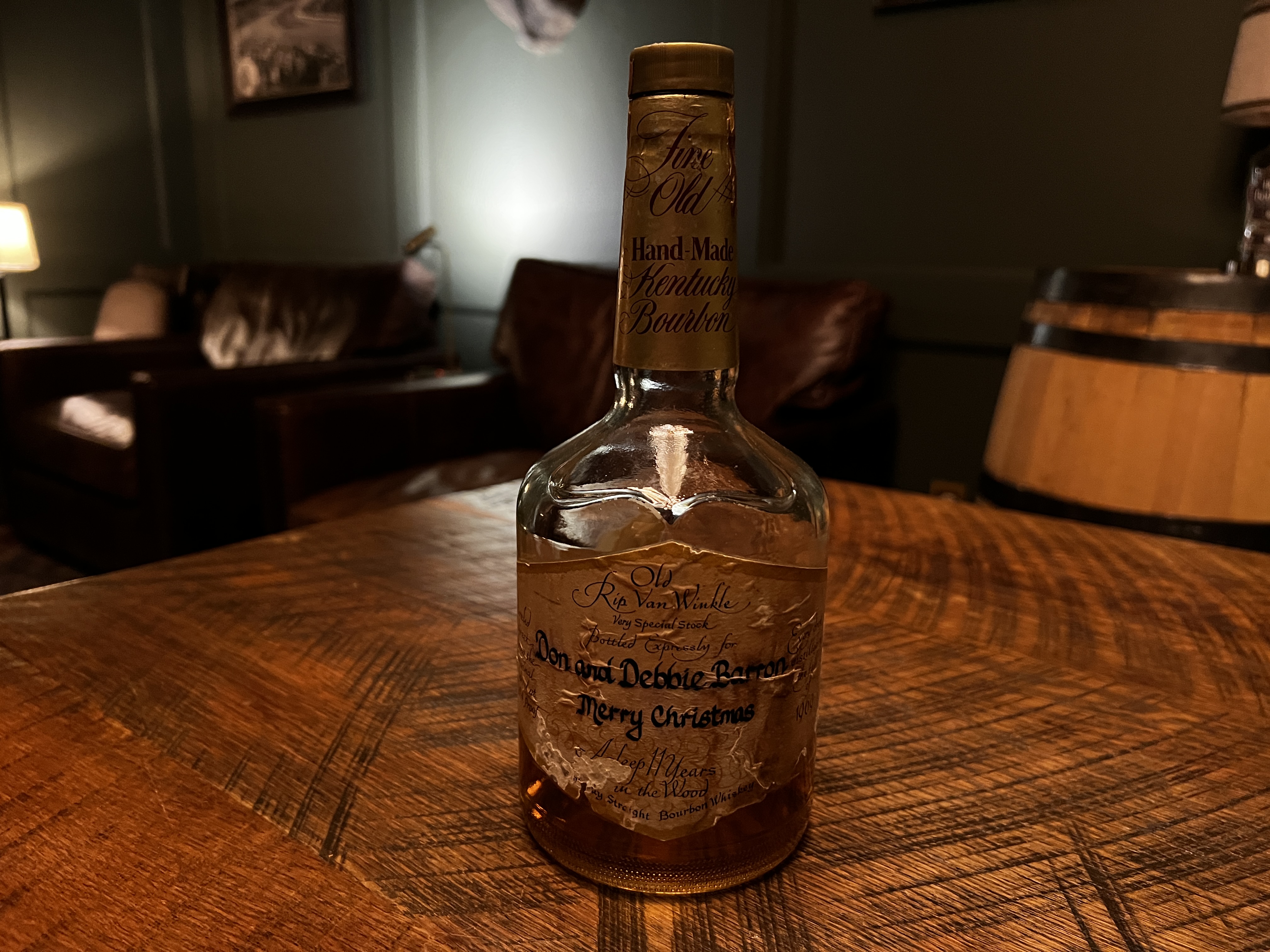 ABV: 45.2%
Average Price: $140, 1-ounce pour
The Whiskey:
This private bottle of Pappy is from the Old Commonwealth era when Julian Van Winkle III was still using Stitzel-Weller whiskey barrels to fill batches. These bottlings were for special clients, accounts, and friends of the brand and were distributed as yearly thank yous mostly, hence the name on the label. Still, there's an 11-year-old Pappy wheated bourbon from the old distillery in this bottle, making it highly sought-after.
Bottom Line:
Yeah, this is a good bourbon. It lives up to the hype. In fact, this is better than some of the modern Pappy on the shelf right now (looking at you, 23).
In the end, this is an essential pour to understand where the brand came from and why people love it so damn much.
5. Anderson Club Kentucky Straight Bourbon Whiskey Aged 15 Years (1996) –Taste 3
ABV: 43%
Average Price: $20, 1-ounce pour
The Whiskey:
So there's a lot going on with this bottle. One, it's pre-fire Heaven Hill (short story, Heaven Hill had a huge fire in 1996 that destroyed a lot of stock and facilities and created a bifurcation point in the desirability of the whiskey from there). Two, this was a Japan-only release. Three, it's an old whiskey from a long time ago that actually tastes like a time that is truly lost thanks to that aforementioned fire.
That's the pitch anyway.
Bottom Line:
Yeah, this is a good goddamn whiskey. It does taste like something that's really well-aged while also feeling like a classic profile that so many other distillers/producers are constantly chasing right now in 2023.
4. Joshua Brooks Kentucky Straight Bourbon Whiskey Aged Over 15 Years (1990) — Taste 10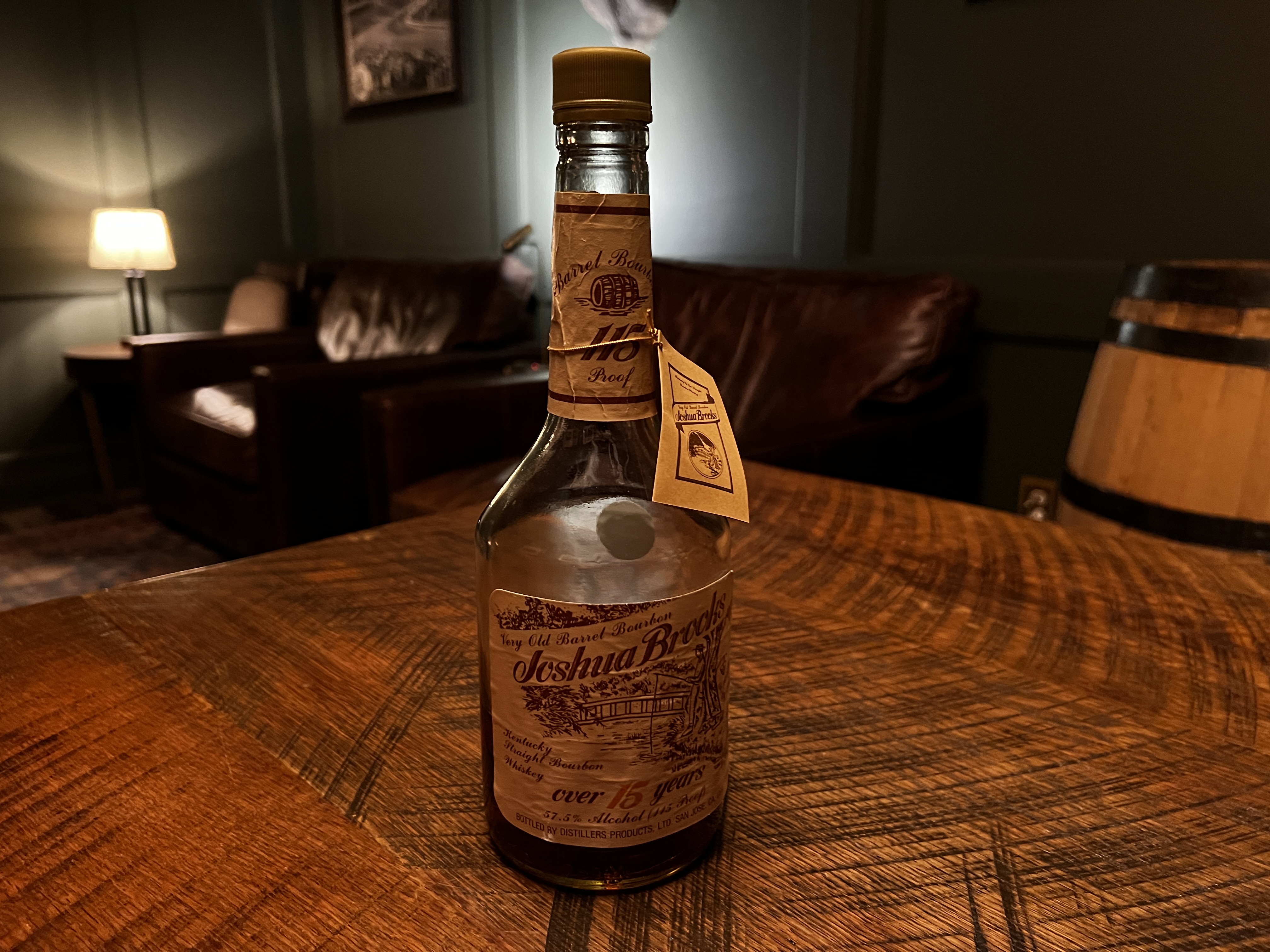 ABV: 57.5%
Average Price: $200, 1-ounce pour
The Whiskey:
This is a pre-fire Heaven Hill whiskey. The whiskey was distilled and aged in Bardstown and then sent to a bottler out in California to be bottled and distributed (yes, this is a sourced bourbon). The brand petered out and now these bottles are all that's left.
Bottom Line:
Essentially, you're getting whiskey made at Heaven Hill in the early 1970s with this one. That's dope. Moreover, this is another example of that pre-fire Heaven Hill whiskey being pretty spectacular stuff. It feels like it should be a myth that it'd make that much difference but this whisky is a lot of proof that the whiskey was just better from back then.
3. Yellowstone Straight Bourbon Whiskey Aged 7 Years (1994) — Taste 5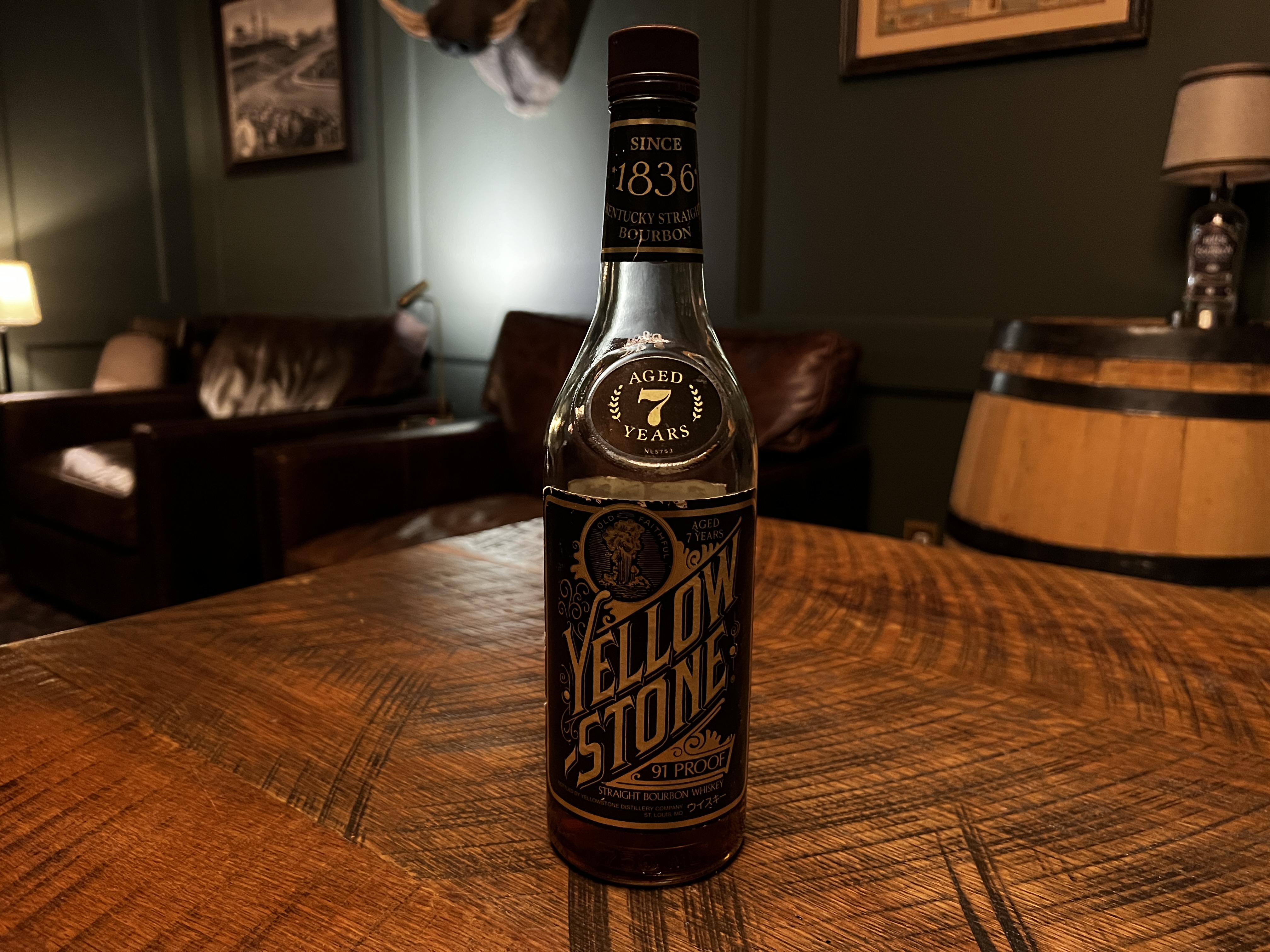 ABV: 45.5%
Average Price: $25, 1-ounce pour
The Whiskey:
This whiskey is from the old J.B. Dant Distillery which was shuttered during the last bourbon downturn in the 1990s after operating for over 150 years in Gethsemane, Kentucky (though the Dant family has since reopened it). The whiskey in this bottle is from that old distillery and a direct line to an almost lost heritage of bourbon making from one of the biggest names in all of Kentucky bourbon.
Bottom Line:
Yellowstone is part of Limestone Distilling now and is largely sourced via Lux Row (though it's still made by a Dant descendant). This version is so drastically different in that it reaches into the brand's origins and has a depth that's incredible. This is a great pour of whiskey that'll educate you on a whiskey that was kind of lost to time thanks to vodka taking over in the 1970s.
2. Austin Nichols Wild Turkey Kentucky Straight Bourbon Whiskey Aged 12 Years (1991) — Taste 7
ABV: 50.5%
Average Price: $100, 1-ounce pour
The Whiskey:
This whiskey is a throwback to the late 1980s/early 1990s of Wild Turkey's history. The release was lovingly nicknamed "Cheesy Gold Foil" by the brand (at least they have a sense of humor about themselves). The whiskey in the bottle is classic Turkey 101 that was left to age for 12 years (at least) before batching, proofing, and bottling.
Bottom Line:
This is basically one of Wild Turkey's first forays into higher age statements during a time when they had a ton of old barrels and couldn't sell them. It was a true crisis meets opportunity moment. In the end, we got a fantastic version of Wild Turkey that reaches back into the 1970s. It also foreshadowed the massive success of Russell's Reserve 13-Year which has been a whiskey nerd favorite for the last two years.
On and this is f*cking delicious. Buy a bottle if you can.
1. Old Grand Dad 114 Barrel Proof Kentucky Straight Bourbon Whiskey (1989) — Taste 9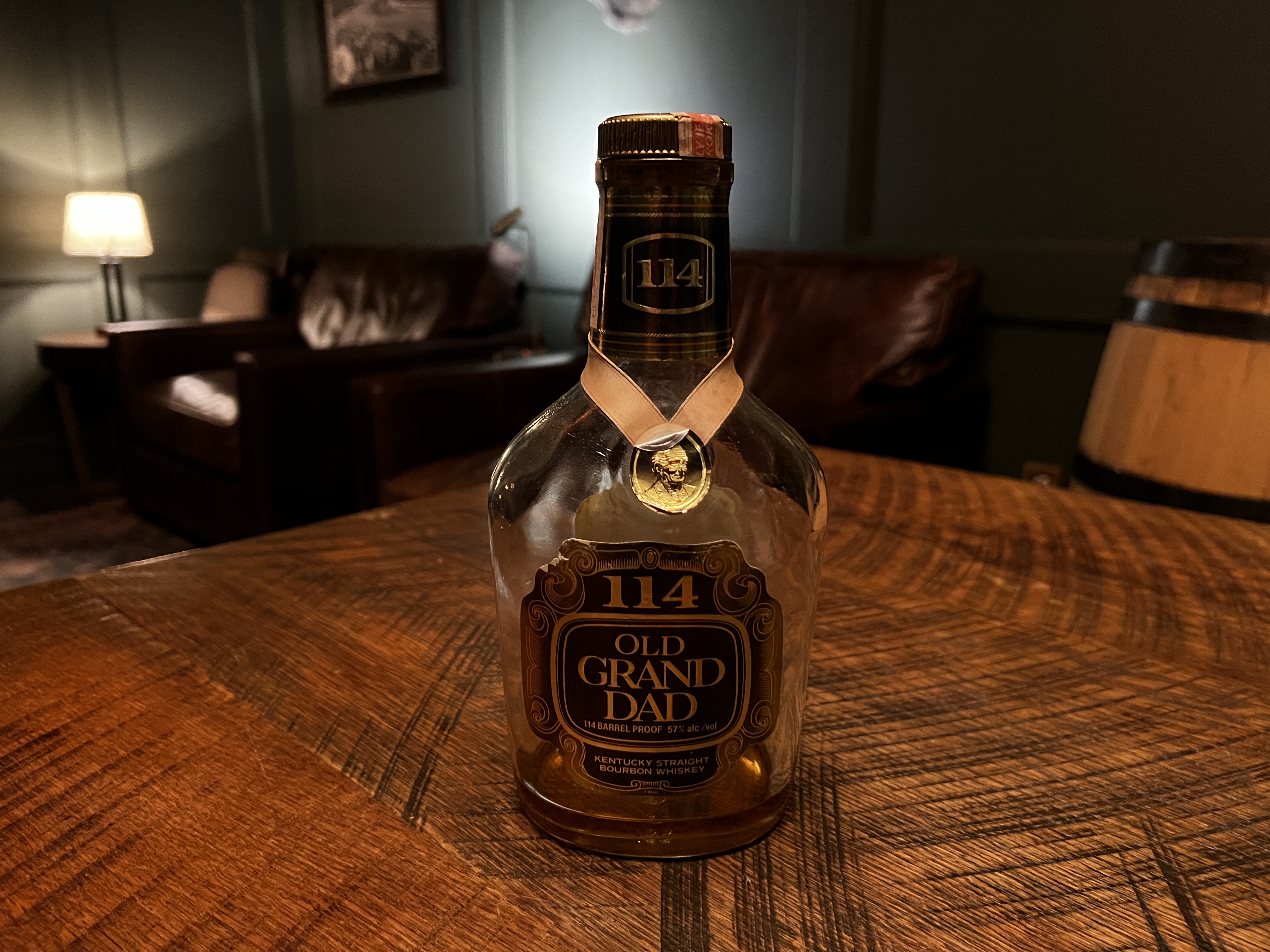 ABV: 57%
Average Price: $100, 1-ounce pour
The Whiskey:
National Distillers was one of the first behemoths of Kentucky bourbon thanks to being allowed to stay open during Prohibition (wherein it started buying a lot of distilleries all over Kentucky, including the original Old Grand-dad Distillery at Hobbs Station). Eventually, National Distillers (which made Old Grand Dad at The Old Taylor Distillery, which is now Castle & Key) was bought by Beam in 1987. That means that this whiskey is pre-Beam Old Grand Dad from Old Taylor Distillery but bottled by Beam.
Today, the whiskey is made at Beam's facility fully and these barrels are exhausted (much to the chagrin of the brand's old fans).
Bottom Line:
This was the deepest and most interesting pour by far. This tasted like great whiskey in general, without the patina of it being a "dusty" bourbon. It's also easy to see why Old Grand Dad fans were pissed when the Beam version hit shelves. This is a million times better in every way.
Overall, this is the one pour that I'd fully endorse you trying. It's amazingly lush and just keeps going with a great flavor profile that truly stood out. I want this whiskey back.
Part 3 — Final Thoughts on the Vintage Bourbon
Yeah, a cheap old whiskey from the 1980s that your granddad probably kept hidden in the garage was actually freakin' delicious.
In the end, it's wild to look back at how diverse and varied (and longer-aged) so much of the bourbon was just a few decades ago. It's also really easy to get caught up in all that and want to only drink bourbons from these eras. A lot of the regular stuff was just so much better. I'm sorry, but Old Grand-Dad is pretty mid to shit these days, and that's without comparing it to what it was. That's just a fact.
It kind of makes me sad.
But fear not. Not everything was better in the past. Both of the Pappy bottles on this panel didn't even come close to a 2022 Pappy 15-Year that I can easily get right now. It's all grey area and pour-by-pour dependent. Still, there's some really good old whiskey out there that used to cost pennies on the dollar and we all kind of slept on it until it was too late. Now, we have some dusties to remind us but they'll be gone one day soon too. Try them while you still can.