"The Walking Dead will be the zombie movie that never ends," reads author Robert Kirkman's note at the beginning of his very first The Walking Dead graphic novel. "To me, zombie moves are thought-provoking, dramatic fiction, on par with any Oscar worthy garbage that's rolled out year after year." Amen.
Sure, the books stay with Rick Grimes in real-time, but that doesn't mean a spinoff can't expand from said hero on the small screen. Shows like Breaking Bad and Mad Men opened the doors for the AMC network to start airing TV-MA-type programming. First came the beloved The Walking Dead series adaptation. And now, Fear the Walking Dead is wrapping up its eighth and final season.
Fear the Walking Dead is the gritty drama that has only featured Rick Grimes (played by Andrew Lincoln) in a small cameo thus far. The spinoff series starts with a family's response to the zombie-inducing plague before quickly widening its scope. Sure, there are crossover characters like fan-favorite Morgan (Lennie James), but it's fun to see an entirely new ensemble respond to the end of the world — or the beginning of a new world, depending on which supporting character you're asking…
This week, Lionsgate released an all-new box set of seasons every finished season on DVD for folks to brush up on, while the eighth installment winds down. In celebration of the series — and as yet another The Walking Dead spinoff hits the masses with Dead City — we took a look back at the series thus far, going through each season leading up to this year's episodes. Warning: Spoilers below!
Related: Best Zombie Movies on Netflix, Ranked
Kicking Things Off on the West Coast
Season one starts off with a bang in Los Angeles as the dawn of the "walkers" starts to plague society. Sure, much of real-life film and TV production in the U.S. happens in the City of Angels, making it a clichéd setting for an endless number of projects. But Fear the Walking Dead cleverly uses the SoCal backdrop as a way of opening doors to other nearby locations.
A few episodes in, the season brings us down to San Diego and even Mexico. It also helps that the first main characters we meet, such as the young, drug-addicted Nick (Frank Dillane) and his badass mom Madison (Kim Dickens, Gone Girl) with her blended family add a certain edginess and diversity that helps flesh out the spinoff to make it its own.
Season two focuses on visually arresting parts of Mexico, as a boat full of survivors makes its way down the coast. One highlight during this trek: swimming zombies. And the boat comes courtesy of the newly-introduced Walter Strand, a standout played to perfection by Colman Domingo (Euphoria). His sophistication and love interest add both layers and complications to the story along the way.
It's also interesting in season two seeing how the new array of supporting characters theorize about the "walkers," and how they actually represent the dawn of a new beginning, versus the "end of the world" as the rest of us see it. Sure, the zombie hijinks gets repetitive over time throughout Fear the Walking Dead in general, but some other season highlights this season include the traumatic backstory fan-favorite Daniel Salazar (Rubén Blades), a hard-nosed survivor who quickly reveals his skills as a pro killer.
Nick, Daniel, and Timelines
Season three also sheds light on young Nick's backstory while he journeys solo across Mexico and joins a drug ring. And speaking of — a unique twist on the zombie genre is when Nick finds a way to blend in with the walkers by covering himself in blood. Plus, the hotel where they set up shop in Mexico is a fun new location. AMC should turn the hotel into an "Escape Room" for fans in real life, if they haven't already…
Season three starts off strong with that intense first episode at a military compound where the principal cast are being held prisoners. We then see the tragic death of Madison's lover Travis (Cliff Curtis) as the group ultimately moves east, stumbling into a sort of "post-apocalypse" community in the mountains. Some memorable highlights include Daniel resurfacing — as viewers thought he had clearly died in season two.
Fear the Walking Dead perhaps succeeds the most when it jumps around in its timeline, and through some juicy flashback sequences, we learn how Daniel survived his "kamikaze"-type stunt back in the second season where he was trying to take down a whole swarm of walkers to save the rest of the gang. Meanwhile, real-world themes of colonialism are highlighted in season three, as that mountain community seems to be taking over Native American land.
A leader among the Natives is played by the great Michael Greyeyes (I Know This Much Is True, True Detective) in a committed turn, as per usual. Also in season three, we see the evolution of Nick's character as he's put through the ringer and looks more like a soldier now — and less like a young, strung-out junkie. Season three is all about expanding the world of Fear the Walking Dead to thrilling effect.
Related: Fear the Walking Dead Cast and Character Guide
Crossovers, Cowboys and More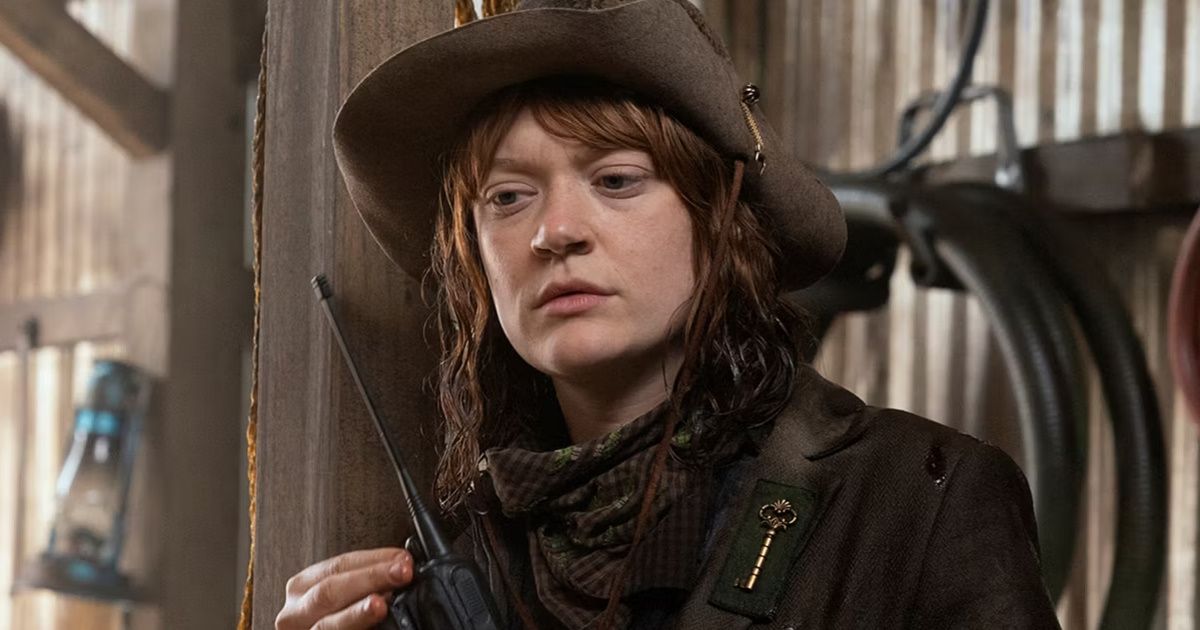 Season four is where the series' crossovers really kick into high gear. Enter The Walking Dead regular Morgan Jones (played by Lennie James) from the original series, and we couldn't have been more excited. Fans of the long-lost and great HBO comedy series Hung might remember actor James as the insightful pimp who camps out at a local diner. In Fear the Walking Dead, he really saves the show from falling into that inevitable sense of repetition, aka endless zombie threats and the power struggles among the survivors.
Season four also introduces the effective use of desaturated flashback sequences to help beef up shocking moments, such as Nick's death foretold in that one terrifying episode. We also meet the video camera-wielding Althea (Maggie Grace) and the film-within-a-film device along with it. Zombie fans surely thought of George A. Romero's Diary of the Dead when these kinds of self-reflexive episodes started airing.
Another season four strength is the introduction of John Dorie (Garret Dillahunt, No Country for Old Men), who's relentlessly likable thanks to his accidental charm and quiet boldness. And also in this season, a lead player finally comes into her own: Nick's sister Alicia (Alycia Debnam-Carey), particularly when her character's journey unfolds in real-time as she meets young Charlie (Alexa Nisenson).
Meanwhile, with each new Fear the Walking Dead season typically comes new villains — and a memorable one in the fourth installment is Martha (Tonya Pinkins), who arrives in the later episodes with a delusional desire to kill the well-intentioned survivors around her. Pinkins' performance is memorable despite her limited screen time. And another quick cameo that was totally fun to see is Stephen Henderson (Dune) as a damaged survivor who bonds with Nick's hotheaded love interest Luciana (Danay Garcia). And finally, one promising perk of this fourth season is that it set up the future installments with a fresh group of survivors, including the wheelchair-bound Wendell (Daryl Mitchell) who means business…
Fear the Walking Dead Season 5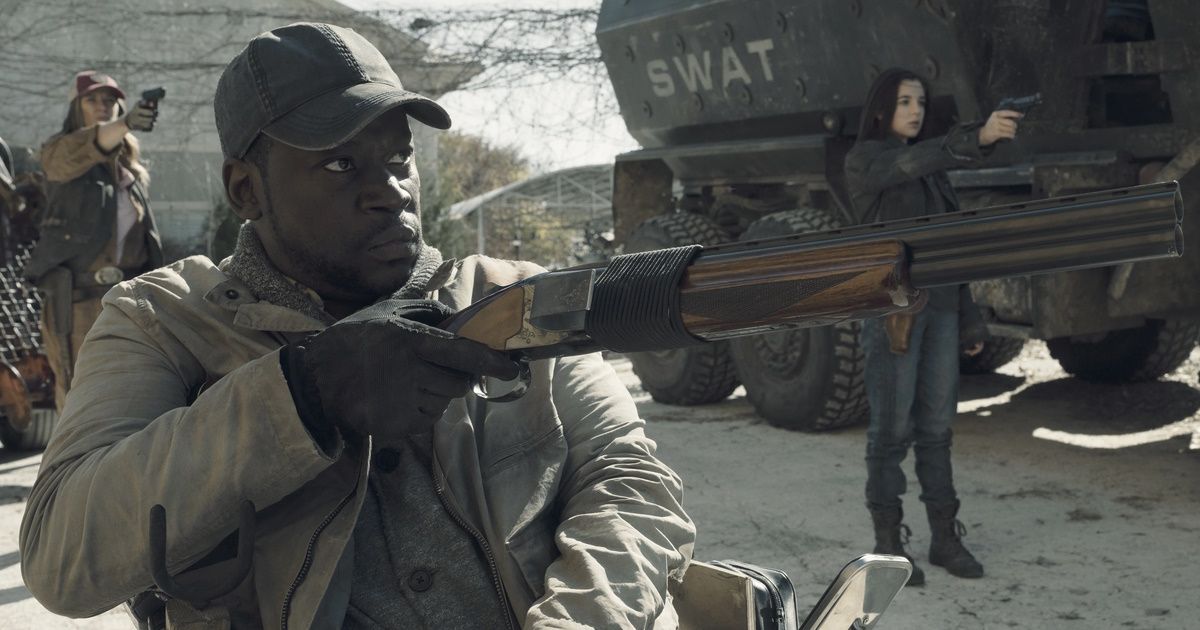 Season five feels very western-genre, which is a refreshing change of pace. John Dorie goes full cowboy mode this season, with a stylish outfit to match. We stay with the same gang of survivors as the last installment, plus a new addition named Dwight (Austin Amelio), whose facial scars reflect his questionable past. It's a heartfelt turn by Amelio and thrilling to watch as he joins the good cause.
Meanwhile, there's a dangerous new antagonist in town named Logan (Matt Frewer). It's an interesting casting choice, as Frewer played a memorable "infected" character in Zack Snyder's Dawn of the Dead remake back in 2004. Some other new-character highlights here include Althea's short-lived love interest Isabelle (Sydney Lemmon) in a remarkable standalone episode that draws parallels to that epic Nick Offerman episode from HBO's The Last of Us. And speaking of Althea, her character gets to show off her aerial skills in an epic plane escape during episode eight. Plus, her ongoing documentary clips soon resurfaces in a "found footage"-type ninth episode, which was a nice stylistic shakeup.
Season five also introduces us to the lovable Grace (Karen David) — aka the future lover of Morgan. There's also the young aspiring writer Wes (Colby Hollman) and the wise-cracking Rabbi Jacob Kessner (Peter Jacobson). In the 13th episode, everything changes as we meet Virginia (Colby Minifie), whose villainous ways seem to swallow the next two seasons whole. Fans of Prime Video's The Boys will remember Minifie as the hair-yanking publicist whose antics become increasingly erratic with each season that passes…
Related: The Walking Dead: 12 Characters from the Video Game That Should Join the Live-Action Universe
Going Out with a (Nuclear) Bang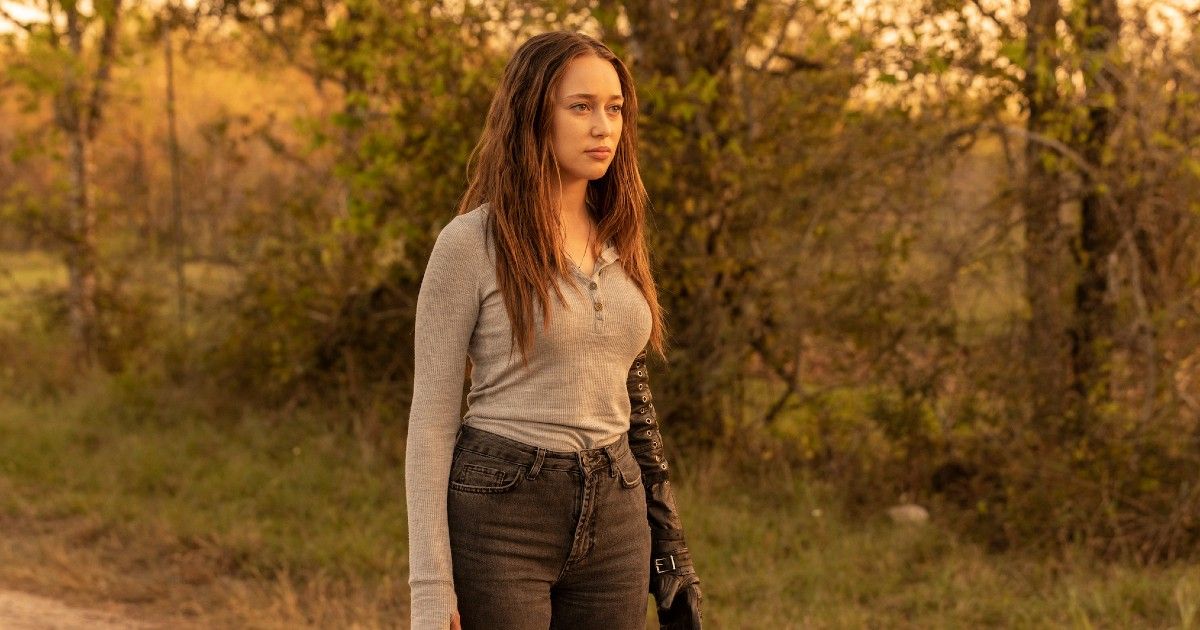 Season six fortunately continues with Morgan, who was shot down by Virginia in season five finale. The sixth season brings complications galore, as we quickly meet Virginia's sister Dakota (Zoe Colletti), who is certainly the more agreeable of the two. Virginia tries to take Texas by storm and even coerces the increasingly-conflicted Daniel Salazar to join her ways.
Fear the Walking Dead succeeds most when it finds ways to distinguish itself from other zombie projects, and one such way comes when Luciana starts to run an oil well with the help of captive zombies. You have to actually see this gag to really appreciate it. And by this time in season six, we continue to adore Morgan, so it's heartwarming seeing him reunite with new pal John Dorie and also his lover Grace after an array of hijinks had separated them along the way.
And Terminator 3 fans certainly enjoyed seeing John Connor himself — Nick Stahl — guest star as the leader of a shady underground community. His committed turn makes us want to see him in more projects ASAP after all those years off-screen. Plus, who can forget that 12th episode that really leans into psychological terror, as Grace meanders through her journey in a sort of limbo state. The season ends with a nuclear explosion orchestrated by a maniacal cult leader named Teddy (John Glover), which paves the way for an epic and visually arresting next installment…
Fear the Walking Dead Season 7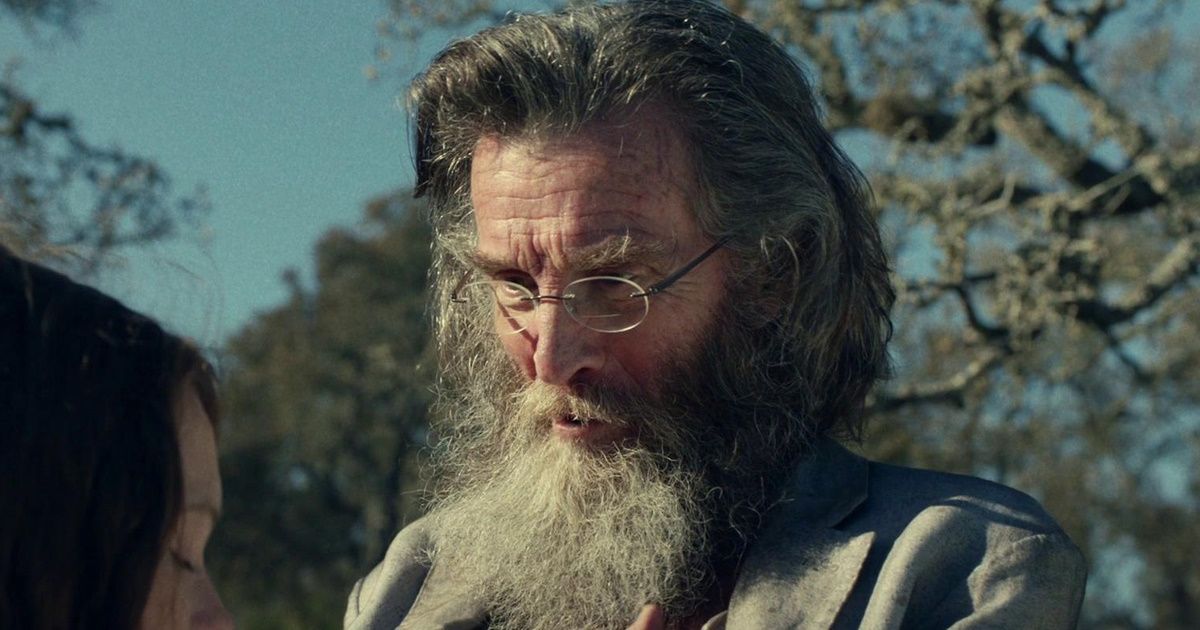 Season seven opens in the aftermath of the explosion, and all of us viewers rooting of the "good guys" were relieved they survived thanks to a beached submarine that they utilized at the end of the sixth installment. Star Colman Domingo quickly fills the shoes of villain this season, and it's interesting seeing him go full commander-mode at their newly established headquarters known as "the Tower." It seems Strand has always been hungry for power in this apocalyptic world — and finally, he's got it. Sure, it's frustrating seeing him "break bad" here, but season seven also has its fair share of happy moments.
There was a tragic sequence in season six where Grace and Morgan lose their baby in childbirth, but karma then worked in their favor as they stumble upon an abandoned newborn in the seventh installment. And about halfway through season seven, the show returns to Althea's documentary-type filmmaking, but with a twist: The camera is now turned on her as she recalls her past love interest. When Fear the Walking Dead leans into that heartfelt stuff, it really shines.
Midway through the season, we also see a star-making turn by Alycia Debnam-Carey as the increasingly-ill Alicia. She takes the lead in several hard-to-watch episodes here as she trudges across the nuclear wasteland — but it's a committed performance that will surely open more doors for the young actress. And speaking of health — Daniel Salazar is still alive and kicking, though the death of his daughter in an earlier season has more than taken its toll on his sanity.
The gritty, shaky handheld camerawork that became a Fear the Walking Dead staple across every season really helps to put us into the troubled mindsets of these deteriorating principal cast members. And I'll say it again: Lennie James as Morgan is the one to watch here, and it all builds to a thrilling finale that resurfaces none other than Kim Dickens as Madison — aka the very first lead character we rooted for, back in season one. With her presence comes more psychological twists that make us question their reality. Overall, season seven set an epic stage for the currently-airing eighth installment to neatly — or not-so-neatly — conclude this Walking Dead spinoff series.
In general, the show succeeds thanks to its stylish visuals, elaborately violent set pieces and occasionally clever twists on the zombie subgenre. And those heartfelt moments, of course. And now, from Lionsgate comes an all-new Fear the Walking Dead DVD box set, now available for retail purchase for the suggested retail price of $99.99.