"There's more than one of everything." This line has far-reaching implications to the five seasons of Fringe. It describes the show's mythology about a war between the Prime Universe and an alternate one. It contrasts the two sides over the science-based nightmares the Fringe team investigates, where there are good and bad motives. It includes the love story between Peter Bishop (Joshua Jackson) and Olivia Dunham (Anna Torv) who overcome their dark pasts to find comfort in one another. But another love story between a father and son is the heart of Fringe. Monsters, time travel, and parallel universes aside, this sci-fi series shows how far a grieving father will go for a second chance. Dr. Walter Bishop (John Noble) is a mad scientist who's prepared to destroy more than one universe if it means he can save his son.
RELATED: A 'Fringe' Reboot? Akiva Goldsman Isn't Sure If It's Too Soon or Too Late
Peter and Walter Have a Rocky Start in Season 1 of 'Fringe'
FBI agent Olivia Dunham is desperate to save the life of someone close to her in the pilot episode. She places her trust in Dr. Bishop, who's been institutionalized for 17 years. To get access to him, she needs his adult son Peter to be his caregiver. It's clear how little Peter knows about what his father was up to during his childhood. Olivia needs to explain Walter's specialty included but wasn't limited to "mind control, teleportation, astral projection, invisibility, genetic mutation, reanimation." Peter cuts her off, "So you're telling me, what, my father was Dr. Frankenstein?" This sets up the mad scientist with a fractured mind, struggling to reconnect with his son and reconcile his past. Olivia and Peter will fall in love over the show's run, which sees the two take down the walls they put up to protect themselves. Walter will form a sweet friendship with Astrid (Jasika Nicole Pruitt), an FBI agent assisting in his lab. Among these bonds, the most important relationship on Fringe is in the father-son dynamic.
Peter is a reluctant caretaker, forced to put up with his father's eccentricities: Walter's fondness for LSD, getting distracted by his pet cow Gene, and finding the next food to snack on. While it becomes obvious Peter is the one who can calm his father down during high stress, it's a rocky start for sure. At a hardware store, Walter acknowledges he doesn't agree with his son's nomadic living style. Peter gets heated, pointing out Walter's absence from his life, which "renders any fatherly judgments you may have of me moot. Are we clear?" Instead of responding, Walter finds an innocent store clerk and requests an electric saw that he emphasizes should be strong enough to cut into human tissue. As Season 1 closes, it becomes clear how integral Walter is to the cases the Fringe team investigates, including to the people around him. Olivia learns as a child she was part of a drug trial to enhance psychic abilities. Who was in charge, but Walter. Then the Season 1 finale confirms Peter isn't the original version from this Prime Universe, hinting at Walter's gravest sin.
A 'Fringe' Flashback Is One of the Show's Best Episodes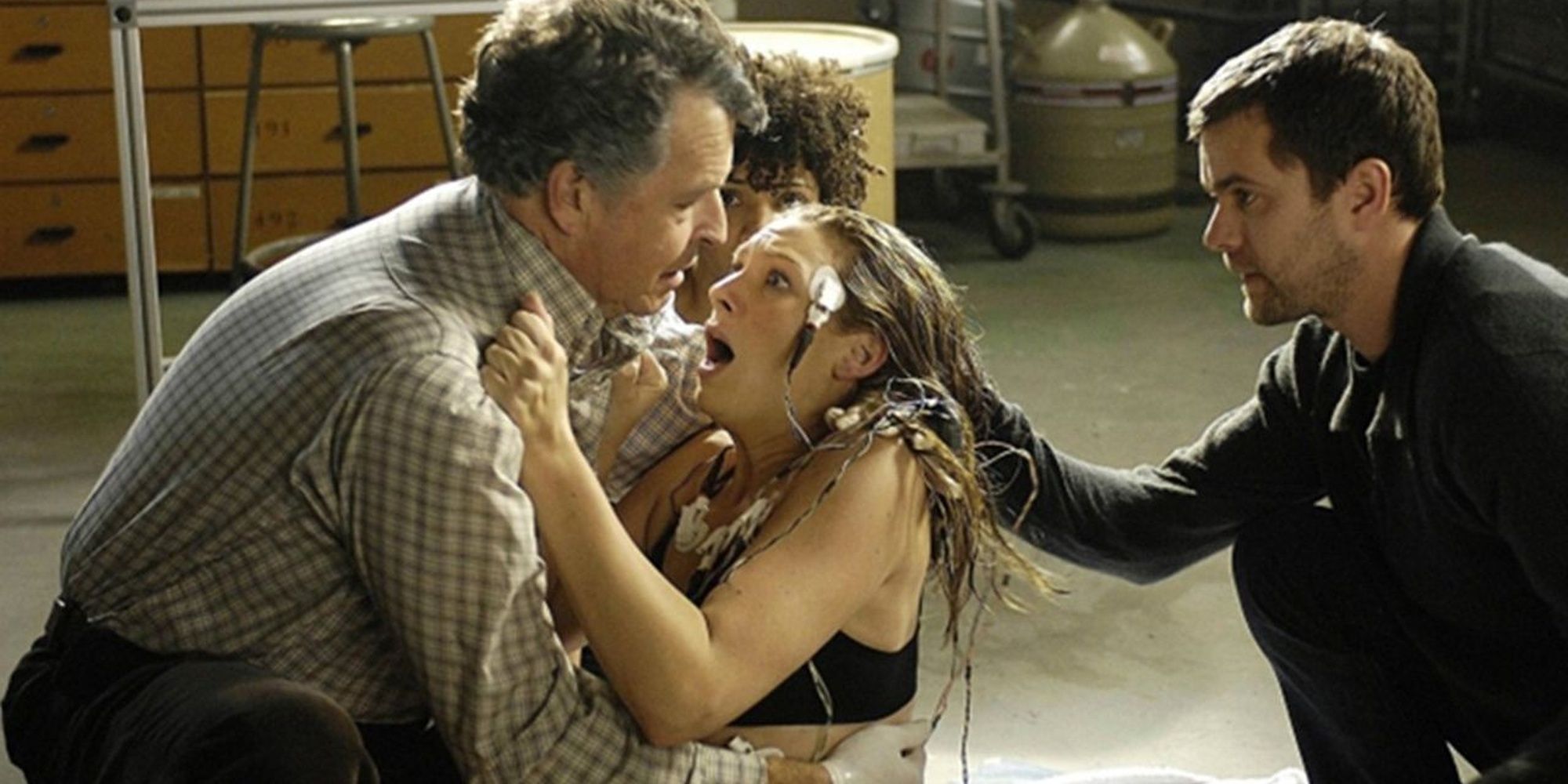 In Season 2's "Peter," the show goes back to 1985 when Walter loses his young son to an illness. Knowing a parallel universe exists where Peter is still sick, Walter crosses over with a cure he discovered too late for son. "There is only room for one God in this lab and it isn't yours," Walter barks at his assistant who tries to stop him. He goes through with a reckless plan, leading to a reckless outcome. Walter brings this "other" son back, igniting a cold war between the two worlds. "Peter" is an essential episode to Fringe, blending sci-fi concepts with the theme of love that is dominant to the series, while depicting the arrogant man Walter Bishop used to be. Crossing over leads to deterioration in the Parallel Universe and unintended consequences in this Prime one. The show never forgives him, but it doesn't turn against him either. The writing, and John Noble in the role, underlines the raw human emotion to what happens. It forces audiences into Walter's shoes, if they could reunite with a loved one, would they do anything different?
"White Tulip" shows how much Walter has grown in the show's present. The Fringe team learns astrophysicist Alistair Peck (Peter Weller) is trying to time travel to save his wife's life. Walter understands the dangers of this, and given the chance, he warns Peck, "I, too, attempted the unimaginable, and I succeeded. I crossed into another universe and took a son that wasn't mine. And since then, not a day has passed without me feeling the burden of that act." Walter then confides in his attempt to atone for his hubris. "Until I took my son from the other side, I had never believed in God. But it occurred to me, that my actions had betrayed him and that everything that had happened to me since was God punishing me. So now I'm looking for a sign of forgiveness…a specific one, a white tulip."
Although Peck goes through with jumping to the past for a bittersweet ending, he sends a letter to Walter, thanks to time travel logic, Dr. Bishop will never remember their interaction. He opens Peck's letter and pulls out a drawing of a white tulip in what will endure as a significant symbol to Fringe. This isn't the same man from 1985 who pushed the boundaries of what is possible. Overall, Season 2 explores Peter and Walter reconnecting, seeing them move into a house and having Peter's protective side over his father come out. This makes the inevitable moment Peter learns of his kidnapping all the more heartbreaking.
Walter Bishop Isn't the Only Father on 'Fringe'
As a kid, Peter was told by his mother a Greek saying that translates to, "Be a better man than your father." Peter and Walter aren't the only ones to define this quote, or the importance of fatherhood. Olivia's abusive stepfather is mentioned more than seen, as a toxic failure of a parent. Phillip Broyles (Lance Reddick), who oversees the Fringe team in the Prime Universe, is divorced and dedicated to his work. In the Parallel Universe, the alternate Broyles is happily married and fiercely protective over his kid. When the conflict between the two universes reaches a dire moment, Broyles betrays his side, risking his life to protect his family from all-out war.
In the standalone "Os," Dr. Krick (Alan Ruck) wants to help his paraplegic son, doing so by turning other paraplegic young men into test subjects. Krick uses an injection from a dense element that can somehow make their bodies lighter than air, withholding it's slowly poisoning them. "The Firefly" has Walter fanboy over meeting Roscoe Joyce (Christopher Lloyd), a former member of Walter's favorite rock band. This takes a tragic turn when Walter realizes by crossing over into the Parallel Universe, it caused a butterfly effect that killed Joyce's son.
Noble plays Walter's fractured mind state with a vulnerability that finds compassion to what he has done in the past. In "Snakehead," Walter can't find his way home and can't remember Peter's phone number. He sits down defeated, sobbing to a stranger, "I used up all my bus fare to dial seven wrong numbers. I know it's got three fives, a one, a zero, and two sevens, but for the life of me, I can't remember the correct sequence." A guilt-ridden, highly emotional Walter is simply one version of the character. Alternate timelines and parallel universes allow Noble to create darker portrayals. The best by far is the sinister and calculating "Walternate," who had his Peter stolen. From Season 2 into Season 3, Fringe lets Walternate be an overarching villain, secretary to the Department of Defense, and willing to do whatever it takes to save his world. While Prime Walter cherishes time with his adult son, Walternate reunites with Peter, then coldly prepares to use him in powering a machine that could destroy the Prime Universe.
'Fringe' Is a Career High for John Noble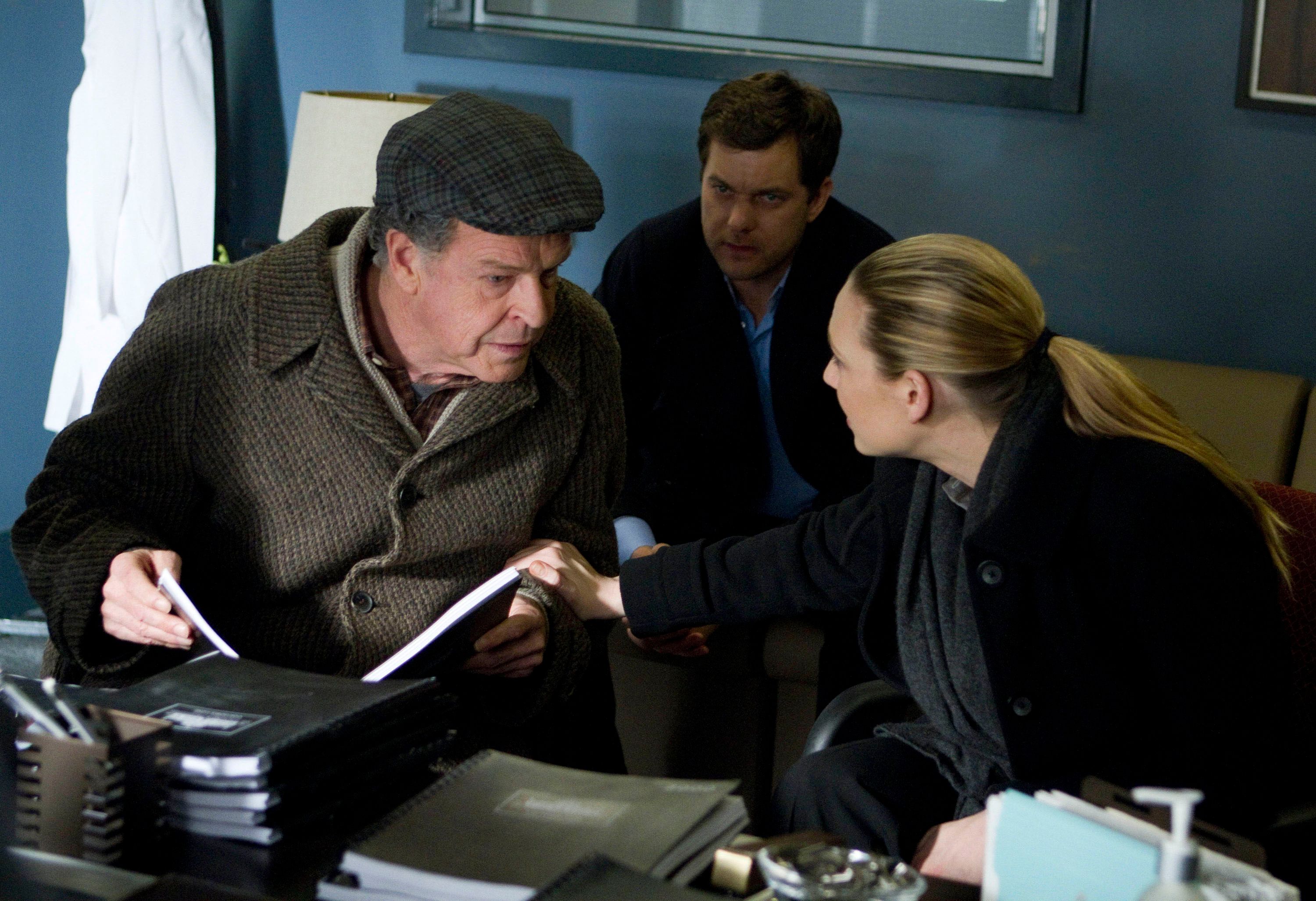 The Season 3 finale hits the reset button by deleting Peter from existence, drastically resetting the show for Season 4. When Peter does find a way to return, no one remembers him. In this timeline, Walter is an isolated man with weaker social skills because he didn't have his son as a caretaker. After Peter's return, Walter changes for the better. By the time the fifth and final season goes into a dystopian future, the two have finally healed, forming a bond that can span across space, time, and universes. Fatherhood is again crucial in this final stretch, through guest roles and main characters, such as Peter having a child with Olivia, but it all goes back to Dr. Walter Bishop.
In the series finale, "An Enemy of Fate," Walter knows he needs to make a great sacrifice to reverse the bleak future. "I want to give you your life back. As a father, how could I not do that for you?" Walter tells his son, "What I said on the tape about stealing time with you, I meant it. I wouldn't trade it for the world. You are my favorite thing, Peter. My very favorite thing." The two hug tightly, a sign of affection that couldn't be possible back in the pilot episode. In the past, Walter takes Peter, stealing a second chance at having a son. In the future, Walter restores balance, gifting Peter a second chance with Olivia and their daughter.
The senior Bishop can always be relied on to provide comedic relief. After nearly dying in Season 2, Walter gets revived, muttering to his son, "I have a terrible headache and a sudden craving for chicken wings." The oddball, random remarks are part of the complexities to this mad scientist, and it works because of John Noble. It's a career highlight for the actor, a role full of vulnerability, hubris, and devotion. The pairing of Noble and Jackson, they are excellent at playing the iciness and the warmth within their dysfunctional family.
When Peter finally warms up to Walter, the show tugs at your heart. "I want you to get some rest, Dad," Peter says. Walter freezes, his face changing at hearing such a simple word. "Dad. You just called me, Dad," he replies. They hit setbacks, some painful ones, before figuring out how to move forward. For every science-fiction scenario Fringe embraces, it never forgets the flawed father at the center of it all, making it worthy of a rewatch. Walter leaves behind one last token for his son in the series finale, the white tulip he received. Preventing the dystopian future means Walter will be the only one to remember their farewell, sending the drawing to forgive him for this. A selfish kidnapping ends with a selfless goodbye.