Samuel L. Jackson's beloved super-spy Nick Fury is set to return to the Marvel Cinematic Universe with his first solo storyline with the highly anticipated Secret Invasion, but would you believe us if we told you this wasn't the first time Nick Fury had his own standalone story? It's an understandably tough pill to swallow, but what if we also told you it was one of the earliest Marvel Comics adaptations, predating the MCU, Sam Raimi's Spider-Man trilogy, and the X-Men franchise? Surely this "totally not real" project wouldn't feature Michael Knight as the title character, right? Yeah, what's next? Was this straight to television movie written by the same person who wrote The Dark Knight? Well, believe it or not, all those things are true, and the result was the 1998 straight-to-TV feature film, Nick Fury: Agent of S.H.I.E.L.D.
Written by none other than David S. Goyer, the scribe of the Blade trilogy, The Dark Knight trilogy, Man of Steel, and more, Nick Fury: Agent of S.H.I.E.L.D. isn't just one of the first live-action appearances of Nick Fury (played here by David Hasselhoff), it's one of the earliest adaptations live-action feature adaptations ever made. With the superhero genre being omnipresent in the industry following the massive success of the MCU, it's always fascinating to see early attempts to start a similar golden age.
RELATED: 'Secret Invasion' Will Hopefully Make Nick Fury More Human as It Fills in the Blanks
What Was 'Nick Fury: Agent of S.H.I.E.L.D.' About?
According to David S. Goyer, the accomplished superhero movie screenwriter wrote the screenplay for Nick Fury: Agent of S.H.E.I.L.D. as more of a spy and espionage film rather than a comic book movie. Goyer also says he intended for the project to be a theatrical feature, but after years in development hell, the project was reworked into a television film following a deal between Marvel Comics and 20th Century Television to bring its collection of iconic characters to the small screen.
Today, television programming has gotten pretty close to matching feature films in quality and production value, with shows like Game of Thrones and The Mandalorian proving that thesis. However, in the 1990s, it was a different story, and the project would have to have a significantly reduced budget and massive retuning of Goyer's original screenplay. For the actual production of the film, Goyer had very little involvement, passing on rewriting the script to instead focus on the Blade films, which were Marvel adaptations that proved to be far more successful.
'Nick Fury: Agent of S.H.I.E.L.D.' Feels Like Every Other '90s Spy Story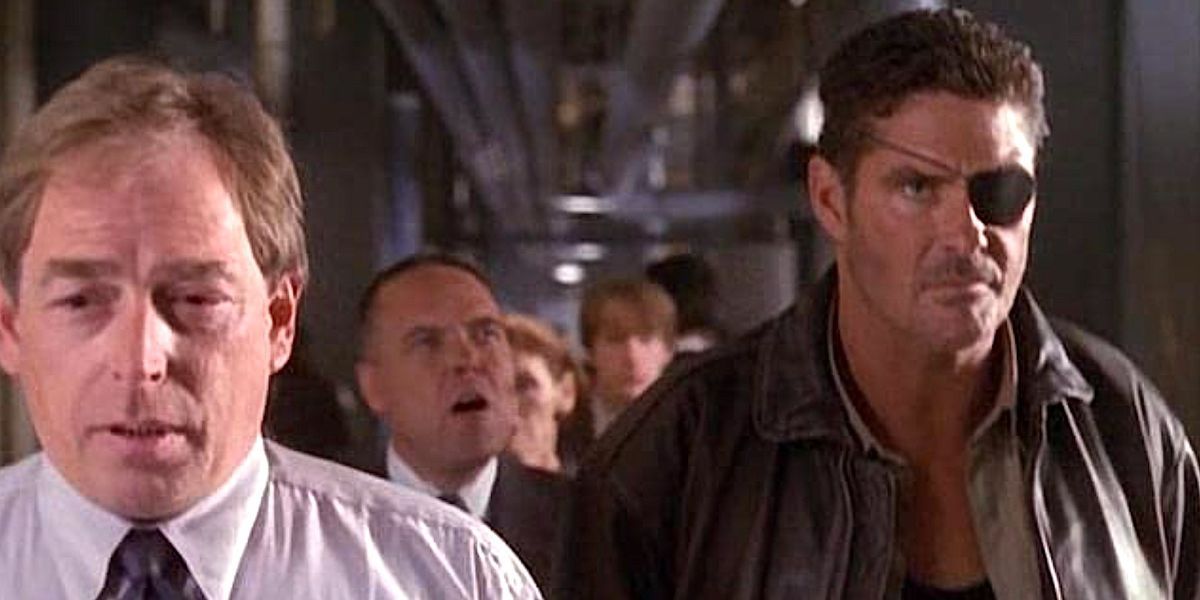 So now that we've established that a Nick Fury movie starring David Hasselhoff and was written by David S. Goyer is a thing that exists, is Nick Fury: Agent of S.H.I.E.L.D. any good? Well, it's far from the worst Marvel adaptation, but it's not particularly memorable, either. Despite being set in the Marvel universe and having several recognizable characters, Nick Fury: Agent of S.H.I.E.L.D. doesn't do much to differentiate from other similar spy stories of the time. That's a shame because the premise and concept of the movie do hold water and maybe would have fared better if it was working with a theatrical budget.
To summarize the plot of Nick Fury: Agent of S.H.I.E.L.D., Nick Fury has been spending his days in retirement, living in the woods after killing notorious H.Y.D.R.A. leader Baron Von Strucker (Campbell Lane). Fury gets brought back into the fold when the Baron's children, Andrea (Sandra Hess) and Werner Von Strucker (Scott Heindl), seek revenge on the S.H.I.E.L.D. colonel by releasing the deadly Death's Head virus onto the world. With the help of fellow agents in Contessa Valentina de Allegro Fontaine (Lisa Rinna), Alexander Goodwin Pierce (Neil Roberts), Dum Dum Dugan (Garry Chalk), and more, Fury will hopefully put a stop to this genocidal plot once and for all.
A solid set-up and one that sounds consistent with the comics' source material, but unfortunately, the film is marred by every spy movie cliché in the book. The list of those consists of the rebellious protagonist who doesn't respect authority, the protagonist getting brought out of retirement to avenge a fallen friend, a quartermaster who gets the spy all his gadgets, the incompetent boss who questions the protagonist's every move, the femme fatale who the protagonist has a checkered past with. All of these and more are abundantly present and it makes for a predictable and generic ride.
That said, Nick Fury: Agent of S.H.I.E.L.D. is at its best when it embraces its campy charm and pokes fun at itself. The one-liners are delightfully corny, and Sandra Hess is chewing up all the scenery as the main villain. Plus, while the visuals are certainly nothing to write home about, the movie looks pretty decent for a late '90s straight-to-TV movie.
Why Does David Hasselhoff Steal the Show in 'Nick Fury: Agent of S.H.I.E.L.D.'?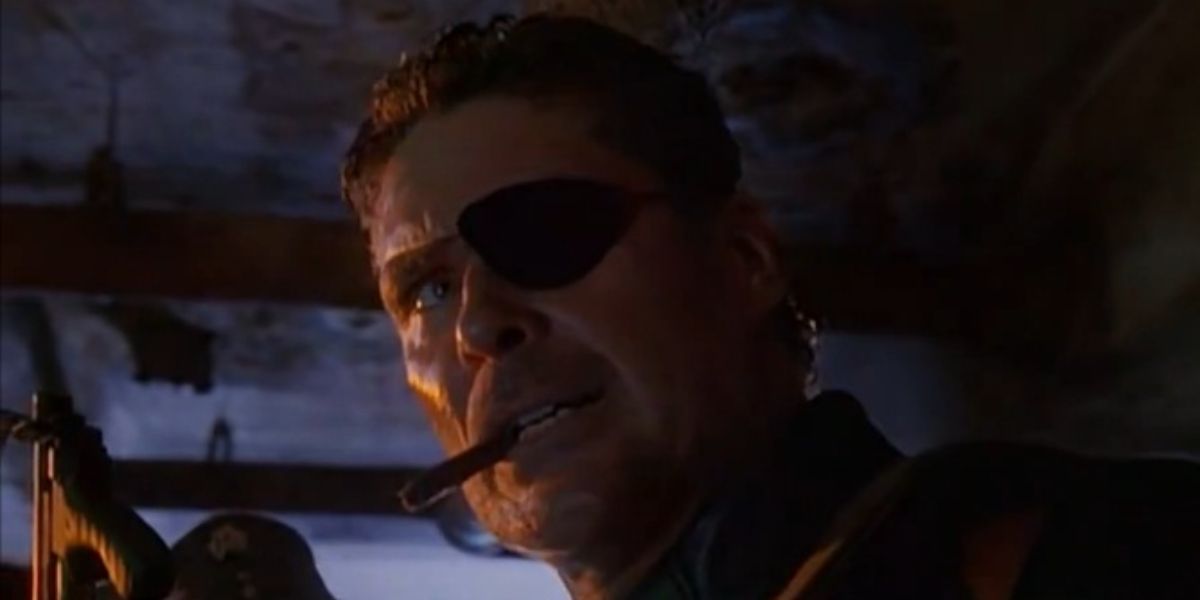 Despite all its flaws, It's hard to deny that David Hasselhoff is perfectly cast as the title character in Nick Fury: Agent of S.H.I.E.L.D. Though he was almost certainly cast purely because of his reputation as a television action star, he fits the role well. Not only does he look like a spitting image of the original character from the comics, but he also embraces the film's campy sense of style enough to feel like he's in on the joke.
Nick Fury's most recognizable appearance is undoubtedly in the MCU, with Samuel L. Jackson's interpretation also being faithful to the source material. That said, Jackson's version is based primarily on the Ultimate Universe variant of the character. The mainline Earth-616 variant in which the main comics take place has a somewhat different version of Fury, but one that looks virtually identical to Hasselhoff's incarnation. Looks certainly aren't everything, but Hasselhoff's Fury looks like he jumped straight out of the comic pages.
Hasselhoff is also clearly having fun as the title character. He's constantly cracking jokes and sharing old-timey veteran adages, all with an eye patch on his face and a cigar in his mouth. Admittedly he does feel a little bit like a bootleg Snake Plisssken (Kurt Russell), but that's honestly always how the classic '80s and '90s version of Fury came across. Hasselhoff's performance is sometimes so goofy and entertaining that we almost wish he'd return to the Multiverse saga someday, though the actor would return to the MCU in another capacity.
Which MCU Characters Did 'Nick Fury: Agent of S.H.I.E.L.D.' Feature?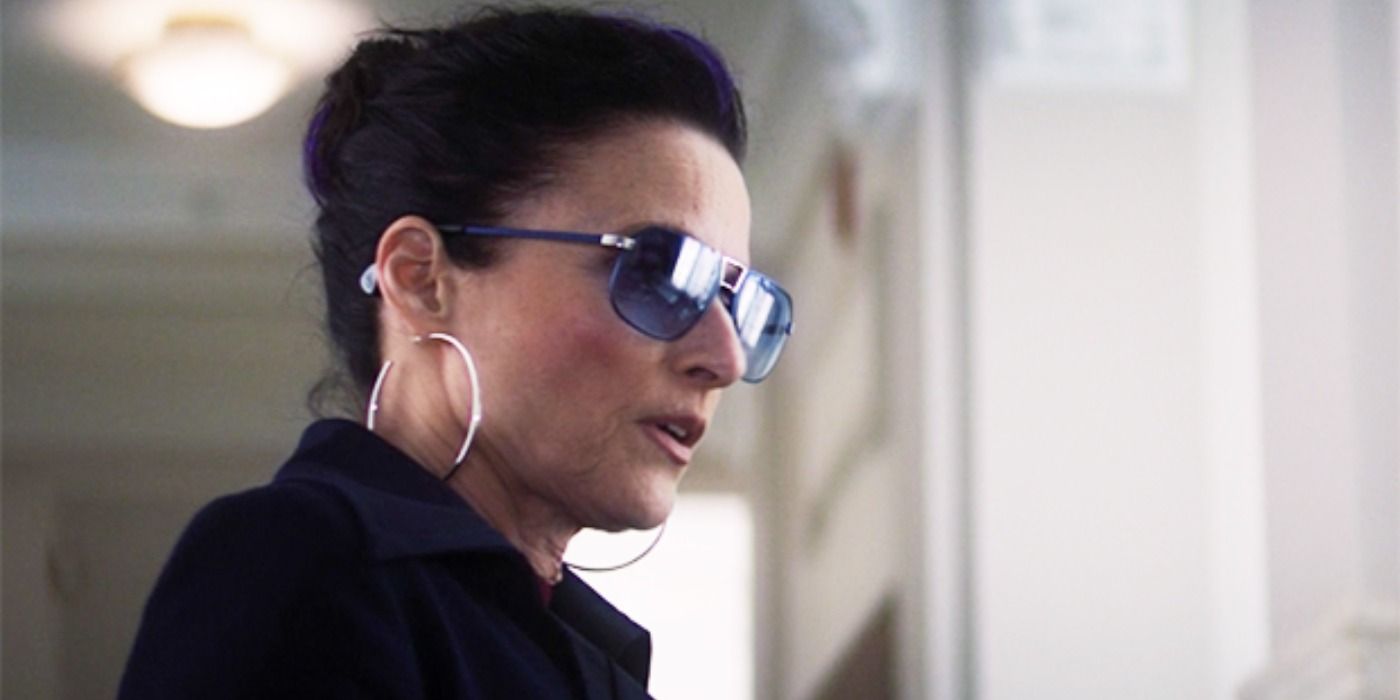 Nick Fury is obviously the focus of Nick Fury: Agent of S.H.I.E.L.D. but several other characters in the TV movie would have larger roles in the MCU. The first fellow S.H.I.E.L.D. agent we meet is Alexander Pierce, a young British rookie who Fury helps train. If the name sounds familiar, it's because Pierce was also the villain and secret H.Y.D.R.A. agent that Robert Redford plays in one of the MCU's best films, Captain America: The Winter Soldier. Also present is Contessa Valentina Allegra de Fontaine, who is a major player in the current Multiverse Saga, with Julia Louis-Dreyfus's character being a shadowy figure amassing an anti-hero team called The Thunderbolts. Also, here is Dum Dum Dugan, and while he's a friend to Nick Fury in the TV film, his MCU counterpart played by Neal McDonough fights alongside Captain America (Chris Evans) in Captain America: The First Avenger.
The villains of Nick Fury: Agent of S.H.I.E.L.D. also have a history in the MCU. The overarching protagonist of Baron Von Strucker has a minor role in Avengers: Age of Ultron, though he's quickly killed by the titular "murder bot." Dr. Arnim Zola (Peter Haworth), the H.Y.D.R.A. scientist played by Toby Jones in Captain America: The First Avenger and Captain America: The Winter Soldier, is also present in the film. Instead of becoming a supercomputer in the second Captain America film, he's a dying old man in Nick Fury: Agent of S.H.I.E.L.D. Lastly, Andrea Von Strucker is also known as Viper, a character who has not only appeared as a villain in ABC's Agents of S.H.I.E.L.D. played by Mallory Jansen but also as a minor antagonist in the non-MCU The Wolverine played by Svetlana Khodchenkova.
Has David Hasselhoff Been in the MCU Again?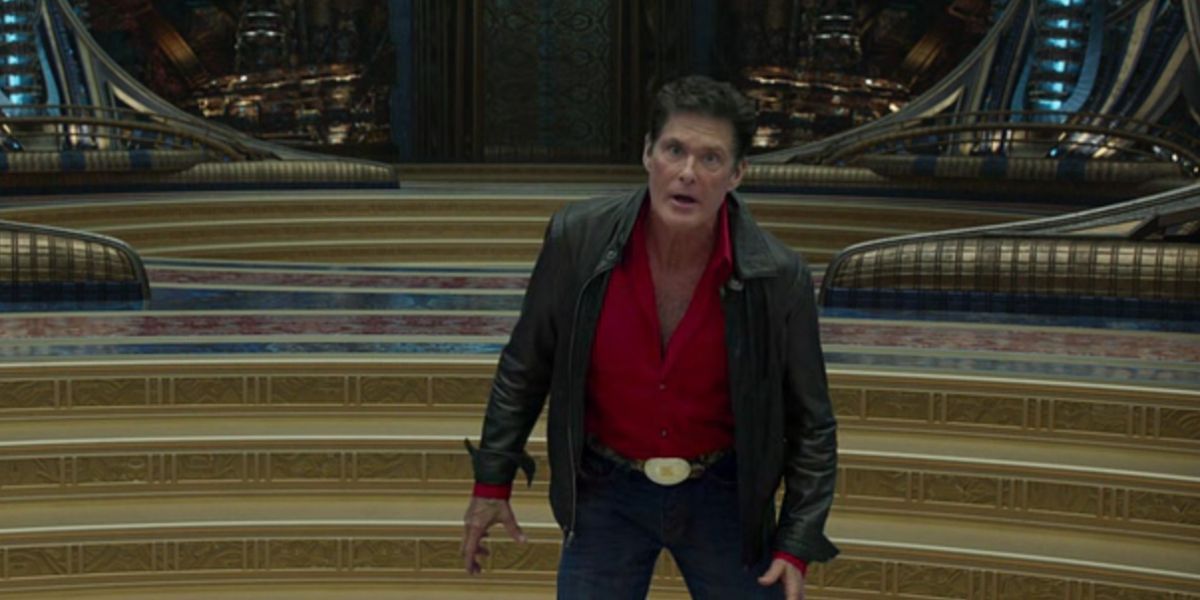 Though Nick Fury: Agent of S.H.I.E.L.D. failed to have any follow-ups, David Hasselhoff would return to Marvel via his MCU cameo in Guardians of the Galaxy Vol. 2. Here, Hasselhoff plays arguably the greatest superhero of all – himself. Though technically, he briefly appears when Ego (Kurt Russell) shapeshifts into the American icon while arguing with his son, Peter Quill (Chris Pratt).
Hasselhoff's contributions to the film don't end there, though, as Hasselhoff also sang an original song for the film called "Guardians Inferno", where he gleefully recaps the events of the film and concludes with the statement "We Are Groot".
Nick Fury's next MCU adventure, Secret Invasion, premieres on Disney+ on June 21st, 2023.