It isn't often that viewers should be encouraged to stick with a film after 30 terrible minutes, rarer still that a terrible opening is crucial to the success of a film. That's the double-edged sword of the new film, Final Cut (or simply Cut, or Coupé, in French), which begins with a single take that last longer than half an hour. This kind of cinematic pyrotechnics has become beloved in recent films like Birdman or 1917, but in Final Cut, the point is that the "oner" teeters on the edge of failure. It's awkward, poorly choreographed, and confusing.
And then, after 35 minutes, the credits roll. But we're far from over.
One Cut Above the Dead
Stay with us here — Final Cut is a triptych made up of the aforementioned single take in a cheap horror film; the story behind that horror flick and the cast and crew who work on it; and the actual production process off-camera while the oner takes place. The fake horror film concerns a group of filmmakers making a cheap zombie movie, who are actually attacked by real zombies; Final Cut then takes us back in time to explain the production behind the fake movie. Thus, Final Cut is a meta film about the production of a horror film about the production of a zombie film that becomes too real.
If this sound familiar, then you've either lost your mind or you've seen a miraculous little Japanese film, One Cut of the Dead, which Final Cut is adapted from. This new, French version is directed by the delightful Michel Hazanavicius, which may seem a bit surprising, at least after witnessing the dismembered arms, projectile vomit, and geysers of blood in the first half hour. After all, Hazanavicius won the Academy Award for Best Director for The Artist, which also won Best Picture at the Oscars, BAFTAs, and César Awards.
If you get through those first 35 minutes, however, you'll why Final Cut is the perfect film for the acclaimed filmmaker, why it's one of the funniest and sweetest films of the past year, and why it's one of the best movies about movies in recent memory.
Michel Hazanavicius Makes a Zombie Movie — Sort Of
Final Cut begins with a woman having a dramatic encounter with a zombie before the camera pulls back to reveal a film crew documenting everything. The director cuts, though the single take doesn't. He berates his young cast in a surprising burst of anger before storming away. As time progresses and a real, actual zombie emerges to attack the film crew, some small, strange details emerge. The camera occasionally doesn't know when to move; the actors sporadically lose their rhythm; there's a sense that everyone's not on the same page — they're not even in the same book.
First Cut begins as a so-bad-it's-good film that raises more questions than it answers, genuinely confusing viewers with the choices and decisions that are being made. And then the credits roll…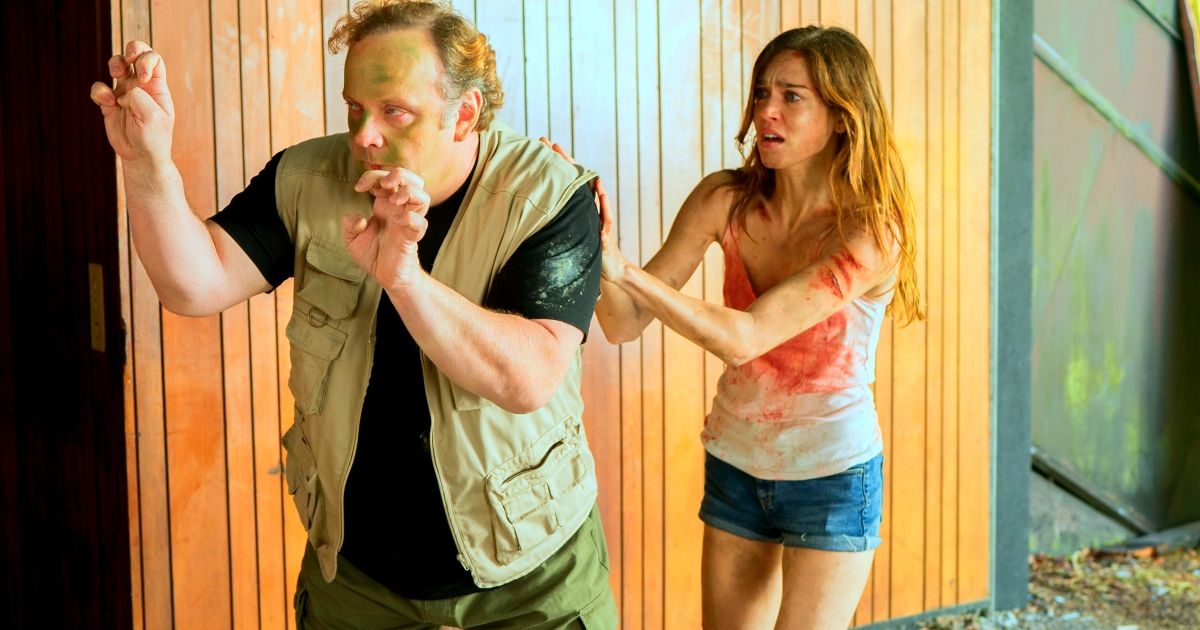 We're taken back in time, months earlier, and introduced to the director of what we've just watched, Rémi (Romain Duris, L'Auberge Espagnole), who has embraced mediocrity. His motto? "Fast, cheap, and decent," sort of a Roger Corman type but without the passion or creative independence. He is, however, surrounded by creative women. He's married to a very talented actor, Nadia (played by the director's own wife, Bérénice Bejo), who has retired after getting too deep into her roles; his daughter, Romy (played by the director's own daughter, Simone Hazanavicius), is a budding filmmaker herself.
Related: The 10 Most Rewatchable Horror Comedies of All Time
Rémi takes on a job remaking a Japanese film (basically the film Final Cut is remaking, One Cut of the Dead) for French audiences, but the catch is that it's all broadcast live as part of a new television channel devoted to horror content, Z. A cast and crew are assembled and train to create the lengthy, live single take, all while the project's Japanese producers demand increasingly odd creative choices (like keeping the original Japanese names of the entire cast, despite everyone being French).
Mishaps beget mishaps, and soon enough, this crew of passionate but clumsy artists have to come together despite their disagreements, the crappy source material, and a series of hilarious, gross, and uncomfortable mistakes.
Final Cut Celebrates Filmmaking Itself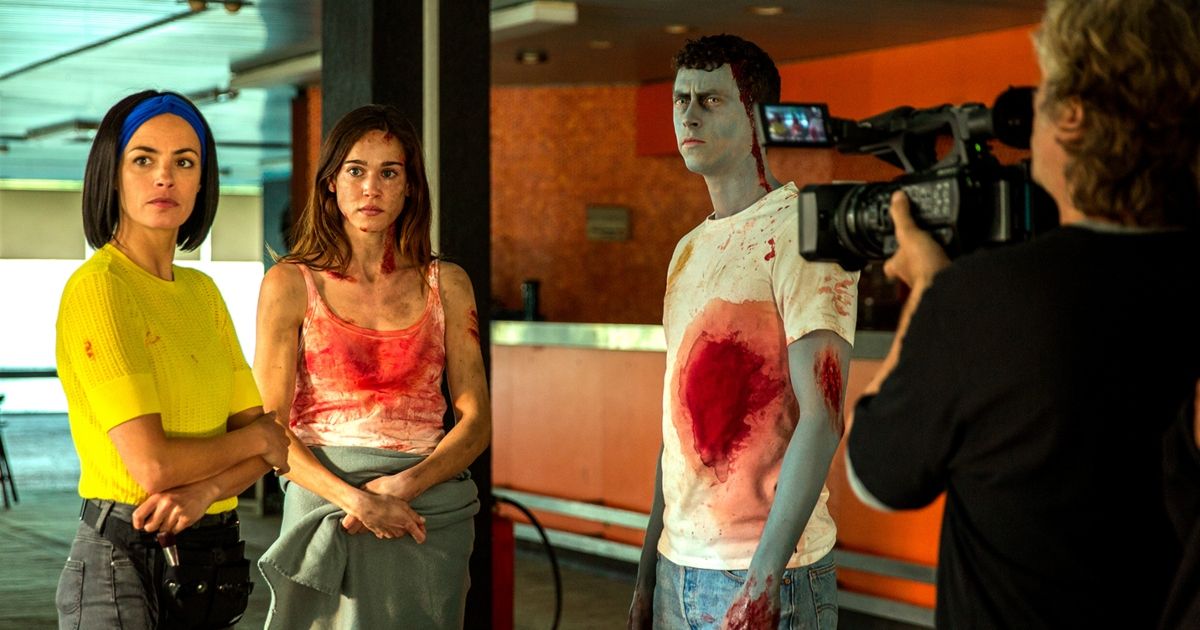 Ultimately, Final Cut is a testament to the creative act and a tribute to filmmaking itself. Despite the comical usage of every bodily fluid imaginable, from blood to puke to diarrhea, it's a surprisingly touching and honest film. The ensemble cast which makes up the fictional cast and crew is delightful, each actor nailing a distinctly specific type of humor that coalesces into something like a comical trainwreck of the best order.
A collaborative art like cinema invariably brings together all sorts of people, from geniuses to airheads, tormented artists to cheap quacks, easygoing naifs to difficult narcissists. This is all accurately represented in Final Cut, but so is the binding glue that holds these disparate elements together — passion, imagination, creativity, and, at the end of the day, the desire to put on a show and the need to get the job done. Through all the wackiness and playfully meta subtext, the film marches furiously forward to a genuinely emotional ending that conveys the artistic drive and communal act of filmmaking better than anything in recent memory.
Related: The 13 Most Important French Films of All Time
It's a kind of Day for Night seen through the lens of George A. Romero, then, and the film is as entertaining as that pitch sounds. Yes, you could just watch One Cut of the Dead (as you should), but Final Cut works on its own as not just a remake but a kind of international reinterpretation and almost a spiritual sequel. It's obviously a more polished film with a much higher budget, which works wonders for the second and third parts of Final Cut.
It's also an extremely personal film for Hazanavicius, who has made a habit of making films about films and filmmakers (Mes Amis, The Artist, Redoubtable). He deeply interrogates the mantra of his main character, Rémi (essentially his on-screen avatar). What does "fast, cheap, and decent" really mean? How much of filmmaking is economics, and how much is aesthetics? Is "decent" good enough? Why or why not? And what happens when you strive for more? Find out in Final Cut, one of the best films of the year.
From Kino Lorber, Final Cut will be in limited theaters beginning July 14th.