This review was written during the 2023 WGA and SAG-AFTRA strikes. Without the labor of the writers and actors currently on strike, the series being covered here wouldn't exist.Depending on how old you are, the very mention of comic strips might conjure up memories of newspapers riddled with The Family Circus, Calvin and Hobbes, or the endearing and more relevant than ever, Cathy. But with the decline in print journalism and digital disruption that has transformed the medium, comic strips have evolved for a more contemporary audience with a new generation of creators on social media, like author Nathan W. Pyle. Since breaking onto the scene in 2019 with his four-panel strips Strange Planet, the cartoonist's beloved webcomic is now making its way to the small screen this month with an animated adaptation of the same name made for Apple TV+. Co-created by Community showrunner Dan Harmon, the 10-episode series is a joyous, subversive, and loving ode to weird human behavior — even if it's a tad slow in building its charmingly self-aware humor.
Making its global debut with the first three episodes on August 9, the Horatian satire follows the experiences of delightfully, adorable, and androgynous blobby blue aliens who all exude an innocent familiarity. Tapping into the deep-rooted eccentricity of humanity with a strong, observational commentary that dissects human impulses, the series amplifies its comic strip form through a continued relatability reframed through its glossy-eyed beings. Having screened the first half of the season, there is a soft episodical, anthology-style narrative that weaves in Pyle's distinctive perceptiveness of observational humor with the aid of a few recurring characters and settings. As these beings navigate the follies of our basic social interactions through light irony, Strange Planet creates a world where traditions and feelings are familiar, yet far more emotionally advanced. In a lot of ways, these alien beings are much more candid about their feelings and play toward, not why we do the things we do, but rather, how they are significant to us.
RELATED: 'Strange Planet": Plot, Cast, and Everything We Know So Far About Nathan Pyle and Dan Harmon's Animated Series
'Strange Planet' Stays True to the Comic
One of the interesting parts of Strange Planet is how it follows the comic strips by never naming its characters. Grounding itself through its observational model for social commentary, audiences will need to really pay attention to the series to understand who the few characters are that recur across its 10 episodes. Because the beings are all of a calming, light blue color, there's no real way to differentiate between them, even though they are very different in personality. While this can be distracting for some, especially those not familiar with the comic, Pyle and Harmon manage to create a world that omits unnecessary visuals and concentrate on the show's overall message through earnest details that expand the universe. That these characters, for the most part, all look the same outside of size, age, and facial expressions, speaks to the creator's continued belief that identity matters little when it comes to the big picture our experiences create. Instead, it is the emotion through mannerisms, accessories, and vocal range that helps inject pathos for the viewer.
Thankfully, the show does a wonderful job of creating quirky characters, many sporting the comic strip's signature socks with others donning scarves, hats, and even tattoos. Joining Strange Planet and bringing to life these 2-D panels are series regulars including Hannah Einbinder (Hacks), Danny Pudi (Community), Tunde Adebimpe (Rachel Getting Married), Demi Adejuyigbe (The Amber Ruffin Show), and Lori Tan Chinn (Awkwafina Is Nora From Queens). While so many of them have been live-action actors throughout the years, they each bring a welcome reliability that allows viewers to find comfort in their voices across the series for an added layer of familiarity. Each of the cast really commits to creating a world that is unique and magnetic through the emotional depth of their voices, offering variation and inflection for those big expressive moments. The show also welcomes a slew of guest stars like D'Arcy Carden (A League of Their Own), Fortune Feimster (Fubar), Riki Lindhome (Another Period), Patti Harrison (I Think You Should Leave), Billie Lourd (American Horror Story), and Yvette Nicole Brown (Community), just to name a few.
As these nameless characters navigate common life experiences including existentialism, societal expectations, and how to deal after your favorite band breaks up, they use the comic strip's very formal yet trademark literalistic vocabulary to gently poke fun at our real-world nonsense. It takes a while to sync up to the terminology, but once you do, it's quite amusing. For example, parents are known as "life-givers," teeth are "mouth stones" and confetti is just "tiny trash." These alternative words are sometimes very funny, but other times a joke feels like it's more than run its course over a 20-minute episode. Strange Planet does a strong job of expanding past the minimalism of its comic strips while staying true to its greenness, yet at times it feels too basic and silly. There's nothing wrong with those two elements, but it feels uneven in terms of what the show offers as a whole and becomes tiresome and predictable.
'Strange Planet's Messaging Doesn't Always Feel Organic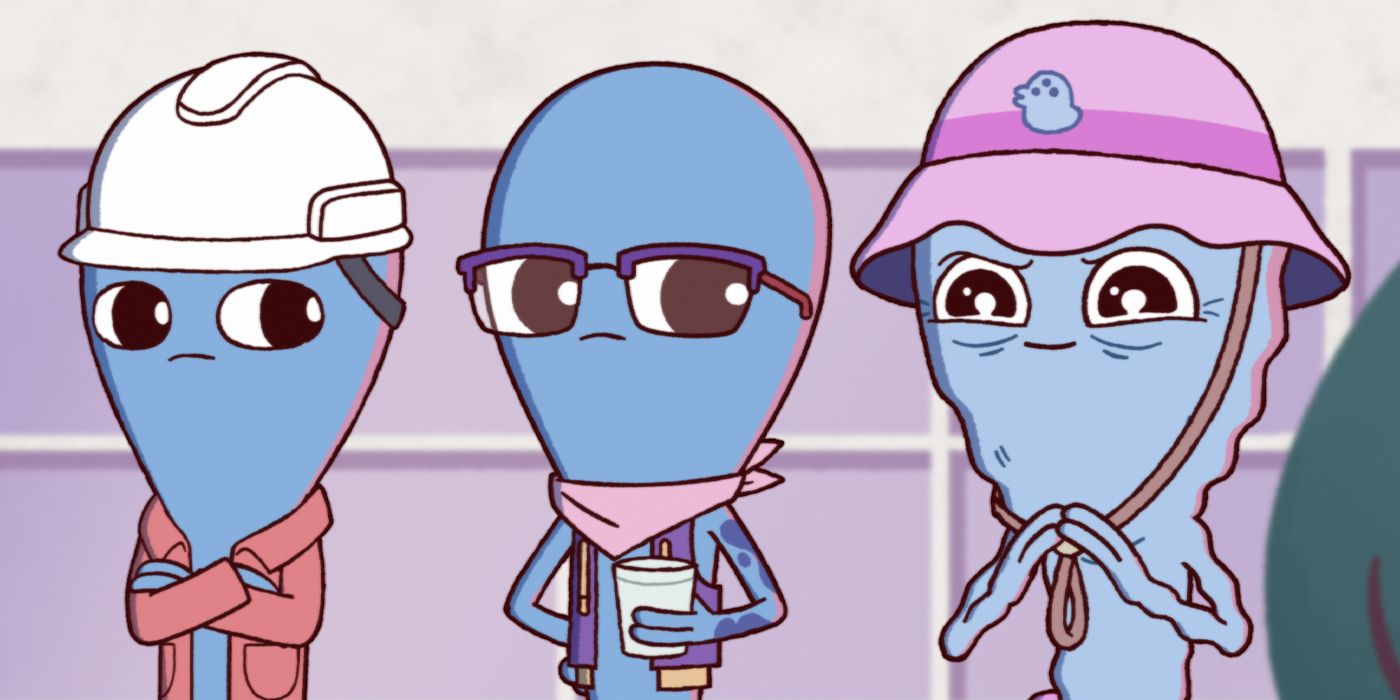 In the show, we're hit with clarity and straight-talking affirmations like how "embarrassment is a building block to success" or how "bad moments will pass" and "even the good moments will pass" because that is what our existence is all about. Or, if you're ever feeling at a crossroads, it just takes a matter of looking toward "all the people who love you to see how far you've come." Delivering thoughtful nuggets of wisdom, heart, and humor, Strange Planet shares off-the-cuff energy unseen in other programs. However, at times, it feels too in its own head of being a voice of reason for our social media-infused generation. While the show is not bordering on toxic positivity with its messaging, its declarations don't always feel organic but do remind us why we revel in the things we do from a unique point of view. By relating to the aliens in how they feel and not their gender or the voice assigned to them, the show is an often deep study of storytelling and sentiment through how we handle ourselves in society.
Just as the comic strips have pulled in fans from all over the world with their dry humor, the animated adaptation of Strange Planet is a funny show, but only after the first two episodes. Though "The Flying Machine" and "Tiny Trash" are more amusing than they are funny, they are still sharp and throw out the formulaic model of adult animation by asserting the value of sentimentality through effective discussions. It's a bit of a slow build in terms of its humor, though the heartfelt nuances are consistent and work to keep a hold of you. As kindness is a core value in the series, it opens up a conversation about how life can be slightly better if we were more emotionally honest with ourselves. As this creates the seeds for sincerity not often seen in an animated series for adults, the outlandish situations these blue, blobby beings find themselves in offer very direct existential lessons. Not always easy to swallow, these lessons in Strange Planet are good without feeling preachy and smart at making the bizarre aspects of life familiar and the familiar aspects of life bizarre through heavy irony and literal phrasing. It adds a simple layer of comedy to everyday things, which works to create conflict among a diverse menagerie of feelings we experience from honesty.
'Strange Planet's Animation Is Simple Yet Effective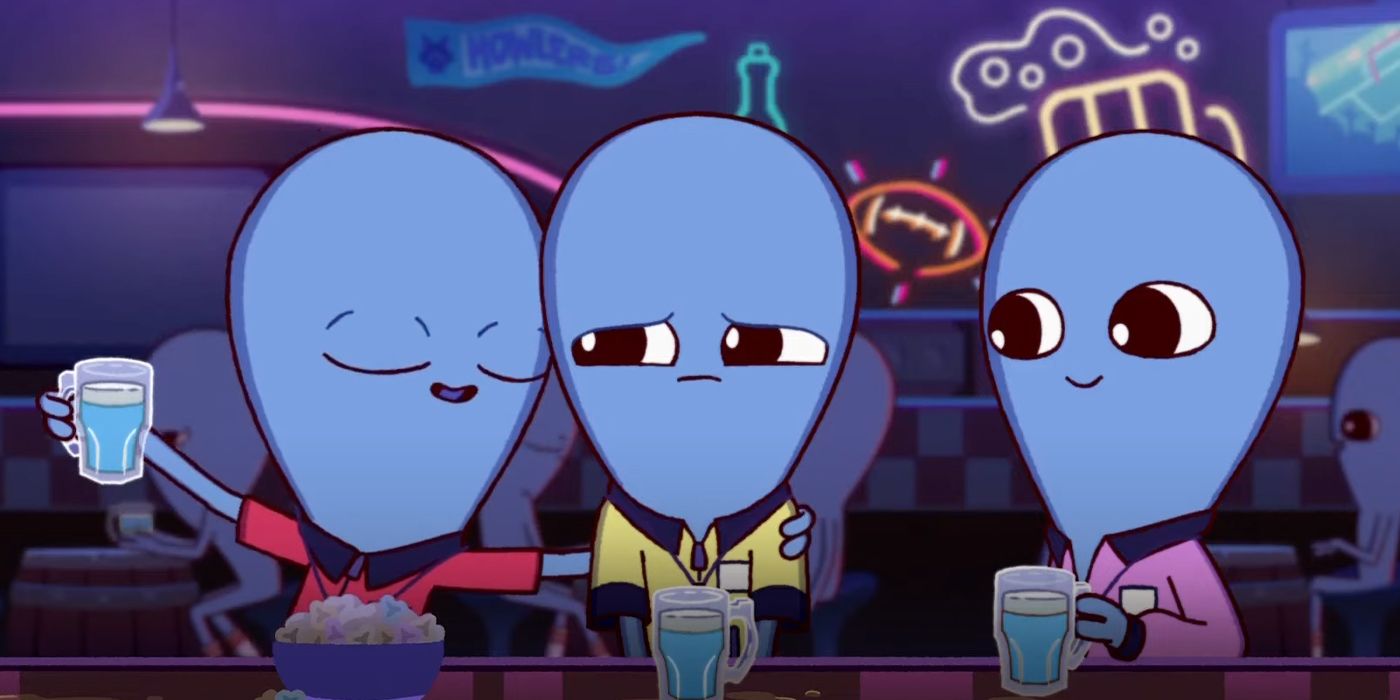 While Pyle and Harmon work to build eerily relatable personalities experiencing very similar, real-world situations that spark introspection through a being's internal anguish, the animation is something to applaud. Whereas many two-dimensional comic strips might turn into a Pixar-looking style for a series or feature-length movie, Strange Planet stays true to its comic strip form with its minimalism. Though Pyle's signature solid pink background is traded for vibrant vistas of soft pastel hues with cotton candy pinks and purples behind sparkling-eyed blue blobs, the color scheme matches the show's lighthearted, witty tone. However, the pink and its effect is not lost, as each blobby being is imbued with a light pink (and blue) shadow on each side, indicative of its color psychology that conveys harmony, inner peace, and the love of oneself and others. Simple and uncluttered, the style of the show makes it easy to follow while deepening our visual understanding of the emotions these beings experience. Not to mention, the cuteness surrounding these characters creates another level of comfort to the hard, candid discussions.
Strange Planet is funny and sometimes hilarious, but it's too soon to assume this show will have the same draw as Apple TV+'s Central Park, which was a big step for the streamer in the adult animation genre. Harmon and Pyle have created a show that has strong promise and is off to a good start. But not every episode provides enough bite for the development of a fulfilling plot. While it is fun to watch and has a sincerely genuine message with enjoyable themes, it feels repetitive in its self-aware messaging at times. But, it's an ambitious endeavor that is both pleasant and easy to like.
There's something very quirky about Strange Planet that is unseen on TV with its direction and voice spectrum leading the way for an inclusive dialogue of what makes us all human. Where Harmon's Rick and Morty works through slimy layers of complex intergalactic dilemmas and dysfunction, Strange Planet is diametrically opposed to this with its enthusiastic depths of reality stemming from ordinary feelings and genuine heart. It's funny, but also smart at showcasing our ingrained relationality as humans and a shared desire for love and community. After the first two episodes set the show's tone, Strange Planet truly picks up with greater humor, some of it even laugh-out-loud as these silly beings reflect on our current society and navigate the absurdities of humanity's social interactions. At the core, it is a sweet and heartwarming series that sheds light on the oddities of human behavior to help us recognize we aren't alone — but it has a way to go before it truly finds peace.
Rating: B-
The Big Picture
The animated adaptation of the webcomic Strange Planet is a joyous, subversive, and loving ode to weird human behavior with slow, but charmingly self-aware humor.
The show's nameless and androgynous blue alien characters created by Nathan W. Pyle navigate human experiences through observational humor and alternative vocabulary, though it can feel tiresome and predictable at times.
The animation style stays true to the comic strip's minimalism, with a pastel color scheme and cute character designs that add comfort to the show's candid discussions about life's absurdities.
Strange Planet premieres August 9 on Apple TV+ with a three-episode debut.