When Giles (Anthony Stewart Head) declared, "The Earth is doomed" in the first episode, Buffy the Vampire Slayer defined itself as a show that had as much humor as it did horror. While every episode contained its trademark quips, some went above and beyond when it came to laughs.
The series may have focused on vampires and evildoers, but there was plenty of ridiculousness to be found in the premise of a teenage girl defending the world against the forces of darkness which has helped keep the show alive all these years later.
10
"Bewitched, Bothered and Bewildered" (Season 2, Episode 16)
Episodes focused on Xander (Nicholas Brendon) lent themselves to comedy due to his position as the quippy Everyman. In the wake of his breakup with Cordelia (Charisma Carpenter), Xander tries to cast a love spell on her to humiliate her. The spell backfires, and every woman in Sunnydale becomes obsessed with him.
Related: The 10 Best Character Arcs in 'Buffy The Vampire Slayer' According To Reddit
Xander and Cordelia's relationship was always like a romantic comedy from the 40s, and it's in full force in this episode. One of the funniest aspects of this episode is that Buffy is turned into a rat to give Sarah Michelle Gellar time off to host Saturday Night Live.
9
"Intervention" (Season 5, Episode 18)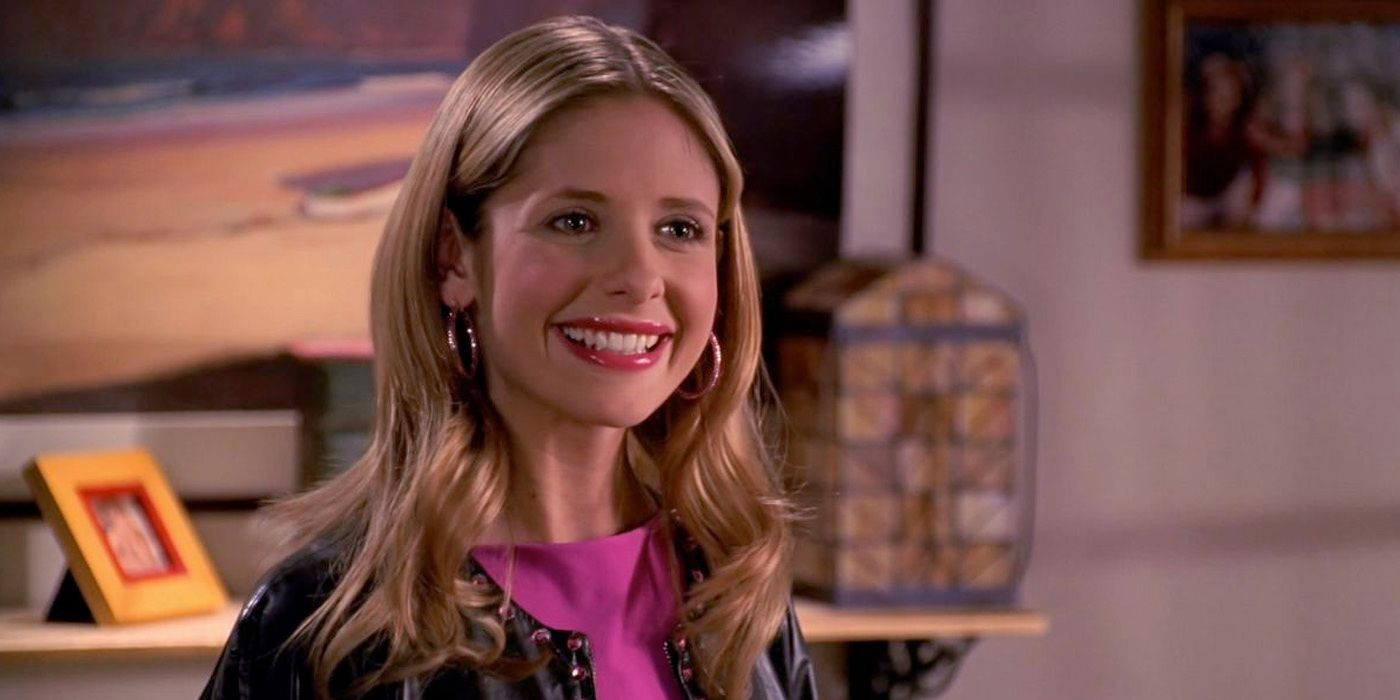 Following the heavy drama of "The Body" and "Forever", "Intervention" is a hilarious respite before the non-stop darkness of the final episodes of the season. Feeling rejected by Buffy, Spike (James Marsters) commissions a robot duplicate. The Robo-Buffy is mistaken for the real thing by both her friends and the evil Glory (Clare Kramer).
Sarah Michelle Gellar is a comedic powerhouse as the Robo-Buffy, with her gigantic smile and mispronunciation of Giles' name. She even gets some funny moments as the real Buffy, asking her friends incredulously, "You couldn't tell me apart from a robot?"
8
"Life Serial" (Season 6, Episode 5)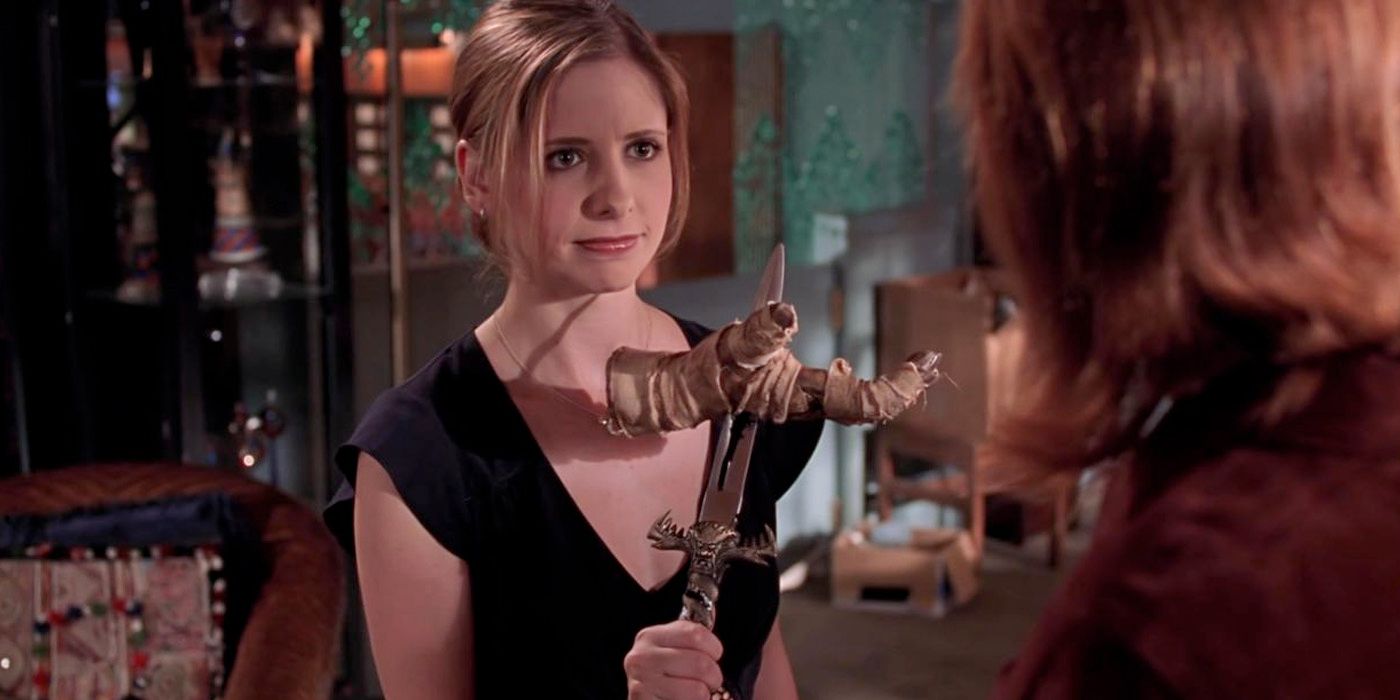 Buffy's writers said that in the sixth season, "Life is the Big Bad." This edict was on full display in "Life Serial" when Buffy tries her hand at a variety of mundane jobs but is constantly thwarted by her self-proclaimed archnemeses, Warren (Adam Busch), Jonathan (Danny Strong) and Andrew (Tom Lenk).
Related: 'Buffy the Vampire Slayer' Characters Ranked by Likeability
There is dark humor in the idea of a hero like Buffy having to work a regular job. This is amplified by being hindered by the ridiculous machinations of three nerds. Buffy seems incredibly relatable after a tough day at work, wanting to get drunk at a poker game.
7
"The Replacement" (Season 5, Episode 3)
Xander is rife for humor, and when there are two of him, it will be double the comedy. When a spell creates a second version of Xander that seems to lead a better version of his life, Xander is determined to defeat his double.
A highlight of the humor is Xander's performance of the Snoopy Dance to convince Willow (Alyson Hannigan) he's the real Xander. This episode utilized Nicholas Brendon's twin, allowing both Xanders to stand next to each other while they quote Star Trek, saying, "Kill us both, Spock!"
6
"Doomed" (Season 4, Episode 11)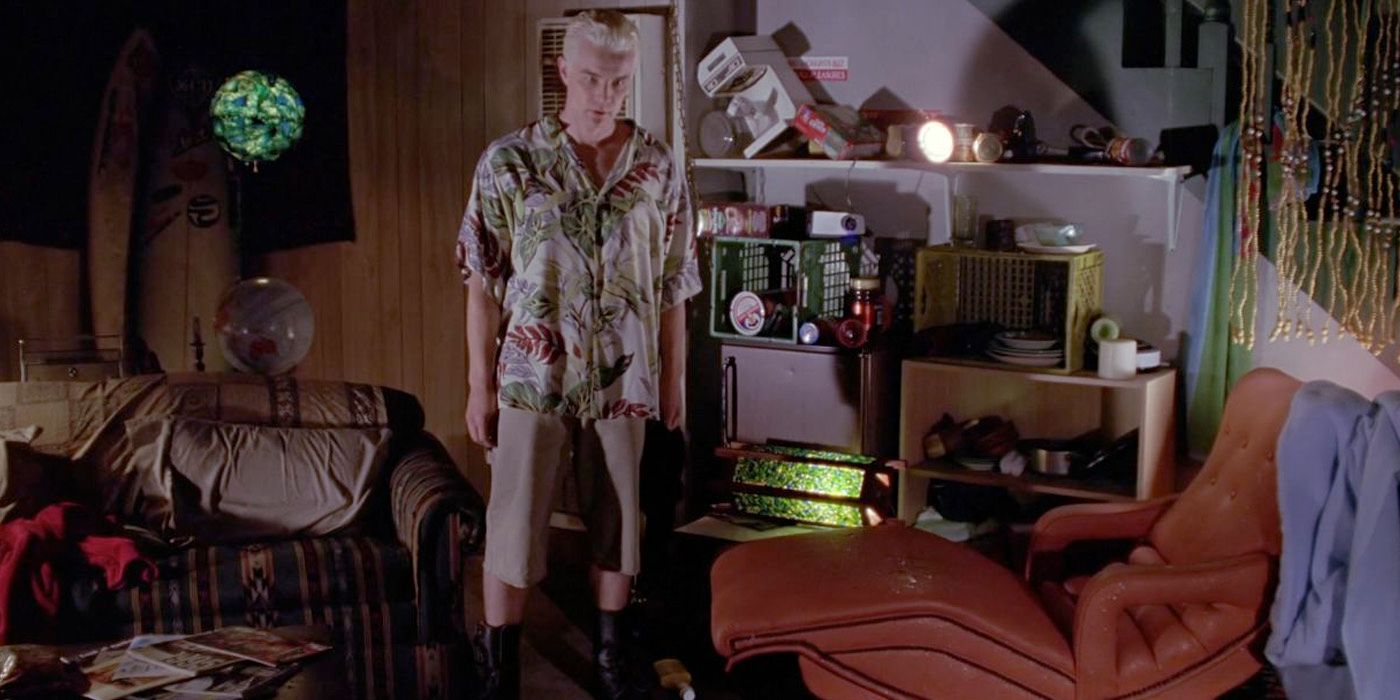 Only Buffy and her friends could make a comedy out of the Apocalypse. When they discover the world is about to end, they all exclaim in one voice, "AGAIN?" Feeling disheartened by how they haven't grown since high school, Buffy and her friends must return to the burnt-out Sunnydale High to stop the Hellmouth from opening.
Related: The 10 Best 'Buffy the Vampire Slayer' Episodes, According to IMDb
The usually cool Spike being forced to don a Hawaiian shirt and khakis would be enough humor to fuel this episode. But what makes it hilarious is the cast's utter indifference about the Hellmouth opening, having grown tired to the end of the world.
5
"A New Man" (Season 4, Episode 12)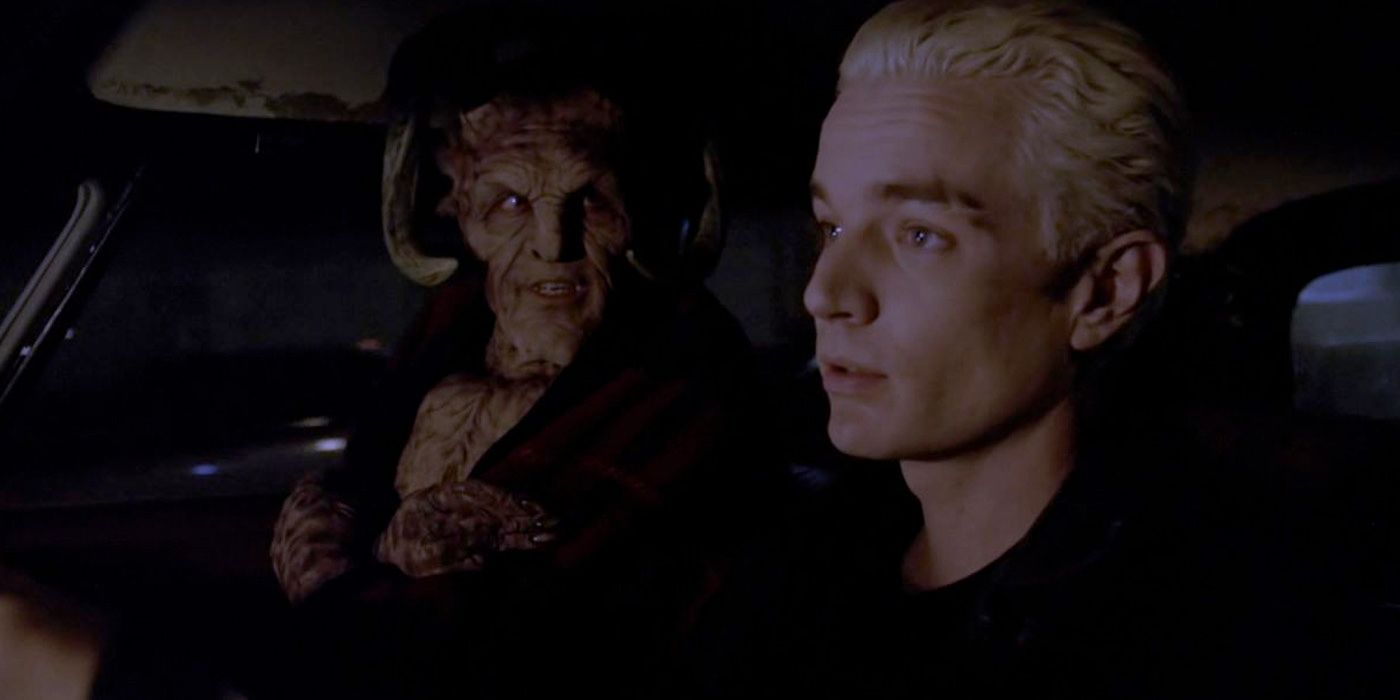 As the stern mentor, it was always special for Giles to be able to show a comedic side. He is given the chance when he wakes up one morning, having been transformed into a demon. He has to team up with Spike, the only person who can understand the demonic language he speaks, to reverse the spell.
Anthony Stewart Head has a great sense of humor he doesn't get to show in a lot of his roles. Even in the comedic Ted Lasso, he plays the villain. But by transforming him into a hulking demon, he can engage in physical slapstick. Giles and Spike also make a fun, odd couple, with Spike still adjusting to being an ally of Buffy and her friends.
4
"Tabula Rasa" (Season 6, Episode 8)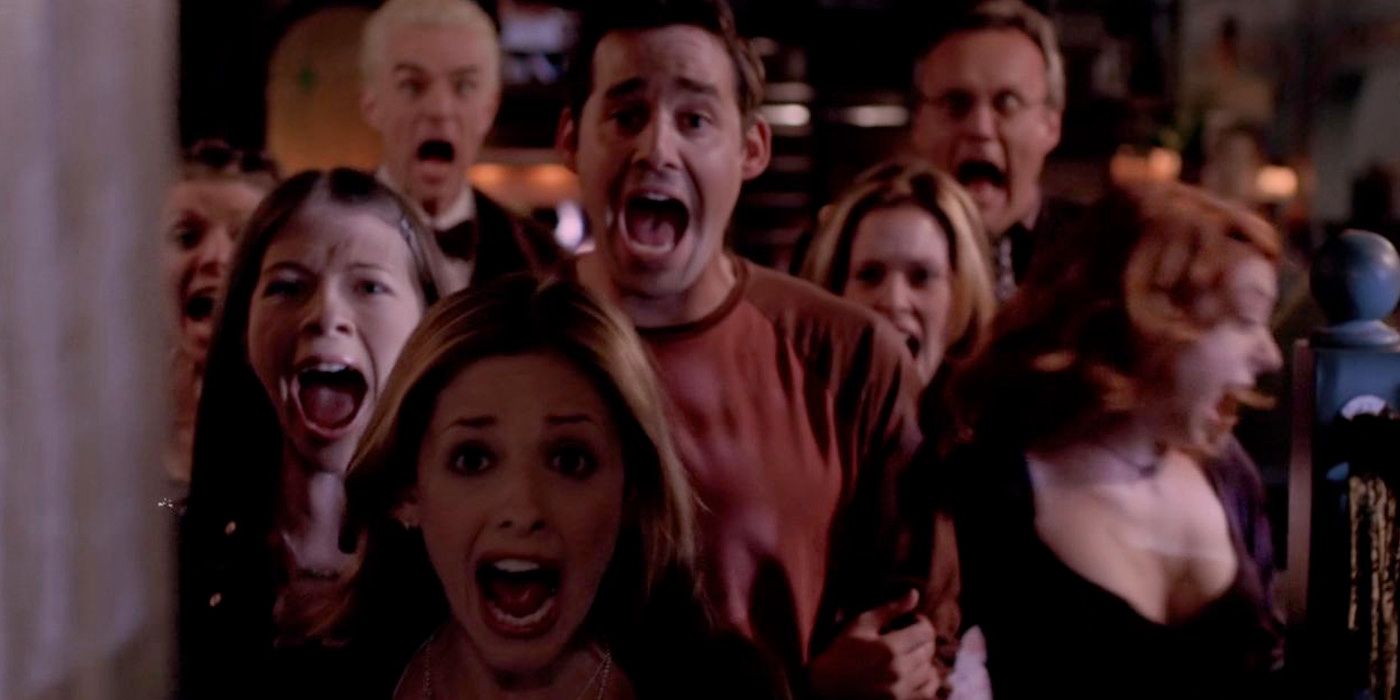 "Tabula Rasa" is a true ensemble piece, allowing the entire cast to show a comedic side. In the wake of the landmark musical "Once More with Feeling," Willow wants to erase Tara's (Amber Benson) memory of Willow erasing her memory. The spell goes awry, and the entire cast forgets who they are. They try to piece together their identities while a literal Loan Shark threatens Spike.
Related: The 10 Most Badass Women in Fantasy TV From Buffy to Galadriel
Having the cast lose their memories allows the show's premise to be scrutinized. The most biting is when Spike realizes he's a vampire who fights for good and proclaims he must be "a vampire with a soul" who "helps the helpless," mimicking Angel's (David Boreanaz) tagline. Buffy then dismisses this as a ridiculous concept.
3
"Something Blue" (Season 4, Episode 8)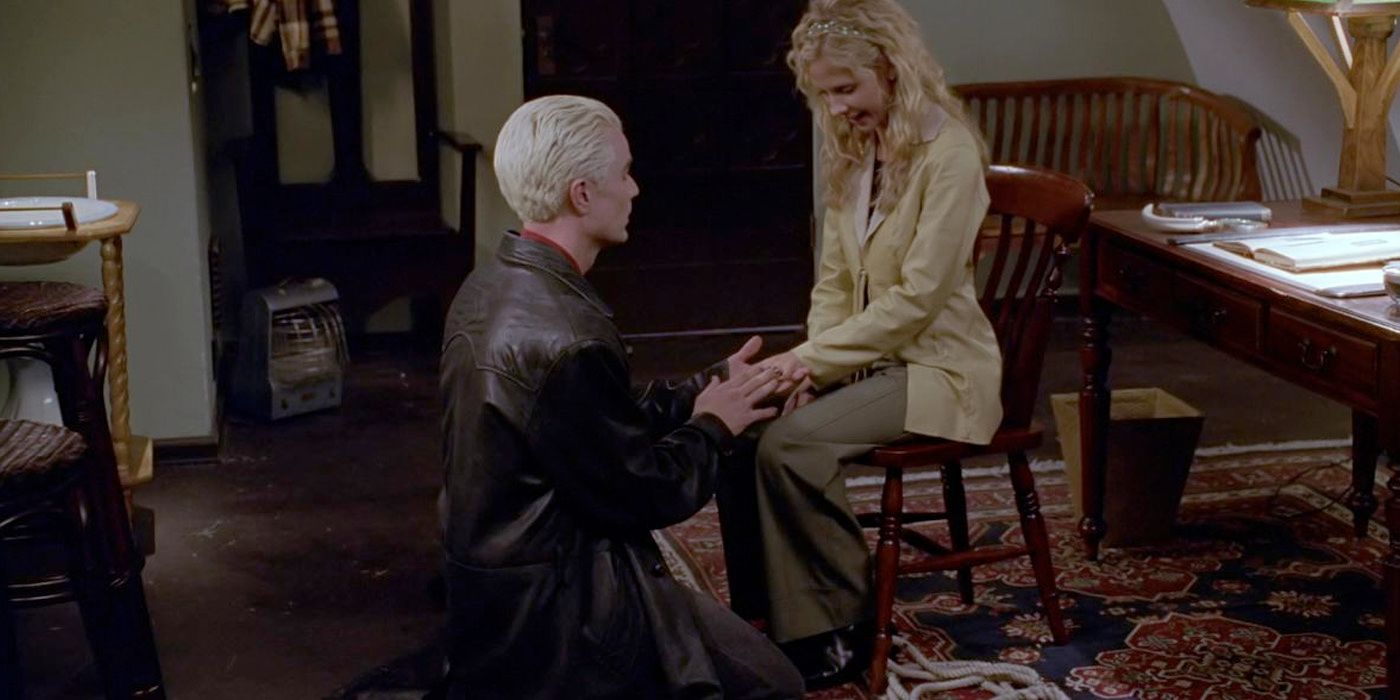 The romantic tension between Buffy and Spike was evident from the first episode introducing Spike, as he stalked her in the Bronze while she danced. There were teases before they began a relationship in season six, such as in "Something Blue." To get over her grief over the departure of Oz (Seth Green), Willow casts a spell to have her will done. Everything she says comes true, including that Buffy and Spike should marry.
Seeing the pair of enemies desperately in love with one another– but still unable to get along– is hilarious. They go back and forth between fighting about their wedding and kissing, disgusting the rest of the cast. When Xander witnesses their affection, he asks– after Giles has been blinded by the spell– if he can be blind too.
2
"Storyteller" (Season 7, Episode 16)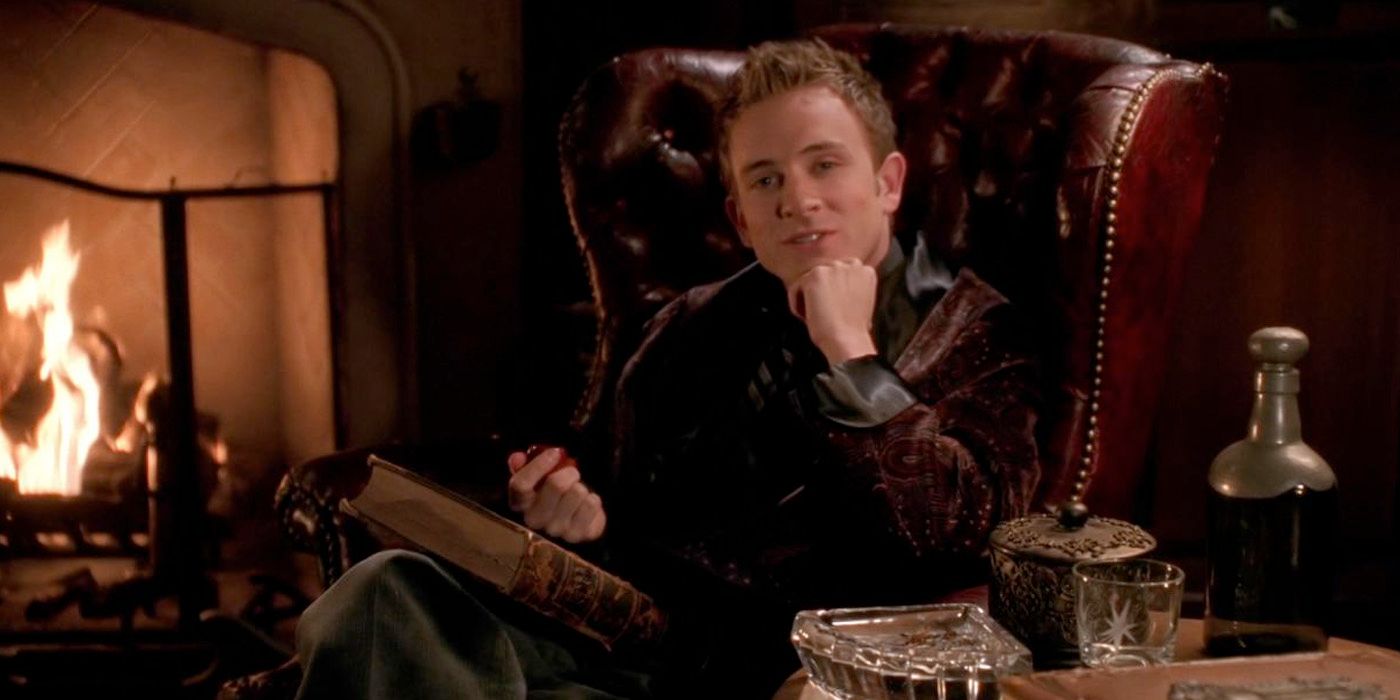 Andrew Wells naturally lent himself to humor. As one of the "Nerds of Doom" Buffy faced in Season Six, he later became a hostage and ally. To keep himself busy while Buffy prepares to fight the First Evil, he starts to make a movie about her. Andrew's fantasy sequences exaggerate Buffy and her friends, making them appear as romance novel heroes.
Related: 10 Best Spooky Supernatural Series, Ranked According to IMDb
As funny as Andrew's fantasy sequences are– his image of his friends and him frolicking in togas among unicorns stands out– it shows how sad a character he is. He cannot deal with reality, building up a fantastic story better suited for a comic book than real life, because he can't face the truth of the danger he faces and the horrible things he's done.
1
"Band Candy" (Season 3, Episode 6)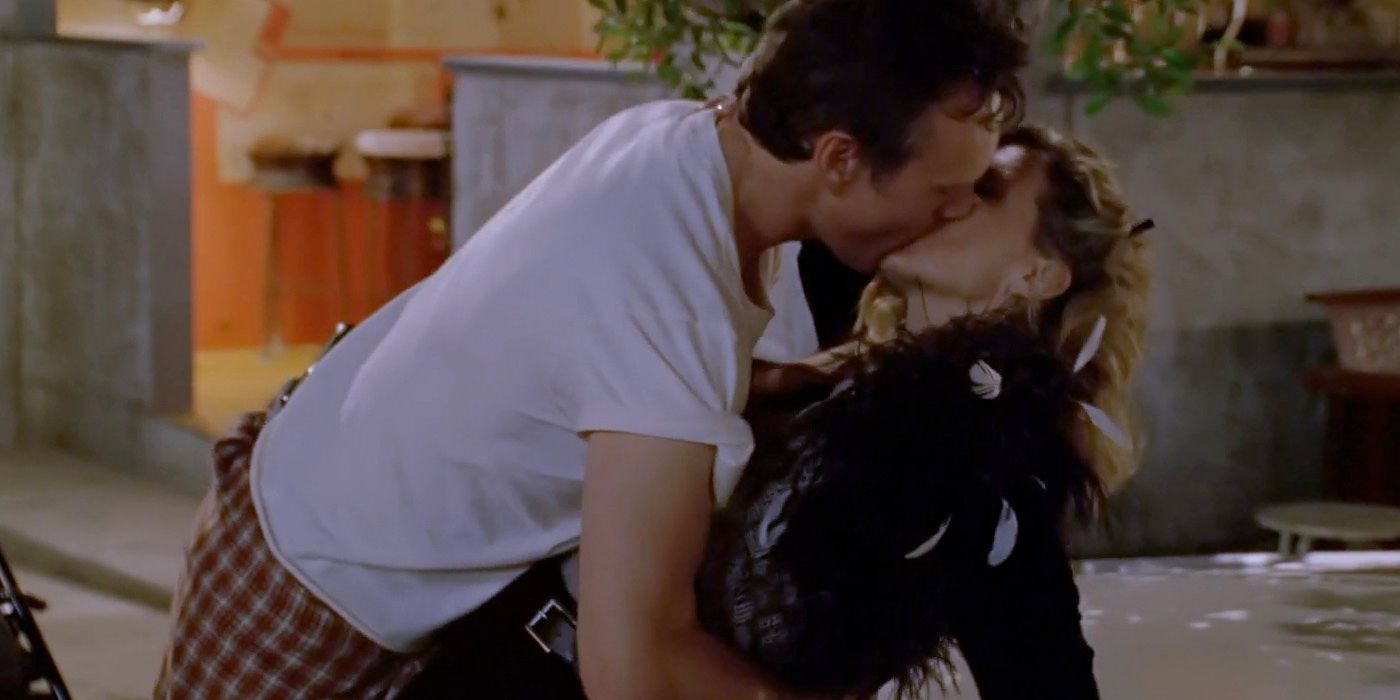 As a show initially about high school characters, it is unsurprising there should be mentors who disapprove of Buffy and her friends. When these mentors– including Giles and Buffy's mom– eat cursed chocolate, they revert to their teenage selves. Buffy then has to act as a grown-up to wrangle her immature mother and father figure.
Seeing Giles as a rock and roller and Buffy's Mom as his groupie would be funny enough, but they are joined by Principal Snyder (Armin Shimerman), a man who hates teenagers in his regular life. Under the curse, he's an excitable, tagalong nerd desperate for the approval of Buffy. It would not be until "Earshot," several episodes later, that Buffy discovered the depth of Giles and her mom's misadventures on top of a police car.
Next: From 'Wolf Pack' to 'Buffy the Vampire Slayer': 10 Roles Sarah Michelle Gellar Absolutely Owns, Ranked