Note: This interview was conducted before the 2023 SAG-AFTRA strike, and the show covered here would not exist without the labor of the writers and actors in WGA and SAG-AFTRA."The pressures of gaining money changes everybody," beamed Rell Battle (Key & Peele) about some of the changes ahead in season two of Killing It, Peacock's hit comedy which skewers capitalism and waxes philosophical about class. Battle plays Isaiah, the quirky brother of the show's protagonist, Craig (Craig Robinson of This Is the End and Hot Tub Time Machine). The second season premieres Aug. 17.
Other changes this season include a big switch in the hilarious money-making schemes of Craig and Jillian (Claudia O'Doherty of Trainwreck and Love). Last season, it was all about snake-wrangling. There's a new hustle this go around, which should generate plenty of laughs. Par for the course for a show that joyously tackles one guy's big quest to achieve the American Dream… without getting thwarted by gritty criminals, twists of fate, and worse, corporate America.
The hilarious Rell Battle opened up with MovieWeb in this exclusive interview about the season ahead and why he feels the show strikes a chord. Read on.
What Happens to Isaiah?
Killing It showrunners Dan Goor (Parks and Recreation, Brooklyn Nine-Nine) and Luke Del Tredici pull out all the creative stops in season two. Look for Battle's Isaiah to be on the run, after Craig turned the feds on him. Hiding out in Phoenix is no fun, but there's comedy in that, so look for Battle to have his own Isiaiah-centric episode as the new season plays out.
"Craig made some decisions morally he might not have made in season one," Battle noted. "The pressures of my lifestyle change — I was more of contentious character in season one — meaning Isaiah is trying to become a good person. I think every character is making a complete 180 in the first part of the season because of the pressures [from] season one. Then we see how they deal with that. I think that's going to surprise people."
Great guest stars will also entice. Dot-Marie Jones (Glee, Bros) steps to the front of the line playing Jackie Boone, who wants in on Craig and Jillian's new hustle. Look for Tim Heidecker, Stephanie Nogueras, Jet Miller, Scott MacArthur, Wyatt Walter, and many others to come along for the fun.
"Jackie Earle Haley's character is one of the guys I think people are going to really gravitate to this season," Battle admitted of some the show's epic guest stars. "His face, his tone, and just how he carries himself — he's creepy and so funny in his show. People have seen him in this [kind of] role before, but I think he gives you something we haven't seen. And he's a big deal. We got lucky, man. He's in a scene with me, I think episode three, and he just kills it."
Related: The Best Peacock Original Series, Ranked
Making Money
Overall, Battle says he was jazzed about his character's story arc this season:
"We've seen him with his rants and seen him run his mouth and be this adversarial character, so I'm happy that we gave him a little bit more heart. I wanted people to see more. I think we show him as a human being, not just this guy who's coming at everybody with anger and resentment. We show he's a human being."
Since we're talking about a show where the characters concoct ways to generate cash, perhaps it's fitting to ask Battle what the most interesting thing has been he's done for money.
"Man, listen, I live in Hollywood," he said. "I was with Damon Wayans when he had a sketch show years ago […] and I was out on Melrose Avenue, and we had to pass out flyers, but with a straight jacket on. So, it's 100-degree weather. I was so broke and passing out flyers for like six hours with a straight jacket on to promote this show. And it was like, 'Man, that job sucked.' But I had to pay this rent, you know what I'm saying? Every comic actor has this story. But that was mine."
Related: Craig Robinson's Best Performances, Ranked
Sticking Around and Killing It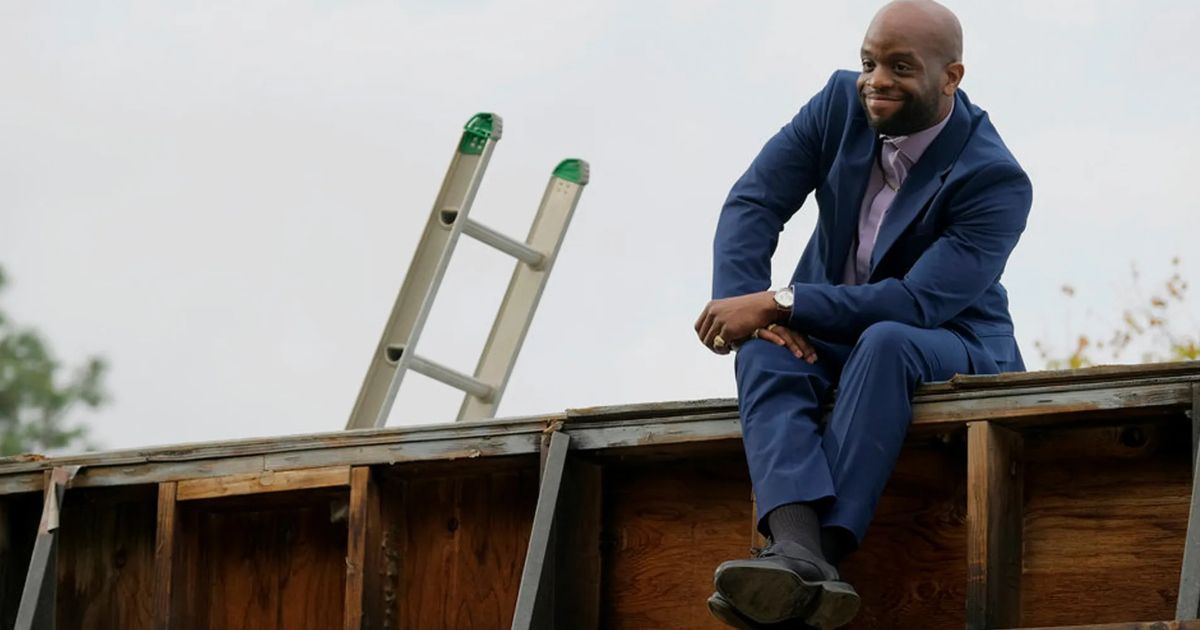 So, what's one of the best bits of advice he's received in life or about his career that helped him move forward? "You know, people ask me this all the time. And I'd say it's so simple. And it's the easiest thing: practice does make perfect.
"I think when you put the time in… you get out of it what you put in," he added. "Successful people in Hollywood aren't here because they're just super talented. That's maybe 1% of successful actors. People that are the other 99% opposite of the successful are people who just stayed and kept working."
I think it's important to know that this is show business, but should be called Business Show. So, understanding your business and presenting your work, and at the same time being talented, obviously, is important. But a lot of people who make it are people who just don't give up. It's so simple — stick around. When hard work meets opportunity, that's the best place to be.
Battle's hard work has paid off, because he's truly killing it now. Catch season two of Killing It on Peacock Aug. 17.