The Big Picture
Signs' success was largely due to a strong cast, including Mel Gibson as Graham Hess, who excelled in a role that required him to grapple with faith and protect his family.
M. Night Shyamalan originally had Clint Eastwood and Paul Newman in mind for the role of Graham Hess, but both actors were either unavailable or uninterested.
The film went through changes in its casting and storyline, ultimately resulting in a more intimate portrayal of the characters and a stronger emphasis on faith as a central theme.
Following the one-two punch of The Sixth Sense and Unbreakable, M. Night Shyamalan's Signs had the unenviable goal of living up to the legacy that the young filmmaker was creating for himself in Hollywood, and it largely succeeded in doing so (his next film, The Village, however, did not). The film, a modern classic in its own right, is part science fiction nightmare, part horror, part family drama, and part exploration of faith. It's a bold mix that works in the film's favor, especially if one subscribes to the theory that the aliens are, in fact, demons (which corrects the "water" plot hole). The cast is perhaps the film's strongest asset. Both Rory Culkin and Abigail Breslin are excellent as the Hess children, bringing a realism to their characters that, thankfully, didn't border on precociousness. Joaquin Phoenix infuses his Merrill Hess with a believable brotherly connection. The film, though, lives and dies with Mel Gibson, and he excels as Graham Hess, a role that calls on him to be a man struggling with his faith, trying to rationalize what's happening, and protecting his family at all costs. And he wasn't even Shyamalan's first, or second choices — those were Clint Eastwood and Paul Newman.
Mel Gibson Wasn't M. Night Shyamalan's First Choice for Graham Hess
For the role of Graham Hess, M. Night Shyamalan had some specific criteria. The character was written as being older, which dictated the age of the actor Shyamalan was looking for. He was also supposedly looking for someone with "haunted eyes." Of course, there are only a handful of actors at the time that would fit the bill, and one of the first actors Shyamalan approached was one of the brightest stars from that pool: Clint Eastwood. Eastwood's filmography is filled with characters that have those haunted eyes: Frank Horrigan from In the Line of Fire, Mitchell Gant from Firefox, or as William Munny in Unforgiven, where he utilized that look most effectively. Clint Eastwood, at the time, had moved away from acting, but if he had an interest in Signs or not was irrelevant, as the Oscar-winning actor had scheduling conflicts that would have kept him from accepting the role.
Before he finally turned to Mel Gibson, Shyamalan also turned to the esteemed Paul Newman for the role of Graham Hess. Newman had no scheduling conflicts but simply had no interest in the role. Looking at the film now, it's difficult to imagine Graham Hess as an older character. It would have changed the dynamic between the characters for sure, with Hess the elderly patriarch of a larger family, not the father figure. Eastwood and Newman each have their own strengths as actors, which would have driven the narrative in differing ways. Eastwood, likely, would have been a more authoritative, loner figure, while Newman would presumably be a more open, familial figure. Nevertheless, with his first two choices either unavailable (Eastwood) or uninterested (Newman), Shyamalan revised the character to be about 20 years younger. Finally, he settled on Mel Gibson, who had the haunted eyes that he had been looking for all along. The rest, as they say, is history.
RELATED: M. Night Shyamalan Movies Ranked, From 'The Sixth Sense' to 'Knock at the Cabin'
'Signs' Had Other Casting Issues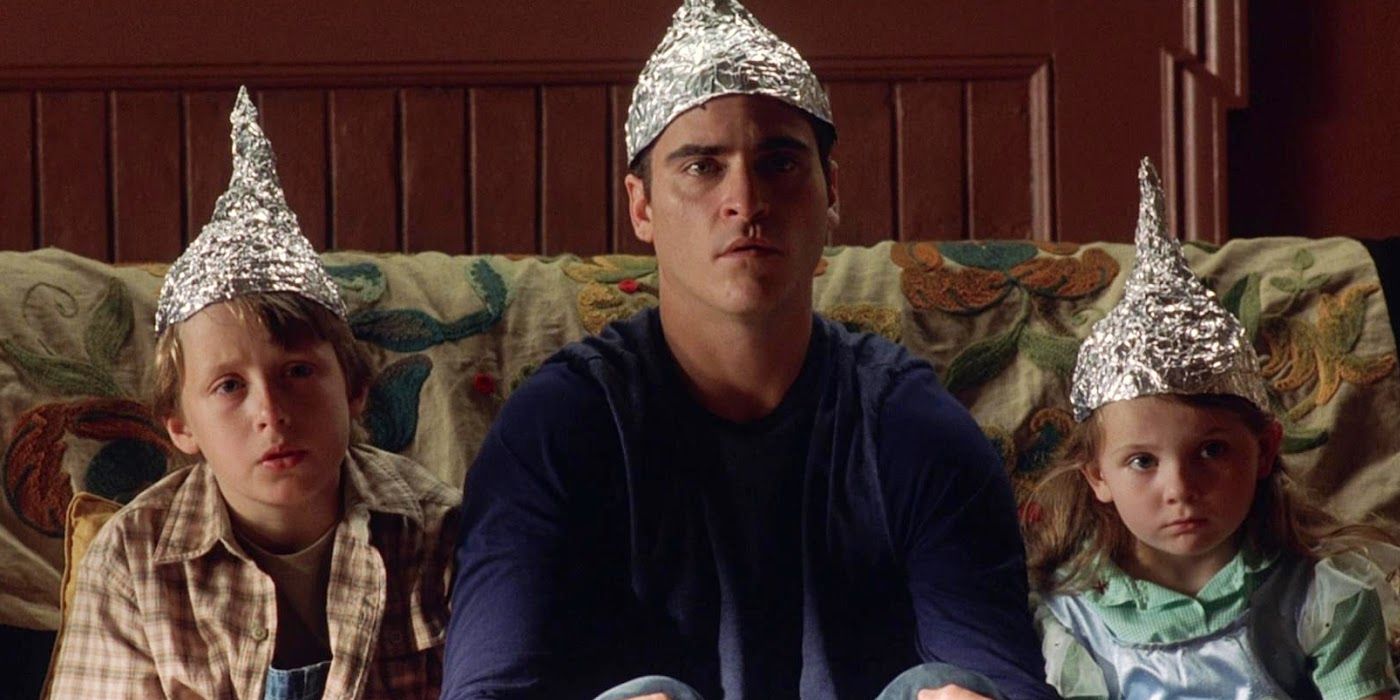 In an interview recounted on Horrornews.net, Shyamalan talks about the initial plans for the film. It would have been "a big family thing with so many characters, a big Thanksgiving and then the end of the world comes," which would make sense with an Eastwood or Newman as its patriarch. But it didn't feel right, so he brought the character count down from seven to five. The fifth character was going to be a nanny/teacher who lived in the house. The name attached to that role would have made for another fascinating dynamic: Toni Collette. When Shyamalan lost her to another role, the fifth character was dropped, leaving the Hess family at four.
Then just before production on Signs was to begin, Shyamalan was forced to find a new Merrill Hess. Actor Mark Ruffalo had been cast and was prepared to begin until a dream led him to believe he had a brain tumor. The scary thing is, he did. A CAT scan and an MRI revealed a mass the size of a golf ball behind Mark Ruffalo's left ear, diagnosed with acoustic neuroma, a non-cancerous, benign brain tumor that had caused a 7% hearing loss in that ear. It also affected his facial nerve, and after surgery to remove the tumor, his face was paralyzed for days, and it took almost a year for Ruffalo to recover. The role was then given to Joaquin Phoenix, which arguably turned out for the best as he and Gibson had an easy chemistry, with performances that complemented one another. Not that Ruffalo wouldn't have, of course, but Phoenix seems more believable as being the younger brother of Gibson.
Signs could have been a significantly different beast than what finally appeared on cinema screens, with each potential casting choice either adding an element that benefitted the film, or an element that negatively impacted it. The initial plan of a bigger family in the film wouldn't have allowed for the viewer to intimately know each character, and it's that intimacy with the characters that makes the film work. As good as Signs is, it's hard to argue that there aren't convenient moments that stretch the film's believability: Morgan's asthma, preventing him from inhaling the alien/demon toxic gas. Bo's habit of leaving glasses of water all around the home. Caroline (Cherry Jones), Graham's wife's dying words, "swing away," turn out to be instructions on how to stop the creature. But because of the cast Shyamalan gathered and their commitments to their roles, even if they weren't his first choice, these narrative conveniences – which would have sunk a film with a lesser cast – become believable plot points that speak to the overarching theme of Signs: faith. That's an article for another time.