The Big Picture
Ahsoka Tano breaks the mold for how women are portrayed in the Star Wars universe, deviating from traditional archetypes and rejecting the binary of "good" vs. "evil."
Ahsoka's lack of romantic interest challenges the idea that women in Star Wars must always be involved in romantic storylines, highlighting the importance of non-romantic relationships.
Ahsoka's rejection of the Jedi Code and her embrace of independence give her a strong, multifaceted character that serves as an inspiration for future femme characters in the Star Wars universe.
Women in science fiction and other fictional genres have suffered the unfortunate fates of being underdeveloped or being trapped by unnecessarily limiting character stereotypes. The Bechdel Test may cover an overarching look at how femme characters are given roles in different forms of media, but can only call out the lack of attention given to women in pop culture. Star Wars: The Clone Wars took extra lengths to supplement the nuances of what George Lucas's live-action prequel trilogy couldn't fit in. It took a closer look at character relationships, individual growth, and the pressures of intergalactic turmoil while maturing more each season. Ashley Eckstein's Ahsoka Tano has earned praise for being one of Star Wars' most prominent femme leads, and her complicated storyline breaks the mold of how women are portrayed in a galaxy far, far away. It can be argued that there need to be greater risks taken when telling femme stories, both on larger and smaller scales. Because she operates in the gray areas, especially when she steps away from the Jedi Order, Ahsoka deviates from the traditional way women have been depicted in the Star Wars universe. Her decision to reject the binary of "good" vs. "evil" while exploring her own fate sets her apart.
Ahsoka is a femme Togruta who was originally from Shili, a planet found between the Inner and Mid Rims in the Expansion Region. Ahsoka was Anakin Skywalker's Padawan and studied under him as The Clone Wars recounted the events leading up to Anakin's inevitable succumbing to the Dark Side. Their relationship was crucial for Ahsoka's character development and was necessary for demonstrating how women in Star Wars should be written. Outside of a compelling voice performance that made Ahsoka even more memorable, there were risks taken with the ex-Jedi that challenged the ongoing use of gender expectations in science fiction. Star Wars can be credited for showing women in power and assuming influential roles that are typically assumed to be more masculine, such as senators or generals, yet it was Ahsoka who can be credited for breaking the mold most significantly. Dave Filoni has spent a lot of time with the character, and as her co-creator with George Lucas, was able to subvert typical archetypes that are usually assigned to femininity. Pop culture hasn't been the most forward-looking when knowing how to progress its femme characters, yet Ahsoka proves that there's more for women in Star Wars through her own complexity.
Ahsoka Was Never a Love Interest, and That's a Good Thing
Star Wars has had a tendency to make sure that each femme character usually wound up in some sort of on-screen relationship or a form of implied romantic subtext. Looking back at George Lucas' early works, the trend of ensuring that there was some sort of romantic subplot baked into the core of a movie was always present. General Leia Organa (Carrie Fisher) has been noted to be a strong, femme, and fierce character in science fiction – though her role of being an object of attraction for Han Solo (Harrison Ford) and others was always a prominent part of how her character was viewed. This continued with Anakin and Senator Padme Amidala's (Natalie Portman) affairs throughout the Prequel Trilogy, leaving Padme to ultimately die from heartbreak during childbirth. The narrative decisions could be criticized for almost minimizing Padme into a love interest whose personality consists of loving Anakin, despite their bond being forbidden by the Jedi Code. Other women throughout different Star Wars properties have been paired up with partners, and while there's nothing inherently wrong about including those storylines, it felt like it was a requirement for them to earn screen time. When it comes down to Ahsoka, her lack of romantic interest is refreshing.
Ahsoka was never a love interest, nor did she ever need to be one. Keeping her out of reach from romantic affairs was a much-needed change of pace for women in Star Wars, and understood that there's more that goes into character-building than wondering who they'll end up with. Her preoccupation with greater issues, both personal and intergalactic, dispelled the need for her to find a partner. In fact, Ahsoka's not being a love interest for others challenged the ongoing idea that there must be underlying romantic feelings buried beneath platonic partnerships. It's too common for platonic feelings to evolve into romantic ones, but Ahsoka never being pursued speaks to her individuality. The emphasis put on her platonic affairs felt authentic for who she was and reiterates the importance of non-romantic relationships being kept at the forefront. It defeats the notion that a woman's worth is determined by her romantic appeal. Star Wars is too comfortable with relying on its femme characters to act as romantic counterparts, and the decision to not apply that same (predictable) aspect to Ahsoka is a step forward for how women are viewed within the fictional universe. That underlying need for some sort of tension between Ahsoka and another was never there, and she became an example that women are fine on their own. It allowed her to stand out and remain memorable without needing to be known as a love interest.
RELATED: 'Ahsoka' Cast and Character Guide: Meet the Stars in a Galaxy Far Far Away
Why Is Ahsoka Different From Other Female Star Wars Characters?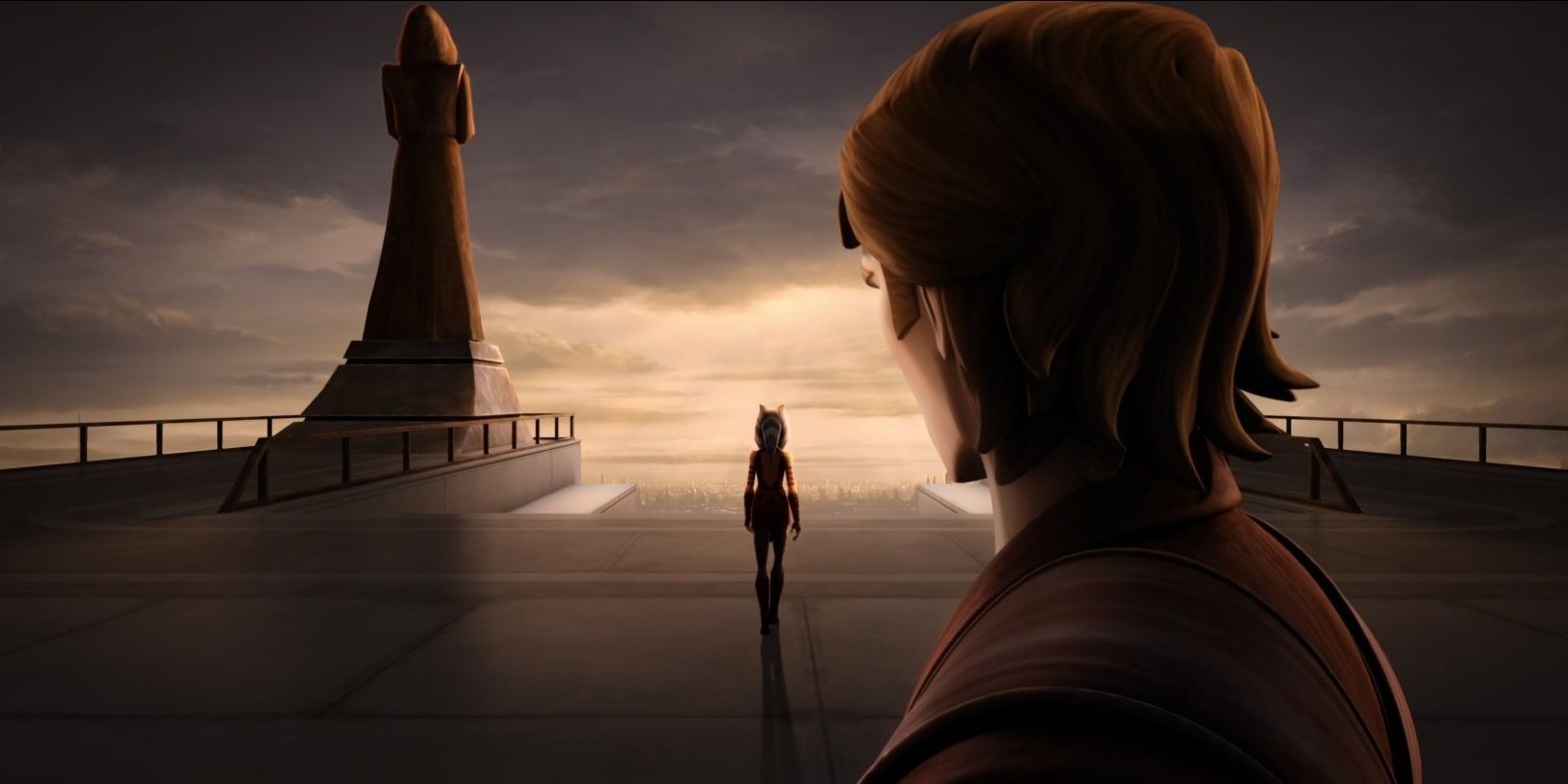 Ahsoka deviates from the redundant way women have been depicted throughout Star Wars. Her decision to reject the binary of "good" vs. "evil" while exploring her own path in life – one not dictated by written codes, prescribed morality, or rigid thinking – is a momentous turning point for her character. Ahsoka's self-liberation from the Jedi Order defeats the concept of women in Star Wars needing to adhere to one aspect of ethics or abide by the "black and white" outlook shared by Jedi and Sith. Femme characters in Star Wars have been hindered by their one-sidedness. The inability to demonstrate how diverse their personalities can be, and only showing so many of their qualities, is a setback for the franchise. Rey's disappointing storyline across the Sequel Trilogy failed to craft an impactful and multifaceted character because of the constant reminder that she was on the Light Side of the Force, and her motivations aligned with Jedi views – a stark reminder of how flatly the approach to a femme lead was taken. There's a moment in Star Wars: The Rise of Skywalker where Rey is shown a Sith version of herself, once again reiterating that her greatest fears are boiled down to the division of good and evil.
Ahsoka's complicated nature allows her to sidestep being compressed into a one-dimensional character and suffer a familiar pattern applied to other women in Star Wars. Her declaration of "I am no Jedi" is a pivotal moment for her story moving forward, and speaks for the potential of how femme characters are given voices of their own. Her choice of free will and embrace of independence gave Ahsoka's personality a punch that has long been lacking in other women met throughout the galaxy. Her unwavering spirit and outspokenness have allowed her to give herself a voice that demands to be heard. This bold direction has the ability to inspire the future of other femme characters, and prompt inspired means of thinking when exploring the potential of women in Star Wars. Ahsoka refused to subscribe to expectations from a Jedi perspective and elsewhere. Her fierce devotion to standing by what she thought was right and just, despite the consequences she faced, elevated the importance of having an outspoken femme character. "I am no Jedi" is simply a part of who she is.