The Big Picture
Clint Eastwood idolized James Cagney, considering him his greatest influence as an actor, despite their different acting styles.
James Cagney's roles as tough guys in films like The Public Enemy and White Heat inspired Eastwood's interest in deconstructing character archetypes.
Both Eastwood and Cagney have similar careers in terms of their versatility and willingness to experiment with different genres and subjects in their films.
In the Pantheon of great American actors and movie stars, Clint Eastwood belongs to the top tier. His career as an actor and director, which spans more than 50 years, features countless impactful films that revolutionized genres and the iconography of movie stars. Considering that Eastwood is often associated as a tough guy, one would expect his greatest influence to be a masculine icon like John Wayne, or a star representing an idealist form of Americana such as James Stewart. By his account, and through the manifestation of his filmography, there was no actor Clint Eastwood idolized more than James Cagney.
Why Did Clint Eastwood Idolize James Cagney?
A widely celebrated star of classic Hollywood, James Cagney was a typecast tough guy in his own right. Best known for his roles as hostile gangsters in The Public Enemy, Angels with Dirty Faces, and White Heat, the actor was a versatile talent who also specialized in dance and comedy. He won an Academy Award in 1943 for his portrayal of Broadway legend George M. Cohan in Yankee Doodle Dandy. Cagney possessed traditional male handsomeness, but his piercing eyes and natural command of the screen layered him with nuance and depth. Beyond his talents and audience recognition, Cagney stood as the face of Hollywood, as he held the title of president of the Screen Actors Guild in the 1940s.
As the subject of the book, Clint Eastwood: Interviews, which contains a variety of interviews the star has given throughout his illustrious career, he discusses his influences as an actor. One interview, conducted by Patrick McGilligan in 1976, reveals that not only was James Cagney his greatest influence, he was his only actor of admiration, stating "I was never a fan of any one particular actor outside of James Cagney." Eastwood continued his praise by remarking on his fearlessness and lack of concern over maintaining a pristine image on screen — the pinnacle of this represented by Cagney shoving a grapefruit in the face of his co-star in The Public Enemy. McGilligan was surprised by his acting idol of choice, as Cagney's convulsive energy counters Eastwood's internal menace and restraint conveyed through his performances as The Man With No Name and "Dirty" Harry Callahan. Eastwood is drawn to the difference in acting styles, as he said that he prefers to skew from following any expected career arcs or artistic decisions, while also being drawn to stories, particularly Westerns, on an emotional level.
McGilligan leads the question that prompted Clint Eastwood's celebration of James Cagney's prowess with his relationship with John Wayne. "I liked him as a youth, depending on the film," he said. Wayne and Eastwood, whose respective images alone shaped American film audiences' vision of the Old West, crossed paths in not the most hospitable terms. In the '70s, Eastwood reached out to Wayne to star in a film together. Since the latter was disgusted by the former's revisionist take on Western folklore as a harrowing morality tale in High Plains Drifter, he declined in an angry letter sent to Eastwood. This Eastwood vs. Wayne "feud" signaled a clear artistic, and perhaps generational, divide between the two. Eastwood's filmography shows that he is drawn to the gray area of morality between good and evil and the disturbance of violence, whereas Wayne viewed himself as a protector of traditional American values and unabashed patriotic justice.
Which James Cagney Roles Inspired Clint Eastwood?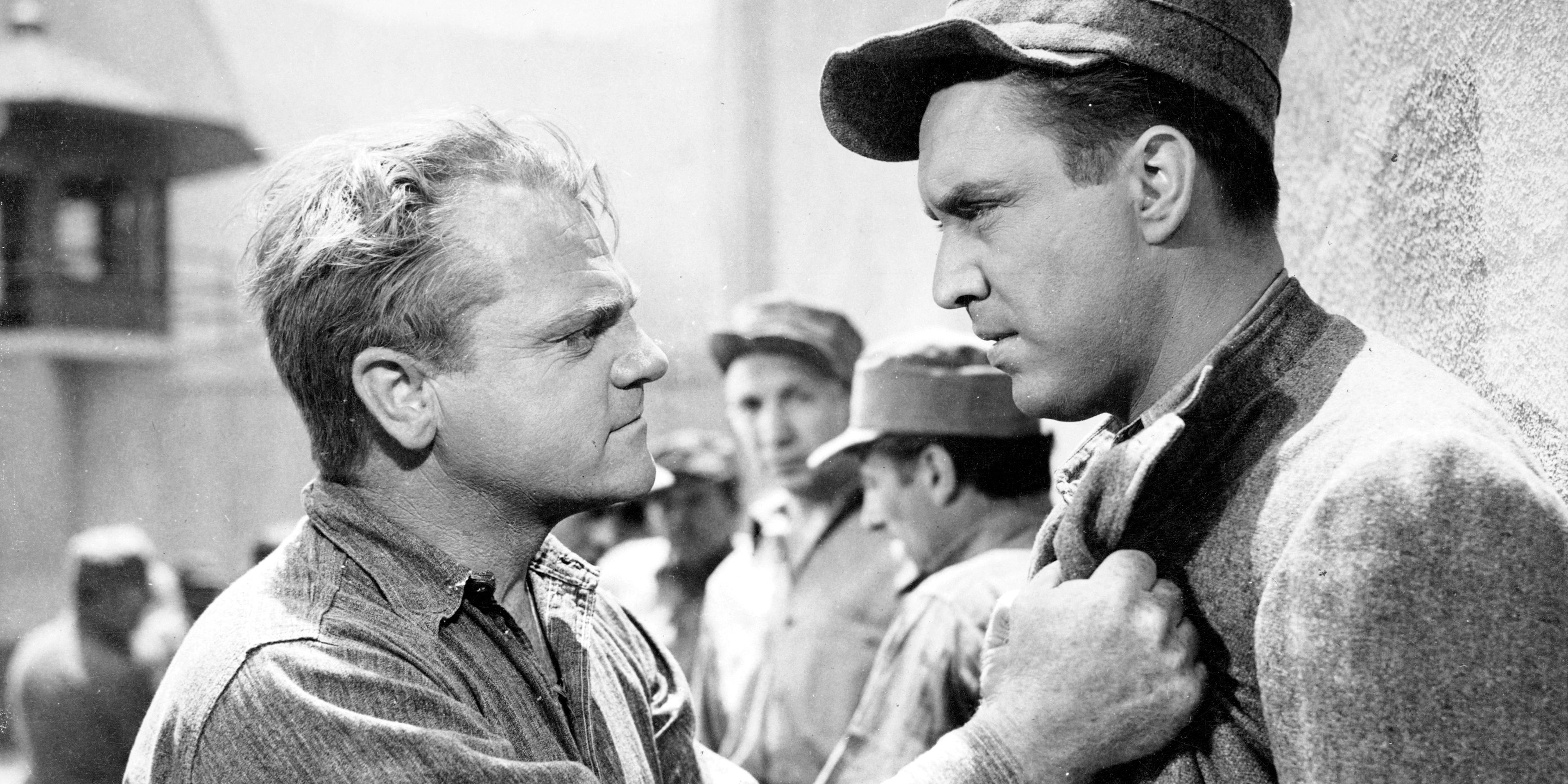 Furthermore, Clint Eastwood's fascination with deconstructing character archetypes and demystifying American legend can be traced back to the body of work exhibited by James Cagney. Just like the star he would inspire, Cagney will always be remembered for his tough guy persona. While his versatility is undisputed, his lasting image will be for the portrayal of hot-headed gangsters. His performance in The Public Enemy offers more nuance and understanding of the human condition than what meets the eye. As a child, watching the 1931 gangster classic was a formative experience for Sopranos creator David Chase (Tony Soprano is seen watching the film in the episode "Proshai, Livushka"). The film is also a favorite of Martin Scorsese's, cementing its role as a text that laid the groundwork for the depiction of the criminal underworld in media in the 90 years since its release.
As time goes on, his role as Arthur "Cody" Jarrett in White Heat is sure to imprint a lasting legacy. The film, directed by Raoul Walsh, is about the rise and fall of a psychopathic criminal. After breaking out of prison, he concocts an elaborate heist at a chemical plant. The brunt of the dramatic tension lies in Cody's mother complex. His attachment and need for approval from his mother, "Ma" Jarrett (Margaret Wycherly), who is just as crooked as her son, is what triggers Cody's drive for hostility and vengeance. Fast-forward 50 years later, David Chase's renowned HBO series would tackle similar psychoanalysis regarding a powerful crime boss and his overbearing mother. The iconic quote from White Heat, "Made it, Ma! Top of the world!" proclaimed by Cody during the climactic destructive gun battle, conveys the film's perverse undertones of a brutal gangster burdened by maternal affection.
RELATED: The 10 Best James Cagney Movies, Ranked
How Have Clint Eastwood and James Cagney's Careers Been Similar?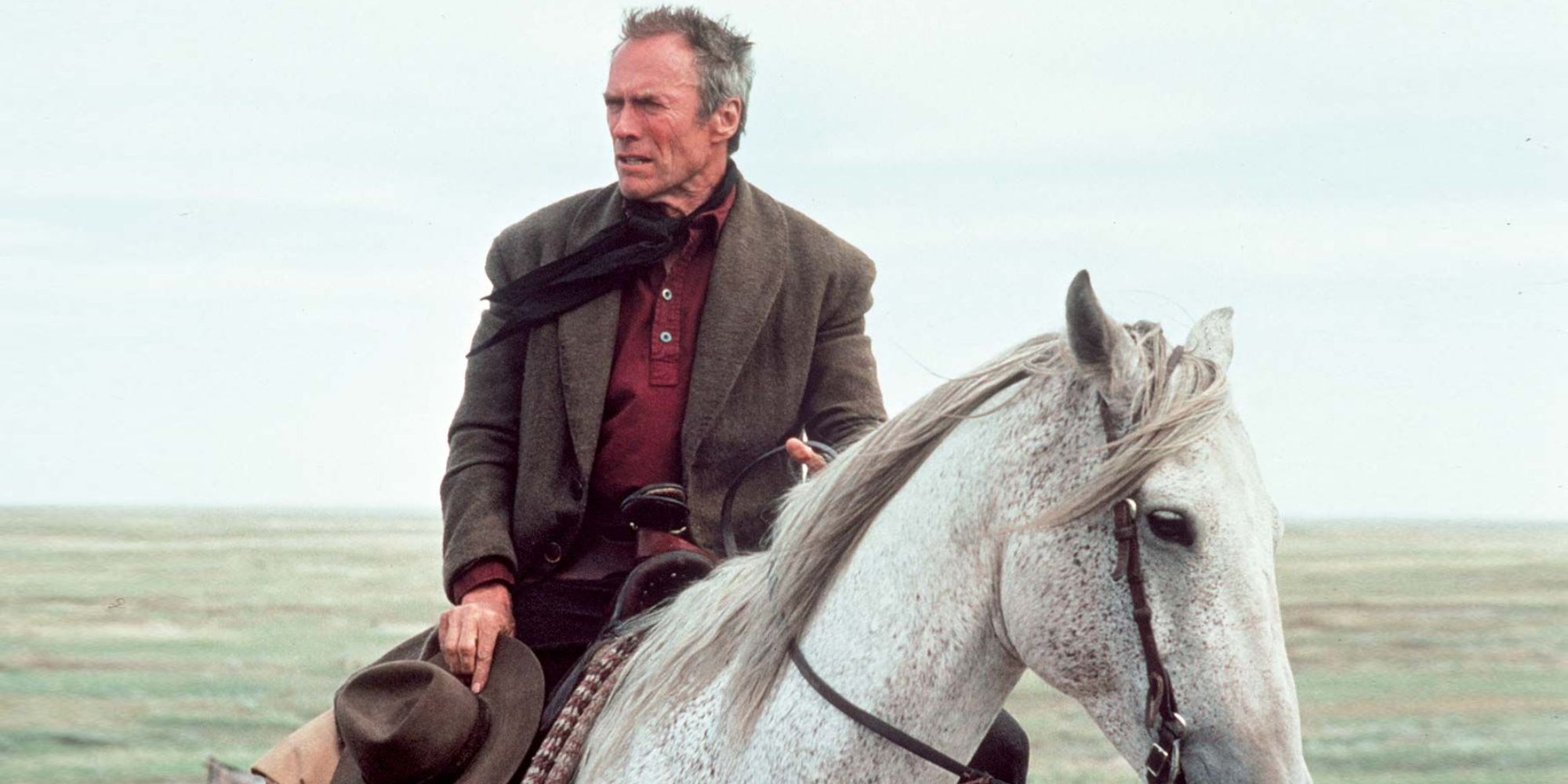 In the case of White Heat and James Cagney's influence on Clint Eastwood, the actor-director quickly adopted the artistic identity of a revisionist figure. The Western hero embodied by John Wayne and Gary Cooper that audiences grew to recognize and adore was tainted by Eastwood's depiction of lone gunslingers with an eerie mystique. Instead of arbiters of justice, Eastwood's performances in The Outlaw Josey Wales, Pale Rider, and Unforgiven are manifestations of spiritual forces driven by violence. They may operate as Robin Hood-like vigilantes, but they are cursed with a broken soul. Eastwood's most prominent character, the titular San Francisco police inspector "Dirty" Harry Callahan, feels born from the template perfected by Cagney in the '30s and '40s — a ruthless man guided by no set of rules or laws. Through the gravitas of their respective performances and without didactic text, Cody Jarrett and Harry Callahan comment on the psychology of masculinity, anti-heroism, and the burning desire to validate one's line of work.
James Cagney's versatility as a performer of all genres and character archetypes is mirrored by Eastwood's interest in a wide variety of subjects. Eastwood's acting range has never been his calling card, but, as both a director and actor, he experimented with just about every kind of film throughout his lengthy career. More than just the signature cop and cowboy of his era, Eastwood dealt with space travel (Space Cowboys), traveling Depression-era country musicians (Honkytonk Man), dual war films from opposite sides of combat (Flags of Our Fathers, Letters From Iwo Jima), and biopics of complicated American figures (Bird, American Sniper).
Through James Cagney's unbridled energy and Clint Eastwood's controlled menace, the two legendary stars properly flourished the stereotypical onscreen tough guy as wounded souls. In the same breath, their brutality and intensity were never compromised. The differences between Cagney and Eastwood only highlight their qualities of character and genre deconstruction. While many will be surprised that Clint Eastwood does not walk in the same path as John Wayne, the James Cagney influence is just as credible. After all, cinematic legends are only conceived as a result of the work cemented by previous legends.