This review was written during the 2023 WGA and SAG-AFTRA strikes. Without the labor of the writers and actors currently on strike, the series being covered here wouldn't exist.
Before One Piece was a live-action series on Netflix, it was (and still is) a long-running anime. Before it was an anime, it was (and still is) an even longer-running Manga series. There are always expectations that come paired with adaptations, but pair two sets of expectations, each from groups of fans that could very well have spent 25+ years invested in a story and a set of characters, and the task feels damn near thankless. Fortunately, Netflix's take on Eiichiro Oda's world of adventure and piracy stands tall on its own as the kind of nostalgic, swashbuckling adventure we don't see enough of these days.
Adapting the East Blue Arc of the Manga, One Piece follows Monkey D. Luffy (Iñaki Godoy) a young man who has long dreamed of a life of piracy, who is finally ready to take to the seas and become King of the Pirates by finding the legendary One Piece treasure, hidden somewhere in the Grand Line — the most dangerous stretch of ocean in the world, which has claimed the life of many a pirate. Many are skeptical, trying to dissuade him from his chosen course by pointing out that pirates are usually the bad guys. But Luffy grew up under the mentorship of Captain Shanks (Peter Gadiot) and his crew, who seem to be the only decent pirates on the seas, so his perspective might be a tad off.
Of course, a captain is nothing without his crew, and Luffy is shortly joined by swordsman Roronoa Zoro (Mackenyu) and navigator Nami (Emily Rudd), both of whom resent Luffy's chosen path but stick around for their own purposes. The trio then eventually meets and recruits Usopp (Jacob Romero), who has the tendency to exaggerate just about everything, and finally Sanji (Taz Skylar), a chef who feels underappreciated in his current role. Together, the so-called Straw Hat Pirates battle clowns, fish-men, their own emotional baggage, and the very maritime governing body that seeks to bring their entire lifestyle to an end.
RELATED: New 'One Piece' Images Get Up Close to the Villains of the East Blue
Netflix's 'One Piece' Makes Welcome Changes to Its Characters
As the intrepid leader of the crew, Godoy is pitch-perfect casting. He infuses Luffy with a relentless optimism that might seem naive when set against the rest of the crew but is just grounded enough in his performance that the audience never makes that mistake. He is far more upbeat than the rest of the broody bunch, but that's not to say he can't be serious when he needs to be. If anything, it's the moments where the cheerfulness cracks and gives way to darker emotions that make Luffy's arc really land.
As for Zoro, Nami, Usopp, and Sanji, their primary character traits remain present, but the serialized form of storytelling across the season means that these singular traits form the catalysts for short, yet satisfying character arcs, updating their initial Manga introductions. Zoro isn't simply a serious swordsman, he's downright surly most of the time, with subtle cracks in Mackenyu's expressions betraying how he really feels about this band he's come to call his friends. Usopp's personality no longer reads as stubbornly delusional, but instead infused with a false sense of bravado, and Sanji's blanket womanizing comes across more as a charming personality when met with a pretty face. Nami is given one of the most overarching and compelling arcs in the season and, thankfully, reads much less like a woman written by a man in '90s media aimed at boys — weirdly specific, but if you know, you know.
This is not to critique Oda's work nearly 30 years after the fact or to hold it to a modern standard. Rather, it's a testament to his involvement, and to the talent of the series' writers and actors, that these core characters we love so much still feel so much like themselves when adapted for a new medium, with some of the more cartoonish aspects of their personalities passed through a more realistic, grounded filter.
Netflix's 'One Piece' Is a Feast for the Senses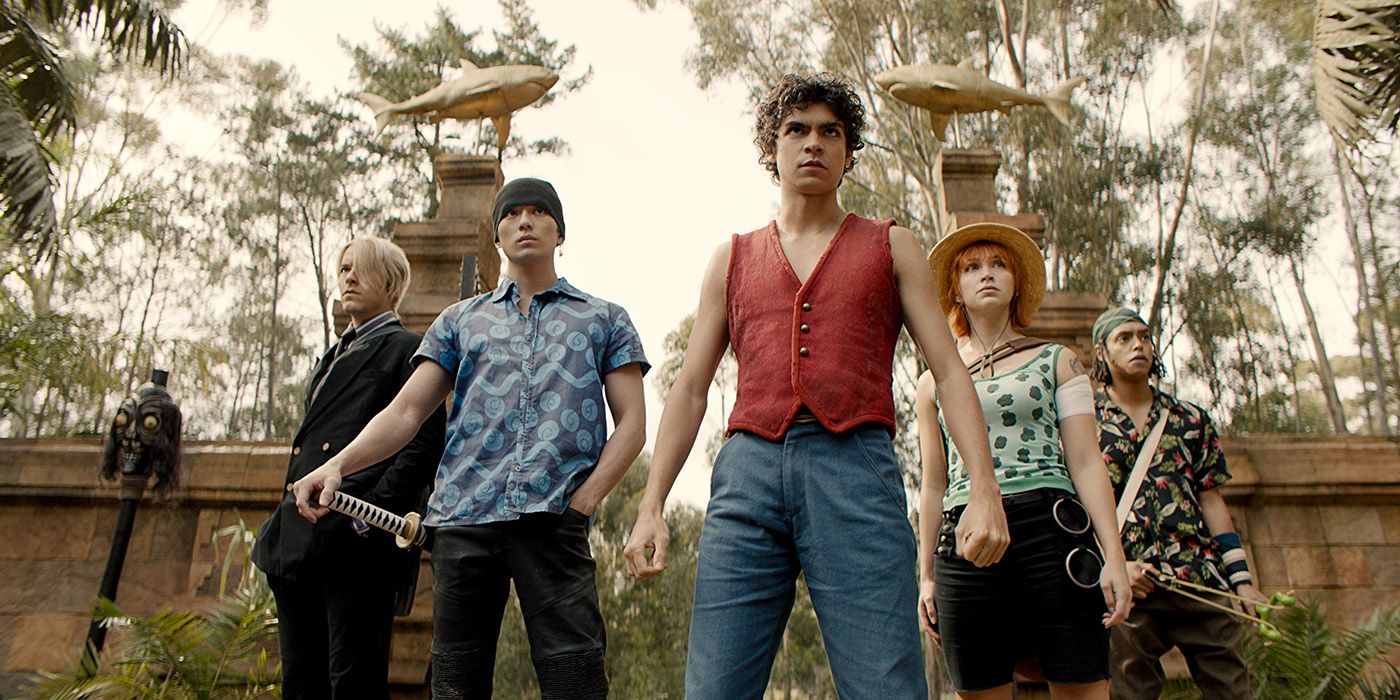 For the Straw Hat crew, their progressive introduction combined with the pacing of the episodes — there is action and violence, but all spaced out — means the audience has plenty of time to get to know and care for each of them individually. Rather than prolonged fight scenes, the kind we saw in the Manga, which can eventually begin to blur, the action sequences are broken into smaller chunks that separate the crew into different pairings to explore their various dynamics (including one that set my shipper heart absolutely aflame).
Characters aside, the series is a feast for the senses, with detailed costumes from Diana Cilliers pulling from all across the source material — and even giving the core cast a chance to dress up on one occasion. The music, from Sonya Belousova and Giona Ostinelli, strikes a kind of nostalgic, adventuring tone that is almost nostalgic in how jaunty it is. The sets are almost characters in and of themselves, with many of them being practical, scale reproductions of some of One Piece's most iconic locations, each distinct in their own way, making a very fanciful adventure feel extraordinarily grounded.
Netflix's 'One Piece' Makes the Story Even More Interconnected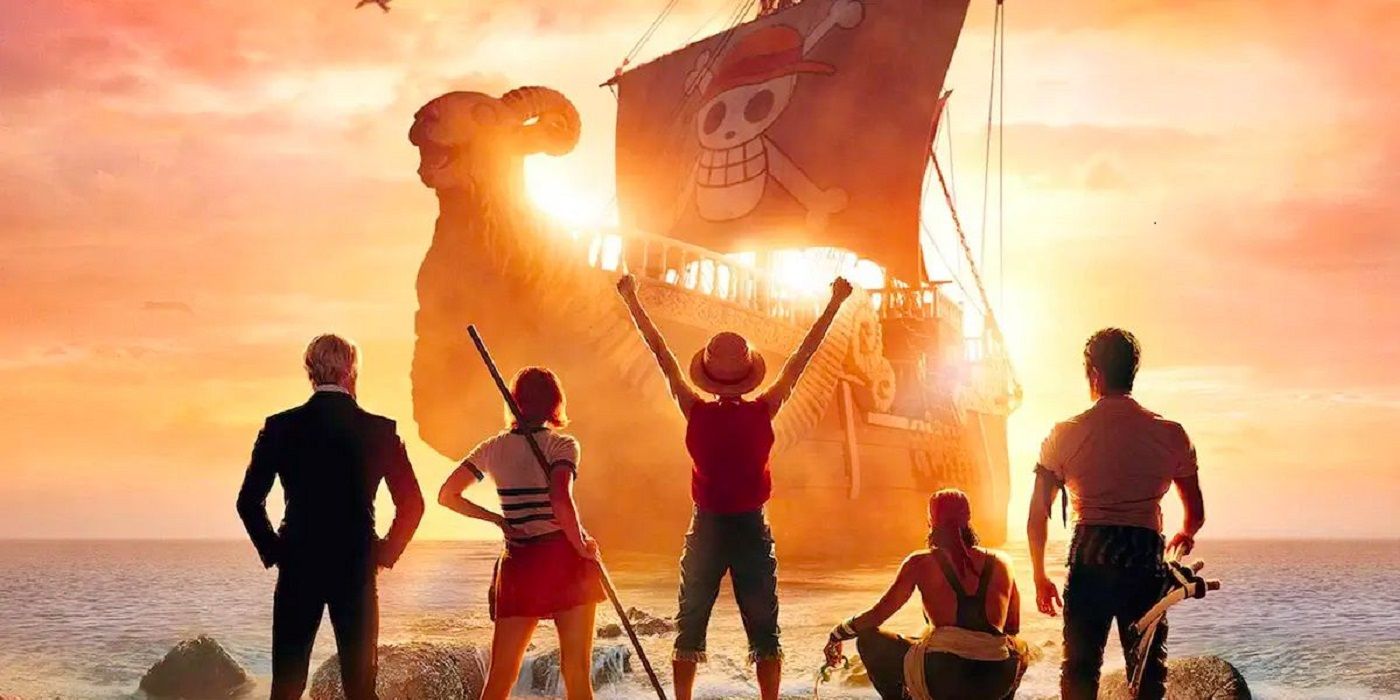 The smartest thing this adaptation does — reminiscent of another Netflix adaptation, A Series of Unfortunate Events — is that it introduces major characters/story arcs much earlier. In the case of both series, their first few books start out fairly episodic, before tying back to earlier concepts later in the game. But the adaptation to a new medium, and indeed no guarantee that these story arcs will get to be visited later on, gives the storytellers the chance to make the story as interconnected as it was always meant to be from the jump. Take the references to Baroque Works in the pilot, or Koby (Morgan Davies) and Helmeppo's (Aidan Scott) time as Marine cadets. These are things that only come up later in the Manga in any substantial way, but bringing them in earlier makes the world outside the Straw Hats and their early adventures feel that much richer.
The season is also mercifully self-contained, in the way all the best adventure stories are. There is so much story left to tell by the end, and my hope is that we do see it one day. But with just these eight episodes of One Piece, the cast and creatives pull off a fantastically pulpy, old-fashioned, and most importantly satisfying adventure.
The truth is, it was always going to be impossible to please everyone. If it's true of shows that don't have decades of built-in expectations, then it was certainly going to be true of One Piece. That said, the series does very well at remaining so self-contained — knowledge of the Manga or anime is only really necessary from an Easter egg point-of-view — that it could easily be a jumping-on point for new audiences to discover the universe, as well as an entertaining, bright adventure story for all fans.
Rating: A-
The Big Picture
Netflix's adaptation of One Piece stands well on its own, providing a nostalgic, swashbuckling adventure that is lacking in today's entertainment landscape.
The actors do justice to their characters, infusing them with depth and emotion while staying true to their original Manga counterparts.
The series introduces major characters and story arcs earlier, creating a more interconnected and richly developed world that will satisfy fans and newcomers alike.
One Piece begins streaming on Netflix on August 31.