Note: This interview was conducted prior to the SAG-AFTRA strike.With over 90 million copies sold, The Wheel of Time has been a bona fide hit, a fantasy book series written by Robert Jordan and continued by Brandon Sanderson after Jordan's death in 2007. The Wheel of Time has been adapted for television by Prime Video and is now in its second season, and it's another remarkable and refreshing display of how successful a series can be if and when women are allowed to also be powerful and great.
In season one, the journey began with a fearless leader named Moiraine to guide us. Portrayed by Rosamund Pike (I Care a Lot), she belongs to a powerful all-female group called the Aes Sedai who are chosen to have elite access to the "One Power," a source of commanding magic. Together, they worked to identify the "Dragon Reborn" among five friends in the isolated town of "Two Rivers" because they knew from a respected prophecy that he had the potential to either return and do good by saving the world from the Dark One or to repeat the past and wreak havoc instead. They were determined to ensure that good would prevail.
Moiraine's ever-so-loyal companionship with Lan Mandragoran, her "Warder" and the uncrowned king of the fallen empire of Malkier, was cemented in season one to viewers' delight. Lan is portrayed by the impeccably regal Daniel Henney (Missing), and though it's platonic, theirs was a unique and fascinatingly tight bond. Now, in season two, the pair's closeness is severely and seemingly irreparably fractured, and everything this time around is complicated — but also so good — because of it.
Pike and Henney sat down with MovieWeb prior to the SAG-AFTRA strike for an exclusive discussion on their characters and, most importantly at this time, their now divided relationship.
The Bond Between Moiraine and Lan
Noting foremost how much of a dream it is to take on the role of Lan, Henney said, "When you watch the character, and you watch the show, the scripts are incredible. This is the kind of character I've wanted to play my whole life, but I didn't know if I'd ever have the chance."
I've had a solid career, and I'm very thankful, but until now it was FBI agents and doctors and lawyers, which is great, but to play an uncrowned king and ride massive horses and engage in sword fights in Europe, it's just pretty cool.
Henney, who refers to himself as a "physical guy" who has always played sports and is quite athletic, also shared how amazing of a team he has had to work with at The Wheel of Time.
"The stunt team is in the Czech Republic, and they really got me ready for the big fight at the end of season one. That also helped me get into the physical part of the character," he said.
Working with his series comrade off-camera proved to be beneficial to becoming ensconced in his role as well. "And Rosamund, just rehearsing scenes with her and speaking in character and discussing the books all truly helped. If we needed anything, the books were and are there for reference. And so, reading the books and then the scripts, and then before you know it you're living in Prague. And for me, it was like, okay, I better get this right."
Pike, who also serves as a co-executive producer on The Wheel of Time, shared similar sentiments and noted that the biggest twist for this season, which was set up at the end of the first, is actually a deliberate deviation from the books.
"The writers' room decided that it would be interesting to take the ultra-human Moiraine and have her be cut off from the "One Power" at the end of season one. So we have this woman that we've known to be a sorceress now living completely without the thing that defines her most. With that, we realized that other things could define her as well."
Related: Exclusive: The Wheel of Time Cast Discuss the Challenges (or Not) of Season 2
The traits that we see Moiraine's character succeed with, without the "One Power", are welcomed images for women in particular. Pike notes, "This season, we focus on Moiraine's intelligence and her ability to use her mind to play life like it's a game of chess, to think five moves in advance."
She's also evolving to be, in a way, selfless, which is an admirable trait, but one that is multi-layered and also leads to the shakeup of her severed companionship with Lan.
The Unexpected Break-Up in Season Two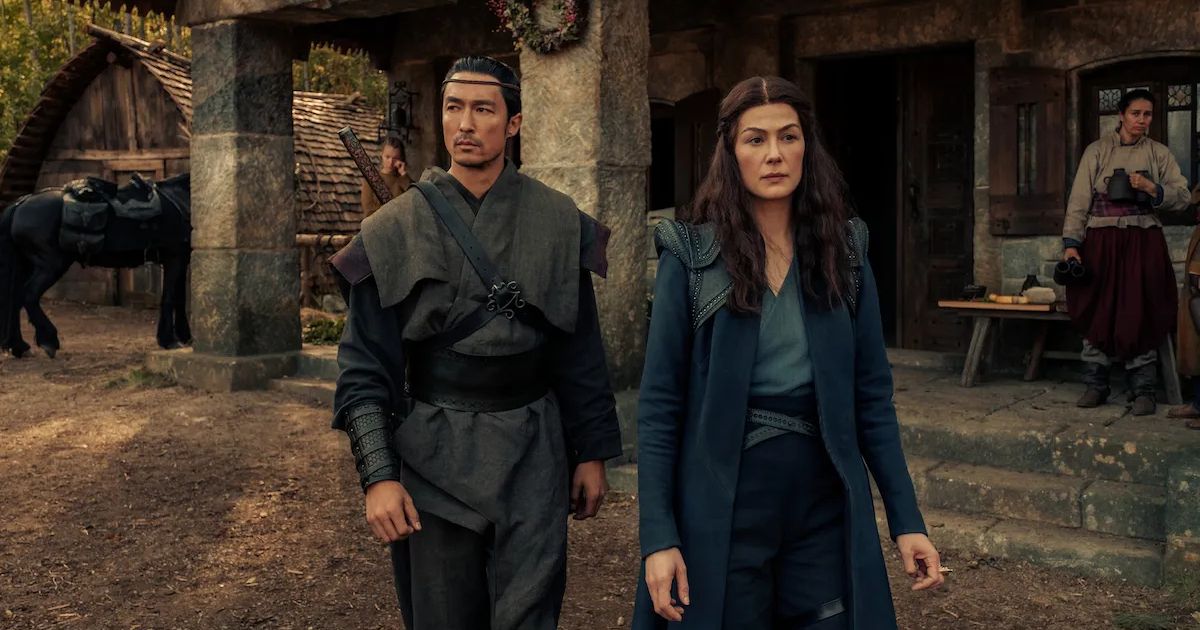 Pike delved more into the psychology and motivation this season and why she felt her character had to intentionally distance herself from Lan, much to his chagrin:
First, we have Moiraine's manipulation of people and her spy network that reaches across the globe; however, part of losing her connection with the 'One Power' means losing the bond with Lan, because that relationship is actually sealed by the 'One Power.'
That in itself makes incredible sense for the jarring break of normalcy and also for quite an interesting storyline.
Pike continued. "So, here is a pair of compatriots who've walked their roads side by side for the last 20 years, and they've communicated wordlessly because they've not had to speak in order to understand each other because they do so through the bond of the 'One Power.' And now suddenly there's this massive disconnect."
The Wheel of Time Keeps Spinning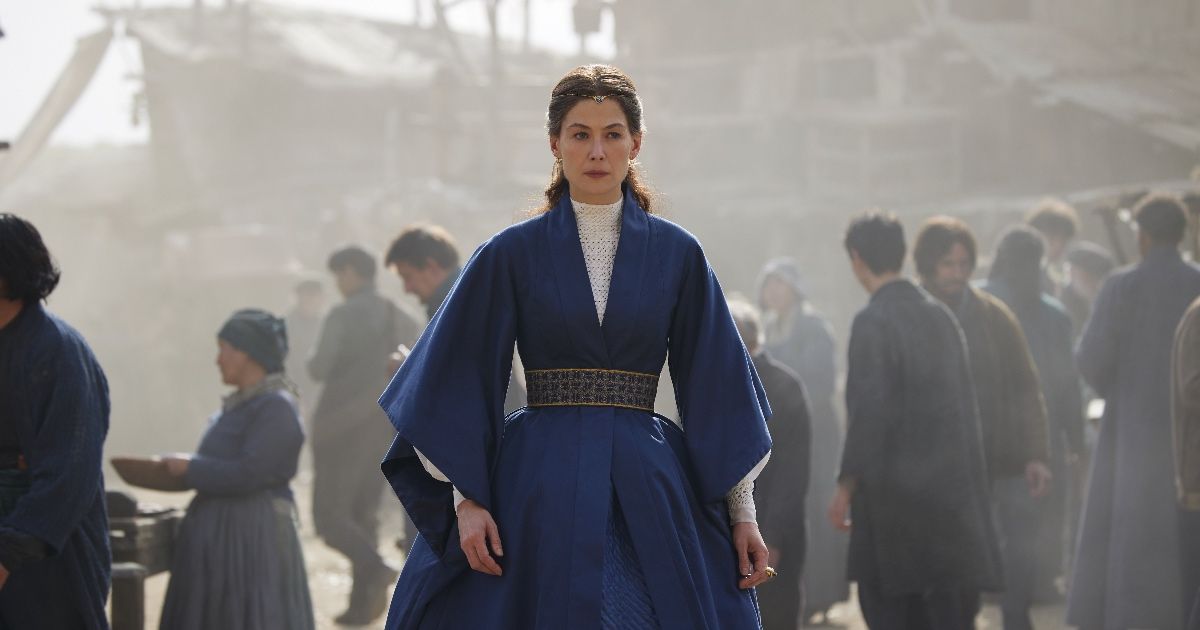 Henney chimed in on the real-life apprehensions about taking such an exciting risk of a well-established and fan-embraced relationship that was authentic to the source material:
"It was scary at first because our characters have never split up like this. We've never had these types of moments. So, Rosamund and I were both a bit scared for our characters, wondering if it was going to be too much and if we were going too far. But we both believe that we have found a good spot for the conflict and hopefully the audience agrees."
With similar sentiments regarding the intricacies of the risk, Pike offered insight that also rings very true to the ups and break-ups in real-life relationships. "When things are tough, the person that we lash out towards is the one closest. And with Moiraine, though I don't think it's admirable the way she handles herself as she is quite cruel to Lan, I understand it."
Related: 7 Fantasy Book Series That Should Become Movie Franchises
Pike continued with a perhaps redeeming reflection on her character's actions. "I think Moiraine feels that without the 'One Power,' she doesn't deserve Lan anymore. I think she feels that she doesn't deserve to have someone who is prepared to follow her to her death if need be." Pike elaborated:
And I think in her mind she decides that he'll never go away on his own, that she knows that his honor is too strong for him to leave her on his own accord. So, she has to push him away and she does so cruelly because she knows that that's the only way he'll leave her and also be safe.
The unexpected relationship riff isn't the only reason why season two is indeed quite gripping. Henney shared that, while the first successful season was and needed to be about establishing The Wheel of Time's characters and world, season two is more about exploring the complex inner workings of each character.
Henney added, "With season two, it is a chance for us as actors to not have to figure things out and adjust as needed. This time we knew where we were going, which was great. We are all even more confident going into this season, and I think you can see that in the performances."
Season two of The Wheel of Time is now streaming on Prime Video with new episodes released weekly.