The Big Picture
Hermione bravely chooses to erase herself from her parents' memories to protect them from Voldemort, showcasing the selflessness and sacrifice required to love and protect family.
By erasing herself, Hermione shields her parents from any potential harm or worry, demonstrating her unwavering dedication to those she loves and her deep commitment to fighting against injustice.
Hermione's remarkable act of self-sacrifice reminds us that sometimes we must make difficult decisions to protect those we love, and that the strength required to leave behind loved ones is truly remarkable.
In the wonderful world of Harry Potter, countless moments showcase bravery. We witness Harry Potter (Daniel Radcliffe) fearlessly standing up to dementors and even Lord Voldemort (Ralph Fiennes), while Ron Weasley (Rupert Grint) confronts his deepest fear of giant spiders. Even Hermione Granger (Emma Watson) courageously battles Death Eaters. Nevertheless, amidst all these awe-inspiring acts, it's quite common for people to unintentionally overlook the remarkable display of bravery exhibited by Hermione Granger in Harry Potter and the Deathly Hallows Pt. 1 as she selflessly chooses to erase herself from her parents' memories. Little acts of bravery to protect our loved ones may not look as impressive as fighting a villain, yet they can be the most difficult decisions a person faces. Not every character could have done this, and this is why Hermione did.
Why Did Hermione Erase Herself From Her Parents' Memories?
As Harry Potter and the Half-Blood Prince comes to an end, it is clear that Voldemort is growing stronger. His power has even reached Hogwarts, a place where safety was assumed due to Dumbledore (Michael Gambon)'s presence. However, with Dumbledore's death, Hogwarts becomes vulnerable and falls to the hands of Death Eaters and Voldemort himself. These circumstances make Harry Potter, Hermione Granger, and Ron Weasley realize that they cannot return to Hogwarts this year. Nowhere in England is safe as Voldemort's power and influence continue to grow.
It was clear to Hermione that she had to make a difficult choice. She could just leave England to ensure her safety. But she sees that both Harry and Ron need her. It is clear to her that defeating Voldemort is impossible without her help. Hermione recognizes the importance of risking her life to ensure the Wizarding World's safety, and she is willing to do so. However, by choosing to keep fighting against the Death Eaters, she also puts others in danger, people she cares deeply about.
As Voldemort's power grows, so does his threat to Muggle and Muggle-born witches and wizards. Hermione has to face the terrifying reality that her parents are not safe from Voldemort. It is clear to her that they cannot fully understand the danger they are in, nor can they stand a chance against him. She cannot bear the thought of putting them in danger because of her own choices. At this moment Hermione could have simply left. She knows that her parents cannot stop her. However, she also knows her parents must leave England, and there is only one way she can ensure that they do so willingly. They need a reason to leave England and no reason to stay. Hermione takes matters into her own hands. With the Obliviate spell, she erases herself from their lives and, in the books, plants the dream of moving to Australia, a dream they fulfill before her departure. If Hermione had wanted to solely focus on saving the world, she could have just left. However, by erasing herself, she not only protects herself but also shields her parents from any potential harm or worry.
RELATED: How Voldemort's Backstory Is Different in the Harry Potter Movies & Books
Why Is Hermione Erasing Herself From Her Parents' Memories Brave?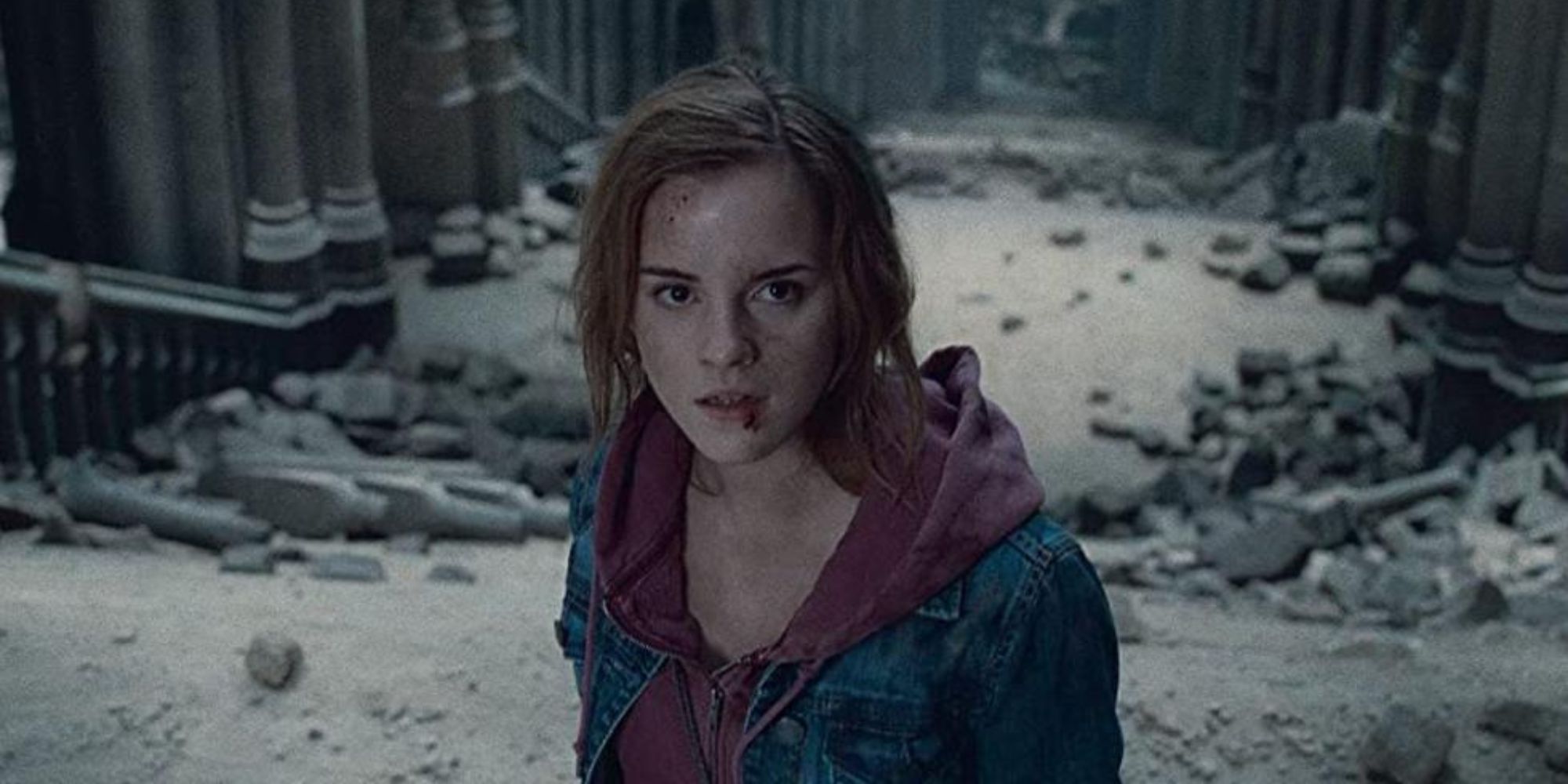 In J. K. Rowling's Wizarding World, family ties are one of the most important kinds of bonds. Family bonds remind us that no matter our circumstances or magical abilities, our loved ones play an integral role in shaping who we are. Family is also the place where people can go for help and support, especially during challenging times. We see this exemplified in the Weasley Family, who are always there for each other.
Family also serves as an anchor. Hermione, despite her immense talent in magic and great intellect, never forgets her Muggle roots and remains devoted to her non-magical parents. In the books, she even takes the class of Muggle Studies in Hogwarts. The Weasley Family also demonstrates how chosen families can be just as impactful as biological ones. Their warm embrace of Harry Potter and Hermione Granger showcases how love and support can transcend traditional notions of kinship. The Weasleys became the family many people could depend on.
Yet, Hermione Granger cannot depend on her parents in the same way that Ron Weasley can depend on his. Molly and Arthur Weasley (Julie Walters and Mark Williams) are powerful wizards who can at least try to protect their children from evil. Molly herself faces Bellatrix (Helena Bonham Carter) to protect her daughter Ginny Weasley (Bonnie Wright). Hermione knows that her parents cannot defend her from the same dangers.
Hermione has an unwavering dedication to those she loves and a deep commitment to fight against injustice. This is evident in her act of self-sacrifice: she erases her parents' memories to protect them from Voldemort. Hermione sees in this decision a chance to shield her parents from Voldemort's reach and ensure they do not become targets in his quest for power. Her decision demonstrates Hermione's understanding of the weight of responsibility that comes with being a part of the magical world – a responsibility not only towards herself but also towards those she holds dear. Hermione's choice reminds us that sometimes we must make painful decisions to protect those we love. The strength required to leave behind the people who love her the most and to erase herself in their eyes is truly remarkable.
And in the end, the pain is worth it. Harry Potter, Hermione Granger, and Ron Weasley reach their goal and the Dark Lord is defeated. Hermione lives to tell the tale. And even though the movies didn't show it, in the books, Hermione makes the trip to Australia and gives her parents back their memories. They have the chance to witness Hermione's growth and probably even get to meet their adorable grandkids. This bold move pays off, resulting in a happy ending.