Spoilers below for the latest episode of American Horror Story, so be warned if you haven't yet watched!
We're three episodes into American Horror Story: Delicate, and I cannot tell you how many times I have wanted to throw Matt Czuchry's Dexter Harding through the closest window or wall. I can't exactly say I'm having fun trying to suss out who is and isn't a cog within Anna's descent into assisted madness, but the constant time-gaps and questionable reality definitely add a weird sense of urgency to each nerve-grinding sequence. Thankfully, "When the Bough Breaks" offered up a moment of levity involving Kendall Jenner's cucumber fiasco, as well as a presumably intentional callback reference to Evan Peters' AHS: Cult character and Cody Fern's Apocalypse antagonist. 
Kim Kardashian Poking Fun At Kendall Jenner
As soon as Kim Kardashian landed a role in American Horror Story, it was inevitable that Delicate would bring in few elements from the entrepreneur's real life into the hyper-dramatized world of The Kardashi…I mean, of AHS. Episode 3 delivered arguably the most logical one possible for a show that features knives as a go–to prop: Kendall Jenner's infamous cucumber-cutting snafu. (It doesn't hurt that both the reality series and the horror anthology share Hulu as a go-to streaming home.)
Thankfully, the nod wasn't anything too broad or universe-breaking, with Kim Kardashian's Shioban chopping up some cukes (and smiling about it) while talking to Emma Roberts' Anna. To anyone who wasn't already aware of the incident, which Jenner has self-awarely poked fun at herself, it might have just seemed like a random scene action. But those aware definitely clocked it as soon as the cutting board made it into the shot.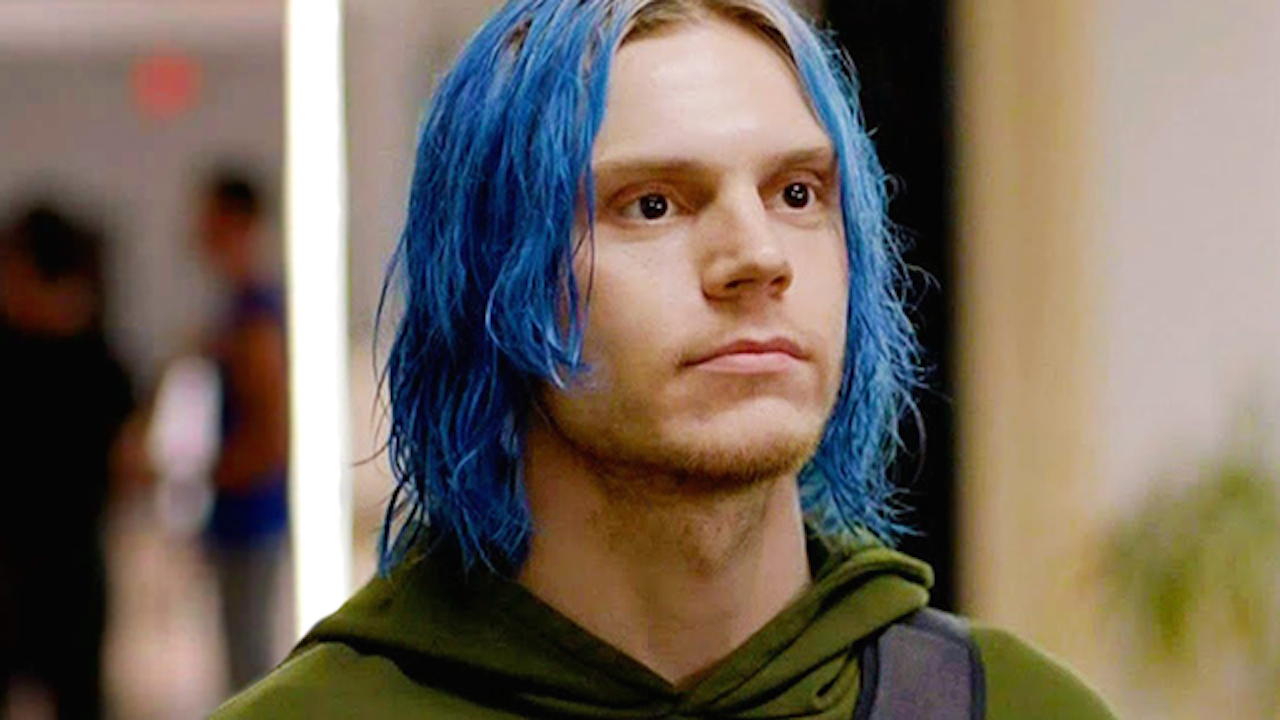 AHS: Delicate's Callback To Cult And Apocalypse
Just as the cucumber-chopping faux pas was a pretty specific instance to reference, the episode's other callback moment appeared to be a direct nod to American Horror Story: Cult, and came during the trippy scene when Anna wandered off and was temporarily held captive by the Feathered Weirdos in Black. (Copyright pending.) As they were strapping her down and doing all their weird shit to her, they were repeating the following chant, along with rough translations:
AHS fans' ears likely perked up when hearing "Ave Satanas," as a version of that has come up at least twice so far within this franchise. For one, it was used in Cult's fifth episode by Evan Peters' Kai Anderson as a mantra for his gang of murderous asshats to use in stoking satanic panic and further chaos in the outside world. In Apocalypse, Cody Fern's Michael Langdon uttered the phrase as he was getting his blood-bath on.
To be fair, the phrase "Ave Satanas" is a fairly simple one, and would't be out of place in American Horror Story: Delicate even if it wasn't a callback reference, given the palpable Rosemary's Baby vibes of it all. But AHS doesn't tend to repeat itself in such ways without it serving as connective tissue between seasons. But what could it mean?
The One Grand Hope here is that Sarah Paulson's Ally Mayfair-Richards came away from Cult's finale as the leader of empowered women, and that they're the ones behind the wicked shit happening to Anna. Although it would probably take some kind of team-up with an actual antichrist to steer Ally so that "Ave Satanas" is more than just a phrase, which is obviously where Michael Langdon would come in. I think we can agree it doesn't matter whether or not it fits the canon we know, since Ryan Murphy & Co. could reframe the entire timeline if they wanted. 
So I dunno if I feel comfortable betting any money (or my soul) on Ally being the ringleader behind it all, since it's kind of a stretch. (Especially since Paulson isn't even rumored to have returned in any capacity, at least before the strikes caused filming to stop.) But it sure would be great to see Cody Fern back in this world, amirite?
American Horror Story: Delicate airs new episodes Wednesday nights on FX at 10:00 p.m. ET, and streams the next day with a Hulu subscription.